April Fool's Day Recipes
April Fools Day recipes are a great way to celebrate April Fool's by surprising your family or friends with something unusual. It is a fun day to play pranks and jokes but we also have some ideas and recipes to help you this April Fool's Day. Nothing gross, nothing yucky, just some silly ideas for fun and some yummy surprises.
Kids Cooking Activities Teaching Materials
Make teaching easier with our activities and recipes compiled in theme sets and books with an easy to read format
Perfect for teaching!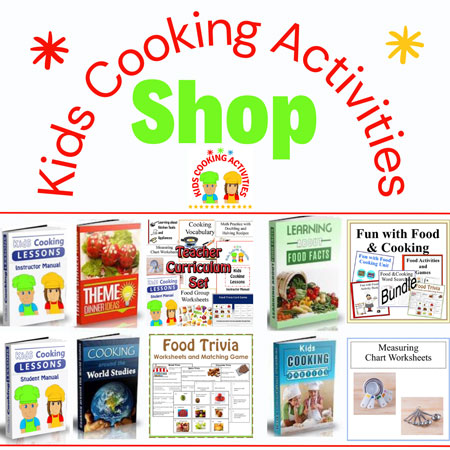 ~This post may contain affiliate links and I'll earn a small commission if you shop through them. There is no extra cost to you. This is how we help support our family and continue to bring you amazing content. To learn more see the
affiliates disclosure here.
~
April Fools Day Recipes- Breakfast Idea
Omelet Hot Dog
Hot dog bun
Eggs
1 tablespoon Milk
Spray oil in a hot skillet. Add a beaten egg with 1 tablespoon of milk. Cook about 1 minute or until egg is set. With a spatula take out of pan and roll up. Place in a hot dog bun for an April Fool's breakfast.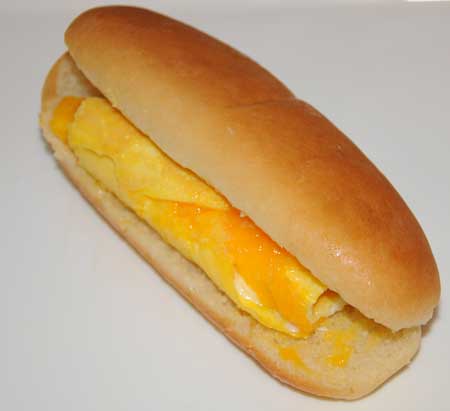 Surprise Fried Egg
Spread plain or vanilla yogurt on to a round waffle. Top with a half of a peach or apricot. It visually looks like a fried egg.
Pink Deviled Eggs
Ingredients: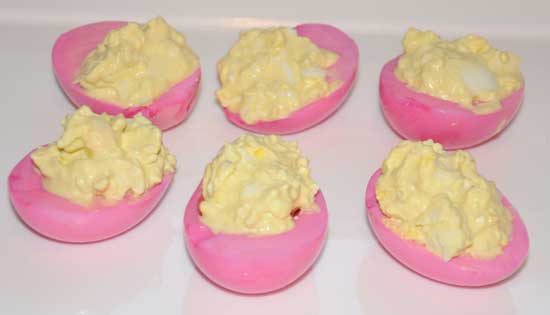 Hard boiled eggs
Canned Beets with juice
Mayonnaise or miracle whip
Mustard
Paprika
Peel eggs and cut eggs in half. Place yolks in a bowl. Open can of beets and drain beet juice in a glass. Set beets aside.(try the recipe for Beet Jell-O below.)
Place each egg white in the beet juice for 1-2 minutes. Drain on paper towel. Set on serving platter. Continue with each egg white.
In your bowl mash yolks. Add a spoonful of mayonnaise and 1 teaspoon mustard. Blend together and season with salt and pepper. With a spoon fill each pink egg white with your yolk mixture. Sprinkle with paprika. Serve.
April Fools Day Recipes - Dinner or Lunch
Meatloaf Celebration Cake
Turn dinner into a fun April Fools day recipes by turning meatloaf into a celebration cake.
1 egg, beaten
1/3 Cup milk
1/3 Cup Barbecue sauce
½ Cup crushed stuffing
1 Tablespoon onion soup mix
1 ¼ lbs. Ground beef
Mashed potatoes
Grease a round cake pan. Prepare meatloaf by mixing all ingredients together until well combined. Pat meat mixture in round cake pan. Bake at 350 degrees for 20-25 minutes and test with a meat thermometer.
While meatloaf is cooking prepare mashed potatoes. When meatloaf is done cooking allow to cool 5 minutes. Place a serving plate upside down on top of the cake pan. Invert the cake onto the serving plate by flipping the plate right side up. Frost with mashed potatoes and serve with a candle on the top to add to the cake appearance.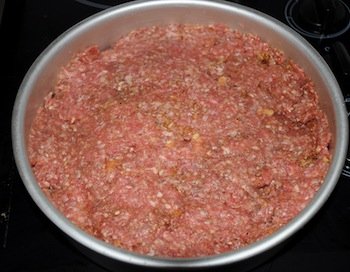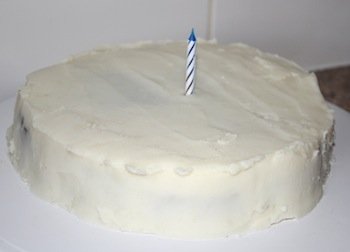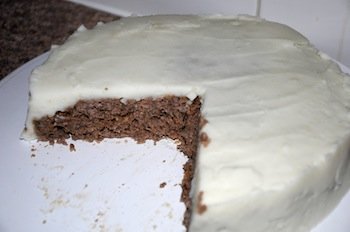 Grilled Cheese Surprise
by Kelly (Reno, NV)
2 slices Sara Lee pound cake, toasted
Make (or buy) vanilla frosting, tinted orange for cheese
Directions:
Lightly toast slices of pound cake and spread with colored frosting. Cut in half and serve.
My kids love these special "grilled cheese" sandwiches on April Fool's Day. We serve it with meatloaf cupcakes frosted with tinted mashed potatoes for lots of giggles when daddy comes to the table for dinner.
Drink a Glass of Jell-O
Prepare a package of Jell-O whichever color or flavor your family likes. Pour into drinking glasses and insert a straw in each glass. Let set in the fridge. These look like drinks but when you try to drink them, April Fools its not a drink its Jell-O.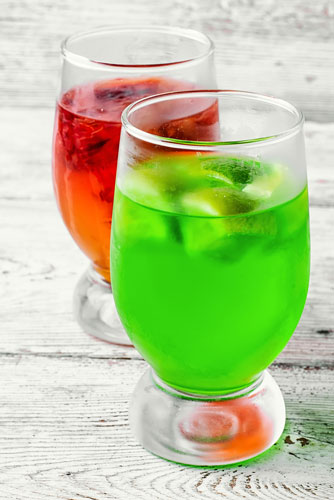 Hot Dog & Fries Surprise
by Kianna Marie (Konoha)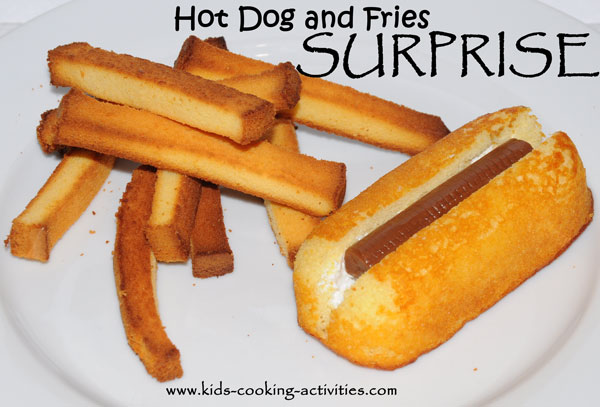 Twinkies
Giant Tootsie Roll
Pound Cake
Sugar
Strawberry Jam
Red and yellow tinted frosting.
Cut up the pound cake into strips that look like fries. place them onto a cookie sheet and broil them in the oven on all sides until they have the color of French Fries. Sprinkle them with sugar. Make a slit in the Twinkies and place a piece of Tootsie Roll inside the slit. Use a cake decorating bag, pipe on a line of red frosting on one side of the Tootsie Roll for ketchup and a line of yellow on the other side for mustard. Serve the "hot dogs" with the "fries" and a side of "ketchup" (strawberry jam or left over frosting)
Some Ideas For April Fool's Dinner
Serve things backward. Dessert first or breakfast for dinner.
Serve plates upside down
Use kitchen utensils to eat with such as an ice scoop, a spatula, or pancake turner
April Fool's Mandala coloring page
Celebrate with this free Mandala April Fool's Coloring Page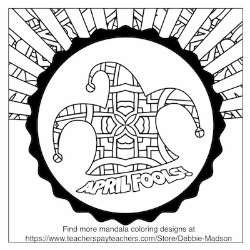 April Fools Day Recipes-Dessert
Baked Potatoes
-April Fool's it's ice cream
Vanilla ice cream
Instant hot cocoa mix
Whipped cream
With an ice cream scoop, scoop out ice cream about the size of a small or medium potato. Roll bottom and sides in hot cocoa mix. Serve with a spoonful of whip cream (resembles sour cream).
Fake Hamburgers
If you have these ingredients available they make one of the funniest and easiest April fools Day recipes.
Vanilla wafers
Peppermint patties
Red and yellow gumdrops, sliced
Sandwich a peppermint patty with two vanilla wafers. Add a sliced red gumdrop to resemble ketchup. Add a sliced yellow gumdrop for mustard.
Spaghetti and Meatballs
Make a
Spaghetti and Meatballs cake for dessert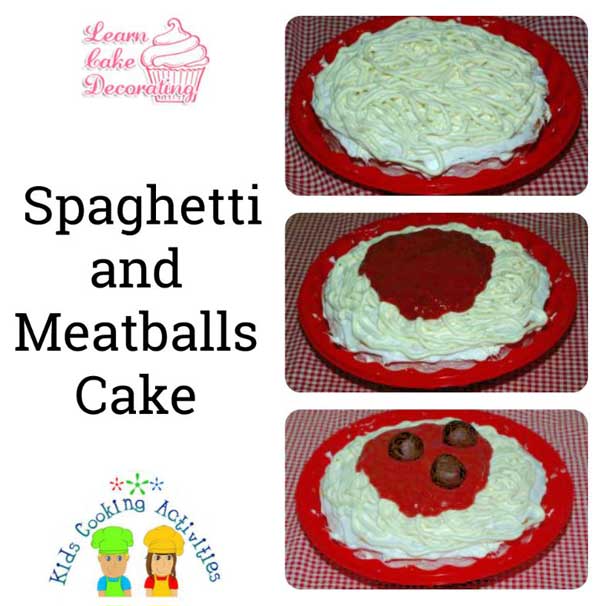 ---
Make teaching easier with our activities and recipes compiled in one easy to read format.
---
Secret Ingredient Recipes- April Fool's Day Recipes
Don't tell anyone your secret ingredient until after they give these April Fool's recipes a try.
Beet Jell-O
Ingredients:
Small package of Lemon Jell-O
1 teaspoon salt
1 can beets, diced save juice
1 Cup beet juice-add water if juice doesn't equal a cup
½ Cup vinegar
½ Cup water
Directions:
For this surprise Jell-O recipe dissolve Jell-O, sugar, and salt in beet juice, water and vinegar. When dissolved stir in beets. Pour into serving dishes.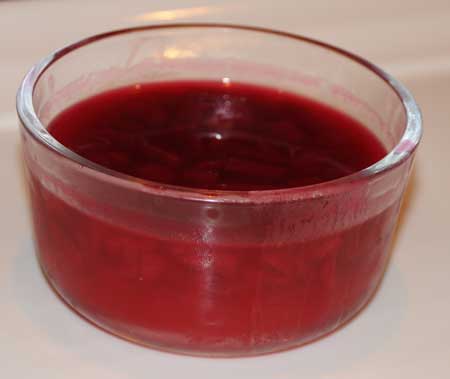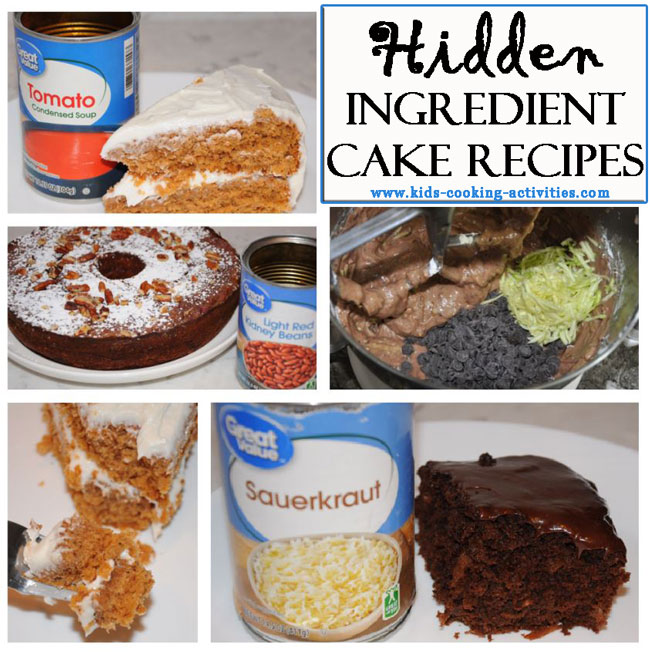 Tomato Soup Cake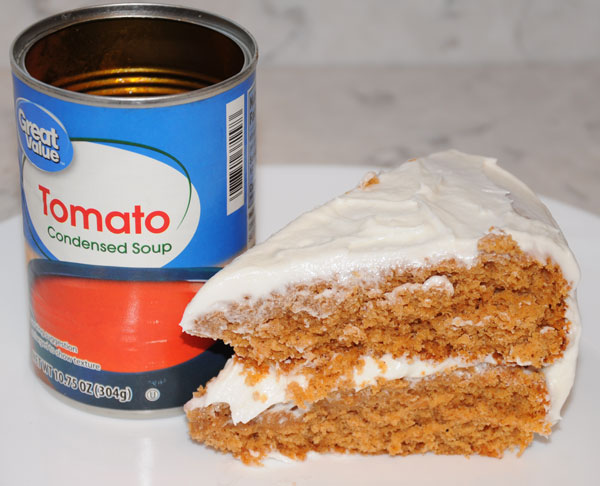 Ingredients:
2 cups all-purpose flour
1 1/3 cups sugar
1 Tablespoon baking powder
1 teaspoon baking soda
2 teaspoons cinnamon
1/2 teaspoon cloves
1/2 teaspoon nutmeg
1 can tomato soup
1/2 cup vegetable shortening
2 eggs
1/4 cup water
cream cheese frosting
Directions:
In a mixing bowl, add flour, sugar, baking powder, allspice, baking soda, cinnamon and cloves. In a separate bowl add tomato soup, shortening, eggs and water until well blended. Add to dry ingredients and mix. Pour into a greased 13x9 cake pan or 2 round cake pans. Bake at 350 degrees for 35 minutes or when a toothpick inserted in the middle comes out clean. Allow to cool and frost with cream cheese frosting.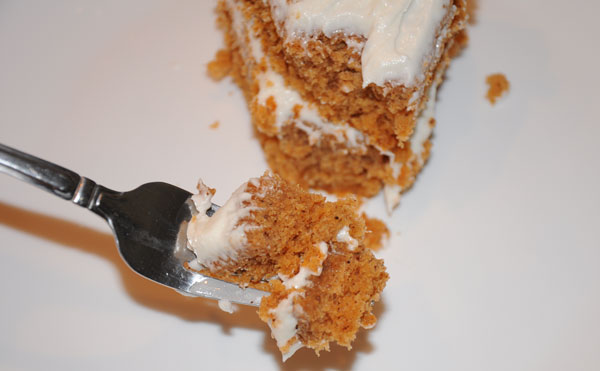 Bean Cake
Ingredients:
1 cup white sugar
¼ Cup butter
2 eggs
15 oz can kidney or pinto beans, drained and mashed
2 teaspoons vanilla
1 cup flour
1 teaspoon baking soda
½ teaspoon salt
1 teaspoon cinnamon
¼ teaspoon cloves
½ Cup chopped pecans, optional
2 Cups peeled and diced apple
powdered sugar, for dusting the top
Directions:
Cook pinto beans and puree in a blender. In mixing bowl cream together sugar and butter. Blend in eggs, vanilla and pinto beans. Add dry ingredients together in a separate bowl. Then mix into bean mixture. Pour into a greased bundt cake pan or 13x9 pan. Bake at 375 degrees for 40-45 minutes or until a toothpick inserted in the middle comes out clean. Allow to cool and place on a serving platter. Dust with powdered sugar. After your family or friends give this unusual cake a try and probably will love it you can tell them your April Fools day recipes secret ingredient!
Chocolate Sauerkraut Cake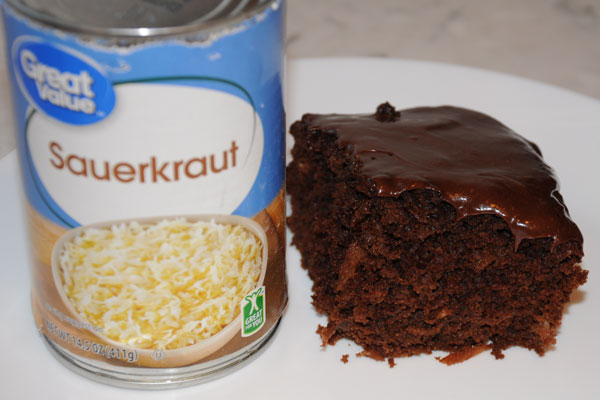 Ingredients:
2 cups flour
1/2 cup baking cocoa
1 teaspoon baking soda
1/4 teaspoon salt
1 teaspoon baking powder
1/2 cup butter, softened
1 teaspoon vanilla extract
1 cup cold water
3 eggs
1 ½ cups white sugar
8 ounce can or 1 Cup sauerkraut, drained and chopped
chocolate frosting
Directions:
In a bowl add flour, cocoa, soda, salt and baking powder. Stir together and set aside. In a mixing bowl, cream together butter, vanilla, eggs, water and sugar. Add dry ingredients to wet mixture. Blend in sauerkraut. Grease a 13x 9 pan and pour batter into a cake pan. Bake at 350 degrees for about 30 minutes or until a toothpick inserted in the middle comes out clean. Frost with chocolate frosting.
Try this recipe for
zucchini bread
for another hidden ingredient recipe.
Create your own April's Fools Recipe page.
Submit your favorite kids recipe
Do you have a favorite recipe your kids love to make? Or a recipe your kids ask you to make again and again? Share it with us!
---
Related Seasonal Recipe Pages:
~
School Lunches
, ~
Apples
, ~
Autumn Activities
, ~
Pumpkins
, ~
Kids Halloween Recipes
, ~
Halloween Recipe Ideas
, ~
Thanksgiving
, ~
Hanukkah Recipes
, ~
Kids Christmas cooking
, ~
Christmas Candy Recipes
, ~
Reindeer
, ~
Make Homemade Chocolates
, ~
Jar Mixes
, ~
Gift Basket Ideas
, ~
Homemade Fudge Recipes
, ~
Homemade Suckers
, ~
Christmas Cookie Recipes
, ~
Gingerbread House Recipes
, ~
Food Gift Ideas
, ~
Dough Ornament Recipes
, ~
Hot Cocoa
, ~
Happy New Year
, ~
Snowman Theme Recipes
, ~
Valentine's Day
, ~
Valentine Dessert Recipes
, ~
St. Patrick's Day
, ~
April Fool's Day Recipes
, ~
Passover Recipes
, ~
Kids Easter Recipes
, ~
Sugar Eggs Recipe
, ~
Resurrection Cookies Recipe
, ~
Italian Easter Bread
, ~
Russian Easter Bread Recipe
, ~
Earth Day
, ~
Cinco de Mayo, May 5
, ~
Mother's Day Recipes
, ~
Father's Day Recipes
, ~
Summer Cooking
, ~
Kid's Campfire Cooking Recipes
, ~
Dutch Oven Cooking for Kids
, ~
4th of July Recipes
, ~
Ice Cream Recipes
, ~
Popsicle Recipes
, ~
Simple Smoothie Recipes
, ~
Picnic Ideas and Recipes
, ~
Easy Grilling Recipes
, ~
Grow your own Garden
---
Follow Kids Cooking Activities