Greek Cooking
Some common ingredients in Greek Cooking could be cheeses, oils, fruits, nuts, eggplant, zucchini, fresh herbs such as basil or oregano. Fish, seafood and lamb are commonly used in Greek Cooking.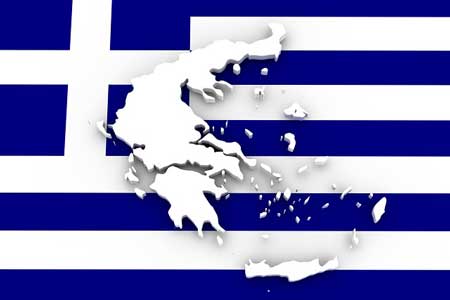 ---
Get all of our International Cooking Section plus more in
one ebook
, free of ads and easier to use in cooking activities. Included in the ebook:
20+ countries information and recipes
Dinner menu invitations to print off to create your own international night
International quizzes
World maps
Geography activities
---
Food Facts about Greece
The tall white chef hat originated from Greece
Greece is know for growing olive and lemon trees
Sheep and goats thrive on the rocky and mountainous country which is why dishes often use lamb instead of other meat

Greece is also Known for Several Famous Things Besides Great Food:
There are 2,000 major islands of Greece
Many Beautiful beaches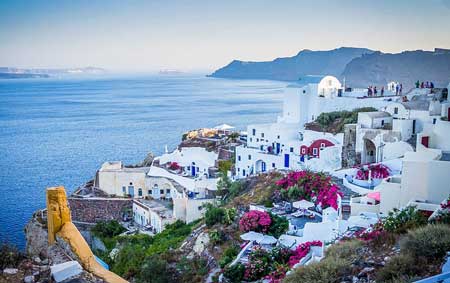 Learn a Little Language
Little snacks or appetizers are called mezethes.
Pronounced Kali Orexi in Greek means Bon Appetit.

Greek Cooking International Recipes
Greek Salad
Feta cheese
Chopped fresh tomatoes
Chopped cucumbers
Black olives
1 tablespoon olive oil
2 tablespoon vinegar
Black pepper
Arrange tomatoes, cucumbers, olives and feta cheese in bowl. Toss together gently and pour olive oil and vinegar over top. Season with pepper.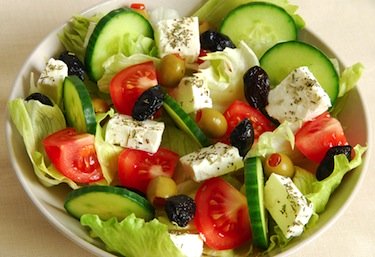 Cucumber Gyro Sandwich Recipe
1 lb. pork loin or chicken breasts, cut into cubes or strips
1/4 Cup olive oil
1/4 Cup lemon juice
1 Tablespoons mustard
2 cloves garlic, minced
1 teaspoon dried oregano
dash of salt and pepper
Mix oil, lemon juice, mustard, garlic, oregano, salt and pepper together in a bowl or Ziploc baggie. Add meat and marinade several hours.
Yogurt Dressing
1 Cup plain yogurt
1 cucumber chopped in food processor
½ teaspoon crushed garlic
½ teaspoon dill weed
Add ingredients together and chill in refrigerator.
Prepare the marinated meat and yogurt dressing and store in fridge in the morning.

Before dinner cook meat and place in pita bread. Top with yogurt dressing.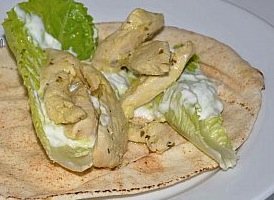 Greek Spanakopitas (Spinach Puffs)
1 medium onion, finely chopped or grated
2 Tablespoons olive oil
10 oz. package frozen spinach, thawed and drained
1/2 lb feta cheese
6 ounces cottage cheese
3 eggs, beaten
1/4 cup breadcrumbs
1/2 lb phyllo pastry sheets
1/2 cup butter, melted
In large pan sauté onion in olive oil. Squeeze excess water out of spinach. Add to onions. Cook over low heat several minutes. Crumble feta cheese in medium bowl. Add in cottage cheese and eggs. Stir in breadcrumbs and spinach mixture into cheese. Stir together until well combined. Cut phyllo sheets into squares of 4-5 inches. Cover sheets that you are not using to prevent them from drying. With pastry brush, brush melted butter over each square, layer several squares together and add a spoonful of spinach filling to middle. Fold top over in a triangle shape. Brush tops with butter and place on a cookie sheet. Continue with remaining phyllo sheets and spinach filling. Bake at 425 degrees for 20 minutes.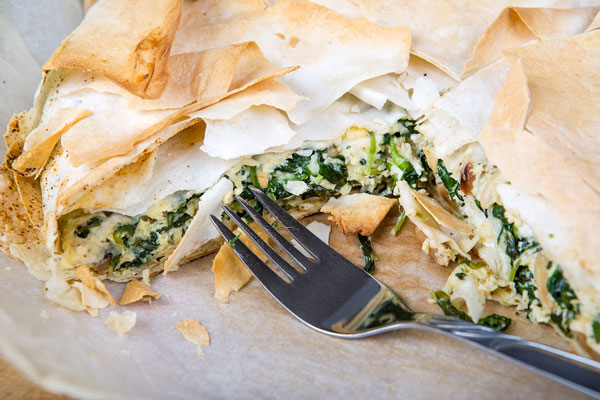 Greek Baklava
A famous Greek cooking recipe that is also famous in Middle Eastern cooking.
phyllo pastry sheets
1 cup butter, melted
¾ Cup sugar
1 teaspoon cinnamon
2 cups chopped walnuts
½ Cup water
¼ Cup lemon juice
¼ Cup honey
½ teaspoon vanilla extract
Grease a 8x11 pan and layer several sheets of phyllo in bottom, brushing each sheet with melted butter. Cover sheets that you are not using to prevent them from drying. In bowl mix ¼ cup sugar, walnuts and cinnamon together. Sprinkle mixture over top of phyllo sheets in pan. Add remaining sheets of phyllo, brushing each sheet with melted butter. Cut squares through layers of sheets and then diagonally through each square. Bake at 300 degrees for 1 hour or until golden brown.
Before baklava is done cooking make the sauce. In saucepan add water, lemon juice, honey and vanilla. Bring to a boil and continue stirring until sugar is dissolved. Pour over hot baklava.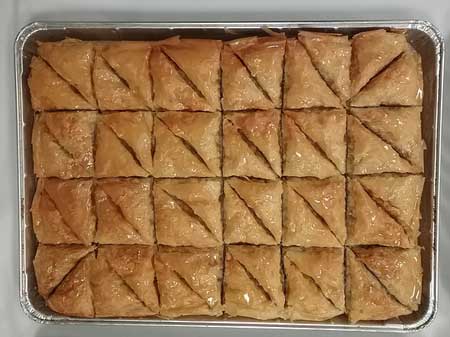 Greek Souvlaki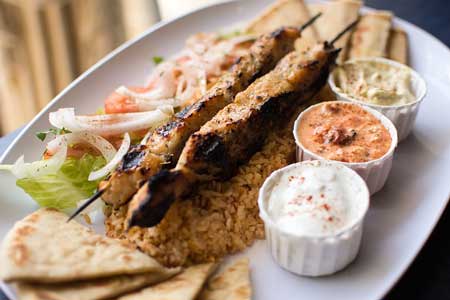 This Greek cooking recipe is a great tasting shish kabob. Pork is used for this recipe but you can substitute beef or chicken if desired.
1/4 Cup lemon juice
1/4 cup olive oil
1/4 cup soy sauce
1 teaspoon dried oregano
3 cloves garlic, minced
2 lbs pork tenderloins, cut in cubes
2 onions, cut in chunks
2 green or red bell peppers, cut in chunks
wooden skewers -soak before using to prevent burning
In ziploc bag add lemon juice, olive oil, soy sauce, oregano and minced garlic. Add pork cubes, onion chunks and pepper chunks. Seal and marinade in the fridge overnight or several hours. Place meat and vegetables on skewers and grill.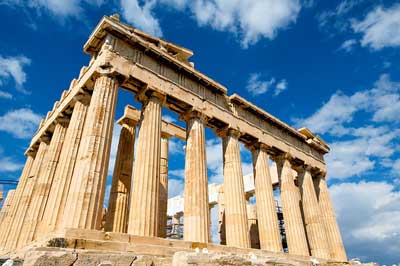 Cooking Around the World Studies
Do you have an International Recipe or World Studies Fact?
Do you have an International recipe or know a lot about a country we could add to our world studies section? You can create your own page.
---
Related Cooking around World Pages:
~
International Cooking for Kids
, ~
American
, ~
Asian
, ~
British
, ~
Eastern Europe
, ~
French
, ~
Greece
, ~
India
, ~
Irish
, ~
Italy
, ~
Mexico
, ~
Middle East
, ~
South Africa
, ~
Southern USA
~
World Studies Unit
---
Follow Kids Cooking Activities