St Patrick's Day Recipes
St Patrick's Day recipes include Irish recipes, green food, kids fun recipes, and leprechaun's bringing luck. St Patrick's Day is an holiday honoring an Irish saint who died on March 17th.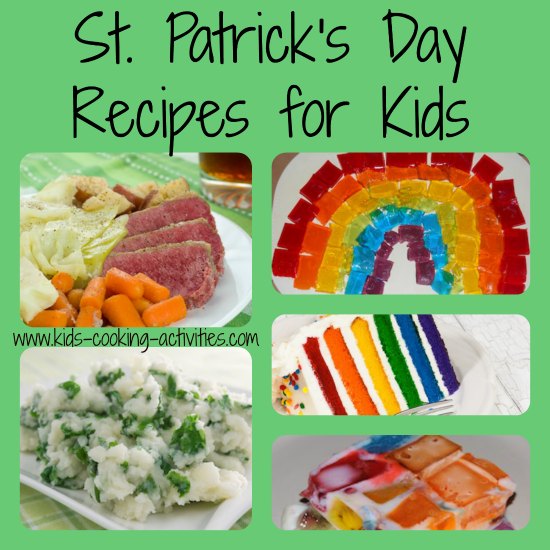 However you celebrate it, it is a day to have fun, wear green and pretend you're Irish (even if you're not).
Kids Cooking Activities Teaching Materials
Make teaching easier with our activities and recipes compiled in theme sets and books with an easy to read format
Perfect for teaching!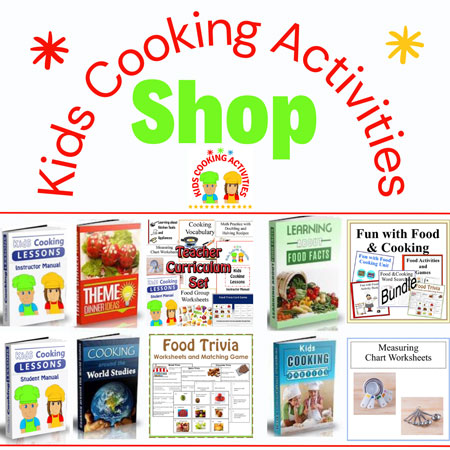 ~This post may contain affiliate links and I'll earn a small commission if you shop through them. There is no extra cost to you. This is how we help support our family and continue to bring you amazing content. To learn more see the
affiliates disclosure here.
~
Luck of Irish - St Patrick's Day Recipes
Festive Patty's Day Table Setting
Gold glitter
Green tablecloth
Green paper
Bring a little fun and luck to your table simply by adding a green tablecloth and sprinkling gold glitter down the center. Your kids will have a ball decorating. They can cut clover shapes out of green paper by using a clover cookie cutter as the pattern or by drawing 3 hearts and adding a stem. Trace around the clover on green paper and cut out.
Leprechaun Pancake Breakfast
Create a fun leprechaun breakfast with pancakes. Use sliced bananas, blueberry and kiwis to decorate his face. Orange segments fill his beard and a chocolate licorice helps with the buckle on his kiwi hat.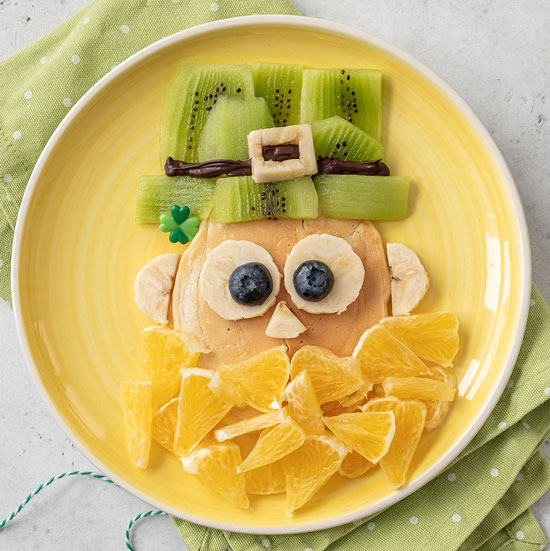 Clover Rolls
Ingredients:
2 cups warm milk
2 Tablespoons butter
2 Tablespoons sugar
1/2 teaspoon salt
1 Tablespoon yeast
1/4 Cup warm water
1 egg
6 cups flour
Add milk and butter to a microwave safe dish. Warm for 1 minute or until butter melts. Add salt and 1 Tablespoon sugar to milk mixture. Add to mixing bowl. Blend in 3 cups flour.
Add 1/4 cup warm water to a bowl and add 1 Tablespoon sugar and yeast. Let sit 1-2 minutes then add to mixing bowl. Blend in 3 remaining cups of flour. Take out of bowl and knead several minutes. Add 1 tablespoon oil to your bowl and place bread dough inside. Cover with a towel and let rise 1 hour. After 1 hour roll dough into small balls. Add 3 balls into a muffin tin to resemble a three leaf clover. Bake at 350 degrees until golden brown.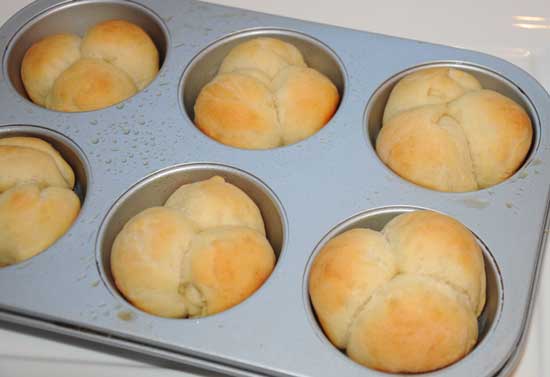 18 Green Food Ideas St Patrick's Day Recipes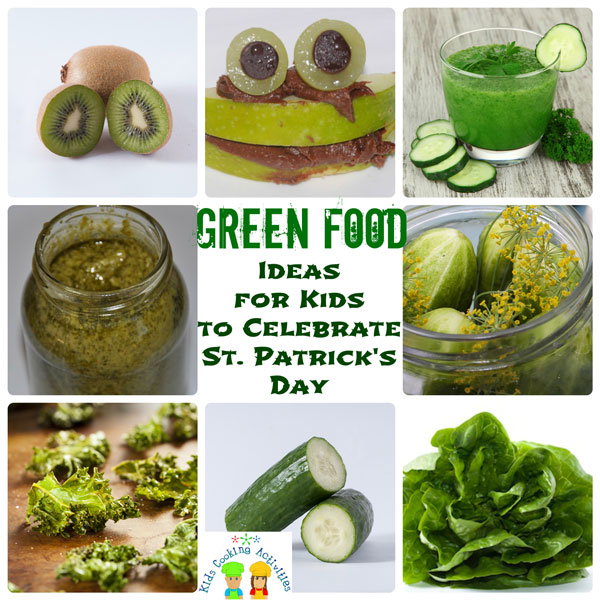 Go for fruit. There is a lot of green fruits that you can cut up into small pieces or make into a green fruit salad. Green grapes, green apples, kiwifruit, avocado.


Spreads. Tint cream cheese or white frosting with a small amount of green food coloring and have kids spread on crackers or oatmeal cookies.


Vegetables. The great thing about green is there are a lot of healthy green things to eat! Lettuce, cucumbers, celery, broccoli, green peppers, spinach and green beans. Snack on these individually or have kids make their own salad.


Green Jell-O. An easy project for the kids to put together.


Add green food coloring to bread dough, biscuits or soft pretzel dough. Shape and bake.


Make a green dip for your green vegetables. Try adding dill or parsley to a homemade ranch dressing. Or make a cucumber yogurt dip and place dip inside a hollowed out cucumber.


Make a green colored milkshake or green smoothie.



Pickles and cheese platter- Make a platter of sliced pickles, green olives and cheese cubes.



Make pistachio pudding and place in small plastic cups.


Add a few drops of green coloring to a cup of milk. Or add a little bit of pistachio pudding and stir.


Green pancakes. Just add, yep you guessed it, green food coloring to your pancake batter. Try pouring your pancake batter into a clover shape.


Green eggs and ham. Read the book and create the recipe


Make homemade guacamole.



What better time to have your kids try something new like Kale Chips.


Apple Frogs - using green apples and green grapes can make this a fun green recipe for St. Patrick's Day.



Green Apple Snack
Ingredients:

Green apple wedges
Cream cheese
Green food coloring

Directions:
Tint the cream cheese with a few drops of green food coloring. Have the kids spread cream cheese on top of apple wedges. Enjoy a simple green snack.
Broccoli Bites
This recipe is full of nutrition with chopped broccoli and also great fun for a green St Patrick's Day recipe.
Ingredients:
2 -10 oz. pkgs. frozen chopped broccoli, cooked and drained
2 Cups crushed seasoned stuffing
1 Cup grated Parmesan cheese
6 eggs, lightly beaten
½ Cup butter or margarine, softened
½ teaspoon Salt
¼ teaspoon Pepper
Directions: In mixing bowl add cooked, chopped broccoli. Crush stuffing with meat mallet or rolling pin. Add to broccoli. Stir in cheese, eggs and soft butter. Season with salt and pepper. Stir together until well combined. Shape broccoli mixture into balls. Place each ball on a greased baking pan. Bake at 350 for 10-12 minutes or until golden brown.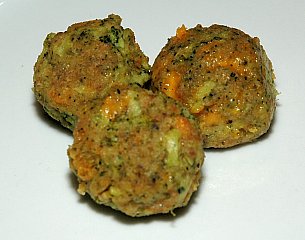 Pesto Pasta
This is not an Irish recipe but it will make a green kid friendly dinner recipe for St Patrick's Day.
Ingredients:
¼ Cup prepared Pesto sauce (pesto is made with basil and you can usually find it in the pasta sauce aisle)
1 pkg. linguine or spaghetti noodles
Directions:
Cook noodles and drain. Toss pesto sauce with cooked noodles. Serve with fresh Parmesan cheese.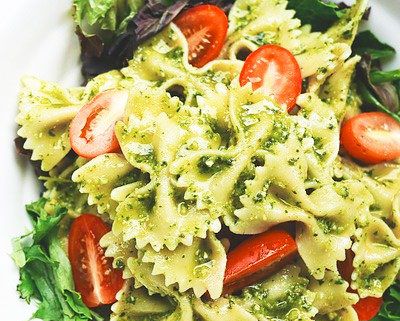 Here is another
pesto salad recipe.
Dessert St Patrick's Day Recipes
Leprechaun Milkshake
Ingredients:
4 Cups milk
½ Cup or one large pistachio pudding mix package
4 Scoops vanilla ice cream
Directions:
Add ingredients together in blender and mix.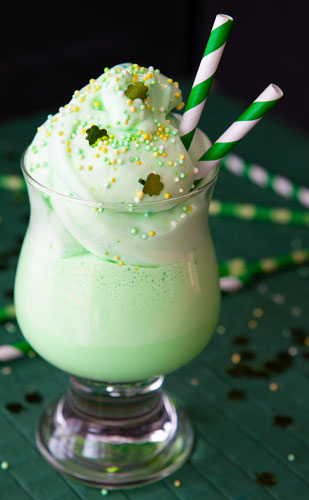 Lime Sherbet Punch
This quick easy St Patrick's Day recipe is delicious and a cinch to make.
Ingredients:
one quart lime sherbet
2 quarts Sprite or ginger ale
Directions:
Pour Sprite or ginger ale in pitcher or punch bowl. Add scoops of sherbet and serve immediately.
Shamrock Cake
Ingredients:
White or yellow cake mix
One package of pistachio pudding
Green food coloring
3 or 4 mini heart shape pans (whether you want a 3 leaf clover or 4 leaf clover)
One rectangle mini loaf pan
White frosting
Directions:
Prepare cake mix according to directions. Add pudding and several drops of green food coloring. Grease heart cake pans with shortening. Dust the bottom of the pans with flour shaking all over until evenly coated. Pour batter into each pan. Bake according to directions and allow to cool.
When cakes have cooled, shape 3 hearts into the shape of the shamrock on a serving dish. Add the mini loaf pan as the stem. Prepare frosting by adding green food coloring to white frosting. For a minty flavor you can add 1/8 teaspoon peppermint extract to the frosting. Frost your shamrocks.
Add some
Shamrock Coloring Mandala coloring pages
for a fun activity.
Leprechaun Dessert
Ingredients:
½ gallon of mint chocolate chip ice cream
Hershey's syrup
Oreo Cookies or chocolate sandwich cookies
Directions:
Soften ice cream by leaving out for a few minutes. In 9x12 cake pan or pie pan, crumble Oreo cookies over bottom. Spoon ice cream on top. Arrange Oreo cookies along side of pan. Drizzle lines with chocolate syrup on top and more chopped cookies. Refreeze.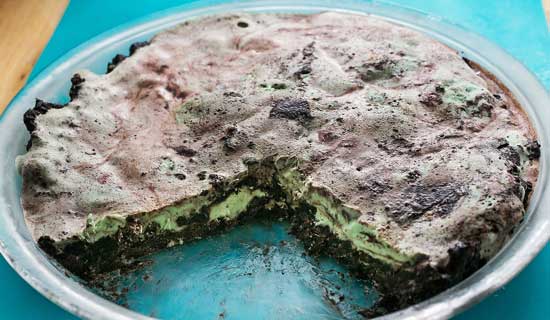 Mint Ice Cream
Ingredients:
3 eggs, lightly beaten
1 ¾ Cup milk
¾ Cup sugar
pinch salt
1 ¾ Cup whipping cream
1 teaspoon Vanilla
¼ teaspoon Peppermint extract
4 drops green food coloring
½ Cup mini semisweet chocolate chips
Directions:
In a saucepan, combine eggs, milk, sugar and salt. Cook and stir over medium heat until mixture reaches 160 degrees(with candy thermometer) and coats a metal spoon. Cool to room temp. Stir in cream, vanilla, peppermint extract and food coloring if desired. Chill for 2 hours. Stir in chocolate chips. Fill ice cream freezer cylinder 2/3 full; freeze according to directions.
Rainbow Theme Recipes
Rainbow Platter
Create a fun rainbow fruit and vegetable platter like this one.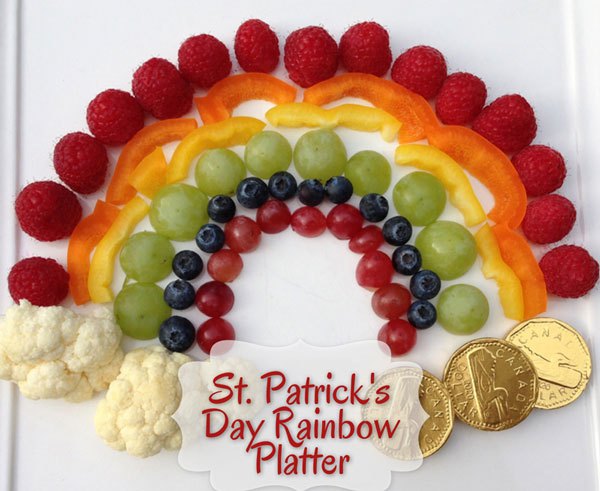 See another
rainbow fruit platter and more rainbow ideas
here.
Jell-O Rainbow
Ingredients:
One small package of gelatin flavors of red, orange, yellow, green and blue
1 1/4 Cup hot water for each package
Whip cream
Directions:
Dissolve jell-o in boiling water (don't add cold water). Place each color in a separate bowl or flat buttered pan. Chill. When gelatin is set cut into squares. Place on a serving platter creating a rainbow of colors in the colors listed above. If desired, before serving add whip cream at the end of the rainbow and add golden chocolate coins.
Rainbow Cupcakes
Rainbow Cupcakes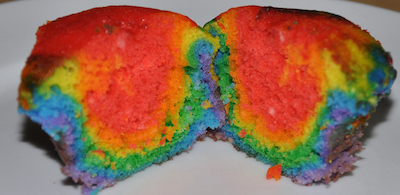 Cookies
Rainbow Cookies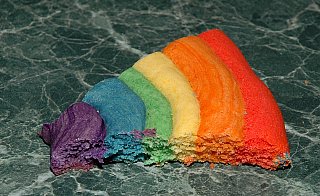 Rainbow Noodles
Rainbow Noodles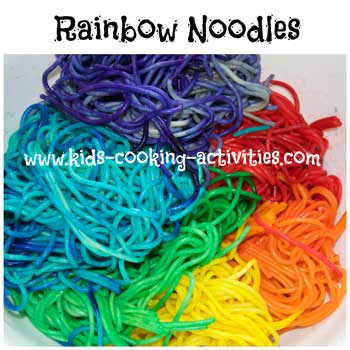 St. Patrick's Day Party Printables
Irish food: St Patrick's Day Recipes
Irish Potato Cakes
Corned Beef Brisket
This is one of the famous St Patrick's Day recipes for Irish food.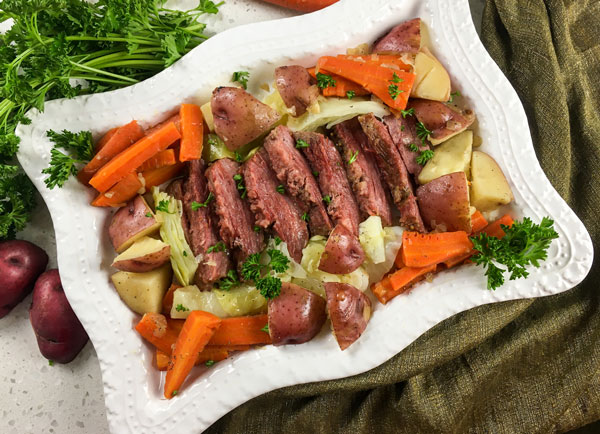 Ingredients:
1 onion
Carrots cut in chunks as many as desired
Potatoes cut in chunks as many as desired
1 Cup beef broth
1 teaspoon Worcestershire sauce
One whole clove of garlic
Bay leaf
Cabbage cut in wedges
Directions:
Place cut vegetables on bottom of crock pot. Place corned beef brisket on the top. In mixing bowl combine broth and Worcestershire sauce. Pour over top of brisket. Add garlic clove and bay leaf. Cook on low 6-8 hours. Add cabbage to top of pot half way through cooking time.
Also try this recipe in the
Instant Pot
.
Irish Soda Bread
Some common ingredients in Irish soda bread, besides the basic ingredients, are buttermilk, caraway seeds and baking soda.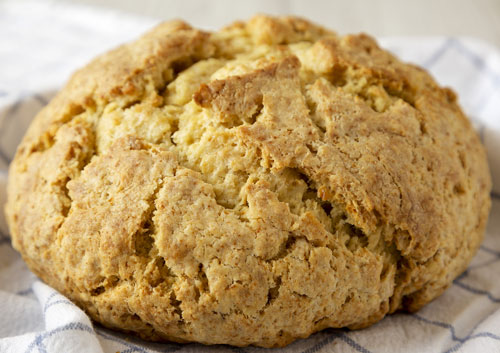 Ingredients:
2 Cups white flour
1 Cup whole wheat flour
2 teaspoons baking soda
½ teaspoon salt
½ Cup white sugar
2 eggs
1 ½ Cups buttermilk
¾ Cup raisins
1 Tablespoon caraway seeds
Directions:
In mixing bowl combine flours, baking soda, salt and sugar. In separate bowl combine eggs and buttermilk. Pour into dry ingredients and blend slightly, you just want the dough moistened so don't beat to long. Stir in raisins and caraway seeds with a spoon. On a floured surface knead dough several minutes. Place in a round cake pan. With a knife slice an X on the top of the loaf. Bake at 350 degrees for 30-40 minutes until golden.
Irish Stew
A traditional Irish stew was prepared with the cheapest ingredients that were easily accessible. Lamb, potatoes, and onions could be found easily so they were often included in the stew. Now a days you can find chicken, beef and any kind of vegetables included. Try your own St Patrick's Day recipe for Irish Stew.
Ingredients:
2-4 lbs. cubed lamb, chicken or beef
2 teaspoons salt
¼ teaspoon pepper
2 quarts water or beef broth
2 bay leaves
1 Tablespoon Worcestershire sauce
carrots, peeled and cut in slices, as many as desired
potatoes, peeled and cubed, as many as desired
onions, sliced, as many as desired
Directions:
Add ingredients to crock pot or large soup pan making sure liquid covers all meat and vegetables. If cooking in crock pot cook on low 6-8 hours or high 4-6 hours. On the stove top for one hour or oven 2 hours covered.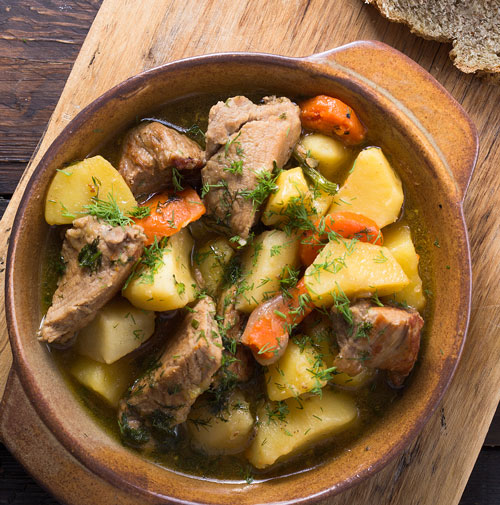 See more
Irish recipes
that our readers submitted below.
Share your Irish or St. Patrick's Day Recipe
Submit your favorite kids recipe
Do you have a favorite recipe your kids love to make? Or a recipe your kids ask you to make again and again? Share it with us!
Reader's Submitted Recipes
Click below to see contributions from other visitors to this page...

---
Related Seasonal Recipe Pages:
~
School Lunches
, ~
Apples
, ~
Autumn Activities
, ~
Pumpkins
, ~
Kids Halloween Recipes
, ~
Halloween Recipe Ideas
, ~
Thanksgiving
, ~
Hanukkah Recipes
, ~
Kids Christmas cooking
, ~
Christmas Candy Recipes
, ~
Reindeer
, ~
Make Homemade Chocolates
, ~
Jar Mixes
, ~
Gift Basket Ideas
, ~
Homemade Fudge Recipes
, ~
Homemade Suckers
, ~
Christmas Cookie Recipes
, ~
Gingerbread House Recipes
, ~
Food Gift Ideas
, ~
Dough Ornament Recipes
, ~
Hot Cocoa
, ~
Happy New Year
, ~
Snowman Theme Recipes
, ~
Valentine's Day
, ~
Valentine Dessert Recipes
, ~
St. Patrick's Day
, ~
April Fool's Day Recipes
, ~
Passover Recipes
, ~
Kids Easter Recipes
, ~
Sugar Eggs Recipe
, ~
Resurrection Cookies Recipe
, ~
Italian Easter Bread
, ~
Russian Easter Bread Recipe
, ~
Earth Day
, ~
Cinco de Mayo, May 5
, ~
Mother's Day Recipes
, ~
Father's Day Recipes
, ~
Summer Cooking
, ~
Kid's Campfire Cooking Recipes
, ~
Dutch Oven Cooking for Kids
, ~
4th of July Recipes
, ~
Ice Cream Recipes
, ~
Popsicle Recipes
, ~
Simple Smoothie Recipes
, ~
Picnic Ideas and Recipes
, ~
Easy Grilling Recipes
, ~
Grow your own Garden
---
Follow Kids Cooking Activities