Italian Cooking Lesson
We are having an Italian cooking lesson for this world studies session. Italians have some of the most famous recipes that people around the world try to duplicate. Whether it is a complex recipe or a simple lasagna, Italian recipes are sure to please.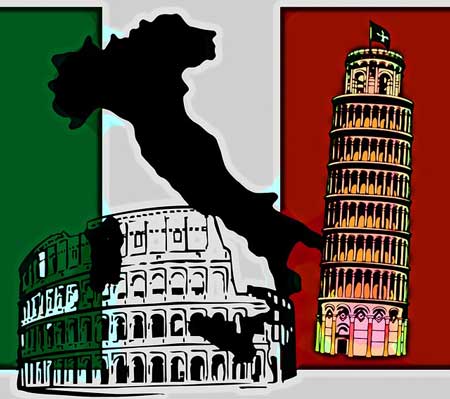 Common ingredients for Italian recipes are Prosciutto, fresh mozzarella, fresh tomatoes, basil, pesto, roasted pepper or fresh pasta. As a matter of fact pasta was invented here as well as pizza.
---
Get all of our International Cooking Section plus more in
one ebook
, free of ads and easier to use in cooking activities. Included in the ebook:
20+ countries information and recipes
Dinner menu invitations to print off to create your own international night
International quizzes
World maps
Geography activities
---
Italian Cooking Lesson: Facts about Italy
Mealtime is family time for Italians. They gather together as a family, local stores close for several hours and many children go home from school for lunch.
Italy is a rather small country about the size of Arizona, USA.
Italy is shaped like a boot.
Italy is also Known for Several Famous Things Besides Great Food:
Art, ever heard of Michelangelo's Sistine chapel in Rome. He painted the roof of the chapel for four years.
Leaning tower of Pisa
Bocce ball originated in Italy
Famous cities such as Rome, Florence, Milan


Learn a Little Language with Your Italian Cooking Lesson
Buon Giorno! (bwon zhor-no) - Hello or Good Day
ArrivederLa (ah-ree-vuh-dehr-lah) -Goodbye
Ho fame (oh fah-meh)-I'm hungry.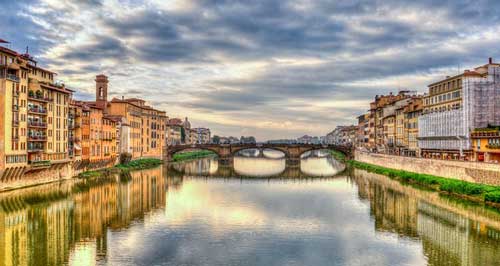 Italian Cooking Lesson with International Recipes
Italian Frittata
Frittata is an Italian word for omelet.
8 eggs
1/2 teaspoon salt
1/4 teaspoon pepper
1/2 cup grated Parmesan cheese or Romano cheese
1/2 teaspoon dried basil
1/2 tsp dried sage
1/4 cup diced fully cooked ham or prosciutto
small zucchini, sliced or cubed
2 medium green onions, sliced
2 Roma (plum)tomatoes, sliced
1 teaspoon olive oil
In large skillet or pie plate add 1 teaspoon olive oil. Spread around to coat bottom and edges. In mixing bowl beat together eggs, salt, pepper, cheese, basil, and sage. Stir in chopped ham, zucchini, and onions. Pour egg mixture into skillet and bake at 375 degrees for 15-20 minutes until the frittata is set. Top with sliced tomatoes and more Parmesan cheese.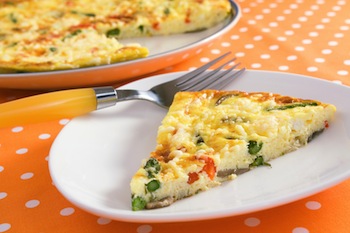 Tomato Bruschetta
In this Italian cooking lesson it is important to know that Italian bruschetta and Italian Crostini are similar but Bruschetta is grilled or toasted bread rubbed with garlic and oil. Olive oil is the key ingredient in Bruschetta. Crostini is also slices of thin bread but they are usually served with cheese or tapenade (olive paste).
1 Loaf Italian bread cut diagonally in slices
1 Garlic clove; minced
2 Tablespoon Olive oil
2 Large Tomatoes; peeled, seeded, and chopped
1/4 Teaspoon Salt
1/4 Teaspoon Pepper
1/2 Cup Chopped fresh basil
On a cookie sheet place sliced bread. Broil several minutes until golden brown. Meanwhile stir garlic and olive oil together. Brush each bread slice with garlic oil. Spread chopped tomatoes on top of each bread and sprinkle with salt and pepper. Warm in the oven. Sprinkle with chopped fresh basil and serve. This could be the start of a Italian cooking lesson as it is an easy Italian cooking recipe.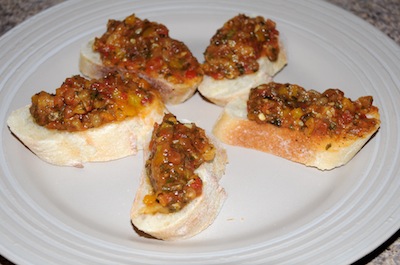 Vegetable Lasagna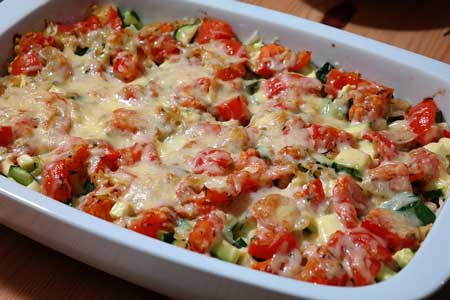 Lasagna noodles, uncooked
small bunch of broccoli flowerets, cut in small pieces
2 carrots, shredded
4 cups spaghetti sauce or large jar
2 Green or red bell peppers, chopped
1-2 tablespoons olive oil
15 oz or 2 cups cottage or ricotta cheese
1/2 cup grated Parmesan cheese
2 Tablespoons dried parsley
2 large eggs
1 cup mozzarella cheese, for the top
Saute garlic in olive oil and add carrots, broccoli, bell peppers and spaghetti sauce. Let simmer about 8-10 minutes until vegetables are tender. In separate bowl mix cottage cheese, Parmesan, parsley, mozzarella cheese (save some for sprinkling on the top) and eggs. Spread a thin layer of sauce on bottom of a 8x11 or 13x9 pan. Lay lasagna noodles on bottom of pan.
Spread cottage cheese mixture over top of noodles. Spread more sauce on top of noodles. Continue layering in pan until the pan is full. Sprinkle mozzarella cheese on top and bake at 350 degrees for 35-40 minutes or until noodles are tender. If you have a family favorite lasagna recipe try it for a Italian cooking lesson.
See more
lasagna recipes.
Homemade Pasta Dough
Make
homemade pasta
and then learn how to make
Homemade Tomato Sauce
for your Italian cooking lesson.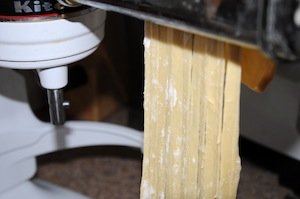 Making Homemade Potato Gnocchi Recipe
1 Cup mashed potatoes about 1-2 medium potatoes cooked, diced and mashed
2 eggs
1 teaspoon salt
1 Cup cottage or ricotta cheese
1/4 Cup Parmesan cheese, grated -1/2 Cup if you are using grated Parmesan cheese in a shaker like Kraft or a generic brand
2 tablespoons butter, softened
3 Cups flour
Cook and mash your potatoes. Set aside. In a mixing bowl, add eggs, salt, cheeses and butter. Blend together. Add in mashed potatoes and flour. Blend together until dough forms a ball. Knead gently on a floured counter. If your dough is too dry add a tablespoon of water until it forms a ball and kneads well.
Separate dough into 4 balls. Roll into thick ropes.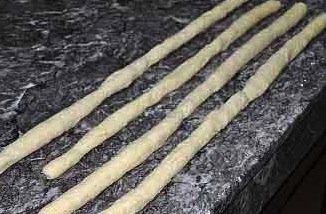 Cut each rope into ¾ inch-1 inch pieces.
Pour water into a large pot and add salt. Bring to a boil. Place gnocchi pieces into boiling water. When gnocchi rise to the top take them out with a slotted spoon. Sprinkle with Parmesan cheese and serve with pasta sauce. Serve immediately.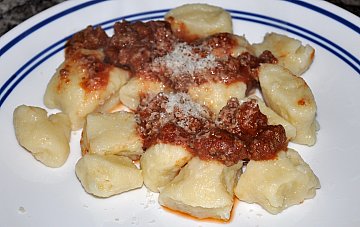 Risotto with Parmaginao Cheese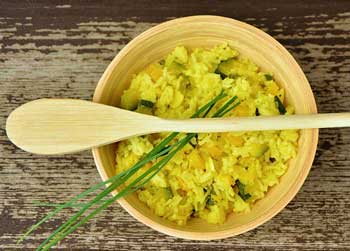 2 tablespoons butter
2 tablespoons olive oil
1 medium onion, grated
1 pound short grain white rice
6 cups chicken broth
2 tablespoons butter
3 ounces Parmagiano Reggiano cheese, coarsely grated
In large saucepan add butter and olive oil. Allow to heat and melt butter. Add grated onion and saute several minutes until onion is transparent. Add in rice and stir until all rice is evenly coated and glassy looking. Add chicken broth and turn stove to medium-low. Let simmer covered for about 10 minutes. Stirring occasionally. When rise is tender stir in butter and cheese. Serve immediately.
Italian Biscotti
3 1/2 cups flour
1 cup almonds chopped
1/4 teaspoon baking soda
3/4 teaspoon salt
3 large eggs
1 1/2 cups sugar
1/2 cup butter, melted
dash of lemon or orange zest
2 teaspoons vanilla
1 teaspoon almond extract
Combine dry ingredients in a bowl including flour, baking soda, salt and nuts. Set aside. In mixing bowl beat together eggs, sugar, butter, zest, vanilla and almond extract. Slowly stir in flour mixture. Blend together. Place dough on a floured surface and divide in two. Shape dough into a long loaf. Lay both loaves on a greased cookie sheet. Bake in a 350 degree oven for 25 minutes or until firm and lightly golden brown. Cut loaves diagonally into slices. Place on cookie sheet and bake another 10-15 minutes turning over once. Biscotti will become crisp and you can cool on wire rack.
Italian Cooking Lesson Tip
An easy way to make cannelloni (they resemble stuffed tubes) is to use lasagna noodles. Place the filling on top of the lasagna noodle and roll up the noodle. Place in a casserole dish and top with tomato sauce.
Easy Italian Wedding Soup
4 cups chicken broth
1 Cup water
1 cup medium shell pasta
Homemade or frozen meatballs, cooked
2 cups spinach leaves, finely chopped
2 cups pizza sauce
In saucepan add broth and water. Bring to a boil. Then add pasta and meatballs. When pasta is tender. Stir in chopped spinach and pizza sauce. Heat through and serve immediately. Italian wedding soup usually isn't served at weddings. It gets its name because of the fact that the spinach and the meat goes (marries) well together.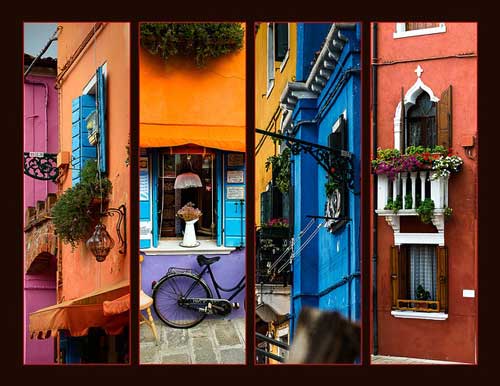 Simple Italian Starter
3 plum tomatoes sliced crosswise
2 tablespoons fresh basil and 2 Tablespoons fresh parsley, chopped
Olive oil
Salt and pepper to taste
Place sliced tomatoes on a serving platter. Sprinkle with chopped herbs and drizzle olive oil over the top. Sprinkle with salt and pepper. Easy Italian cooking can't get much better than this.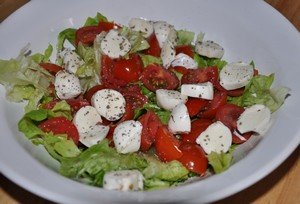 Panzella Italian Bread Salad
1-2 loaves Italian bread
3 fresh diced tomatoes save juice also
red onion, diced
1 3/4 cups fresh basil leaves, chopped
1 cup olive oil
Salt and pepper to taste
Cut bread in slices and cube. You need about 4 cups for this recipe. Place cubes on a cookie sheet and toast until golden brown stirring several times. In serving bowl, add bread cubes, diced tomatoes, diced onion, juice from tomatoes, fresh basil leaves, and 1 cup olive oil together. Toss to coat. Season with salt and pepper and serve immediately.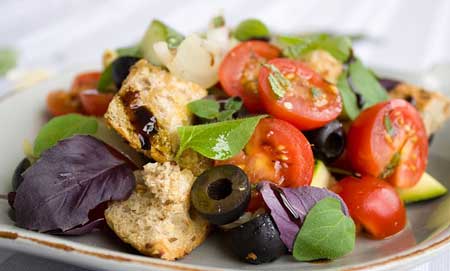 Caprese Salad
Layer slices of mozzarella and tomatoes onto a serving platter. Drizzle with olive oil or balsamic vinegar and sprinkle with salt and pepper. Add chopped basil if desired.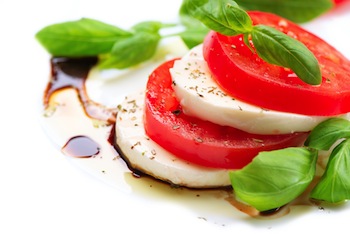 See our
Italian Party Theme Dinner for more recipes!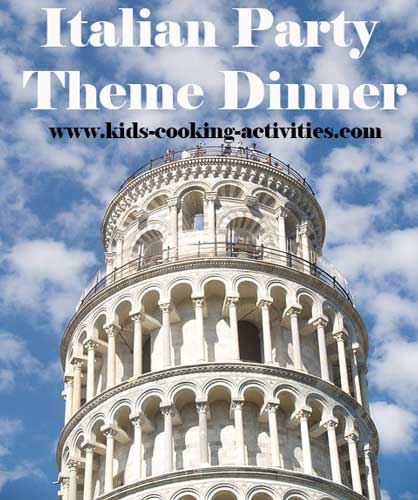 Cooking Around the World Studies
Do you have an International Recipe or World Studies Fact?
Do you have an International recipe or know a lot about a country we could add to our world studies section? You can create your own page.
---
Related Cooking around World Pages:
~
International Cooking for Kids
, ~
American
, ~
Asian
, ~
British
, ~
Eastern Europe
, ~
French
, ~
Greece
, ~
India
, ~
Irish
, ~
Italy
, ~
Mexico
, ~
Middle East
, ~
South Africa
, ~
Southern USA
~
World Studies Unit
---
Follow Kids Cooking Activities