American Cooking
Typical American cooking recipes are hard to pinpoint as America has been influenced by many immigrant groups. This has left a wide variety of cooking recipes.
Some typical American food now a days can be linked from other countries such as pizza (Italy) or hot dogs (German). Different areas of America have different influences and recipes, such as Southern Cajun cooking or Chicago deep dish pizza.
Another factor of American cooking is what is locally grown and available such as peaches in the South, olives in California, crabs from Maryland or lobsters in Maine.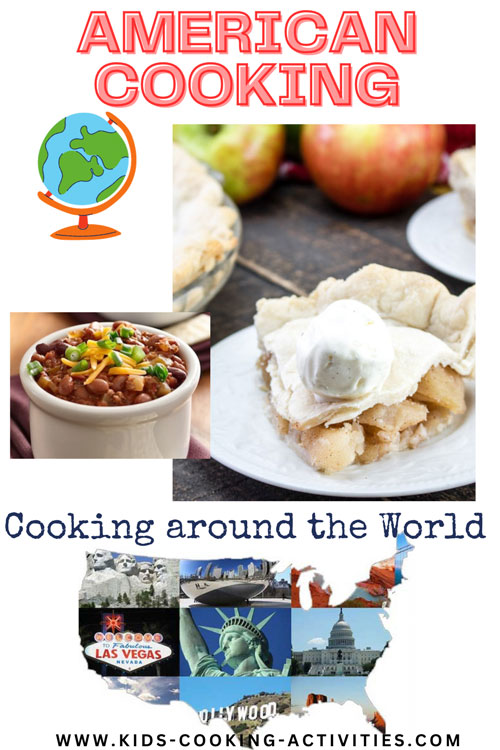 ---
Get all of our International Cooking Section plus more in
one ebook
, free of ads and easier to use in cooking activities. Included in the ebook:
20+ countries information and recipes
Dinner menu invitations to print off to create your own international night
International quizzes
World maps
Geography activities
---
America is Also Known for Several Famous Things:
Baseball
Fast Food
A variety of cultures, traditions and beliefs
Typical American Recipes
Grilled Hamburgers
1 lb. Hamburger
1 Tablespoon Worcestershire sauce
Mix hamburger and Worcestershire sauce together. Season with salt and pepper. Form into patties and grill or bake.

See how to make hamburgers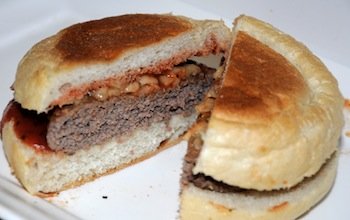 Chili
2 -16oz. pinto or kidney beans
28 oz. Tomatoes
2 lb. Hamburger, browned
2 cloves garlic, minced
2-3 Tablespoons chili powder
1 teaspoon pepper
1 teaspoon cumin
Cook hamburger and drain well. Combine all ingredients together in crock pot. Cook 6-8 hours or simmer on stove for 15 minutes. Serve with cornbread, if desired.
More
chili recipes.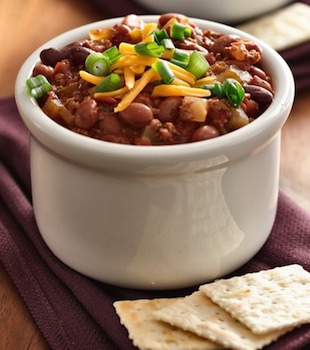 Potato Salad
4 medium potatoes, diced
2 boiled eggs, chopped
Add potatoes and eggs to serving bowl. Stir dressing ingredients below together in separate bowl.
Dressing:
½ Cup mayonnaise
½ Cup miracle whip
2 Tablespoons vinegar
1 teaspoon Salt
1 teaspoon Sugar
¼ teaspoon Pepper
Combine dressing ingredients together and stir into potatoes and eggs. Chill in the fridge several hours before serving.
See more
potato salad recipes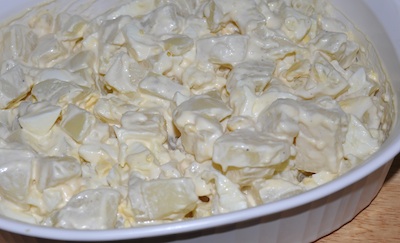 Green Salad with Homemade Ranch Dressing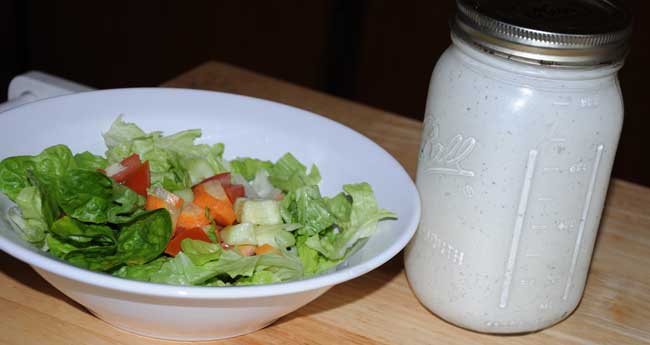 Ranch dressing is a common ingredient, dip or dressing in American cooking.
¾ Cup mayonnaise
¼ Cup buttermilk
1/3 Cup minced celery with leaves
2 Tablespoons chopped fresh parsley
1 Tablespoon grated onion
1 clove garlic, minced
¼ teaspoon Dried thyme
¼ teaspoon Celery seed
¼ teaspoon Salt
1/8 teaspoon Pepper
In a bowl, combine all the ingredients. Stir together. Or in a jar or salad shaker add ingredients together. Place lid on and shake. Cover and chill until ready to use, up to 5 days. Makes about 1 ½ cups.
Prepare a green salad with lettuce and chopped vegetables desired. Toss together and serve with Ranch dressing.
Barbecue Ribs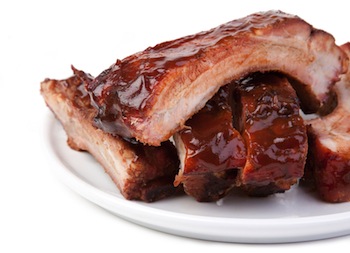 1/2 Cup water
2 tablespoons sugar
1 teaspoon salt
1/4 Cup vinegar
1 tablespoon mustard
1/2 teaspoon pepper
1/2 Cup ketchup
2 tablespoons Worcestershire sauce
2-3 lbs. pork or beef ribs
Place ribs in a roasting pan. Add remaining ingredients together in mixing bowl. Blend together and pour sauce over ribs. Bake at 350 degrees for 2 hours. Turn ribs over several times while cooking.
Buffalo Wings
This American cooking recipe can be made as spicy as you would like and is sometimes served with blue cheese dressing.
3 pounds chicken wings
2 Cups barbecue sauce
1 1/2 teaspoons cayenne pepper, red
1/4 teaspoon salt
2 teaspoons black pepper
1 teaspoon dried minced onion, minced
3 tablespoons Worcestershire sauce
In mixing bowl stir barbecue sauce, cayenne pepper, salt, pepper, onion and Worcestershire sauce together. Place chicken wings into a large casserole dish. Pour sauce over wings and stir to coat. Bake in the oven at 425 degrees for 1 hour.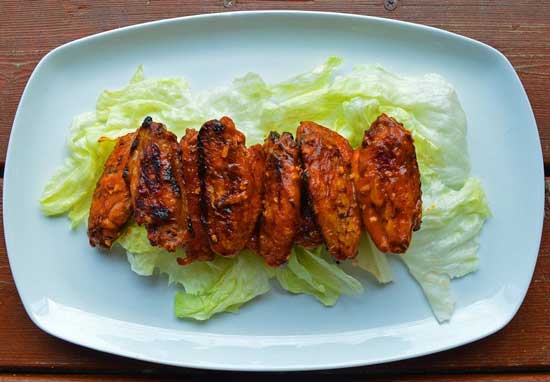 Philly Cheese Steak
Some famous American cooking that originated in Philadelphia, Pennsylvania.
Rib eye steak cut in thin slices
Onions, sliced
Mushrooms, sliced
Sliced cheese, provolone or processed cheese slices
Loaf of thin French bread cut in half or hoagie rolls
In a small amount of oil saute onions, meat and peppers. Cut bread in half and place meat and vegetables inside. Top with cheese and eat warm.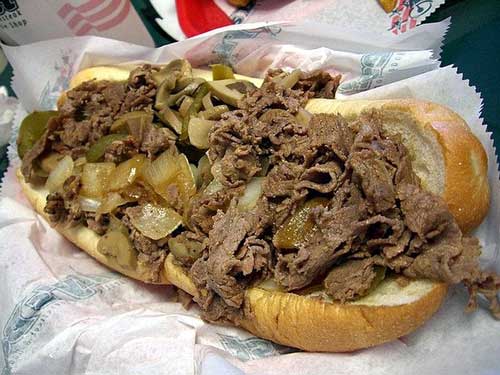 USA Regional Activities Camp
Homemade Peanut Butter
1 1/2 Cups salted dry roasted peanuts
1 tablespoon peanut oil
Add peanuts and oil to food processor or blender. Blend about 5 minutes. Place in bowl or plastic container and cover. Chill in fridge and keep for about 2 weeks.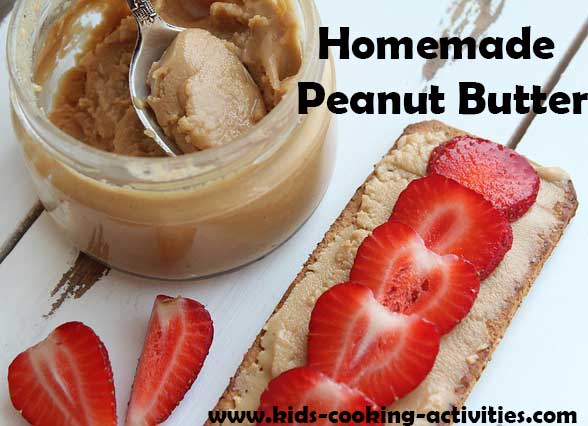 Apple Pie
Then use this apple recipe for apple pie filling:
8 medium tart apples
1/2 cup sugar
1/4 cup all-purpose flour
1 teaspoon ground cinnamon
1/2 teaspoon ground nutmeg
¼ teaspoon salt
Peel, core and slice apples thin. In bowl stir sugar, flour, cinnamon, nutmeg and salt together and toss together with apples stirring to coat. Place in pie crust and top with another crust. Bake at 400 degrees for 35 minutes or until golden brown.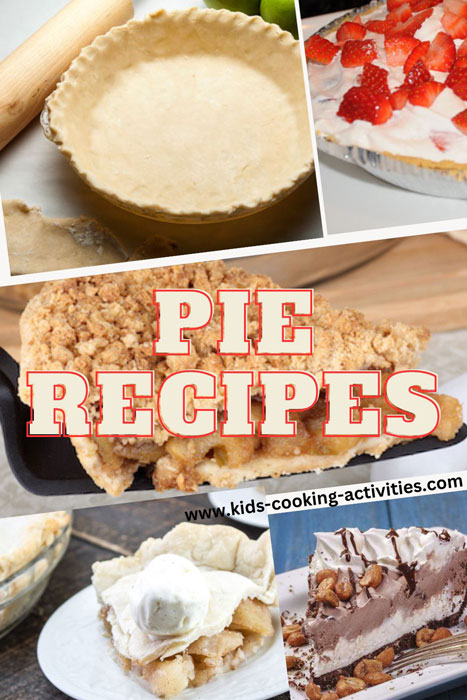 See more pie recipes.
Traditional Pumpkin Pie
Find the recipe here on our
cooking with pumpkins page.
Homemade Egg McMuffin American Cooking Video
See more
Southern Cooking in America recipes
like peach cobbler, Jambalya, grits, fried chicken and more.
Cooking Around the World Studies
Do you have an International Recipe or World Studies Fact?
Do you have an International recipe or know a lot about a country we could add to our world studies section? You can create your own page.
---
Related Cooking around World Pages:
~
International Cooking for Kids
, ~
American
, ~
Asian
, ~
British
, ~
Eastern Europe
, ~
French
, ~
Greece
, ~
India
, ~
Irish
, ~
Italy
, ~
Mexico
, ~
Middle East
, ~
South Africa
, ~
Southern USA
~
World Studies Unit
---
Follow Kids Cooking Activities