Indian Cooking
Indian cooking relies heavily on the spices available to them in their country. Curry, rice, yogurt and lamb are frequent ingredients in cooking.
Many Indians are vegetarians eating mostly wheat, rice and lentils. Chapati and Roti are types of Indian bread that is both unleavened bread (meaning it doesn't rise).
---
Get all of our International Cooking Section plus more in
one ebook
, free of ads and easier to use in cooking activities. Included in the ebook:
20+ countries information and recipes
Dinner menu invitations to print off to create your own international night
International quizzes
World maps
Geography activities
---
Food Facts about India
Many Indians eat from a metal plate or banana leaf
Indians eat with their hands
Rice is usually the main course of a meal

India is also Known for Several Famous Things:
Chess was invented in India
Bengal Tiger is found throughout India and is the national animal of India
Algebra, trigonometry and calculus also originated from India.
India is one of the oldest countries in the world

Learn a Little Language
Indians greet each other by placing the palms of their hands together, bowing and saying Namaste in greeting.
Indian Cooking: International Recipes
Chicken Curry
1 lb chicken, cut in cubes
1 tablespoon vegetable oil
large onion, chopped
2 cloves garlic, minced
1 tablespoon gingerroot, minced or 1 teaspoon ground ginger
1 teaspoon curry powder
1 teaspoon cinnamon
1 teaspoon ground cloves
1 teaspoons chili powder
1 teaspoon cumin
1/2 cup fat-free plain yogurt
Cut chicken into cubes and set aside. Sauté onion and garlic in oil. Add chicken and brown. Stir in yogurt and spices. Turn to low and simmer for 20 minutes. Serve with rice if desired.
Tandoori Chicken
½ Cup plain yogurt
½ teaspoon salt
¼ teaspoon cardamom
1/8 teaspoon cumin
1 Tablespoon lemon juice
½ teaspoon paprika
1/8 teaspoon ginger
1 garlic clove
1 lb. Chicken legs and thighs or chicken breasts
Mix ingredients together and pour over chicken in a ziploc bag or medium bowl. Marinate 4-24 hours. Bake, broil or grill.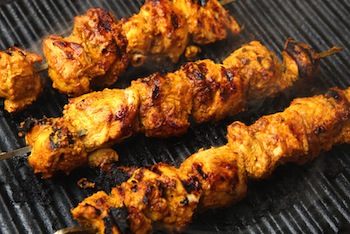 Indian Chutney
½ Cup tamarind paste
½ Cup chopped pitted dates
2 cups water
½ teaspoon chili powder
½ teaspoon cumin
½ teaspoon ginger
1 teaspoon salt
¾ cup brown sugar
Blend all ingredients together to make a thin sauce. Warm up in saucepan. Serve with kabobs or other meat.
Indian Style Rice
Indian Kofta
1 lb lean ground beef or lamb
1 small onion, grated
3 garlic cloves, minced
2 teaspoons cumin
2 teaspoons paprika
1 teaspoon ground cinnamon
1 teaspoon oregano
1 teaspoon cayenne pepper
1 teaspoon salt
1 teaspoon black pepper
Add ingredients together in a large bowl. Blend together well by kneading with your hands several minutes. Shape into sausages and grill or bake.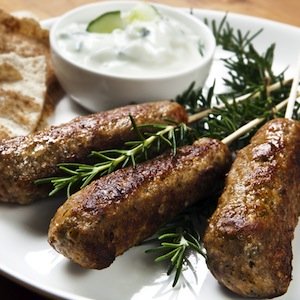 Lassi Yogurt Drink
5 cups yogurt
5 cardamom pods
6 tablespoons sugar
1 tablespoon water
1/8 teaspoon nutmeg
Remove seeds from cardamom pods and crush. In blender add yogurt, cardamom seeds, water and sugar. Blend together several minutes. Before serving sprinkle each glass with nutmeg.
Dal
This is often the main protein dish in Indian cooking for families who don't eat meat.
1 cup lentils
2 cups water
onion sliced
¾ teaspoon garlic
¾ teaspoon fresh minced ginger
½ teaspoon turmeric
1 cup water
¾ teaspoon salt
2 jalapeños peppers seeded and chopped
1 tomato, diced
2 tablespoons cilantro
Cooked rice
In a saucepan simmer lentils, water and onion. Simmer over low heat for 20 minutes covered with a lid. Puree lentil mixture in blender and add in 1 cup water and salt. Put back on the stove and thicken slightly. Stir in peppers, tomato and cilantro. Serve with rice if desired.
Indian Cooking Video-Chapati Indian Flat Bread
Cooking Around the World Studies
Do you have an International Recipe or World Studies Fact?
Do you have an International recipe or know a lot about a country we could add to our world studies section? You can create your own page.
Reader's Submitted Recipes
Click below to see contributions from other visitors to this page...

Rainbow saffron almond milk pudding Not rated yet
Ingredients 4 cups milk 1/4 cup sugar 5 teaspoons gelatin or agar agar 6 teaspoons custard powder 4 teaspoon - almond paste (soak the almonds over …
---
Related Cooking around World Pages:
~
International Cooking for Kids
, ~
American
, ~
Asian
, ~
British
, ~
Eastern Europe
, ~
French
, ~
Greece
, ~
India
, ~
Irish
, ~
Italy
, ~
Mexico
, ~
Middle East
, ~
South Africa
, ~
Southern USA
~
World Studies Unit
---
Follow Kids Cooking Activities