Middle Eastern Cooking
Middle Eastern Cooking covers many countries including Algeria, Bahrain, Egypt, Iraq, Iran, Israel, Jordan, Kuwait, Lebanon, Libya, Morocco, Oman, Palestine, Qatar, Saudi Arabia, Syria, Tunisia, Turkey, United Arab Emirates, and Yemen.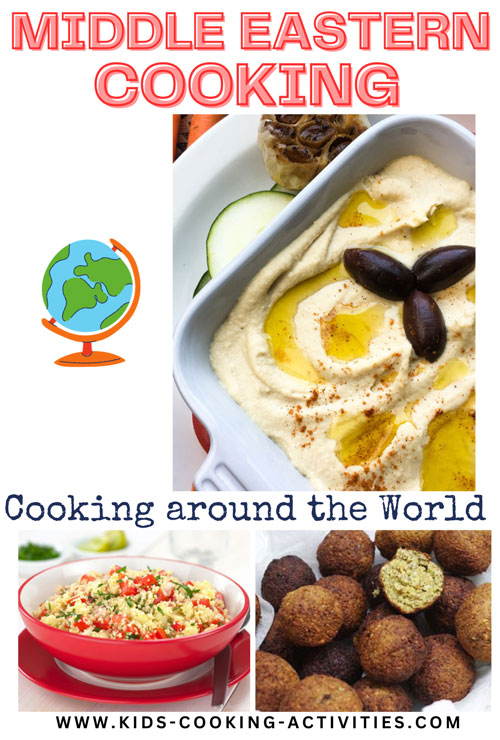 Some common Middle Eastern cooking ingredients include pita bread, lamb, eggplant, cumin and cayenne pepper.
---
Get all of our International Cooking Section plus more in
one ebook
, free of ads and easier to use in cooking activities. Included in the ebook:
20+ countries information and recipes
Dinner menu invitations to print off to create your own international night
International quizzes
World maps
Geography activities
---
Facts about Middle East
Saffron is a very expensive herb sold in Middle east selling $500-1000 per pound
Pita bread is one of the oldest types of bread in the world
Middle East is also Known for Several Famous Things:
Gold
Handmade carpets
Warm tropical weather
Learn a Little Language
In Turkish Dinner means Akþam yemeði pronounced ak-sham ye-me-ee
Thank you in Arabic- Shoo kran
Middle Eastern Cooking: International Recipes
Baba Ghanoush
1 medium eggplant
1 teaspoon olive oil
1/2 cup onions minced
3 cloves garlic
1/4 cup lemon juice
3 tablespoons creamy peanut butter
1 tablespoon fresh parsley minced
1/2 teaspoon black pepper
Preheat oven to 400. Pierce eggplant in several places with a fork. Place on cookie sheet lined with tin foil. Bake for 1 hour. Eggplant will be soft and flat. Allow to cool then scoop out flesh into a blender. Discard skin.
In skillet, heat oil and sauté onions and garlic. Cook and stir 3 minutes or until onions are transparent. Add to blender and add lemon juice and peanut butter. Blend until smooth. Stir in parsley and pepper. Serve with toasted pita wedges, cooked chicken or cut vegetables.
Hummus
15 oz. can of garbanzo beans
1 garlic clove, chopped
1 teaspoon salt
1/4 Cup cold water
5 Tablespoons lemon juice
1/3 Cup tahini paste
Fresh vegetables: Tomatoes, cucumbers, carrots, and/or celery Kalamata olives
High-quality extra virgin olive oil
Smoked paprika, for garnish
Open beans with can opener and drain liquid out. Place beans in a bowl and mash with a potato masher or have adult use the food processor. Stir in garlic clove, salt, cold water, lemon juice and tahini paste. Eat with pita bread.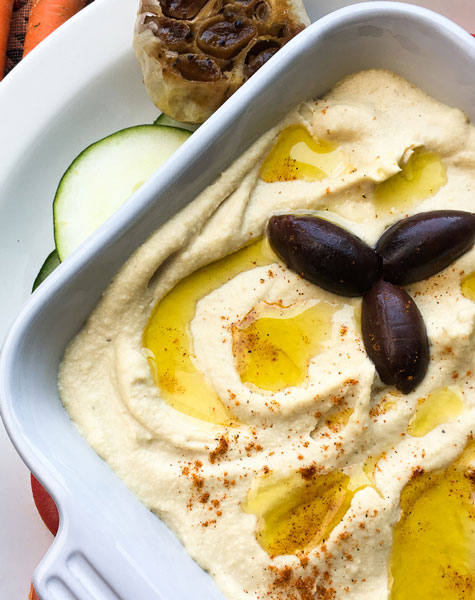 Tabbouleh
1 head romaine lettuce
1 bunch parsley
1/2 cup bulgur wheat
1/2 cup boiling water
1 large tomato, finely diced
1 medium onion, minced
1 large cucumber, peeled, diced
1/2 cup lemon juice
1/4 cup vegetable oil
Salt and pepper
Rinse and dry lettuce and parsley. Wrap parsley in a lettuce leave and chop lettuce and parsley in very small pieces. Set aside. Soak ½ Cup bulgur wheat in boiling water for about 30 minutes. Water will be completely absorbed by wheat. Add finely diced tomato, onion and cucumber to bulgur after done soaking. Stir in lettuce. Pour lemon juice and vegetable oil over mixture and toss to coat. Season with salt and pepper and serve this Middle Eastern cooking recipe immediately.
**The key to this recipe is to chop vegetables finely.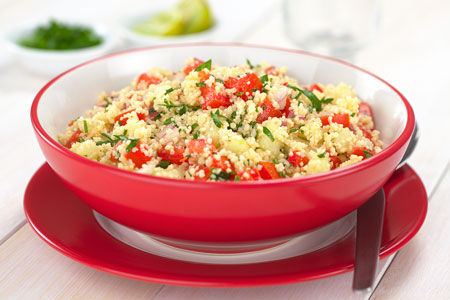 Middle Eastern Sambusa
Manti
Manti is a Turkish dish.
Meat filled ravioli -homemade, frozen or fresh
Sauce:
1 Cup plain yogurt
pinch of salt
1 teaspoon Parsley
3 cloves of garlic, minced
2 Tablespoons Melted butter
Boil 8 quarts water. Gently add pasta to boiling water and simmer under reduced heat for 5 minutes or until ravioli rise to the top. Taste pasta for doneness. Mix sauce ingredients together and pour over cooked pasta squares. Serve immediately.
Falafel
This Middle eastern cooking recipe is very popular. It is fried balls or patties made from chick peas.
1 pound chick peas, soaked overnight, cooked, and drained or 1 1/2 cans garbanzo beans
2 garlic cloves, minced
2 tablespoons baking powder
1 teaspoon cumin ground
1 Tablespoon parsley
1 onion grated
½ cup water
1/2 cup flour
pinch of black pepper
oil for frying
1 tomato, sliced
Wash chick peas and soak overnight in a large bowl. Drain chickpeas and add to a blender or food processor. Add chopped or grated onion and parsley. Blend together then add baking soda, salt, cumin and pepper. Blend together again. Add ½ cup water and 1/2 cup flour to make a smooth paste. If mixture is still sticky add an additional tablespoon of flour and use wet hands to form into patties or balls. Or drop spoonfuls of dough into hot oil. Fry patties until browned on both sides. Serve warm with tomato slices and tahini sauce.
Tahini Sauce
2/3 Cup tahini (sesame paste)
3 tablespoons water (or as needed)
2 lemons, juiced
2 garlic cloves, minced
1 tablespoons fresh parsley, minced
Mix all ingredients together making a smooth sauce. Set aside.
Yogurt Soup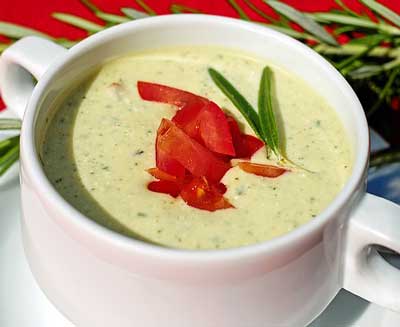 8 Cups chicken broth
2/3 Cup flour
1 Cup rice
3 Cups plain yogurt
2 eggs
2 Tablespoons butter
2 Tablespoons mint *
Boil rice in 8 cups chicken broth on low heat until rice is done. Whip flour, yogurt and eggs together until smooth. Add into the boiling chicken broth. Stir until well blended. Melt butter in saucepan and add mint. Sauté for one minute and stir mint into soup.
* Mint is used in many dishes in Middle Eastern cooking. In this dish it is especially essential with the yogurt.
Labneh
A Middle eastern cooking recipe that is often served with bread for breakfast.
3 cups plain yogurt
1 teaspoon salt
Prepare this one day before using. In bowl stir yogurt and salt together. Place on top of a large piece of cheesecloth. Tie up ends together and hang in the fridge for 12-24 hours. Place a bowl under the cheesecloth to catch drips. The next day you should have a creamy sauce like sour cream or cream cheese.
Turkish Kofta
1 cup fine fresh breadcrumbs
1 lb lean ground lamb
1/2 teaspoon salt
1/2 teaspoon pepper
1 teaspoon ground cumin
1/2 teaspoon allspice
1 teaspoon dried mint
2 cloves garlic
2 tablespoons parsley
1 egg
1 tablespoon olive oil
Add ingredients together (except olive oil) in a large bowl. Knead ingredients together with your hands several minutes. Shape into balls and grill or bake in olive oil. These are served in pita bread with tomatoes, cucumbers and hummus. You may substitute ground pork or ground beef for the lamb.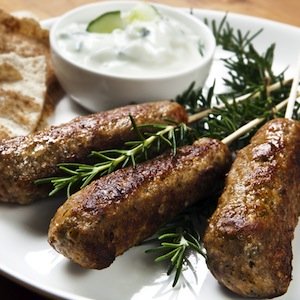 Cooking Around the World Studies
Do you have an International Recipe or World Studies Fact?
Do you have an International recipe or know a lot about a country we could add to our world studies section? You can create your own page.
---
Related Cooking around World Pages:
~
International Cooking for Kids
, ~
American
, ~
Asian
, ~
British
, ~
Eastern Europe
, ~
French
, ~
Greece
, ~
India
, ~
Irish
, ~
Italy
, ~
Mexico
, ~
Middle East
, ~
South Africa
, ~
Southern USA
~
World Studies Unit
---
Follow Kids Cooking Activities