Cake in a Jar
Any of your favorite cake recipes can be used for cake in a jar recipes, however, below we have a few favorite combinations to try.
Recipe combinations to try for your jar desserts

Lemon with lemon frosting
Red velvet with cream cheese frosting
Dark chocolate with buttercream flavored with coconut extract frosting
Strawberry with strawberry cream cheese frosting
Chocolate with peanut butter frosting
White with white chocolate frosting
White with lemon frosting as filling
Chocolate with mint frosting as filling
Chocolate with chocolate filling
Yellow with cream cheese filling
Strawberry with strawberry filling
Chocolate with peanut butter filling
Yellow with peanut butter filling

How to Bake a Cake in a Jar
Make your favorite recipe and fill about 11-12 mini jars halfway. I use one scoop from a large muffin scoop. Place on cookie sheet and bake at 350 degrees for 10-15 minutes or until toothpick inserted in middle comes out clean. Allow to cool.
Prepare your frosting recipe . You want your frosting to be a little more thin in order for it to be drizzled down the sides of your cake. To make it thinner add a teaspoon of milk or water to your recipe.
Poke a hole in the middle of your cake in the jar. Pour icing inside the hole and drizzle down the sides.
You can leave it as is with the drizzle or decorate the top of your "cupcake" with buttercream such as a swirl with a star tip. Add a lid. Attach a bow if desired.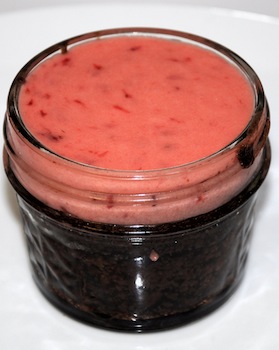 Chocolate Cake with Strawberry Icing
Another fun method for cake in a jar is to bake small cupcakes separately and align them in a jar with layers of frosting.
---
Related Cake Decorating Pages:
~
10 Fun Ideas
, ~
Recipes
, ~
Piping Techniques
, ~
Jar Cakes
, ~
Cake Party
, ~
Decorating Borders
, ~
Decorating Techniques
, ~
Color Batter
, ~
Buttercream Transfer
, ~
Fondant Decorating
, ~
Fondant Recipes
, ~
Decorating Patterns
, ~
Chocolate Transfers
, ~
Cookie Cake
, ~
Cookie Decorating
, ~
Color Flow Decorating
, ~
Cake Pops
, ~
Push Pops
, ~
Fun Cupcake Ideas
, ~
Wrappers
, ~
Cupcake Bouquet
, ~
Cupcake Cakes
, ~
Tree Stand
, ~
How to make cupcakes
, ~
Frost Cupcakes
, ~
Giant cupcake
, ~
Cone Cakes
, ~
Supplies
---
Follow Kids Cooking Activities