Giant Cupcake Cake

This giant cupcake cake is made with the a
Wilton shaped pan
but we've given directions below on how to make it without one. It is a great cake to decorate because it is so versatile.
Using the Cupcake Pan
Prepare a double batch of cake batter or two box mixes. You will have a little leftover to use for cupcakes. Fill the
giant cupcake pan
about 2/3 full. Bake 40-50 minutes until a toothpick inserted in the middle comes out clean.
Place on a cooling rack in the pan for 30 minutes. Turn upside down on the cooling rack and allow to cool several hours or overnight before adding a crumb coat and decorating. Trim off edges if necessary.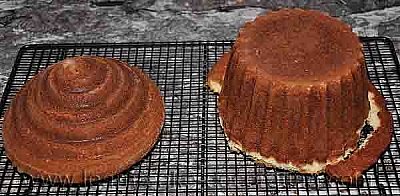 Add a thin layer of buttercream frosting, this is called crumb coating.
Allow to sit several hours. Now decorate as you'd like.
Decorating Ideas:
Frost your giant cupcake and add sprinkles or round candies on the top.


Frost the bottom with vertical lines to look like a real cupcake liner.


You can make your own giant cupcake by layering 3-4 circle layers. Carve the sides narrower at the bottom in the shape of your cupcake. Add a round cake baked in a ball pan or batter bowl on the top. Decorate.
Giant Pan Video
---
Related Cake Decorating Pages:
~
10 Fun Ideas
, ~
Recipes
, ~
Piping Techniques
, ~
Jar Cakes
, ~
Cake Party
, ~
Decorating Borders
, ~
Decorating Techniques
, ~
Color Batter
, ~
Buttercream Transfer
, ~
Fondant Decorating
, ~
Fondant Recipes
, ~
Decorating Patterns
, ~
Chocolate Transfers
, ~
Cookie Cake
, ~
Cookie Decorating
, ~
Color Flow Decorating
, ~
Cake Pops
, ~
Push Pops
, ~
Fun Cupcake Ideas
, ~
Wrappers
, ~
Cupcake Bouquet
, ~
Cupcake Cakes
, ~
Tree Stand
, ~
How to make cupcakes
, ~
Frost Cupcakes
, ~
Giant cupcake
, ~
Cone Cakes
, ~
Supplies
---
Follow Kids Cooking Activities