Frozen Buttercream Transfer
A frozen buttercream transfer is an image frosted and piped on a sheet of wax paper. It is placed in the freezer and then added to a frosted cake.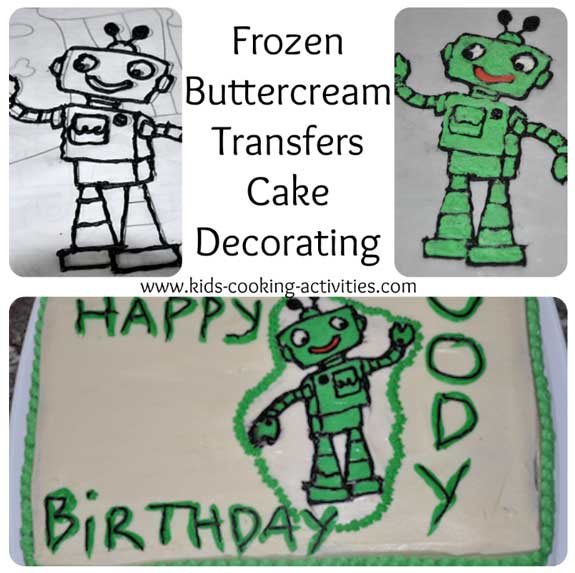 Making a Buttercream Transfer

Find a picture with a design or a cake decorating pattern you'd like to use. I'm actually using a kids calendar in this picture. Tape your picture and waxed paper down so your page doesn't move around.

You will need black frosting. I've bought the black frosting already in the tube which I've attached a writing tip.
Prep whatever colors of frosting you'd like for your picture and place in decorating bags with writing tips.
Place a sheet of waxed paper over your image.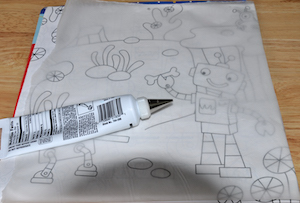 Start with outlining your image with black frosting, like below.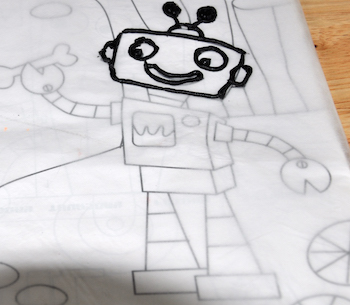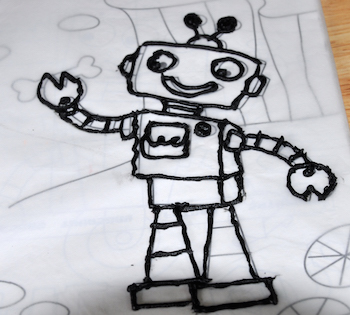 Once you've finished your outline you can move your waxed paper carefully to a sheet pan. This will make it easier to place in the freezer.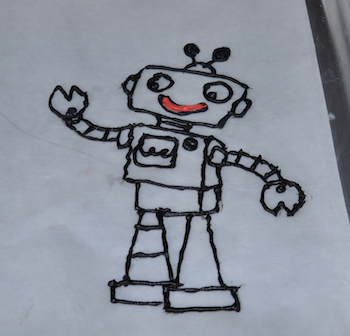 Start to fill in the colors by adding colored frosting in an area with your writing tip. Spread with a clean paintbrush, clean finger or knife. Mine was a small area so I've used a small paintbrush to smooth out the frosting.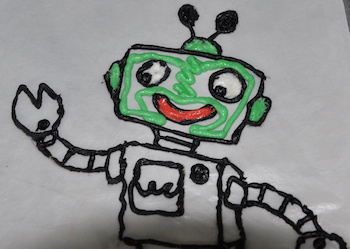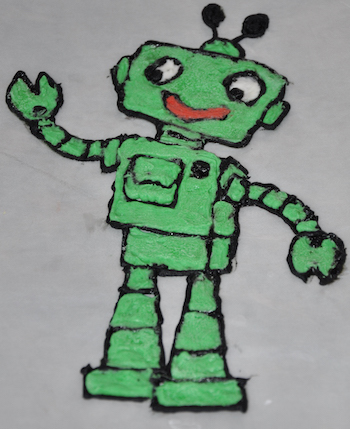 Place buttercream transfer in the freezer for several hours or overnight.
To make your transfer stronger, frost a layer of white frosting or other color right over the top of your frozen image. Place in the freezer again. Once you lay your image down on your cake the white frosting will be on the bottom and your image on top. Smooth edges into a smooth line, if desired.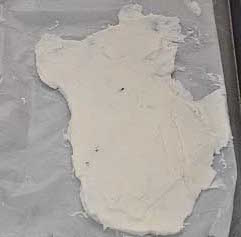 This method of cake decorating is great for planning ahead. You can and need to make your image days before you are ready to decorate your cake. Once your image is frozen solid, place your image in a Ziploc bag and store in the freezer.
When you are ready to add your image to your cake. Frost your cake and take the image out of the freezer. Un-peel from wax paper and immediately lay image on cake.
Pipe around edges or add any finishing details you'd like.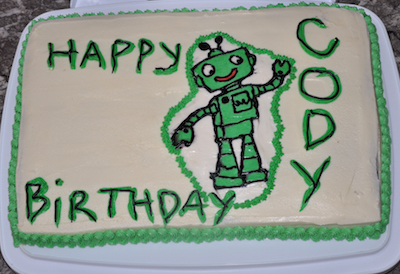 The image you see above will actually be laid down on top of the cake. So any images you do will be a mirror image. So if you do wording of any kind try printing off a reverse image in Microsoft Word or other publication.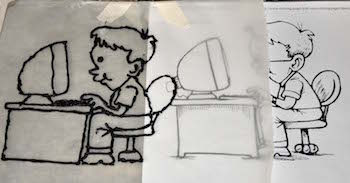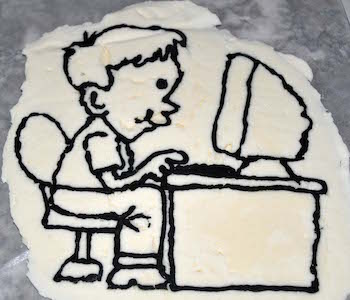 Frozen Buttercream Transfer Video Tutorial
---
Related Cake Decorating Pages:
~
10 Fun Ideas
, ~
Recipes
, ~
Piping Techniques
, ~
Jar Cakes
, ~
Cake Party
, ~
Decorating Borders
, ~
Decorating Techniques
, ~
Color Batter
, ~
Buttercream Transfer
, ~
Fondant Decorating
, ~
Fondant Recipes
, ~
Decorating Patterns
, ~
Chocolate Transfers
, ~
Cookie Cake
, ~
Cookie Decorating
, ~
Color Flow Decorating
, ~
Cake Pops
, ~
Push Pops
, ~
Fun Cupcake Ideas
, ~
Wrappers
, ~
Cupcake Bouquet
, ~
Cupcake Cakes
, ~
Tree Stand
, ~
How to make cupcakes
, ~
Frost Cupcakes
, ~
Giant cupcake
, ~
Cone Cakes
, ~
Heart Cupcakes
, ~
Cream Filled
, ~
Supplies
---
Follow Kids Cooking Activities