Cookie Cake Decorating
Cookie cake decorating is faster than baking and frosting a whole cake but you can have just as much fun decorating it. It is not only cheaper than buying one, it is rather simple as you make dough and pat it into a pizza pan or large circle. Bake and allow to cool. Then decorate as you'd like. Whatever the celebration it is a fun twist.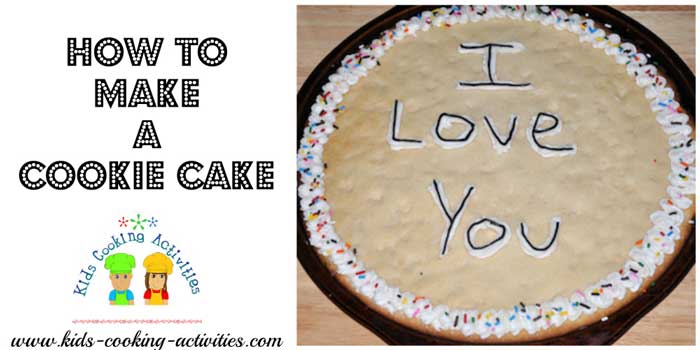 Cookie Recipe
You can
use any cookie dough recipe
and pat into a circle or onto a pizza pan. We used the following cake mix recipe for ours.
Cake Mix Cookie
1 pkg. Yellow or white cake mix
1/2 Cup butter, softened or oil
1 teaspoon vanilla
2 eggs
1/2 Cup chocolate or white chips
Preheat oven at 350 degrees F. Add mix, butter, vanilla and eggs in mixing bowl. Beat together several minutes until well blended. Stir in chocolate chips. Pat dough onto a greased and floured pizza pan. If you don't have a pizza pan form your dough into a circle. Bake for 15-20 minutes or until golden brown. Allow to cool.
Try a different recipe here.
Decorating Cookie Cakes
Once your cookie has cooled, start with creating a border around the edges. A star border, shell border or zigzag border (pictured here) all work well. Learn how to do these
decorating techniques here.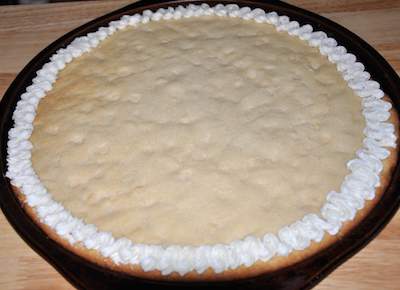 Next add whatever wording you'd like.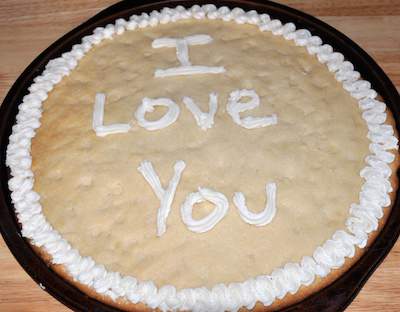 Outline your letters with black frosting to make your wording stand out.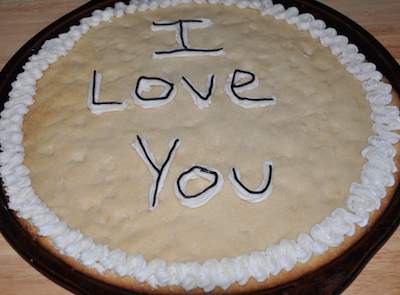 Add whatever details you'd like to brighten your cake.
Some tips:
Don't remove the cookie cake out of the pan before decorating. You decorate and serve it in the pan you bake it in. So you can use disposable foil pizza pans for giving away or displaying, if you'd rather not use your own pizza pan.
Cookie Cake Decorating Tutorial
Similar recipes:
Fruit Pizza
Dessert Pizza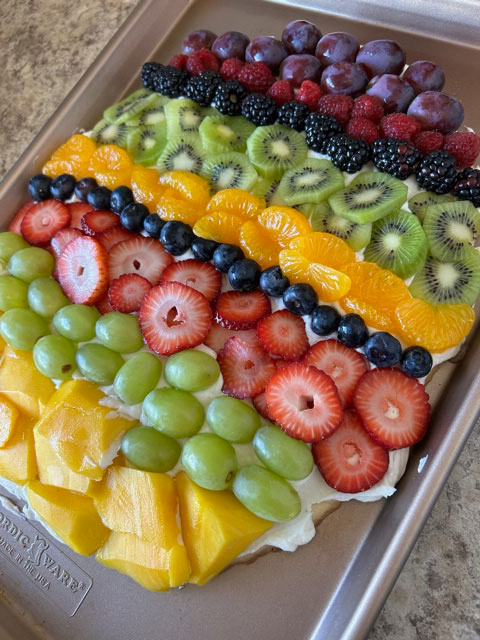 ---
Related Cake Decorating Pages:
~
10 Fun Ideas
, ~
Recipes
, ~
Piping Techniques
, ~
Jar Cakes
, ~
Cake Party
, ~
Decorating Borders
, ~
Decorating Techniques
, ~
Color Batter
, ~
Buttercream Transfer
, ~
Fondant Decorating
, ~
Fondant Recipes
, ~
Decorating Patterns
, ~
Chocolate Transfers
, ~
Cookie Cake
, ~
Cookie Decorating
, ~
Color Flow Decorating
, ~
Cake Pops
, ~
Push Pops
, ~
Fun Cupcake Ideas
, ~
Wrappers
, ~
Cupcake Bouquet
, ~
Cupcake Cakes
, ~
Tree Stand
, ~
How to make cupcakes
, ~
Frost Cupcakes
, ~
Giant cupcake
, ~
Cone Cakes
, ~
Supplies
---
Follow Kids Cooking Activities