Christmas Cookie Recipes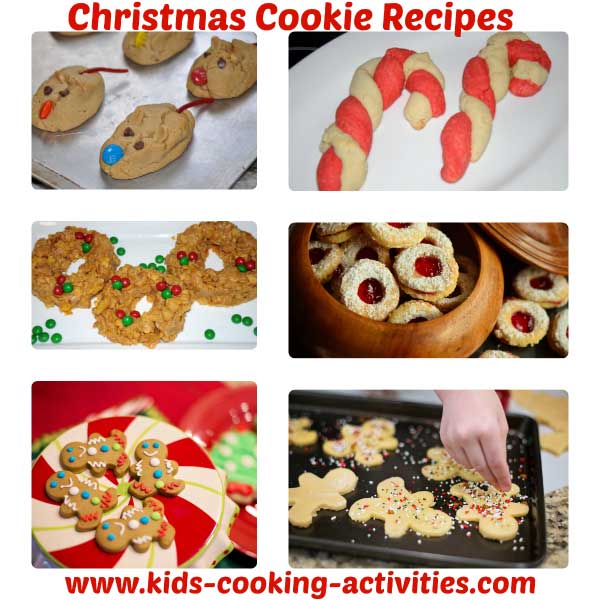 One of the traditional Christmas recipes is a basic sugar cookie dough that kids can roll out and cut with cookie cutters. This cookie is great for kid's to decorate however they'd like. We have a few more cookie ideas and kids Christmas cookie recipes they will love to put together for the holidays or throughout the year.
Kids Cooking Activities Teaching Materials
Make teaching easier with our activities and recipes compiled in theme sets and books with an easy to read format
Perfect for teaching!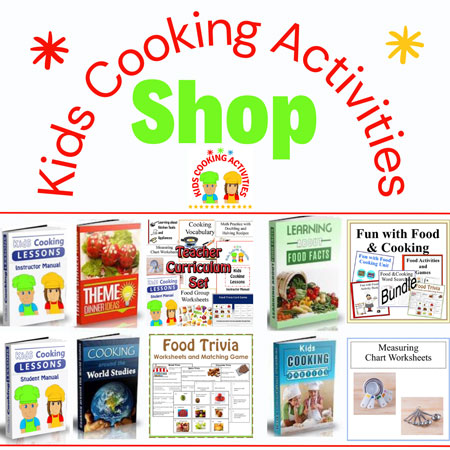 ~This post may contain affiliate links and I'll earn a small commission if you shop through them. There is no extra cost to you. This is how we help support our family and continue to bring you amazing content. To learn more see the
affiliates disclosure here.
~
Kids Christmas Cookie Recipes Cut Out Cookies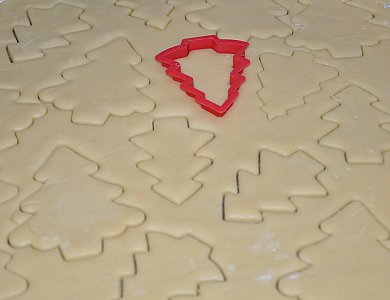 Basic Sugar Cookie Dough
1/2 Cup butter or margarine, softened
1 Cup powdered sugar
1 egg
1/4 Cup milk
1/2 teaspoon vanilla extract
1/2 teaspoon almond or lemon extract
2 1/2 Cups flour
1 teaspoon baking soda
1/2 teaspoon cream of tartar
In mixing bowl, cream together butter, sugar, eggs, and extracts. Blend together. In separate large bowl, add flour, baking soda and cream of tartar. Add to creamed mixture and blend together. Form into a ball and chill 2 hours. Roll dough out on floured surface and cut out with desired
cookie cutters.
Bake at 375 degrees for 7-9 minutes. Decorate with
Royal Icing
or
buttercream frosting.
Simple Sugar Cookie Recipe
One box of white cake mix
1/2 Cup shortening
1/3 Cup butter, softened
1 teaspoon almond or lemon extract
1 egg
In mixing bowl blend together cake mix, shortening, butter, extract and egg. Form into a ball. If the dough is too sticky to roll out, chill for 30 minutes. Roll dough onto floured surface and cut out with
cookie cutters
. Bake at 375 degrees for 5-7 minutes.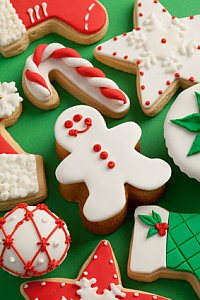 Brown Sugar and Spice Cut Out Cookies
½ Cup butter, softened
1 egg
1 teaspoon Vanilla
2 Cups flour
1 Cup brown sugar
2 teaspoons baking powder
2 teaspoons Cinnamon
½ teaspoon nutmeg or ground cloves
¼ teaspoon salt
Preheat oven to 350 degrees and grease cookie sheets. Cream sugar and butter together in mixing bowl. Add egg and vanilla and blend together. Stir dry ingredients together and add to creamed mixture. Roll out dough and cut out with
cookie cutters
. Bake 12-15 minutes. Decorate with
Royal Icing
or
buttercream frosting.
Kid's Cookie Decorating Party Idea
Have your kids invite friends over to decorate cut out cookies and have fun creating together. Here are some tips.
Make the cookies and the frosting ahead of time so everything is ready to go the day of the party.
Have several colors of frosting, plastic knives, a variety of sprinkles and a flat shirt box for each child to bring their cookies home in.(or use two paper plates stapled together)
Instead of knives you could try new, clean paintbrushes for frosting cookies.
Other candy decorations may include licorice ropes, cinnamon candies, lemon drops, gumdrops, mini marshmallows, chocolate candies or jelly beans.
Let the kids be creative and enjoy this holiday tradition.

For more planning ideas and a party to do list see our
Cookie Decorating Kids Cooking Party Page.
Jam Filled Wreaths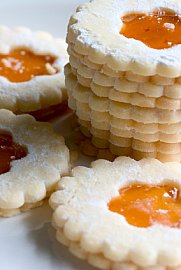 1 Cup butter or margarine
2/3 Cup sugar
1/2 teaspoon vanilla
2 Cups flour
Powdered sugar for dusting the top
1/4 Cup red jam of choice
In a mixing bowl cream butter, sugar and vanilla. Stir in flour. Roll into ball and wrap with plastic wrap. Chill for 2 hours. Then roll out on floured surface. Cut out with round cookie cutters. Each cookie will have two parts to it. For half the cookies cut out a small circle in the middle with a bottle cap or small round cookie cutter.
Bake at 375 degrees for 10-12 minutes. Allow to cool. Dust the top cookies (the ones with holes in the centers with powdered sugar.) On the bottom cookies spread jam over the top and place a powdered sugar cookie wreath on the top so the jam will be seen through the hole.
Find more of our
best cookie recipes.
Christmas Fun Recipes- Kids Christmas Cookie Recipes
Mice Cookies
This Christmas cookie recipe will keep the kids quiet as a mouse. *
1 Cup creamy peanut butter
½ Cup butter (no subs), softened
½ Cup sugar
½ Cup brown sugar
1 egg
1 teaspoon vanilla
1 ½ Cups flour
½ teaspoon baking soda
½ Cup peanut halves (ears)
2 Tablespoons green and red mini M&M's (nose)
4 teaspoons mini chocolate chips (eyes)
red shoestring licorice (tail)
In bowl, cream peanut butter, butter, and sugars. Beat in egg and vanilla. Combine the flour and baking soda and add to creamed mixture. Refrigerate for 1 hour. Roll into balls. Place on ungreased cookie sheets. Pinch each ball at one end to taper into a tail. Insert two peanut halves in center of each ball for ears. Add one M&M baking bit for nose and two chocolate chip eyes. Bake at 350 for 8-10 minutes. Gently insert one licorice piece into each warm cookie for tail.
*If you'd like a nut free cookie, use this idea with the sugar cookie recipe above.
Reindeer Cookies
Following the peanut butter recipe above, add two chocolate chips or candy eyes and a red hot or red M&M nose. Bake. Add knotted pretzels for antlers to cookies when they just get out of the oven. Cool.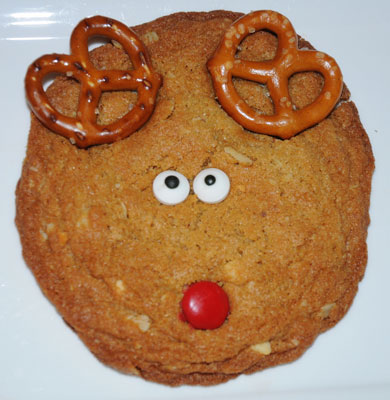 Here is a
chocolate reindeer cookie.
Gingerbread Men
1 Cup packed brown sugar
1/3 Cup shortening
1 1/2 Cups dark molasses
2/3 Cup cold water
7 Cups all-purpose flour
2 teaspoons baking soda
2 teaspoons ground ginger
1 teaspoon ground allspice
1 teaspoon ground cinnamon
1 teaspoon ground cloves
1/2 teaspoon salt
In mixing bowl, add brown sugar, shortening, water and molasses. Blend together. Then add flour, baking soda, ginger, allspice, cinnamon, cloves and salt. Mix well and form into a ball. Chill dough for 1 hour. Roll dough onto floured surface and cut out with a gingerbread man cookie cutter. Place on cookie sheet and bake at 375 for 8-10 minutes.
Attach two mini chocolates chips for eyes, one for a nose and three raisin buttons down the middle by adding a dot of frosting as the "glue". Decorate with
Royal Icing
or
buttercream frosting.

Also see our
Gingerbread House Recipes and Ideas.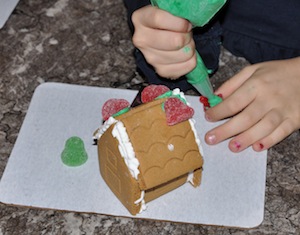 Cornflakes Wreath Cookies
1 Cup white corn syrup
1 Cup sugar
1 Cup peanut butter
8 Cups Corn Flakes
Prepare a cookie sheet by placing waxed paper over the top. Combine sugar and corn syrup in a pan and have an adult heat to a boil. Stir until well dissolved. Remove from heat and add peanut butter. Stir until peanut butter melts. Pour over corn flakes. Stir together until corn flakes are completely covered. With a spoon or with buttered hands, drop mixture on waxed paper to form a circle. Work quickly and, if needed, warm up corn flakes again in a microwave safe dish to soften. Place a green and two red M&M's or other candies to look like a holly berry and leaf. Let cool. Makes about 10 wreaths depending on size.
Candy Cane Fun
1 1/4 Cup butter
1 Cup sugar
2/3 Cup powdered sugar
1 egg
1 1/2 teaspoons almond extract
1 teaspoon vanilla
3 Cups flour
1/2 teaspoon salt
1 teaspoon red food coloring
In mixing bowl cream together butter, sugar, powdered sugar, egg, almond and vanilla extract. Blend together. Add in salt and flour. Divide dough into two portions and add one teaspoon red food coloring to one portion.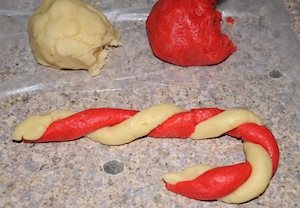 Take a small amount of dough from each color and roll into snake shapes. Press two dough strips together and twist.
Curve the top to resemble a candy cane and place on a cookie sheet. Continue with remainder of the dough. Bake in a 375 degree oven for 7-9 minutes. Allow to cool.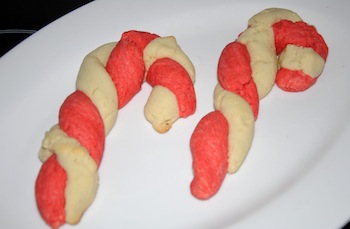 Decorating Cookies Video
Easy Christmas Cookie Recipes
Decorative Graham Cookies
creamy peanut butter
1 package graham crackers, broken into rectangles
milk chocolate candy for dipping
Spread peanut butter on a graham cracker and top with another cracker to make a sandwich. Melt chocolate in microwave. Dip grahams into chocolate and place on waxed paper. Sprinkle with red, green or other cake sprinkles. Allow to dry until chocolate is set. Use different sprinkles for different holidays!
Chocolate Peppermint Cookies
Switch this easy chocolate chip cookie recipe into a Christmas cookie recipe by adding peppermint candies. You can also substitute red and green chocolate candies, such as M&M's, with the chocolate chips.
1 Cup butter
1 Cup sugar
1 Cup brown sugar
2 eggs
1 teaspoon vanilla extract
1 teaspoon baking powder
1 teaspoon baking soda
3 1/2 Cups flour
1 Cup milk chocolate chips
½ Cup crushed peppermint candies
In mixing bowl cream butter, sugar, brown sugar, eggs and vanilla together until well blended. Add in baking powder, baking soda, and flour. Blend together. Stir in chocolate chips and peppermint candies. Bake at 350 degrees for 8-10 minutes.
More Cookie Recipes Here
Brownie Recipes
Rainbow cookies
Cat cookies
Mice shaped cookies
Homemade sandwich cookies
Turkey shaped cookie
Cookie Bouquet
Valentine cookies
Snowball cookies
Easter cookie recipes
Pinata filled cookies
Tie Dye Cookies

Turn any of these best cookie recipes into a cooking activity!
Or try one of these activities:
Kids Cookie Swap Exchange

Cookie Pizza kids cooking party
Cookie decorating kids cooking party
Cookie Decorating
12 Christmas Cooking Activities
Christmas Printable Fun Games!

Christmas Theme Crafts- Edible and just for decoration.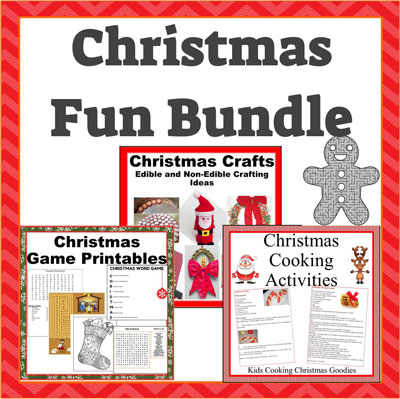 Printable Games, Coloring Sheets, and More
What is one of your favorite Christmas cookie recipes?
Submit your favorite kids recipe
Do you have a favorite recipe your kids love to make? Or a recipe your kids ask you to make again and again? Share it with us!
Reader's Submitted Recipes
Click below to see contributions from other visitors to this page...

Chewy Gingersnap Cookies
Prep time: 20 minutes Baking time: 8-11 minutes Chill time: 1 hour Yields approximately 4 dozen cookies Ingredients: ½ c. unsalted butter, room …
---
Related Seasonal Recipe Pages:
~
School Lunches
, ~
Apples
, ~
Autumn Activities
, ~
Pumpkins
, ~
Kids Halloween Recipes
, ~
Halloween Recipe Ideas
, ~
Thanksgiving
, ~
Hanukkah Recipes
, ~
Kids Christmas cooking
, ~
Christmas Candy Recipes
, ~
Reindeer
, ~
Make Homemade Chocolates
, ~
Jar Mixes
, ~
Gift Basket Ideas
, ~
Homemade Fudge Recipes
, ~
Homemade Suckers
, ~
Christmas Cookie Recipes
, ~
Gingerbread House Recipes
, ~
Food Gift Ideas
, ~
Dough Ornament Recipes
, ~
Hot Cocoa
, ~
Happy New Year
, ~
Snowman Theme Recipes
, ~
Valentine's Day
, ~
Valentine Dessert Recipes
, ~
St. Patrick's Day
, ~
April Fool's Day Recipes
, ~
Passover Recipes
, ~
Kids Easter Recipes
, ~
Sugar Eggs Recipe
, ~
Resurrection Cookies Recipe
, ~
Italian Easter Bread
, ~
Russian Easter Bread Recipe
, ~
Earth Day
, ~
Cinco de Mayo, May 5
, ~
Mother's Day Recipes
, ~
Father's Day Recipes
, ~
Summer Cooking
, ~
Kid's Campfire Cooking Recipes
, ~
Dutch Oven Cooking for Kids
, ~
4th of July Recipes
, ~
Ice Cream Recipes
, ~
Popsicle Recipes
, ~
Simple Smoothie Recipes
, ~
Picnic Ideas and Recipes
, ~
Easy Grilling Recipes
, ~
Grow your own Garden
---
Follow Kids Cooking Activities