Kid Friendly One Pot Meals
One pot meals offer you the pleasure of home cooking assembled with minimal fuss and cleanup. They combine various ingredients, therefore allowing you diversity in cooking, while keeping things simple. Hence its name, one-pot meals require actually just one pot. Yes, you will need some knives, spatulas, or cutting board, but when speaking about the pots, you really need just one One-pot meals are a great way to get kids to try new foods. Kids can try a new food mixed with old favorites. They allow you also to reconstruct some classic meals and give them a new and exciting twist your kids just might love.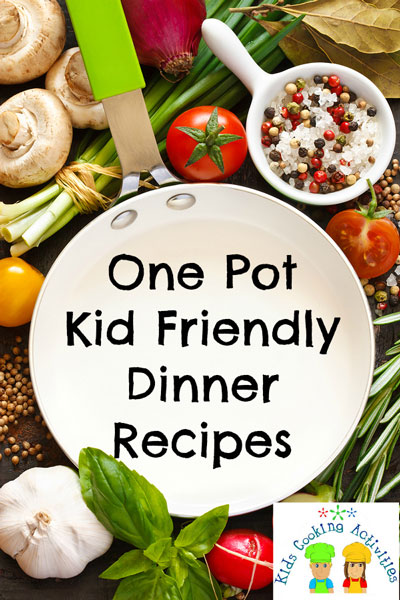 Kids Cooking Activities Teaching Materials
Make teaching easier with our activities and recipes compiled in theme sets and books with an easy to read format
Perfect for teaching!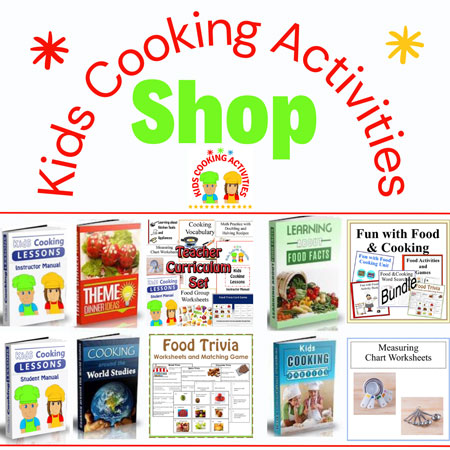 ~This post may contain affiliate links and I'll earn a small commission if you shop through them. There is no extra cost to you. This is how we help support our family and continue to bring you amazing content. To learn more see the
affiliates disclosure here.
~
One Pot Spaghetti Chicken and Rice
Preparation time: 5 minutes
Cooking time: 40 minutes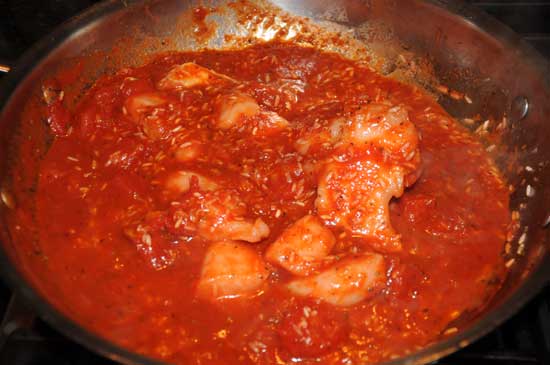 Servings: 4
Ingredients:
1.5 lb. chicken breasts, skinless, boneless
2 cups marinara sauce
1 cup long grain rice or brown rice
15 oz. can crushed tomatoes, with juices
1 teaspoon dried basil
Salt and pepper, to taste
1 cup mozzarella, torn into pieces
chopped carrots or bell peppers, if desired
Directions
Combine the marinara sauce, rice, tomatoes, and basil in a large skillet. Add chopped vegetables if using. Slice the chicken breast into chunks and season with salt and pepper. Arrange the chicken onto rice. Cover skillet with a lid and cook on medium-low. Stir often and watch closely in case liquid runs out. Cook until rice is tender. Top with mozzarella cheese. Cook a few minutes until the cheese is melted. Serve while still hot.
Burrito Bowls
Preparation time: 5 minutes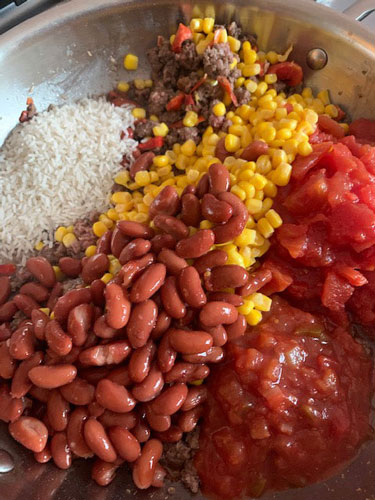 Cooking time: 30 minutes
Servings: 4
Ingredients:
1 small sweet onion, chopped
1 red bell pepper, seeded, chopped
1 lb. lean hamburger
7 oz. can corn
7 oz. can kidney beans, drained, rinsed or other beans of your choice
7oz. can crushed tomatoes
¼ cup mild chunky salsa
½ cup rice
1 1/2 cup chicken stock
½ teaspoon cumin
½ teaspoon taco seasoning
Salt and pepper, to taste
Toppings: sour cream, cheddar cheese, guacamole, tortilla chips, etc.
Directions:
1. Add the bell pepper, onion and hamburger in a skillet. Cook until hamburger is browned, about 5 minutes.
2. Add the remaining ingredients except the toppings. 3. Bring to a light boil. Reduce heat and cook, covered for 20 minutes or until the rice is done.
4. Serve with tortilla chips, sour cream, or cilantro.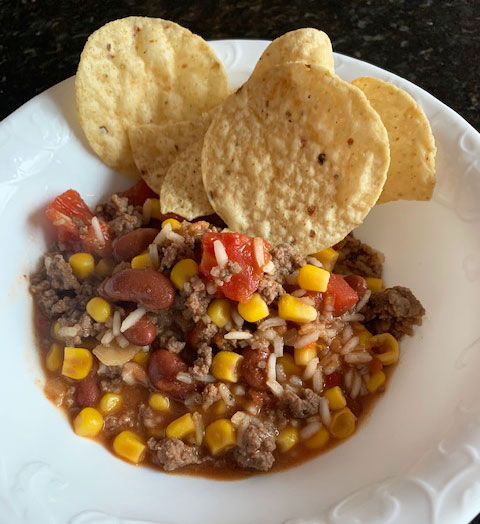 Breakfast Skillet One Pot Meal
Ingredients:
2 T. unsalted butter, divided
2 t. Italian seasoning
1 t. ground cumin
½ t. ground chili powder
Sea salt and black pepper, to taste
2 Cups red potatoes cut in quarters or substitute diced hash brown potatoes
¾ c. mini sweet peppers, diced (tri-color)
4 large eggs
4 strips thick-cut bacon, cooked crispy
1 large avocado, diced
1 large lime, cut into 8 wedges
Directions:
Melt the butter in a skillet. Add the chopped potatoes and peppers to the skillet. Add Italian seasoning. Season with salt and black pepper, to taste. Cook, stirring occasionally, until the pepper softens, approximately 3-4 minutes.
Create four "wells" in the skillet by pushing the vegetables to the side with a spatula. Add an egg into each opening and reduce heat to medium low. Cover and cook until the eggs are cooked through, approximately 3-5 minutes depending on desired level of doneness.
Remove from heat and crumble the crispy bacon on top of the skillet.
Serve immediately with the diced avocado and fresh lime wedges on the side.
More One Pot Meal Recipes
Jambalya
Beef Stroganoff
Chili Mac Supper
Fajitas
Sloppy Joes
Chicken Curry
Chicken Picatta
General Tso Chicken
Kung Pao Chicken
Pork Fried Rice
Sweet and Sour Pork
Franks and Beans
Garlic Sauce Pasta
Red Beans and Rice
Beef Stew
Ham and Macaroni Chowder
Tortellini and Peas
Beef and Broccoli
Now try some
One Sheet Pan Recipes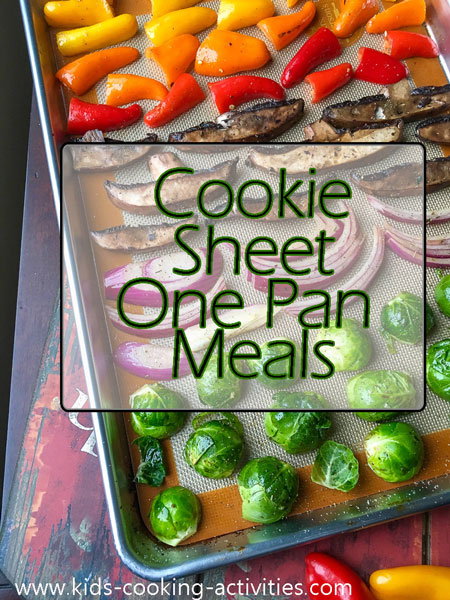 Follow Kids Cooking Activities