Broccoli Facts
Broccoli facts and general information about broccoli
Kids Cooking Activities Teaching Materials
Make teaching easier with our activities and recipes compiled in theme sets and books with an easy to read format
Perfect for teaching!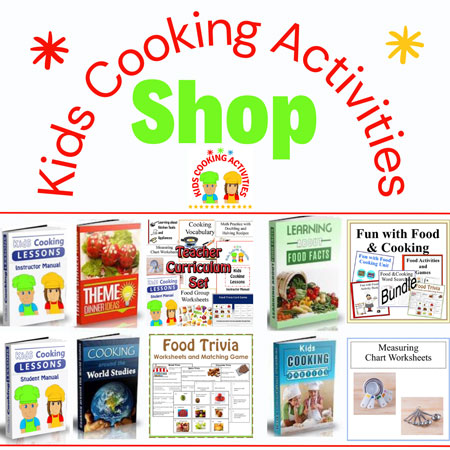 ~This post may contain affiliate links and I'll earn a small commission if you shop through them. There is no extra cost to you. This is how we help support our family and continue to bring you amazing content. To learn more see the
affiliates disclosure here.
~
Broccoli is Available:
Available year round but their true season is fall to early spring.
How does It Grow:
Broccoli grows from a seed planted in the garden.
What to Look for When Buying:
Broccoli should be dark green with no yellowish or purple color.
Storage Tips:
Store in your refrigerator
How to Cook:
Eat chopped in salads, soups, stir fry, sauté, in casseroles, boiled, steamed or eat as is. Try steaming your broccoli for more nutrition.
Nutrition Facts:
Broccoli is high in Vitamin C, beta carotene and Vitamin A. One serving size is 1 cup.
Broccoli Recipes
Broccoli and Rice Soup
1 package of Rice-a-Roni
5 Cups water
1/2 package of fat free cream cheese
1 Can cream of chicken soup
Large head of broccoli chopped
Sliced almonds for topping
In saucepan, have adult add
Rice-a-Roni
and seasoning packet to water. Simmer 8-10 minutes. Add chopped broccoli and cook until tender. In separate bowl have child mix soup and cream cheese together. Add to pan and stir until melted.
Broccoli Balls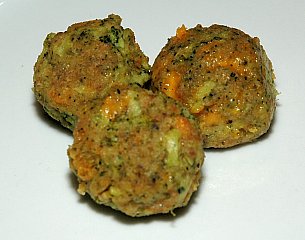 1 pkg. frozen broccoli
1 Cup bread crumbs
1 Cup cheddar cheese, shredded
3 eggs
Cook and drain broccoli. Chop or cut broccoli into small pieces. In a bowl, blend bread crumbs, cheddar cheese and eggs together. Stir in chopped broccoli.

Roll a small amount of broccoli mixture into a ball and place on a greased cookie sheet or baking pan. Continue with remaining broccoli mixture. Bake broccoli balls in a 375 degree oven for 20 minutes. Flip balls and bake another 10 minutes.
Roasted Broccoli and Bacon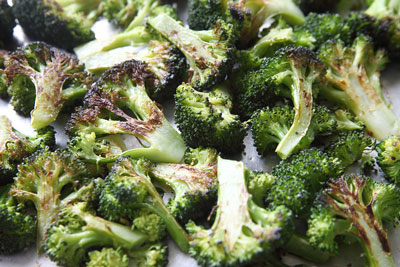 Ingredients:
6 bacon slices, cut into small pieces
2 heads of broccoli, separated and cut into small florets
5 large cloves of garlic, minced
4-5 Tablespoons canola or other cooking oil
2 Tablespoons balsamic vinegar
Sea salt, to taste
Ground black pepper, to taste
Directions:
Preheat an oven to 400 degrees Fahrenheit and place a sheet of heavy duty aluminum foil in a rimmed baking tray.
Cut the broccoli into small florets and wash well. Dry the broccoli florets by blotting the florets gently with paper towels.
Transfer the broccoli florets to a large zip lock bag and add the chopped bacon pieces, the avocado oil, balsamic vinegar, ground black pepper, sea salt and minced garlic cloves to the broccoli florets in the bag.
Seal the bag nicely and properly and toss the ingredients around in the bag to coat the broccoli and bacon pieces nicely with the seasonings and the oil.
Transfer the coated broccoli florets and bacon to the baking tray and roast in the oven for 30-35 minutes or until the vegetables and the bacon pieces are browned from all sides. Flip the contents of the baking tray every 10 minutes to ensure even browning.
Broccoli Tart
1 package frozen chopped broccoli thawed and drained
1 1/2 cups cheddar cheese shredded
9 inch pie shell
Preheat oven to 375 degrees. In bowl, add eggs and milk until blended. Stir in chopped broccoli and shredded cheese. Stir together and spoon into pie crust. Bake 40 minutes until knife inserted in middle comes out clean.
Serve with a fresh fruit salad.
Beef and Broccoli
1 tablespoon olive oil
1 pound beef sirloin steaks
1 package frozen broccoli thawed
onion soup mix
1 1/4 cups water
1 tablespoon brown sugar
1 tablespoon soy sauce
Heat oil in pan and cook steak until done. Set aside. Add soup mix to 1 1/4 cups water. Pour into pan and add broccoli, brown sugar and soy sauce. Bring to a boil. Cook several minutes then add steak to the pan. Cook until broccoli is tender.
Cook over cooked rice or noodles.
20 Broccoli Inspired Recipes
Here are a list of our favorite broccoli recipes for you. If you have to, chop broccoli into small pieces and add to these recipes. This will help those broccoli haters take it slowly!
Broccoli Cheese Casserole
Roasted Broccoli
Chicken and Broccoli Quiche
Stuff Broccoli in chicken cordon bleu recipe
Fettuccine Alfredo with Broccoli
Ham and Vegetable Broccoli Soup
Broccoli Bites
Broccoli, Chicken and Rice Casserole
Chicken Broccoli Braid
Ham and Broccoli Casserole
Cream of Broccoli Soup
Green Smoothie
- add broccoli to a smoothie!
Stir Fry
Potato skins with chopped broccoli on top
Vegetable Lasagna
Broccoli Salad
Broccoli Frittata
Broccoli Tart
Beef and Broccoli
Roasted Broccoli
Cheesy Broccoli and Potato Mash
Broccoli Casserole
Kids Cooking Video: Microwave Broccoli and Cheese
Broccoli Cooking Ideas
Share your food facts and recipes
Do you have a food facts or recipe to share?
---
Related Food Facts Pages:
~
Apple
, ~
Apricot
, ~
Avocado
, ~
Banana
, ~
Berry
, ~
Cherry
, ~
Coconut
, ~
Cranberry
, ~
Dates
, ~
Figs
, ~
Grapefruit
, ~
Grapes
, ~
Kiwi
, ~
Lemon and Limes
, ~
Mango
, ~
Melon
, ~
Orange
, ~
Papaya
, ~
Peach
, ~
Pear
, ~
Pineapple
, ~
Plums
, ~
Tomato
, ~
Artichoke
, ~
Asparagus
, ~
Beets
, ~
Broccoli
, ~
Brussels Sprouts
, ~
Cabbage
, ~
Carrot
, ~
Cauliflower
, ~
Celery
, ~
Corn,
~
Cucumber
, ~
Eggplant
, ~
Garlic
, ~
Green Beans
, ~
Kale
, ~
Lettuce/Salad Greens,
~
Mushrooms,
~
Okra
, ~
Onion
, ~
Parsnip,
~
Peas,green
, ~
Peppers,
~
Potato
, ~
Radish
, ~
Rhubarb
, ~
Spinach
, ~
Summer Squash and Zucchini
, ~
Sweet Potato
, ~
Turnip
, ~
Winter Squash, including Pumpkins
, ~
Beans
, ~
Eggs
, ~
Nuts
, ~
Seeds
, ~
Meat
, ~
Dairy
, ~
Grains
---
Follow Kids Cooking Activities