25 Meatless Meal Recipes
Meatless meals are a good way to save you a little money as well as cut back on calories. Here are some yummy recipes that won't have you missing meat.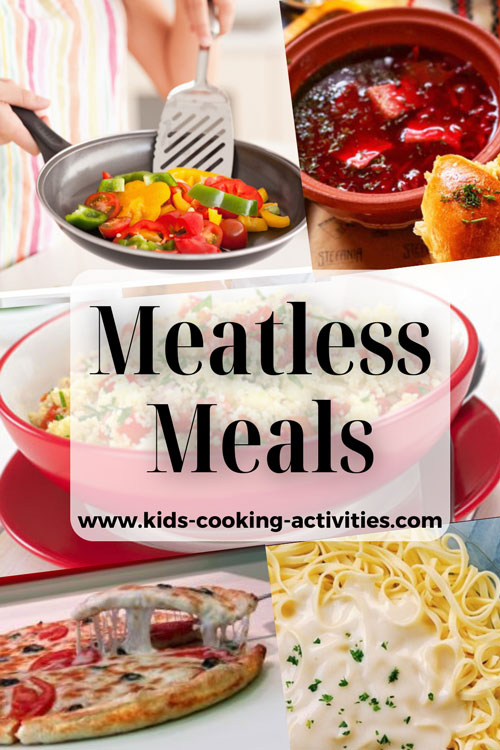 Kids Cooking Activities Teaching Materials
Make teaching easier with our activities and recipes compiled in theme sets and books with an easy to read format
Perfect for teaching!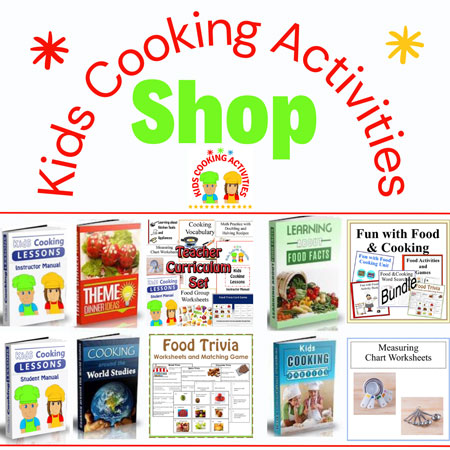 ~This post may contain affiliate links and I'll earn a small commission if you shop through them. There is no extra cost to you. This is how we help support our family and continue to bring you amazing content. To learn more see the
affiliates disclosure here.
~
Meatless Pasta Dishes
Vegetable Lasagna
Fettuccine Alfredo
Broccoli and Rice Casserole
- leave out the chicken
Pasta Salad
- make sure to leave out any meat
Macaroni Salad
Macaroni and Cheese
Tortellini Pasta Salad
Tortellini with Peas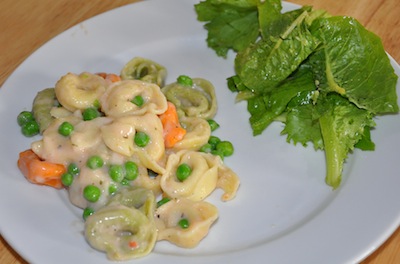 2 tbsp. butter
1 package (10-ounce) frozen peas or peas and carrots blend
1 1/2 pounds frozen cheese tortellini
1 clove garlic, smashed
Coarse salt and ground pepper
1/2 cup shredded Parmesan cheese, and extra for serving
Directions
Follow the package instructions to cook tortellini for about 2 minutes less than what the package instructions recommend. Add peas to the cooked tortellini for about 2 minutes or until peas are tender and pasta is al dente. Drain, reserving about one cup of water. Set peas and pasta aside.
In pasta pot, melt butter over medium-low heat. Add garlic in the melted butter and cook for 1 minute or until fragrant. Discard garlic.
Add peas and pasta, 3/4 cup reserved water, Parmesan, salt and pepper to the pasta pot. Toss the mixture to toss well.
Meatless Soups
Borscht
-leave the meat out and add beans if you'd like
Black Bean Soup
Cauliflower Soup
Cream of Squash Soup
Pasta Vegetable Soup
Tomato Soup
Gazpacho with Avocado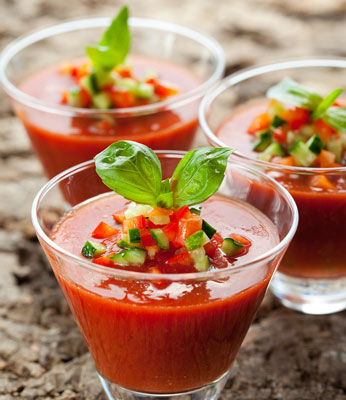 Total time: 25 Minutes
Prep time: 5 Minutes
Cooking time: 20 Minutes
Servings: 4
Ingredients
2 tbsp. olive oil
1 lb. chopped tomatoes
½ cup vinegar (red wine)
1 chopped bell pepper, green
1 chopped seedless cucumber
Sea salt
1 ripe California avocado, fresh, peeled cut into cubes
2 ground garlic cloves
14.5-oz canned tomatoes and diced
1 cup/ 237ml water
Directions
In a food processor, combine together tomatoes, olive oil, garlic, cucumber, green pepper, vinegar, and water; puree until very smooth. Add salt and refrigerate overnight. Garnish with avocado cubes and serve.
Meatless Main Dishes
Asparagus Risotto
Baked Potato Bar
Quiche
Stir Fry
- just use vegetables without the meat
Stuffed Zucchini
Spaghetti Squash- baked, shredded into "spaghetti" and topped with
tomato sauce
and cheese
Quesadillas
Spring Rolls
- use bean sprouts and julienne vegetables
Gluten Free Pizza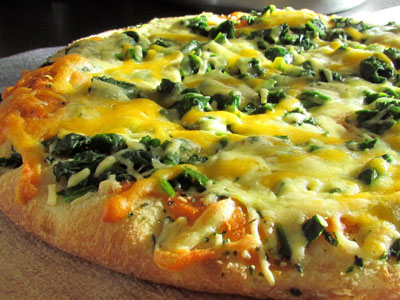 Ingredients:
1 1/2 Cups Gluten Free All Purpose Flour *
1 Tablespoon Sugar
1 Teaspoon Baking Powder
1/2 Teaspoon Salt
1 Teaspoon Xanthan Gum
1 Packet Dry Yeast
1 Cup Warm Water
2 Tablespoons Olive Oil
Directions:
Using a stand mixer with a dough hook, mix all the dry ingredients together until fully blended. In a separate bowl add the oil, warm water, sugar, and yeast, allow to bubble a bit.
Pour the wet mixture into the dry mixture and beat with the dough hook. Beat until all the way mixed, and then cover the bowl with saran wrap for 30 minutes.
Spread dough with greased hands on prepared pizza pan. Let sit for 15 minutes and then bake at 475 for 8 to 10 minutes. Top with whatever ingredients you want, then bake again until bubbly another 8 to 10 minutes.
*Don't want to go gluten free in this recipe? Just substitute all purpose flour or whole wheat flour for the gluten free flour. Replace Xanthan Gum with 1 teaspoon sugar or sugar substitute.
Follow Kids Cooking Activities