Pineapple Facts
Pineapple facts and general information about pineapples.
Kids Cooking Activities Teaching Materials
Make teaching easier with our activities and recipes compiled in theme sets and books with an easy to read format
Perfect for teaching!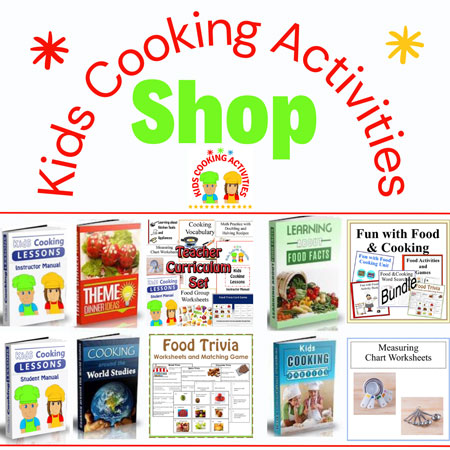 ~This post may contain affiliate links and I'll earn a small commission if you shop through them. There is no extra cost to you. This is how we help support our family and continue to bring you amazing content. To learn more see the
affiliates disclosure here.
~
Pineapple are Available:
Available year round
How Do Pineapple Grow:
Pineapples grow in tropical areas because they like a lot of sun. Pineapples grow in the center of a cactus like plant amidst the plants spiky leaves. They take 18 months to grow!
You can cut off the top of your pineapple and dry it out for several days. Plant it in soil and see if it will grow. Pineapples don't like too much water and warmth so plan accordingly.
Pineapples can grow from 1.0 meters to 1.5 meters in length.
What to Look for When Buying Pineapple:
They should smell sweet. Choose pineapples that are plump and are not soft.
Pineapple Storage Tips:
Store uncut at room temperature and cut pineapple in fridge.
How to Cook with Pineapple:
Add juice to marinade, cut up in fresh salads, bake, or grill.
Pineapple Nutrition Facts:
Pineapples are high in Vitamin C. Manganese, Vitamin B, and fiber are also in pineapple.
Pineapple Recipes:
Sweet and Sour Pork
1 lb. Boneless pork, cut into cubes
1/4 Cup vinegar
1 clove garlic, minced
2-3 Cups rice
1 large can pineapple chunks or one fresh pineapple cut up in chunks
2 Tablespoons sugar
2 Tablespoons soy sauce
green pepper, cut in chunks
Brown pork in oil in skillet. If using canned pineapple, drain pineapple-reserving liquid. Add liquid, vinegar, soy sauce, garlic and sugar to pork and stir. Bring to a boil. Add peppers. Reduce heat and cook covered for 15 minutes. Stir in pineapple chunks. Serve with rice.
Pink Pineapple Salad
by Hannah, (North Augusta, SC, USA)
15 1/2 oz can crushed pineapple
1 pkg raspberry jello
1 carton cottage cheese
1 carton cool whip
Mix together in a large bowl.
Cooking Video: Pineapple Bowls
Share your food facts and recipes
Do you have a food facts or recipe to share?
---
Related Food Facts Pages:
~
Apple
, ~
Apricot
, ~
Avocado
, ~
Banana
, ~
Berry
, ~
Cherry
, ~
Coconut
, ~
Cranberry
, ~
Dates
, ~
Figs
, ~
Grapefruit
, ~
Grapes
, ~
Kiwi
, ~
Lemon and Limes
, ~
Mango
, ~
Melon
, ~
Orange
, ~
Papaya
, ~
Peach
, ~
Pear
, ~
Pineapple
, ~
Plums
, ~
Tomato
, ~
Artichoke
, ~
Asparagus
, ~
Beets
, ~
Broccoli
, ~
Brussels Sprouts
, ~
Cabbage
, ~
Carrot
, ~
Cauliflower
, ~
Celery
, ~
Corn,
~
Cucumber
, ~
Eggplant
, ~
Garlic
, ~
Green Beans
, ~
Kale
, ~
Lettuce/Salad Greens,
~
Mushrooms,
~
Okra
, ~
Onion
, ~
Parsnip,
~
Peas,green
, ~
Peppers,
~
Potato
, ~
Radish
, ~
Rhubarb
, ~
Spinach
, ~
Summer Squash and Zucchini
, ~
Sweet Potato
, ~
Turnip
, ~
Winter Squash, including Pumpkins
, ~
Beans
, ~
Eggs
, ~
Nuts
, ~
Seeds
, ~
Meat
, ~
Dairy
, ~
Grains
---
Follow Kids Cooking Activities