Garlic Facts
Garlic facts and general information about garlic.
Kids Cooking Activities Teaching Materials
Make teaching easier with our activities and recipes compiled in theme sets and books with an easy to read format
Perfect for teaching!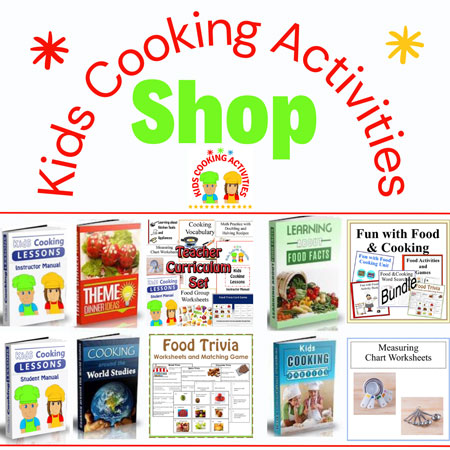 ~This post may contain affiliate links and I'll earn a small commission if you shop through them. There is no extra cost to you. This is how we help support our family and continue to bring you amazing content. To learn more see the
affiliates disclosure here.
~
Garlic is Available:
Garlic is available all year
How Does it Grow:
Garlic grows underground much like onions. It is planted in the winter and harvested in the summer time.
What to Look for When Buying:
Choose plump and firm garlic. You don't want them to be soft when squeezed. Avoid garlic with green sprouts.
Storage Tips:
Store in a cool dark place and well ventilated.
How to Cook:
Sauté garlic in sauces, with onions or/and meats. Garlic adds flavor to most cooking. Using a
g
arlic press to mince garlic works best.
Nutrition Facts:
A great source of manganese and full of Vitamin B6 and Vitamin C. Garlic is known for helping respiratory systems and used often in herbal medicine.
Recipes:
Garlic Sauce Pasta
2 Tablespoon butter
2 cloves garlic
2 Tablespoon flour
3/4 Cup chicken broth
3/4 Cup milk
2 teaspoon parsley
salt and pepper
1/3 Cup Parmesan cheese
Sauté butter and garlic. Take off heat and add flour and stir together making a roux. Mixture will be thick. Add chicken broth whisking slowly. Then add milk and parsley. Salt and pepper to taste and stir in cheese. Pour over cooked pasta. **Add in chopped broccoli, if desired.
Garlic Bread
submitted by a reader
hot dog buns (or bread of your choice)
chopped garlic or garlic salt
butter
cheese (optional)
Cut the hot dog buns in half. Spread butter on both halves, and sprinkle garlic salt on both. Next sprinkle each piece with cheese, if desired. Tex Mex 4 cheese shredded cheese works great! Cook in oven for 13-15 minutes. Let cool, and enjoy!
Easy Garlic and Cheese Bread sticks
1 pkg. refrigerated bread sticks
2 Tbsp garlic butter- blend in 2 minced garlic cloves into 2 Tablespoons butter
1/2 Cup Parmesan cheese, grated
1 tsp dried parsley
1/8 tsp cayenne pepper
Preset the oven to 350 degrees allowing it to preheat. Line a baking sheet with foil. Lay bread sticks on top of foil. Brush the top of each bread stick with the garlic butter.
In a mixing bowl, stir together the cheese, parsley and cayenne pepper. Sprinkle evenly over each stick. Bake 13 minutes or until the tops are a golden brown.
Kids Cooking Video: How to Roast Garlic
Share your food facts and recipes
Do you have a food facts or recipe to share?
---
Related Food Facts Pages:
~
Apple
, ~
Apricot
, ~
Avocado
, ~
Banana
, ~
Berry
, ~
Cherry
, ~
Coconut
, ~
Cranberry
, ~
Dates
, ~
Figs
, ~
Grapefruit
, ~
Grapes
, ~
Kiwi
, ~
Lemon and Limes
, ~
Mango
, ~
Melon
, ~
Orange
, ~
Papaya
, ~
Peach
, ~
Pear
, ~
Pineapple
, ~
Plums
, ~
Tomato
, ~
Artichoke
, ~
Asparagus
, ~
Beets
, ~
Broccoli
, ~
Brussels Sprouts
, ~
Cabbage
, ~
Carrot
, ~
Cauliflower
, ~
Celery
, ~
Corn,
~
Cucumber
, ~
Eggplant
, ~
Garlic
, ~
Green Beans
, ~
Kale
, ~
Lettuce/Salad Greens,
~
Mushrooms,
~
Okra
, ~
Onion
, ~
Parsnip,
~
Peas,green
, ~
Peppers,
~
Potato
, ~
Radish
, ~
Rhubarb
, ~
Spinach
, ~
Summer Squash and Zucchini
, ~
Sweet Potato
, ~
Turnip
, ~
Winter Squash, including Pumpkins
, ~
Beans
, ~
Eggs
, ~
Nuts
, ~
Seeds
, ~
Meat
, ~
Dairy
, ~
Grains
---
Follow Kids Cooking Activities