Avocado Facts
Avocado facts and general information.
Planned Kids Cooking Curriculum
~This post may contain affiliate links and I'll earn a small commission if you shop through them. There is no extra cost to you. This is how we help support our family and continue to bring you amazing content. To learn more see the
affiliates disclosure here.
~
Avocado is Available:
Avocados are grown year round in warm weather.
How Does an Avocado Grow:
Avocados grow from a seed. You can plant your own avocado by using the inside pit or seed. After eating your avocado wash the pit off and allow to dry overnight. Insert three toothpicks around the fat middle and suspend over a cup. Fill the cup with water so the base of the seed, the flat bottom side, is in the water and the top is exposed to the air. It may take several weeks to sprout. Remember to keep your avocado plant inside or it can go outside if it is warm. It may take several years of growth before you see any fruit but it is a fun experiment, nonetheless.
What to Look for When Buying an Avocado:
Avocados should be unblemished with no black spots. If gently pressed it should be slightly soft. Too soft means it is overripe. Often times you can buy avocados that are harder to the touch and ripen them at home for several days.
Avocado Storage Tips:
Once cut, avocados will darken quickly. Sprinkle with lemon juice and serve immediately.
How to Cook an Avocado:
Avocados are eaten raw in salads, sandwiches or used in dips. To open an avocado cut down lengthwise through the skin. Scoop out the fruit with a spoon.
The avocado will brown quickly so sprinkle the cut fruit with lemon juice and serve immediately.
---
---
Avocado Nutrition Facts:
One serving size of avocado is 1/4 cup, sliced. Avocados are a great source for omega- 3 fatty acids, antioxidants, Vitamin E, Vitamin K and fiber. Eating avocados on a regular basis helps develop strong hair, nails and healthy skin.
Avocado Recipes:
Quick and Simple Guacamole
2 avocados
1 Tablespoon lemon juice
1/2 chopped tomato or desired amount of salsa
1/4 teaspoon salt
Mash avocados and add remaining ingredients. Serve with tortilla chips.
Stuff an avocado with tuna salad or chopped salad for a fun lunch.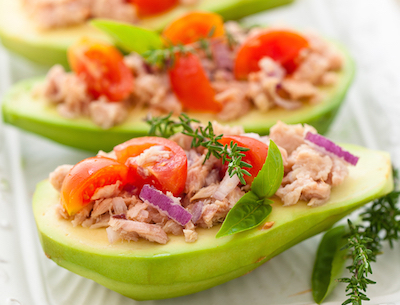 Kids Cooking Video: Avocado Toast
Cooking with Avocado Ideas
Share your food facts and recipes
Do you have a food facts or recipe to share?
---
Related Food Facts Pages:
~
Apple
, ~
Apricot
, ~
Avocado
, ~
Banana
, ~
Berry
, ~
Cherry
, ~
Coconut
, ~
Cranberry
, ~
Dates
, ~
Figs
, ~
Grapefruit
, ~
Grapes
, ~
Kiwi
, ~
Lemon and Limes
, ~
Mango
, ~
Melon
, ~
Orange
, ~
Papaya
, ~
Peach
, ~
Pear
, ~
Pineapple
, ~
Plums
, ~
Tomato
, ~
Artichoke
, ~
Asparagus
, ~
Beets
, ~
Broccoli
, ~
Brussels Sprouts
, ~
Cabbage
, ~
Carrot
, ~
Cauliflower
, ~
Celery
, ~
Corn,
~
Cucumber
, ~
Eggplant
, ~
Garlic
, ~
Green Beans
, ~
Lettuce/Salad Greens,
~
Mushrooms,
~
Okra
, ~
Onion
, ~
Parsnip,
~
Peas,green
, ~
Peppers,
~
Potato
, ~
Radish
, ~
Rhubarb
, ~
Spinach
, ~
Summer Squash and Zucchini
, ~
Sweet Potato
, ~
Turnip
, ~
Winter Squash, including Pumpkins
, ~
Beans
, ~
Eggs
, ~
Nuts
, ~
Seeds
, ~
Meat
, ~
Dairy products
, ~
Grains
---
Follow Kids Cooking Activities