Valentine Dessert Recipes
Try these Valentine Dessert Recipes easy enough to be fun Valentine recipes
for
kids or for kids to make for
their
Valentine.
Kids Cooking Activities Teaching Materials
Make teaching easier with our activities and recipes compiled in theme sets and books with an easy to read format
Perfect for teaching!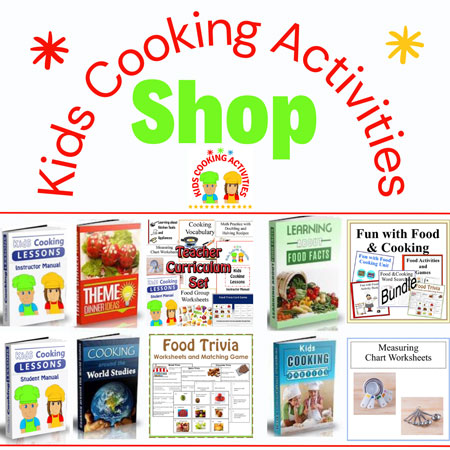 ~This post may contain affiliate links and I'll earn a small commission if you shop through them. There is no extra cost to you. This is how we help support our family and continue to bring you amazing content. To learn more see the
affiliates disclosure here.
~
Valentine Candy Recipes
Meringue Candy Recipe
Make a Pink Meringue Candy Recipe

Truffles
Make
homemade chocolate truffles,
an easy and fun candy recipe.

Candy Bark
Create an easy bark recipe.
Follow the directions to make chocolate bark and add candy hearts, sprinkles and chopped Oreos while chocolate is soft.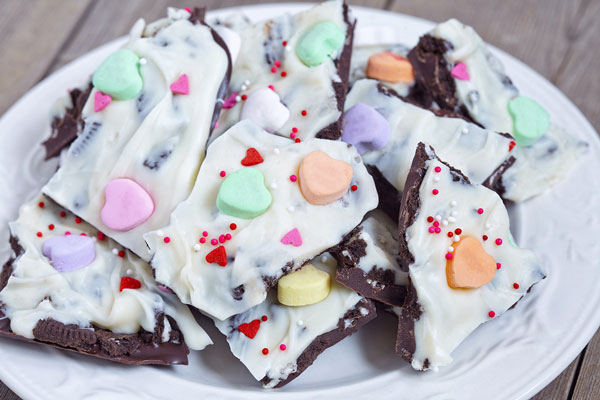 Oreo Chocolate Dipped Cookies
Oreo cookies or sandwich cookies
white or chocolate candy coating such as Wilton Candy melts
Red sprinkles, mini M&M's or other sprinkles
Melt candy coating in microwave several minutes stirring occasionally until melted completely. Dip cookies into melted chocolate then sprinkle with red sprinkles. Allow to dry on a sheet of wax paper. To deliver this Valentine recipe make a stack of several cookies and wrap up with plastic wrap. Tie a bow and add a note if you'd like.
Homemade Chocolates
Learn how to make homemade chocolates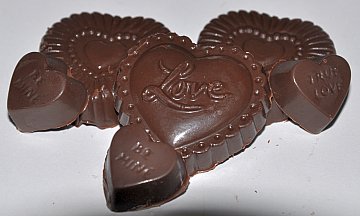 Fudge
Make a
homemade fudge recipe.
Chocolate Bowl
Serve dessert in a
homemade chocolate bowl.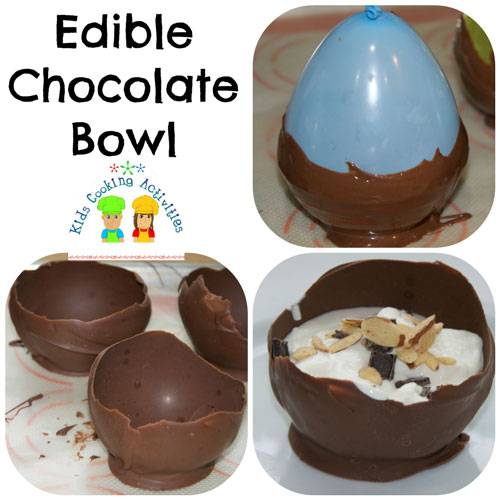 Homemade Suckers
Make homemade suckers shaped like hearts.

For more ideas on homemade candy recipes that you can turn into Valentine recipes,
visit our Christmas Candy Recipes.
---
Make teaching easier with our activities and recipes compiled in one easy to read format.
---
Valentine Cake Ideas
Chocolate Kiss Cupcakes
Ingredients: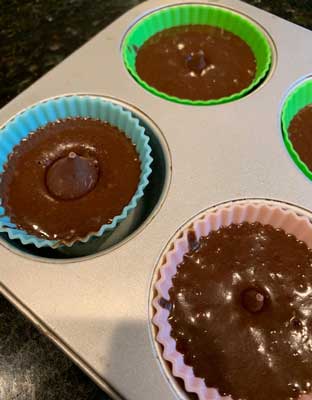 Homemade cake mix or store bought cake mix
Chocolate kisses candy, unwrapped
Frosting
Directions:
Make cake mix according to direction. Place muffin liners in muffin pan. Pour dough into each cup and place an unwrapped chocolate kiss in the middle of each cupcake. Bake according to directions. Allow to cool and frost. Your valentine will find a yummy hidden kiss inside their cupcake.
Heart Cupcakes
This is an easy way to make a Valentine recipe for your friend-
Heart shaped cupcakes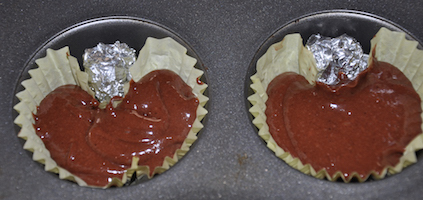 Heart Shaped Cheesecake
Make a cheesecake or cake in a
heart shaped springform pan.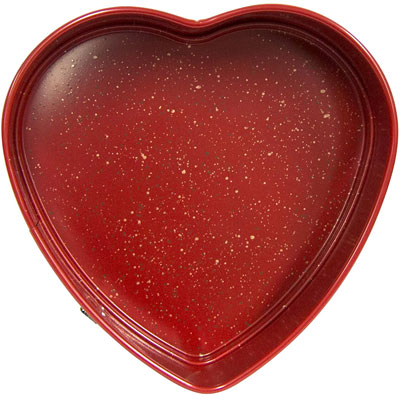 Heart Cake
Do you need a heart shaped pan for a recipe but don't have one?

Try this idea. Bake your recipe in a 8x8 square pan and a circle pan. If you are making a cake, for example, once it has cooled and you take it out of the pan, turn it sideways to resemble a diamond. Cut the circle cake in half and place one half on each side at the top of the diamond. Once you frost the cake or decorate it, you will not be able notice any difference. Now you can create many Valentine recipes with this idea.
Cake Decorating Hearts
It is simple to make frosting hearts using tip #12. Start with one teardrop shape and finish it off with a second teardrop next to the first. Decorate frosted cupcakes with a frosting heart in the middle or little hearts all over your cake.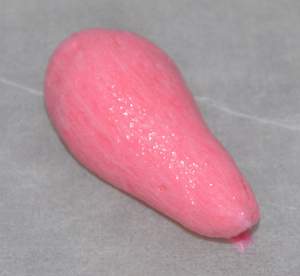 Step 1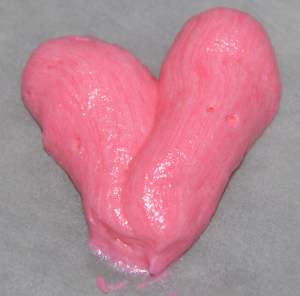 Step 2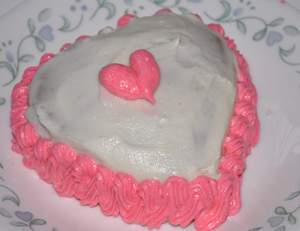 Simple Cheesecake Recipe
Ingredients:
lemon Jell-O gelatin, 4 serving size
½ Cup boiling water
8 ounces Cream cheese, softened
2 Cups Cool whip or whipped cream
Graham Cracker crust or chocolate cookie crust- homemade
Directions:
Prepare the graham cracker crust and press into a heart shaped pan. Set aside. In a bowl, dissolve gelatin in boiling water. In separate bowl, beat cream cheese until smooth; gradually beat in gelatin. Add whipped topping into cheese mixture. Stir gently. Pour into heart pan. Chill several hours. Top the middle of the cheesecake with cherry pie filling or raspberries making a heart shape.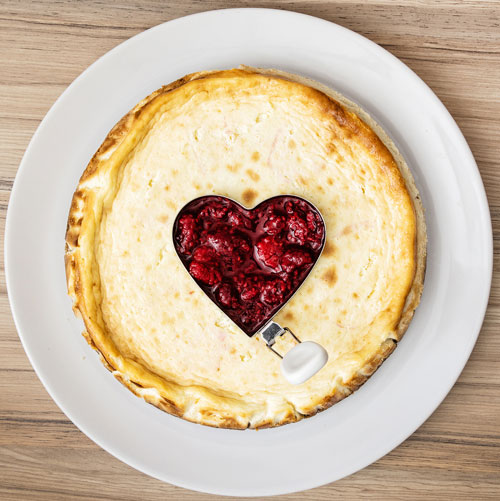 Tunnel Of Love Cake
Ingredients:
Angel food cake, already prepared
8 oz. pkg cream cheese
3/4 Cup sweetened condensed milk
1/4 Cup lemon juice
3/4 teaspoon almond extract
2 Cups strawberries, sliced
16 oz. pkg. whipped topping
Directions:
To create your tunnel cut off a 1 inch layer off the cake top. Set aside for later. Scoop out a tunnel leaving the sides of the cake intact and set cake pieces aside for later. Prepare filling by mixing together cream cheese, sweetened condensed milk, lemon juice and almond extract. Add insides of the cake you previously scooped out. Cut cake pieces into small pieces if needed. Stir sliced strawberries and cake pieces gently into cream cheese mixture. Spoon into tunnel. Replace top of cake layer and frost with whipped topping.
More Valentine Dessert Recipes
Strawberry Trifle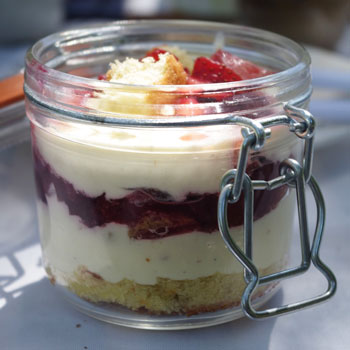 Ingredients:
1/2 C semisweet chocolate chips
1/2 C heavy whipping cream
2 T orange juice
2 C fresh strawberries, sliced
4 slices pound cake, cubed
Directions:
Place the chocolate chips into a small saucepan. Pour the whipping cream over the chips. Place the pan on low heat and stirring constantly melt the chips until they are smooth. Remove the pan from heat and blend in the orange juice. Cool the mixture about 30 or until room temperature. Place the sliced strawberries in the bottom of dessert cups. Layer the pound cake on top of the strawberries. Spoon the chocolate mixture over the top. Serving Size:4
Chocolate Dipped Strawberries
2 Cups chocolate chips
Fresh strawberries washed and patted dry
white chocolate or other toppings to drizzle on top or roll strawberries in such as chopped nuts, coconut, etc.
Directions:
In a microwave safe dish, melt chocolate chips. Stir every 30 seconds until melted. Immediately dip a strawberry into chocolate and then add toppings if desired. Let set on a sheet of waxed paper. Continue with more strawberries.
If you want to add a white chocolate drizzle, melt white chocolate chips as you did the chocolate. With a spoon drizzle over the top of your dipped strawberry.
Valentine Cookie Recipes
Heart Cookies
Using your favorite
sugar cookie dough
, color half your batter red and leave the other half white.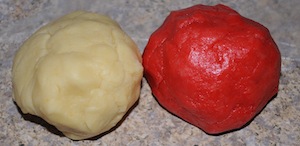 Roll pieces of batter into a long rope. Press flat. Align pieces of red and white so you have stripes of red and white cookie dough. Press together gently. Cut out with a heart cookie cutter.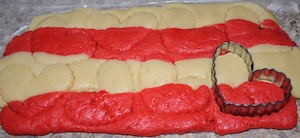 Place on cookie sheet and bake until golden brown.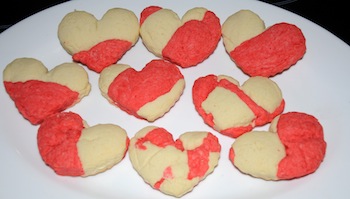 Valentine Oatmeal Cookies
Ingredients: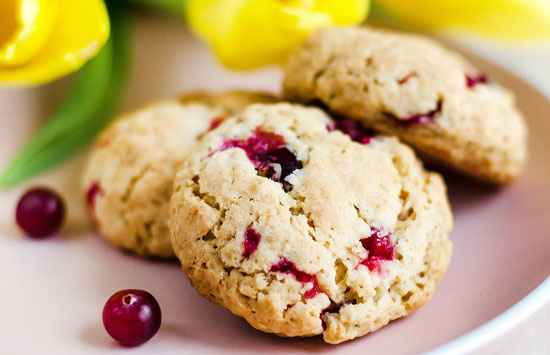 2/3 Cup butter
2/3 Cup brown sugar
2 large eggs
1 teaspoon baking soda
1/2 teaspoon Salt
1 1/2 Cups flour
1 1/2 Cups oats
1/2 Cup cranberries, fresh
1 Cup white chocolate chips
Directions:
In mixing bowl cream together butter and brown sugar. Add in eggs, baking soda and salt. Mix together then add flour. Mix until well blended. Stir in white chocolate chips and cranberries. Preheat oven to 350 degrees. Roll into small balls and place on a cookie sheet. Bake for 8-10 minutes until golden brown and cranberries have popped open.
Cookie Bouquet
Ingredients:
Sugar cookie dough
Frosting
Directions:
Prepare sugar cookie dough according to directions. Cut out dough into heart or flower shapes with a cookie cutter. Place a sucker stick into each cookie. Bake according to directions. Allow to cool and frost. Place a
stryfoam ball
into the top of a vase. Press sticks into the stryfoam ball. Tie with a bow and attach a Valentine note.
Heart Rice Krispies Treats
Prepare
Rice Krispies
treats from a recipe. If you'd like them red add food coloring to the melted marshmallows before adding in the rice krispies. Spread krispies mixture into a 13x9 pan and cool. With a heart cookie cutter cut treats out. If desired poke stick in bottom after cutting out. Allow to sit several hours. This is a simple and easy kids recipe they can make for their friends this Valentine's day.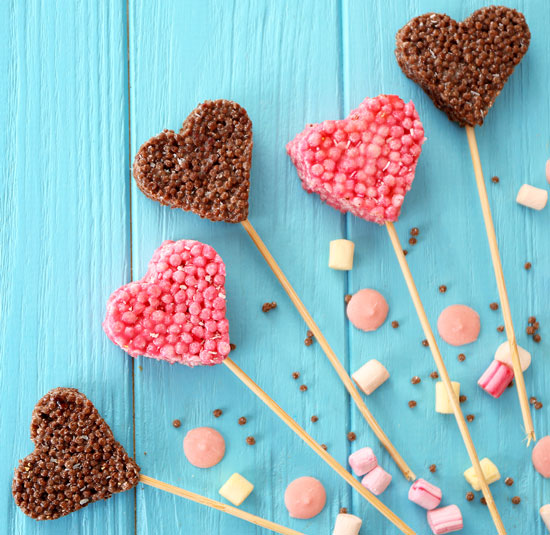 Dessert Cookie Pizza
Ingredients:
sugar cookie dough or brownie mix
frosting, any color
2 Cups milk chocolate candies (M&M)
2 Cups mini marshmallows
½ Cups peanuts
Directions:
Preheat the oven to 375 degrees. Press cookie dough or brownie mix into a pizza pan. Bake for 10 minutes or until golden brown. Allow to cool and spread frosting over crust. Sprinkle with chocolate candies, marshmallows and peanuts.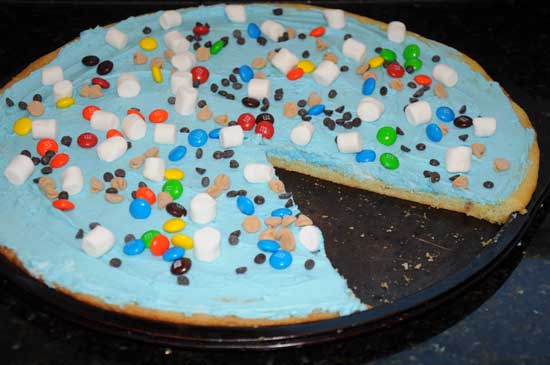 Fruit Pizza
Ingredients:
sugar cookie dough
white cream cheese frosting
Sliced fruit, strawberries, kiwi, raspberries whatever you choose
Directions:
Spread cookie dough onto pizza pan. Bake for 10 minutes or until golden brown. Allow to cool. Then frost. Top with sliced fruit in whatever pattern you choose.
~You can shape your pizza dough into a heart shape too.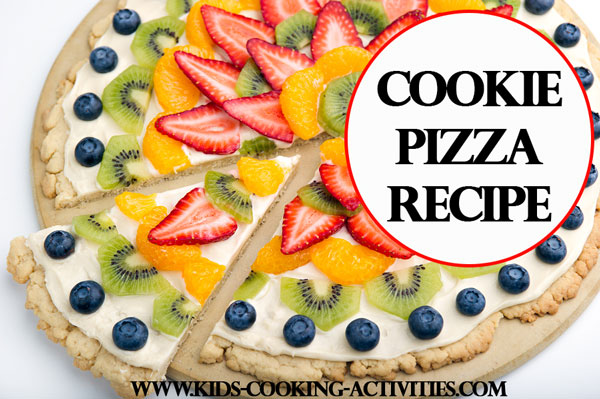 Or decorate a cookie cake.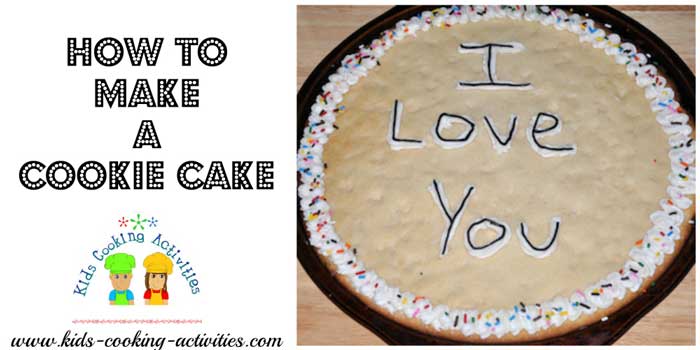 Brownie Heart
Prepare a brownie mix or
homemade brownie recipe
for this Valentine recipes. Pour into a greased pan. Bake and allow to cool. Place a paper cut out of a heart on top of your brownie. Sprinkle tops with powdered sugar. Remove paper heart.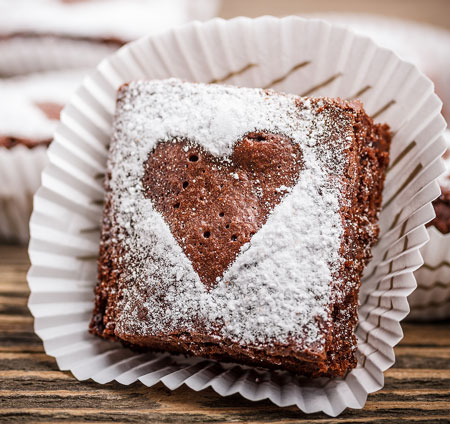 Wait there is a whole lot more Valentine Recipe Ideas for you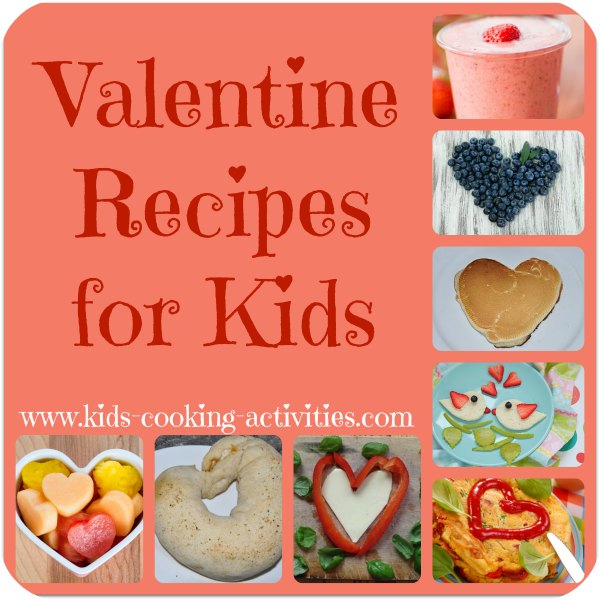 Valentine Kids Recipes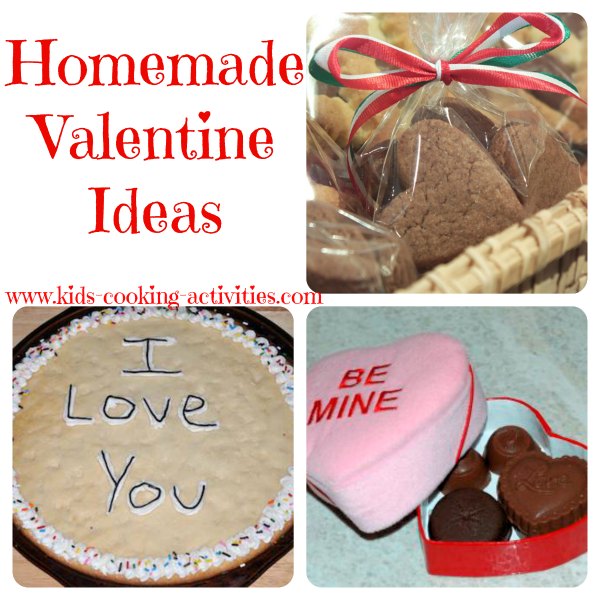 10 Homemade Valentine Food Ideas
Valentine Printable Games
Chocolate Covered Strawberry Bouquets
Share your favorite Valentine Dessert Recipes

Submit your favorite kids recipe
Do you have a favorite recipe your kids love to make? Or a recipe your kids ask you to make again and again? Share it with us!
Reader's Submitted Recipes
Click below to see contributions from other visitors to this page...

---
Related Seasonal Recipe Pages:
~
School Lunches
, ~
Apples
, ~
Autumn Activities
, ~
Pumpkins
, ~
Kids Halloween Recipes
, ~
Halloween Recipe Ideas
, ~
Thanksgiving
, ~
Hanukkah Recipes
, ~
Kids Christmas cooking
, ~
Christmas Candy Recipes
, ~
Reindeer
, ~
Make Homemade Chocolates
, ~
Jar Mixes
, ~
Gift Basket Ideas
, ~
Homemade Fudge Recipes
, ~
Homemade Suckers
, ~
Christmas Cookie Recipes
, ~
Gingerbread House Recipes
, ~
Food Gift Ideas
, ~
Dough Ornament Recipes
, ~
Hot Cocoa
, ~
Happy New Year
, ~
Snowman Theme Recipes
, ~
Valentine's Day
, ~
Valentine Dessert Recipes
, ~
St. Patrick's Day
, ~
April Fool's Day Recipes
, ~
Passover Recipes
, ~
Kids Easter Recipes
, ~
Sugar Eggs Recipe
, ~
Resurrection Cookies Recipe
, ~
Italian Easter Bread
, ~
Russian Easter Bread Recipe
, ~
Earth Day
, ~
Cinco de Mayo, May 5
, ~
Mother's Day Recipes
, ~
Father's Day Recipes
, ~
Summer Cooking
, ~
Kid's Campfire Cooking Recipes
, ~
Dutch Oven Cooking for Kids
, ~
4th of July Recipes
, ~
Ice Cream Recipes
, ~
Popsicle Recipes
, ~
Simple Smoothie Recipes
, ~
Picnic Ideas and Recipes
, ~
Easy Grilling Recipes
, ~
Grow your own Garden
---
Follow Kids Cooking Activities