Hawaiian Theme Dinner
For your Hawaiian Theme dinner dress in beach attire with grass skirts, shell necklaces or homemade paper leis.
Planned Kids Cooking Curriculum
~This post may contain affiliate links and I'll earn a small commission if you shop through them. There is no extra cost to you. This is how we help support our family and continue to bring you amazing content. To learn more see the
affiliates disclosure here.
~
Hawaiian Dinner Centerpiece
Use
seashells,
pineapple,
starfish
or a jar filled with sand for your party centerpiece.
Kids Luau Recipes

Hawaiian Ham Skillet
2 cups cooked ham in strips
1 cup pineapple tidbits
2 Tablespoons brown sugar
1 1/2 Tablespoons cornstarch
1 teaspoon salt
3-4 teaspoon vinegar
2 teaspoons mustard
3/4 Cup water
1 green pepper cut in strips
Brown ham. Drain pineapple saving juice. Mix next 5 ingredients and stir in juice and water. Add to skillet. Cook and stir until mixture thickens. Cover and simmer 5 minutes. Salt to taste and serve with rice.
Tropical Fruit Salad
Mango cut in chunks
Pineapple chunks
Banana Slices
Orange cut in slices
Cut and prepare fruit into bite size chunks or slices. Add all to a hollowed out pineapple or a bowl. Top with an umbrella toothpick.
Creamy Tropical Drinks
1/2 cup milk
1/2 cup pineapple juice
1/4 teaspoon vanilla extract
1/2 tablespoon sugar
Blend in mixer and pour into serving glasses. Top with umbrella toothpicks.
Macadamian cake
Devils food cake mix
1/3 Cup oil
1 ½ teaspoon cinnamon
1 cup applesauce
2 eggs
2 teaspoons Water
1/3 Cup macadamian nuts + more for topping if desired
In mixing bowl add cake mix, oil, cinnamon, applesauce, eggs, water and half of the nuts. Mix until well blended. Pour into a greased cake pan. Frost with chocolate frosting and sprinkle with nuts if desired.
Hawaiian Sunset Fruit Dip
small package Instant Vanilla Pudding Mix
1 1/4 cup cold milk
1/2 cup sour cream
8 oz crushed pineapple, un-drained
1/3 cup shredded coconut
Stir all ingredients together and let chill several hours. Serve with fresh fruit for dipping.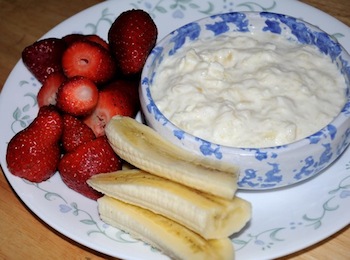 Try some sunshine theme recipes.
---
Get all of our Theme Dinner Ideas in
one ebook
, free of ads and easier to use at parties and cooking activities with kids.
30 theme dinner ideas with recipe menu plans, decorating ideas and printable invitations all included in this 83 paged electronic book.
Theme Dinner Ideas
---
Need Hawaiian Theme Party Supplies?
Here are some we like.
Butter Mochi Hawaiian Local Dessert
Make your own Theme Dinner Party page.
Have you put together your own Theme Dinner Party? Do you have a theme menu or theme dinner idea to share? Tell us about it and we will create your own theme dinner party page.
Reader's Submitted Recipes and Ideas
Click below to see contributions from other visitors to this page...

Flower Cookies

Super easy to make and lots of fun for kids. They are very easy to make! 60 grams butter 40 grams sugar 1 teaspoon vanilla …
---
Related Theme Dinner Ideas:
~
Theme Dinner Ideas
, ~
A-Z
, ~
Animals
, ~
Backwards
, ~
Dinosaur
, ~
Disney
, ~
Farms
, ~
Fiesta
, ~
Flowers
,~
Fondue
, ~
Hawaiian Luau
, ~
Homes
, ~
Insects
,~
Italian
, ~
Mother Nature
, ~
Movie Theme
, ~
Mystery Party
, ~
Owls
, ~
Paris
, ~
Penguins
, ~
~Princess and Prince Dinner
, ~
Princess Tea Party
, ~
Rainbow
, ~
Reindeer
, ~
Sleepover Party
, ~
Snakes
, ~
Snowman
, ~
Space
, ~
Sports
, ~
Sunflowers
, ~
Teddy Bear Tea Party
, ~
Transportation
, ~
Under the Sea
, ~
Western Cowboy
---
Follow Kids Cooking Activities