Flower Party Food Ideas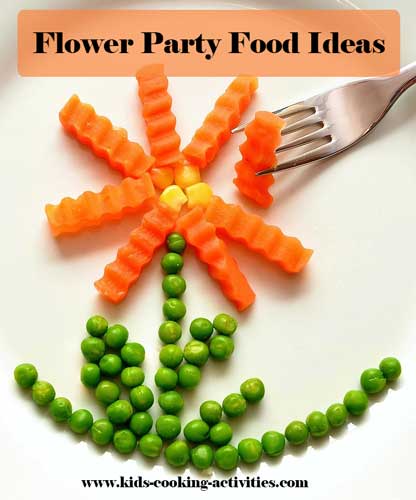 These flower party food ideas are great for kids to create the recipes and plan a family dinner party. Have them draw their own party menu and invitation for the guests. They could create flower decorations out of construction paper to decorate before the party, too.
Kids Cooking Activities Teaching Materials
Make teaching easier with our activities and recipes compiled in theme sets and books with an easy to read format
Perfect for teaching!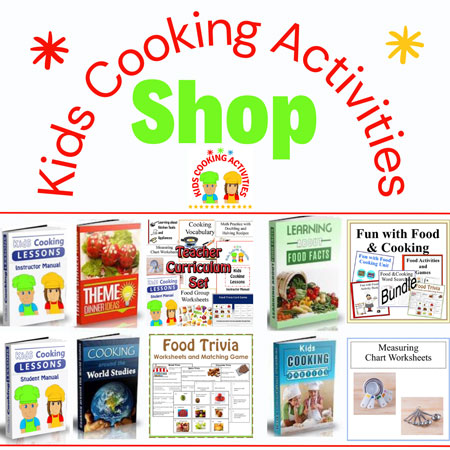 ~This post may contain affiliate links and I'll earn a small commission if you shop through them. There is no extra cost to you. This is how we help support our family and continue to bring you amazing content. To learn more see the
affiliates disclosure here.
~
Flower Party Food Ideas and Dinner Menu
Apple Flowers
by Alan (Sunrise)
Ingredients:
Apples
Strawberry, cherry or other berry for the center of the flower
Instructions:
Cut apple slices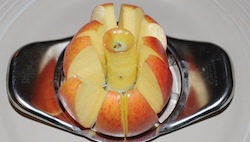 Arrange them to make the flower petals on a plate
Add a berry as the center of each flower.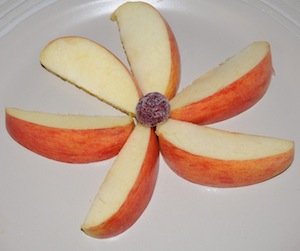 Rose Fruit Roll Ups

Flower Sandwich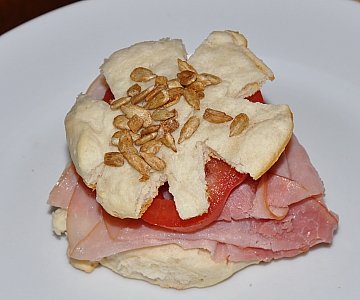 1 (16.3 oz.) can of refrigerated biscuits or homemade biscuits
4 tsp sunflower seeds
shredded cheese
1 large tomato, sliced
8 lettuce leaves
4 oz. deli ham, sliced thin
8 slices of American cheese
Using homemade or refrigerated biscuits. Cut into rounds. For every other one cut snips in the dough for the flower top.
Sprinkle flower top biscuits with shredded cheese. Top with sunflower seeds. The cheese will melt and help the seeds stay put.
Bake biscuits until golden brown. Create your flower sandwich by adding sliced meat, sliced tomato, cheese and top with a flower biscuit.
---
Make teaching easier with our activities and recipes compiled in one easy to read format.
---
Flower Party Food Ideas -Desserts
Rainbow Flower Cookies
Roll your sugar cookie dough in a log and wrap in waxed paper. Freeze 20 minutes. Slice dough into round circles. Cut 4 wedges from each circle.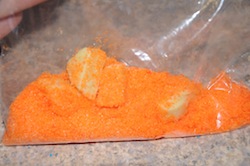 Roll each piece in different colored sugars , we used a baggie. Place on a cookie sheet. Form flower petals with your wedges.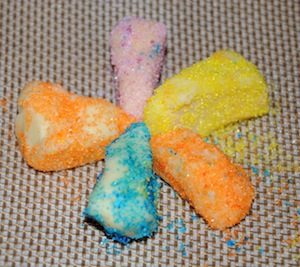 Bake 10-12 minutes or until edges are golden brown. Press a round candy piece in the center of each flower cookie.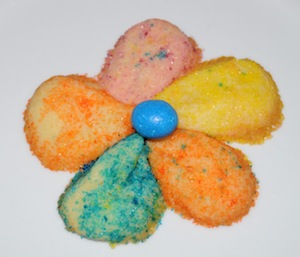 Learn how to make these Flower Cookies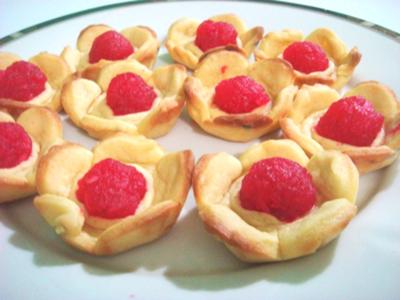 ---
Get all of our Theme Dinner Ideas in
one ebook
, free of ads and easier to use at parties and cooking activities with kids.
30 theme dinner ideas with recipe menu plans, decorating ideas and printable invitations all included in this 83 paged electronic book.
Theme Dinner Ideas
---
More Flower Ideas
Fancy Flowers
Blooming flowers picture recipe
Sunflower picture recipe
Need Flower Party Supplies?
Here are some we like.
Lotus Flower Cookies
Make your own Theme Dinner Party page.
Have you put together your own Theme Dinner Party? Do you have a theme menu or theme dinner idea to share? Tell us about it and we will create your own theme dinner party page.
---
Related Theme Dinner Ideas:
~Theme Dinner Ideas, ~ A-Z, ~ Animals, ~ Backwards, ~ Dinosaur, ~ Disney, ~ Farms, ~Fiesta, ~ Flowers,~Fondue, ~Frogs, ~ Hawaiian Luau, ~Homes, ~Insects,~Italian, ~Mother Nature, ~Movie Theme, ~Mystery Party, ~ Owls, ~Paris, ~ Penguins, ~~Princess and Prince Dinner, ~ Princess Tea Party, ~Rainbow, ~Reindeer, ~Sleepover Party, ~Snakes, ~Snowman, ~ Space, ~Sports, ~Sunflowers, ~Teddy Bear Tea Party, ~Transportation, ~Under the Sea, ~Western Cowboy
---
Follow Kids Cooking Activities