How is Chocolate Made?
If you ever wondered "How is chocolate made" or where does chocolate come from, then this page will help you discover the answers plus share a few chocolate facts and easy chocolate recipes.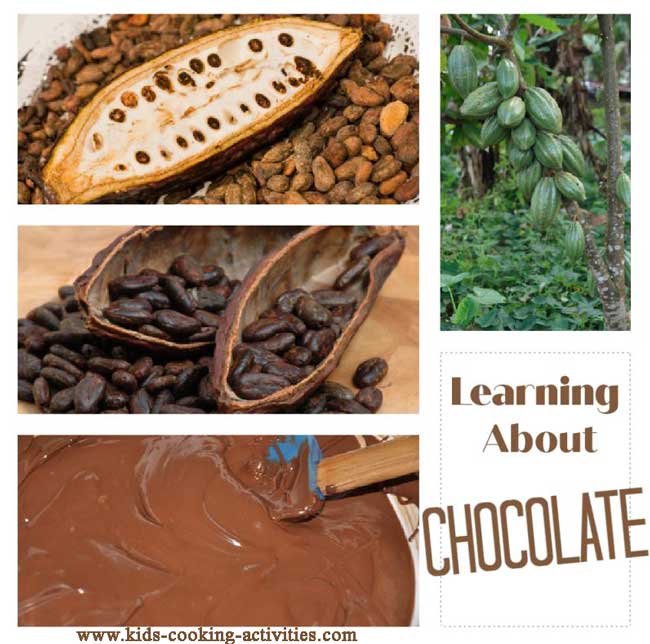 Kids Cooking Activities Teaching Materials
Make teaching easier with our activities and recipes compiled in theme sets and books with an easy to read format
Perfect for teaching!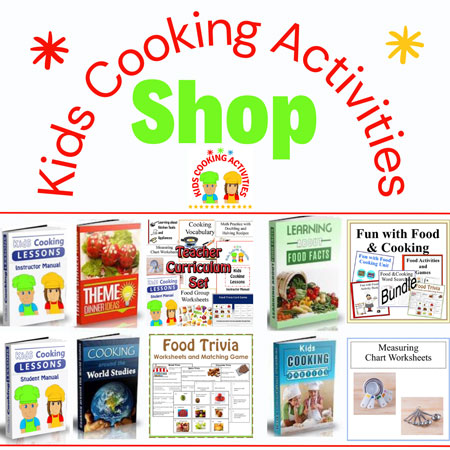 ~This post may contain affiliate links and I'll earn a small commission if you shop through them. There is no extra cost to you. This is how we help support our family and continue to bring you amazing content. To learn more see the
affiliates disclosure here.
~
How Chocolate is Made
Where Does it Come From?
Let's learn how chocolate is made first. You'll never believe what the chocolate that we enjoy today looks like from the beginning. It all begins south of the equator in large pods that grow on the cacao tree.
From the halls of Montezuma Ancient Mesoamerican civilizations use to give the cacao tree an important place in society. The Mayans and the Aztecs used to use cocoa beans as currency. Crushed cocoa beans were used to make a bitter liquid called xocoatl. Only royalty and the best military warriors could gain access to the drink. It wasn't until European settlers came to South America and Africa that the cocoa bean made its way to the modern world.
Even though that was a few thousand years ago, the process of prepping the cocoa bean for chocolate manufacturing remains pretty much the same. Cacao trees produce large fruit pods on the trunk of the tree. The pods are harvested with machetes. When you crack them open, you'll find about fifty or more seeds within a sweet pulp.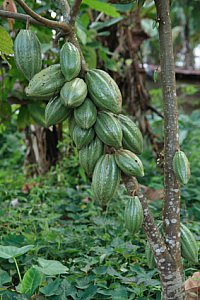 Young cocoa bean plant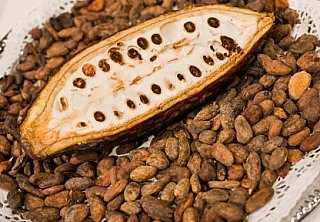 How is chocolate made starts with these cocoa beans inside a cocoa fruit.
How is Chocolate Made from Cocoa Beans?
The pulp and the cocoa beans are removed and placed in buckets for fermentation. Depending on the type of cacao tree and the manufacturer, the process can take a week or longer.
Fermentation gives the beans some semblance of the chocolate taste we like. Once the fermentation process is complete, the cocoa beans are spread out so that they can dry naturally in the sun.
It is the dried beans that are shipped to chocolate manufacturers all over the world. Once there, the beans are roasted, much like coffee beans. Roasting intensifies the final taste of the chocolate. When the beans are ready, the shells are then removed. What you are left with is the essence of the bean - cocoa butter and other chocolate solids. Now, how is chocolate made from this, read on.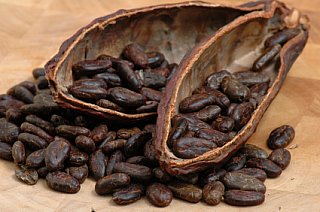 Roasted Cocoa Beans
A machine grounds the shelled beans into a paste that is referred to as chocolate liquor even though it is not a liquid or contains alcohol. From here, it is a magical process, if you will, that varies from manufacturer to manufacturer.
Even though some of the ingredients are trade secrets, the process is quite similar. The chocolate paste goes through a machine that removes the cocoa butter. This leaves you with a powdery cocoa. Substances like cocoa butter (re-added), sugar, milk, oil and the like are added to reconstitute the powder into chocolate. The last step in chocolate making is conching.
The chocolate is mixed in a large machine until it is the consistency the manufacturer likes. After, the chocolate is poured into molds, allowed to cool, wrapped up and then packaged for shipment.
Printable Chocolate Trivia Worksheet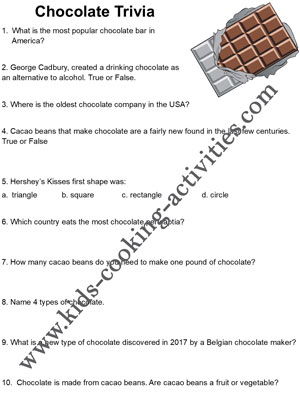 How is Chocolate Made from Cocoa Beans Video
Chocolate in Many Shapes and Sizes
---
Make teaching easier with our activities and recipes compiled in one easy to read format.
---
Easy Recipes
Now that we've answered the question, how chocolate is made, try creating some easy recipes.
Learn
how to make homemade chocolates.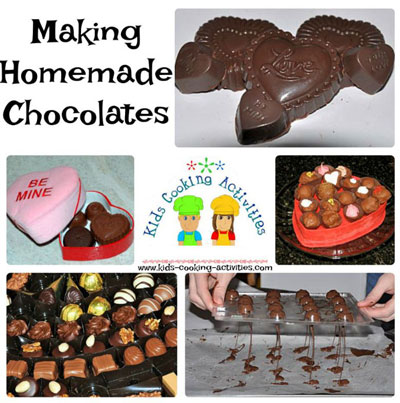 Create some
homemade chocolate fudge.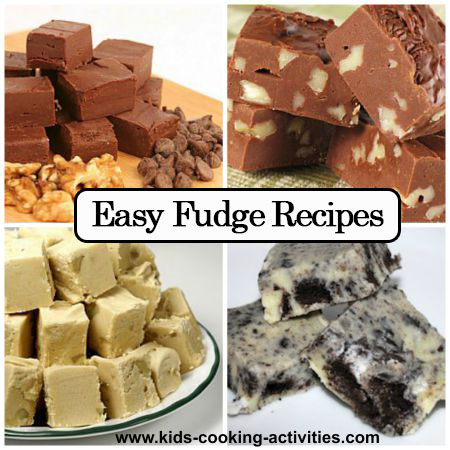 Cream Scones with Chocolate Chips
Ingredients
2 Cups flour
4 Tablespoons + 1 teaspoon of sugar, divided
2 teaspoons baking powder
1/2 teaspoon of salt
1 stick + 2 Tablespoons of unsalted butter, cold and cut into small pieces
1 Cup of semisweet chocolate chips
1 large egg yolk
1/2 Cup of half and half, chilled
Directions
Preheat the oven to 375 degrees. Lightly spray a baking sheet and set aside.
Add the flour into a mixing bowl. Add 4 T of sugar, the baking powder and the salt and whisk until blended well. Add butter pieces over the flour mixture and blend together until mixture is crumbly.
Mix in the chocolate chips. Place the egg yolk into a small mixing bowl. Whisk in the half and half until well blended. Pour the egg mixture over the flour mixture and stir with a fork until a soft moist dough forms. Sprinkle a little flour over a flat surface such as a cutting board. Place the dough on the prepared surface and knead with your hands 6 times.
Pat the dough out to form an even circle or press into a small cookie sheet. Cut the disk into 6 pieces with a sharp knife. Place the scones on the prepared baking sheet. Sprinkle the remaining 1 t of sugar evenly over all the scones.
Bake 20 minutes or until golden brown on bottom and just starting to brown on top. Cool the scones on a wire rack. Makes about 6 scones, serve warm.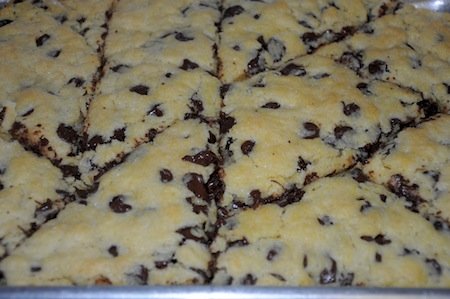 Chocolate Rice Crispy Balls
Ingredients
3 Tablespoons unsalted butter
1/4 Cup unsweetened cocoa powder
1 -10 oz bag of mini marshmallows or 7 oz. marshmallow fluff
6 Cups of rice crispy cereal
1/4-1/2 Cup semisweet chocolate chips
Directions
Cover 2 baking sheets with wax paper, set aside. Place the butter into a large saucepan. Place the pan over medium high heat and allow the butter to begin to melt. Stir in the cocoa powder until blended in well. Add the marshmallows and stirring often, heat for 5 minutes or until the marshmallows has completely melted.
Take off the heat and stir in the cereal until well coated. Stir in half of the chocolate chips. Lightly oil your hands with liquid oil. Form the mixture into balls about the size of golf balls. Place the balls on the prepared baking sheets. Let the balls stand at room temperature until cooled.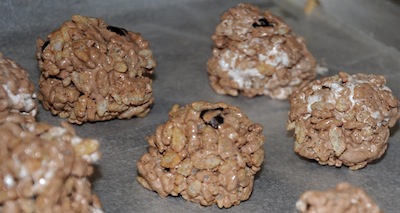 Chocolate Edible Bowl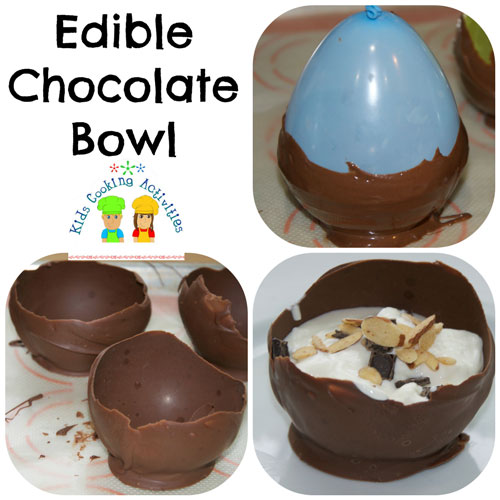 Make an edible bowl out of chocolate!
Ingredients and Materials Needed
:
2 Cups Chocolate Chips
Balloons
Baking sheet
Saucepan
Wax paper
1 Cup measuring
Directions
:
1. First, lay out all materials and items listed above on the table or your work area.
2. Lay wax paper on your baking sheet.
3. Clean, dry and blow up your balloons.
4. Blow up your balloons so the bottom is the shape you want your bowl to be.
5. In a saucepan, add 2 cups of chocolate chips.
6. Stir until completely melted.
7. Place a small amount of melted chocolate on the wax paper. This is the base of your bowl.
8. One at a time dip your balloons in the chocolate.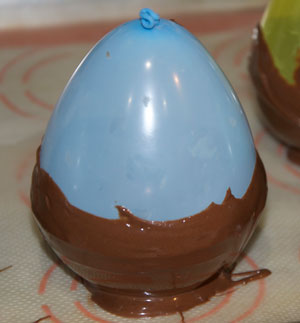 9. If desired, dip into sprinkles, crushed cookies, etc.
10. Place dipped balloons on your wax paper.
12. Once you have done all your balloons, let it sit overnight or put it in the fridge for 10 minutes.
13. Cut the top of the balloon.
14. Carefully peel the balloon off once deflated. Fill your bowl as desired.
**If the melted chocolate turns hard while you are dipping, heat it on the stove again.
Chocolate Mousse
Ingredients:
2½ C. heavy cream, divided
8 oz. high-quality semi-sweet chocolate chips or baking chocolate
¼ C. granulated sugar
2 large eggs
Optional, to serve: Whipped cream, maraschino cherries, and/or mandarin orange slices
Directions:
1. Heat 1 cup of heavy cream with chocolate chips over medium-low heat, stirring constantly, until chips have melted. Set aside.
2. In a medium bowl, beat eggs and sugar with a hand-held mixer at medium speed for 3-minutes.
3. While mixing on the same setting as above, slowly add the melted chocolate mixture to the egg mixture. Stir in the orange zest, if using. Once combined, pour back into the pan used to melt the chocolate. Heat over medium heat, stirring constantly, until thickened.
4. Remove from heat and cool slightly before transferring to the refrigerator to chill for 2 hours.
5. Once chilled, whip the remaining heavy cream until stiff peaks form. Gently fold the chilled chocolate into the whipped cream until thoroughly combined. The mixture should have a fluffy consistency. .
6. To serve, spoon chocolate mousse into a piping bag and pipe into small dessert dishes. Top with whipped cream and maraschino cherries or mandarin oranges, if desired. Enjoy!
---
Related Food Science Experiment Pages:
~
Apple experiments
, ~
Bean experiments
, ~
Celery and Food Coloring
, ~
Homemade butter
, ~
Make Cottage Cheese
, ~
Red Cabbage PH
~
Homemade volcano
, ~
Coke Bottle Experiment
, ~
Jumping raisins
, ~
Cheese Souffle
, ~
Poached egg
, ~
Shiny coins
, ~
Egg into a bottle
, ~
Homemade ice cream in a can or bag
, ~
How is chocolate made?
, ~
Make homemade yogurt,
~
Proofing yeast and baking homemade bread
, ~
Sourdough bread starter recipe
, ~
Grow your own from food scraps
, ~
Food Science
---
Submit your favorite kids recipe
Do you have a favorite recipe your kids love to make? Or a recipe your kids ask you to make again and again? Share it with us!
Reader's Submitted Recipes
Click below to see contributions from other visitors to this page...

Chocolate Pudding Cake
Chocolate Pudding Cake The recipe for my COCO- Pudding Cake is as follows: Ingredients: 2 Eggs 3/4 cup sugar 1 tablespoon vanilla extract 2 …
Follow Kids Cooking Activities