Rainbow Theme Dinner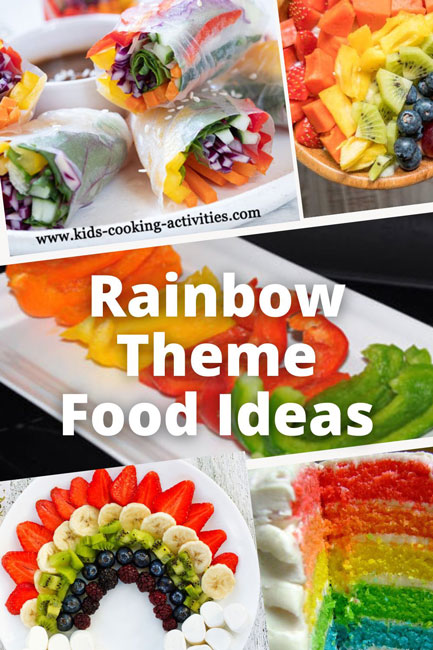 Think of all the colors of the rainbow for this Rainbow theme party. Have each family member or guest wear a color of the rainbow to the dinner party.
We have several ideas for a rainbow theme but you can also be creative in your dinner menu by adding lots of color such as chicken with a mango salsa, a green vegetable, fruit salad on the side and rainbow Jell-O for dessert. This party theme is all about color.
Kids Cooking Activities Teaching Materials
Make teaching easier with our activities and recipes compiled in theme sets and books with an easy to read format
Perfect for teaching!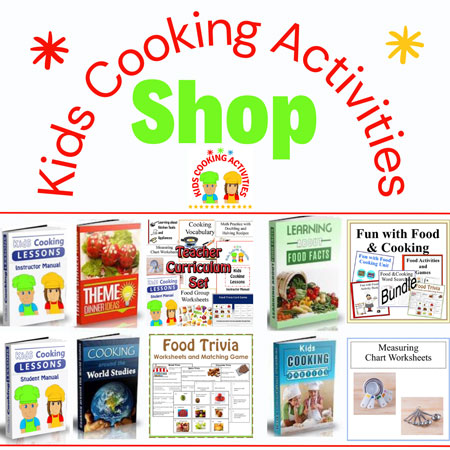 ~This post may contain affiliate links and I'll earn a small commission if you shop through them. There is no extra cost to you. This is how we help support our family and continue to bring you amazing content. To learn more see the
affiliates disclosure here.
~
Rainbow Centerpiece
Have kids paint a rainbow on a piece of cardboard or heavy construction paper. Allow to dry and cut out into a rainbow shape. Glue on cardboard if needed to be stronger. Prop up in the middle of the table.
Or use the rainbow Jell-o below for the centerpiece.
Rainbow Theme Dinner Menu
Rainbow Jell-O
Find this Jell-O rainbow recipe on our
St. Patrick's day page.
This would be a fun centerpiece for your table.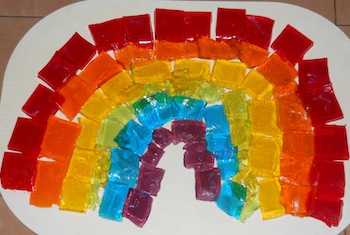 Rainbow Fruit Salad
Strawberries
Orange slices
Bananas
Kiwi
Blueberries
Purple grapes or blackberries
mini marshmallows, if desired
Prep fruit into slices. Create a rainbow colored fruit platter. Serve immediately.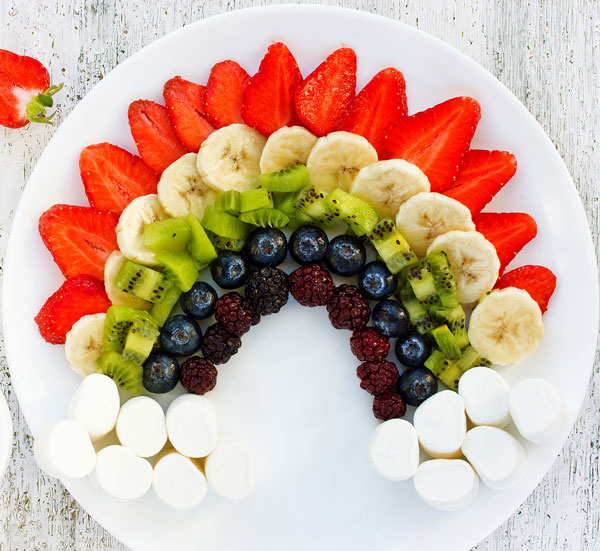 See another
rainbow platter idea
here.
Chicken with Mango Salsa
Add this colorful salsa to the topped of your cooked chicken.
Chicken breasts
3 ripe mangoes, diced
1/2 red onion, diced
1/4 Cup cilantro chopped finely
2 tomatoes chopped
Hot peppers, chopped -according to your tastes
Juice of 1 lemon
Season chicken with salt and pepper. Cook chicken on the grill or bake in the oven. Meanwhile add diced mangoes, onion, cilantro, tomatoes and peppers together in a serving bowl. Pour juice of lemon over top and serve on top of cooked chicken.
Or top the mango salsa on these
black bean lettuce wraps
. It makes for a bright colorful dinner served with guacamole.
Rainbow Peppers
Add this cheesy peppers dish for your side dish.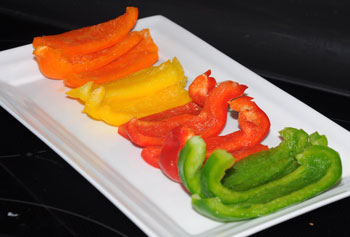 Ingredients:
1/2 of a large green pepper
1/2 of a large sweet red pepper
1/2 of a large yellow pepper
1/2 of a large orange pepper
1 C of Monterey Jack cheese, shredded
2 T ripe olive, chopped
Directions
Allow the broiler to preheat while preparing the appetizers. Cut each pepper half into 9 strips making 36 strips in all.
Place the peppers skin side down on an ungreased rimmed baking sheet. Sprinkle the cheese over the all the peppers.
Place the olives over the cheese on each pepper strip. Sprinkle on the red pepper flakes. Broil 6 inches from the heat for 5 minutes or until the peppers are crisp tender and the cheese has melted.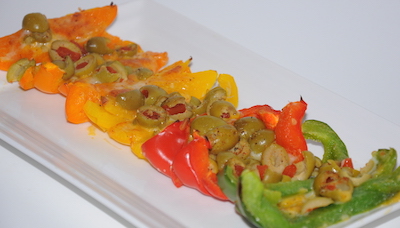 Makes 36 appetizers
Rainbow Spring Rolls
Use all types of julienne (cut in long strips) vegetables such as purple cabbage, carrots, colored peppers, lettuce, cucumbers and roll in wrappers. Kids will love the colors of these bright colorful spring rolls.
See
how to wrap your spring rolls.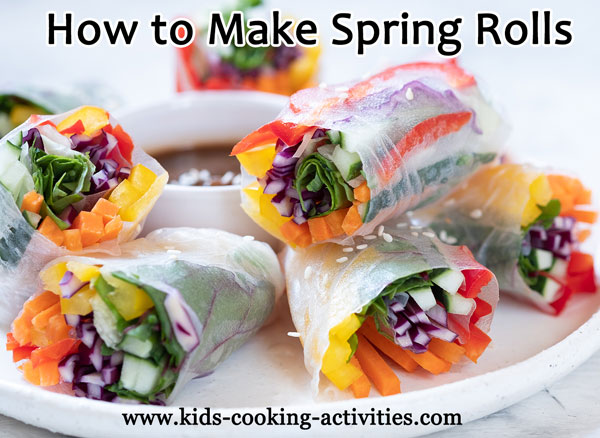 Other Colorful Theme Dinner Ideas
Salmon (cooked looks bright orange) with a green salad
Pasta salad with multi colored noodles, cherry tomatoes and ham
Edible Craft Idea- Rainbow Colored Noodles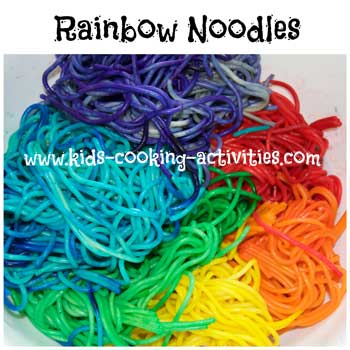 Ingredients
1 pkg spaghetti noodles
Food Coloring
2 Tbsp. water
Directions
:
1. First, lay out all materials and items listed above on the table or your work area.
2. Cook the noodles according to the packages instructions.
3. Add 20 drops of food coloring and 2 Tablespoons of water in a large Ziploc bag.
4. Drain the noodles and place the noodles into the Ziploc bag.
5. Seal the bag and mix until well combined.
6. Let it sit for 1 minute.
7. Repeat until you have all the colors you want.
8. Place each batch into the strainer and rinse with cold water.
9. Mix the colors together and have fun.
***Instead of food coloring you can use
natural sources
, like beets juice, carrot puree, green tea, or some other you are familiar with.
---
Get all of our Theme Dinner Ideas in
one ebook
, free of ads and easier to use at parties and cooking activities with kids.
30 theme dinner ideas with recipe menu plans, decorating ideas and printable invitations all included in this 83 paged electronic book.
Theme Dinner Ideas
---
Rainbow Theme Dinner Desserts
Rainbow Dessert
4-5 packages of small jello different colors
Prepare each jello package with 1 -1/4 Cup of hot water do not add cold. This makes the jell-o easier to cut into squares. Pour in a separate flat container for each color or do two colors at a time and then others hours later after the first set is firm.
Cut each colored jell-o into small squares. Place in a 13x9 pan and mix colors around gently.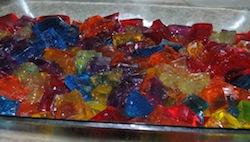 In a bowl, mix together 2 packages of
unflavored gelatin
with 1/2 Cup cold water. Let sit 3 minutes. Then stir in 1 -1/2 Cups hot water. Stir until gelatin is dissolved. Add one 14 oz can of sweetened condensed milk. Blend together well.
Pour mixture over the top of your colorful jell-o and chill 5-6 hours. Cut into blocks and enjoy your rainbow dessert!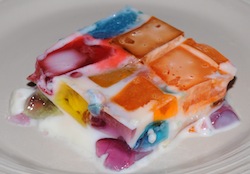 Rainbow Cupcakes
You will need:
White cake mix or homemade white cake
gel food coloring -colors of a rainbow
muffin pan and liners
6 bowls and 6 knife or spoons for mixing colors
Cupcake Rainbow Directions
Prepare your boxed or homemade cake batter. Pour 1/2 cup of batter in 6 different bowls. Color each bowl of batter a color of the rainbow by adding one or two drops of gel food coloring. Stir color into batter until completely blended.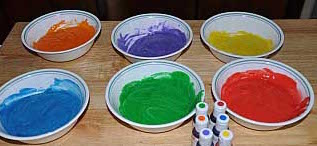 Prepare your muffin pan by placing liners inside each cup or greasing each cup.
Add one color of batter with a spoon into each muffin tin. Start with purple if you'd like to mimic a rainbow. Spread the batter to reach the edges of the pan or shake the pan gently to settle the batter.

Continue with each color:
1st purple, then blue, green, yellow, orange and red on top.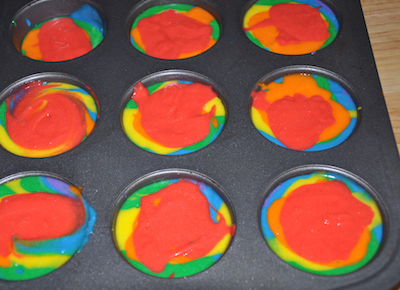 Bake for 15-20 minutes or until toothpick inserted in the middle of your cupcakes comes out clean.
Allow to cool. Frost or eat as is.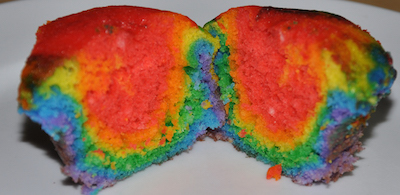 Use this same method with a layer cake by coloring each 9 inch circle a designated rainbow color and baking.
Rainbow Cookies
Prep
sugar cookie dough
and separate into 6 balls of dough. Color each ball of dough with food coloring. You will need red, orange, yellow, green, blue and purple.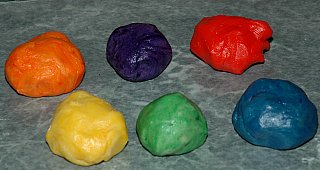 Roll each ball into long ropes and place one rope after another on a cookie sheet arching into a rainbow. You can also make mini rainbows instead of one large rainbow. Bake at 350 degrees for about 10 minutes or until cookie golden brown.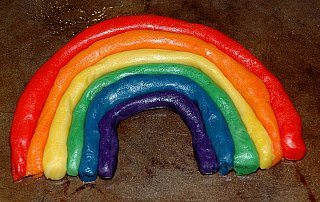 Cut into wedges and serve.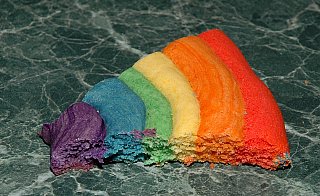 Read the
Rainbow Fish
and Make
Tie Dye Rainbow Fish Cookies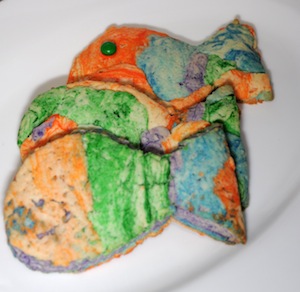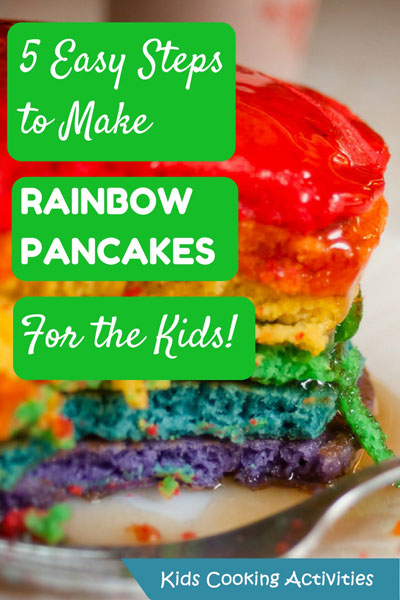 Rainbow Treats DIY
Make your own Theme Dinner Party page.
Have you put together your own Theme Dinner Party? Do you have a theme menu or theme dinner idea to share? Tell us about it and we will create your own theme dinner party page.
Reader's Submitted Recipes and Ideas
Click below to see contributions from other visitors to this page...

Rainbow Pancakes Not rated yet
I love making rainbow pancakes!  They're super colorful (obviously) and kids just love them!  Usually, about once a week, I make pancakes.  It seems …
Jell-O Cups Not rated yet
Colorful Jell-O Cups Rainbow cups are a big hit with kids. Use small clear plastic cups or glass containers that you can see the colors. Make Jell-O …
---
Related Theme Dinner Ideas:
~
Theme Dinner Ideas
, ~
A-Z
, ~
Animals
, ~
Backwards
, ~
Dinosaur
, ~
Disney
, ~
Farms
, ~
Fiesta
, ~
Flowers
,~
Fondue
, ~
Frogs
, ~
Hawaiian Luau
, ~
Homes
, ~
Insects
,~
Italian
, ~
Mother Nature
, ~
Movie Theme
, ~
Mystery Party
, ~
Owls
, ~
Paris
, ~
Penguins
, ~
~Princess and Prince Dinner
, ~
Princess Tea Party
, ~
Rainbow
, ~
Reindeer
, ~
Sleepover Party
, ~
Snakes
, ~
Snowman
, ~
Space
, ~
Sports
, ~
Sunflowers
, ~
Teddy Bear Tea Party
, ~
Transportation
, ~
Under the Sea
, ~
Western Cowboy
---
Follow Kids Cooking Activities