Italian Party Theme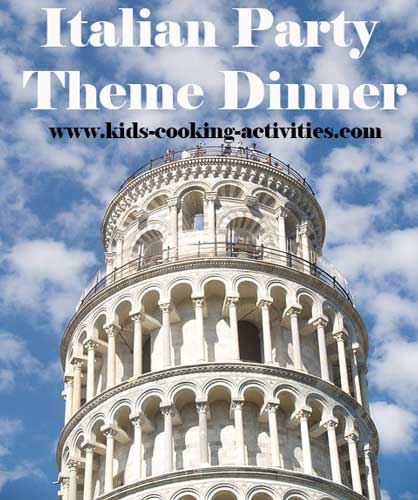 Try an Italian party theme dinner for a fun international night. Dress up your table with a red and white tablecloth or, if it is nice weather, decorate a table outside. You could use tall candles and eat by candlelight. Don't forget to include fresh bread and fresh grapes for a nice centerpiece.
Kids Cooking Activities Teaching Materials
Make teaching easier with our activities and recipes compiled in theme sets and books with an easy to read format
Perfect for teaching!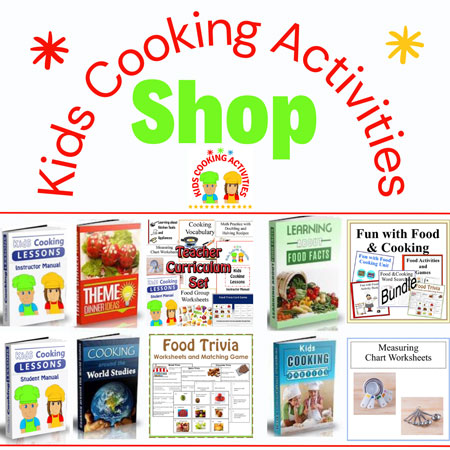 ~This post may contain affiliate links and I'll earn a small commission if you shop through them. There is no extra cost to you. This is how we help support our family and continue to bring you amazing content. To learn more see the
affiliates disclosure here.
~
Italian Party Theme- Appetizers or Side Dishes
Bruschetta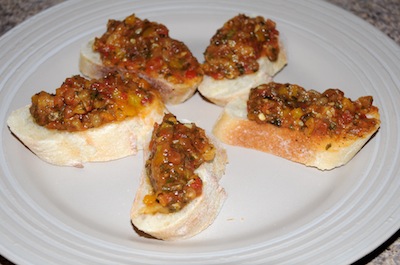 1 Loaf Italian bread cut diagonally in slices
2 Tablespoon Olive oil
2 Large Tomatoes; peeled, seeded, and chopped
1 pepper yellow or red, seeded and chopped
dash Salt
dash Pepper
1/4 Cup Chopped fresh basil or 2 Tablespoons dried basil
1 Garlic clove; minced
Place slices of bread on a cookie sheet and drizzle or brush each slice of with olive oil. Toast bread slices in oven at 450 degrees for 5 minutes or until toasted. Meanwhile, chop tomatoes and pepper finely or use a food chopper. Add salt and pepper, basil and garlic. Stir to combine. Top each toasted bread with vegetable mixture right before serving.
Olive Salad

olives
garbanzo beans, drained
cherry tomatoes, cut in half
2 Tablespoons olive oil
1 Tablespoon balsamic vinegar
salt and pepper
1 garlic clove, minced
In a serving dish, add olives, drained garbanzo beans and tomatoes. Drizzle with olive oil and balsamic vinegar. Add in a dash of salt and pepper. Stir in minced garlic. Toss to coat.
* Substitute any beans or type of olives you like.
---
Get all of our Theme Dinner Ideas in
one ebook
, free of ads and easier to use at parties and cooking activities with kids.
30 theme dinner ideas with recipe menu plans, decorating ideas and printable invitations all included in this 83 paged electronic book.
Theme Dinner Ideas
---
Italian Party Theme- Main Dishes
Eggplant Parmigiana
2 Eggplants, sliced
2 Eggs
1-1/2 Cup Bread crumbs
1/8 Teaspoon Pepper
1 garlic clove, minced
3/4 Cup Olive oil
Large can of Tomatoes
1/3 Cup Tomato paste
2 Tablespoon Minced basil
1 Teaspoon Salt
1/8 Teaspoon Pepper
1 Cup Grated Parmesan cheese
1/2 Pound Mozzarella cheese; thinly sliced
In a flat baking dish or pie plate place 2 beaten eggs. In another dish add bread crumbs and pepper. Dip eggplant slices in egg then in bread crumbs. Lay on a casserole dish or cookie sheet and chill for 20 minutes. Meanwhile in a skillet, saute garlic in 2 tablespoons oil. Take garlic out of pan with a slotted spoon (leaving the oil). Add tomatoes, tomato paste, basil, salt and pepper. Cover and simmer 20-30 minutes.*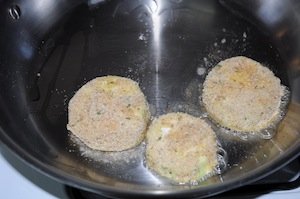 In a large skillet add remaining oil. Fry eggplant slices in oil until browned on each side. Drain on paper towel. In a baking dish cover a layer of tomato sauce on the bottom. Top with a layer of eggplant slices, Parmesan and mozzarella cheese. Continue layering in the pan. Top with mozzarella cheese and bake at 350 degrees for 30 minutes.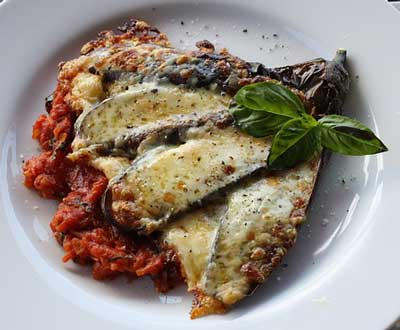 *If desired substitute jarred spaghetti sauce with the tomatoes, tomato paste, basil, salt and pepper and no need to simmer.
---
Make teaching easier with our activities and recipes compiled in one easy to read format.
---
Homemade Pasta
An Italian dinner night wouldn't be complete without some form of pasta!
2 -3/4 cups all-purpose flour
1 teaspoon salt
3 eggs
1 tablespoon olive oil
1/4 Cup water
Add flour to mixing bowl and add a well in the middle and add eggs.
Add olive oil and water and mix together until it forms a nice dough. Take it out of the mixing bowl and knead 5 minutes. Wrap dough in plastic wrap and let rest for 30 minutes.
To form into noodles we used a pastry cutter, however you can roll the dough out with a rolling pin and cut into strips for fettuccine noodles as well.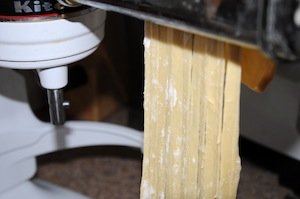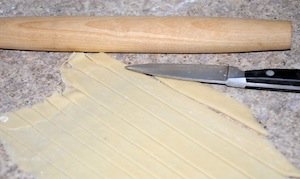 Place cut noodles on a cookie sheet and sprinkle flour over the top. Let dry several hours until cooking. Gently separate noodles occasionally with your fingers.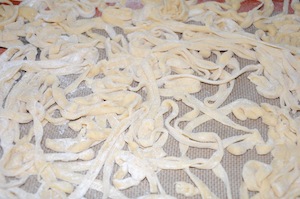 When ready to cook bring a large pot of water to boil. Add noodles and cook 5-10 minutes. Taste test to see if they are the done.
Toss noodles with
tomato sauce
or
Alfredo sauce.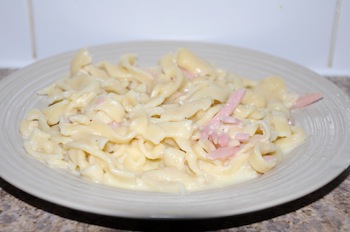 Homemade Fettuccine Alfredo with ham
Italian Night
Any of our recipes on our
Italian cooking lesson page
would go well for this theme.
Also try any of these for a
Italian party theme dinner:
Italian Bread Recipe Video
Make your own Theme Dinner Party page.
Have you put together your own Theme Dinner Party? Do you have a theme menu or theme dinner idea to share? Tell us about it and we will create your own theme dinner party page.
---
Related Theme Dinner Ideas:
~Theme Dinner Ideas, ~ A-Z, ~ Animals, ~ Backwards, ~ Dinosaur, ~ Disney, ~ Farms, ~Fiesta, ~ Flowers,~Fondue, ~Frogs, ~ Hawaiian Luau, ~Homes, ~Insects,~Italian, ~Mother Nature, ~Movie Theme, ~Mystery Party, ~ Owls, ~Paris, ~ Penguins, ~~Princess and Prince Dinner, ~ Princess Tea Party, ~Rainbow, ~Reindeer, ~Sleepover Party, ~Snakes, ~Snowman, ~ Space, ~Sports, ~Sunflowers, ~Teddy Bear Tea Party, ~Transportation, ~Under the Sea, ~Western Cowboy
---
Follow Kids Cooking Activities