Tips on Frugal living
These tips on frugal living will help you save money and feed your family well. Whether you are trying to cut costs or just want to save some extra money, making your own sauces and using up your leftovers will help you do this. Living a frugal lifestyle doesn't have to be a necessity, some people, such as me, enjoy making things from scratch and finding ways to use up what we have. I find not only is it healthier for you and the budget, frugal living can be enjoyable.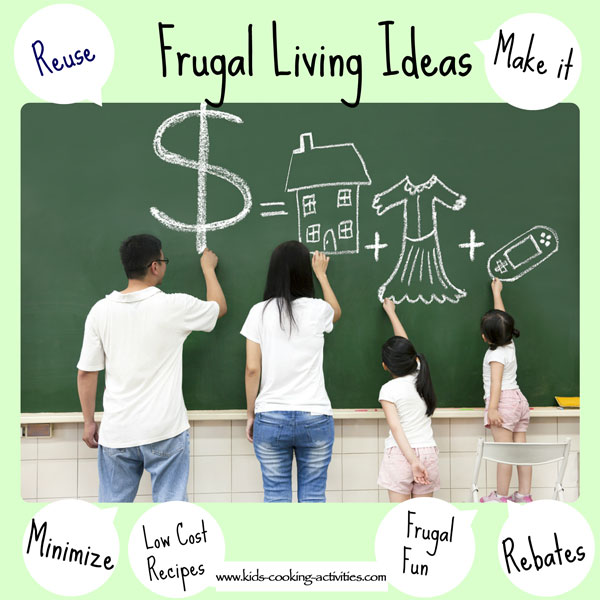 Kids Cooking Activities Teaching Materials
Make teaching easier with our activities and recipes compiled in theme sets and books with an easy to read format
Perfect for teaching!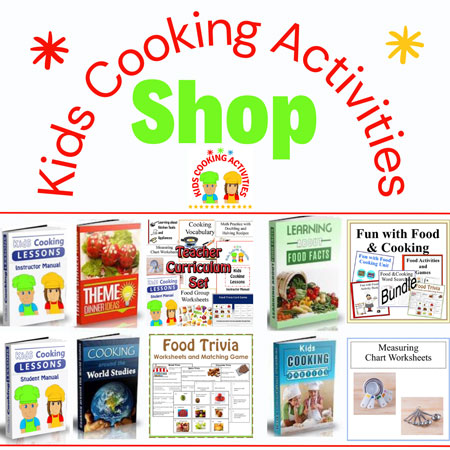 ~This post may contain affiliate links and I'll earn a small commission if you shop through them. There is no extra cost to you. This is how we help support our family and continue to bring you amazing content. To learn more see the
affiliates disclosure here.
~
Living Frugally Ideas
Following tips on frugal living does not mean depriving yourself or your family by purchasing only the bare necessities and living like a Buddhist monk. Instead, frugal living means asking yourself prior to purchasing a non-food, non-hygiene item: "Do I really and truly need that"?
Wanting something because it is the latest fad or because purchasing it satisfies an emotional craving are not good reasons to spend money that has been integrated into a budget intended to reduce household expenses.
With so many ways to save money, everyone should be able to incorporate some kind of money-saving ideas into their lifestyle. Tips on frugal living encompass everything from shopping for groceries to saving money on landscaping your yard.
Rebates and Coupons
One thing we all have to do is buy groceries! I wanted to share with you three ways I have found to save on shopping.
Now a days I swear by these two rebate companies
Rakuten
and
ibotta
. And a newer one called
Fetch
, where you can use all of your shopping receipts.
Rakuten Shopping
If you buy anything online you need to sign up for
Rakuten
. By shopping through their links you get cash back on purchases made at many websites. I do it whenever I shop and the little bits certainly add up. It is free to sign up so it is worth doing.
Ibotta Shopping
Ibotta
is an app for your iphone. You unlock different rebates for grocery items some as easy as milk and bananas. Go to the store and when you get home scan your products and take a picture of your receipt. I decided I'd try them out and within a few months I was able to buy gift cards for my son's upcoming birthday. Then I was hooked!
If you sign up and redeem a rebate within 2 weeks. They'll give you $10. It is worth it just for the free $10!
Shopping with Fetch
Another great way to save on your grocery bill is similar to
ibotta
but you take a photo of ALL of your receipts and get money back. When using
Fetch
every receipt will earn you 25 points but according to the items you have bought you can earn even more points. Your accumulated points will get you cash back or gift cards. Sign up with my referral code (71D4AQ) and get 100 points for your first receipt.
Download the app here to get started.
Hope you find that helpful!
DIY Recipes - Homemade Cleaning Supplies are Cheaper
Although being frugal may take more time, it pays in the end and saves you time as well. When making certain items at home, you will often find that recipes for homemade items are "bulk" recipes, which means you have enough to last for a long time.
Making Dryer Sheets
Take several old wash clothes and dip them in your favorite liquid fabric softener and several drops of purification essential oil (optional). Ring them out and let the clothes air-dry. The next time you need to dry a load of laundry, toss one of the cloths into the load. These homemade dryer "sheets" are reusable several times before they need dipped into softener again.
Spot Carpet Cleaner
Suggesting white vinegar as an excellent, all-around household cleaner is on most lists of tips on frugal living. To make a carpet cleaner, mix baking soda and white vinegar together until they form a paste. Using an old toothbrush, scrub the paste into the stained area. Allow the paste to dry before vacuuming the residue. The stain and odor associated with the mess should be gone.
Diaper Wipes
These homemade diaper wipes costs around 60 cents to make and last longer than store-bought brands.
1 roll of paper towels
2 tablespoons of baby oil
2 tablespoons of baby bath
2 cups boiled water, then cooled
Old diaper wipe containers
10-14 drops lavender essential oil
After tearing off paper towel sheets and folding them into a wipe container, mix ingredients into a measuring cup and pour this mixture over the towels in the container. Towels will readily absorb the liquid and using an airtight container will keep towels moist for weeks.
Find more
homemade natural cleaning recipes
here.
Tips on Frugal Living - Entertainment
Eating out or seeing a movie is definitely a budget-breaker, especially if it involves a family of four or more. Did you know you could borrow many DVDs free from your local library? Check out your library's website and discover what films they have. If someone is borrowing the film you happen to want, you have the ability to reserve the film, meaning that when someone brings it back, it automatically goes to you.
If you want to eat out at a restaurant, check that restaurant's website for coupons or specials. Call your local restaurants to see what sort of specials they are advertising.
Plan a vacation at least a year in advance. Look for discounts, coupons, hotel packages and other ways in which you can save on your destination. Get an old jar and put five dollars in it every week. In one year, you will have vacation gas money.
Ditch the Credit Cards
Tips on frugal living always include the highly recommended suggestion of eliminating all credit cards except for one major card, such as VISA or MasterCard. Get rid of all department and gas store cards because those carry the highest interest amounts and you really do not need them.
Having just one card will greatly reduce the money you spend on interest and teach you to resist impulse buying. This type of buying is where department store credit cards make most of their profit.
10 Tips on Being Frugal
Buy non processed food. Not only is it much healthier but those convenient box packages are more expensive than if you made it yourself.
Make your own bread If you don't have a large family, slice the whole loaf and freeze. Take out slices as you need them.
Buy cheap cuts of meat and cook them on low and in a crock pot. You won't know the difference once it has cooked for 6-8 hours.
Bake your own goodies. It tastes better, is better for you and cheaper.
Use the freezer to stock up on meals and ingredients.
Save your bread that is stale for croutons.
Save chicken bones, vegetable ends and stems for making broth.
Don't buy shredded cheese. Buy the chunk and shred it yourself at home. If you don't think you can use all of it divide it into portions and freeze.
Learn how to use spices and herbs.
A great way to save on your groceries is to grow your own!
Make your own homemade cleaners recipes.


Low Cost Recipes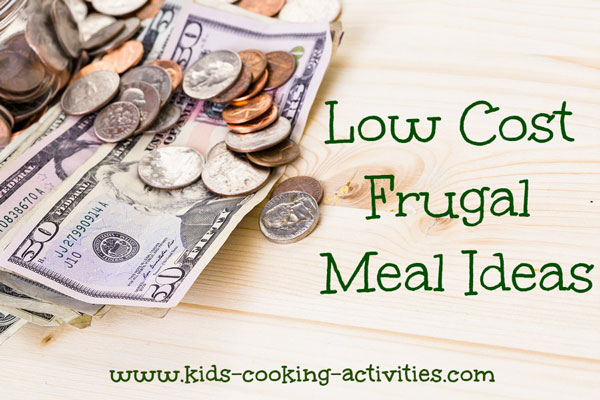 Do you ever have those months were you just feel like money is flying out the window? This month seems like I was spending money right and left as I've been putting money towards 2 kids getting new glasses, orthodontist bills, birthdays, doctor visits and normal everyday needs.
I feel like my credit card was on fire so I'm sitting down now to come up with a list of
low cost frugal meal ideas
that maybe we can just take it easy on the grocery bill this month.
Potatoes, Eggs, Tuna are all at the top of my list when it comes to easy meals that don't cost a lot as well as making things from scratch.
Breakfast
Fried potatoes with scrambled eggs
Homemade bread with jam
Egg sandwich
Homemade Oatmeal
Smoothies
Homemade pancakes or waffles
Homemade scones
Homemade muffins
Breakfast burritos
Lunch/Dinner
PBJ
Egg salad sandwich
Tuna salad sandwich
Panini sandwich (fillings with what you have)
Tuna Caesar salad
Cheese Quesadillas
Tacos
Spaghetti
BLTs
Grilled cheese sandwich
Homemade Tomato soup
Salad with boiled eggs or/and tuna
Chicken salad (with leftover rotisserie meat)
Rice and beans mixed with salsa and cheese
Egg drop soup
Chili hot dogs
Chili mac
Baked potatoes
Chef salad with lunch meat and boiled eggs
Tomato Goulash
Chili
Roasted Veggies in the oven (potatoes, sweet potatoes, carrots, turnips, zucchini etc.)
Homemade Pizza or pizza toast
Tuna casserole
Chicken casserole
Taco Salad
Lunch meat wraps
Using Leftovers in Recipes
These leftover recipes will help you know what to do with yesterday's dinner or give you some ideas of what you can fix once and eat twice. If you are planning ahead for using leftovers for another dinner, take off what is needed for the next meal before serving. For example, if you are using part of a roast chicken for a soup recipe, take off what you need before serving the remainder of the chicken meat for tonight's dinner. Sometimes I like to cook a little extra knowing I can use the extra for dinner the next day. If you do this it will leave you with a day of little prep work at dinner time.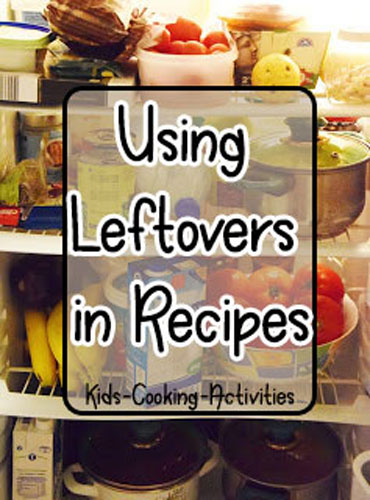 Grilled or baked chicken breasts- Chop extra chicken and add a can of cream of chicken soup with a little milk. You can make a homemade sauce also. Serve over cooked rice or noodles.


Leftover rice- Create fried rice by adding green peas, shredded carrots and soy sauce into a skillet. Push all your food to the side of your pan and add 1-2 eggs. Beat and allow to cook several minutes until set. Stir into rice. Add more soy sauce, as needed. Learn more about cooking rice.


Meatballs- Create a quick dinner with leftover meatballs by adding tomato or spaghetti sauce to your meatballs and serving on a french roll or hoagie bun. How to make meatballs.


Pork roast- Shred your remaining pork roast and add salsa and shredded cheese. If you like spicy food add one can of green chilies also. Mix together and serve on tortillas. Top with sour cream if desired.


Roast beef- Add barbecue sauce to your leftover shredded roast beef and serve on wheat rolls or by itself. Learn how to make roast beef.


Sloppy joes- Place your leftover sloppy joes in a casserole dish. Top with green beans and layer mashed potatoes on the top. Sprinkle with cheese and bake 15-20 minutes until warm and cheese is melted. Here is our favorite sloppy joe recipe.


Roast beef-Shred leftover beef and make a simple au jus for a french dip sandwich.


Roast chicken- Add leftover shredded chicken to a basic chicken noodle soup or try this delicious recipe for Chicken Chowder. Try this crockpot roast chicken recipe.


Mashed Potatoes- Top a shepherd's pie with leftover mashed potatoes.


Make fajitas or soft tacos with leftover beef or chicken. Add chopped peppers and onions and saute.


Take your leftover meat and vegetables and create a spring roll.
If you are sick of leftovers for the week, create a casserole with your leftovers, or freeze as is for future dinners.
Follow Kids Cooking Activities