Bean Experiments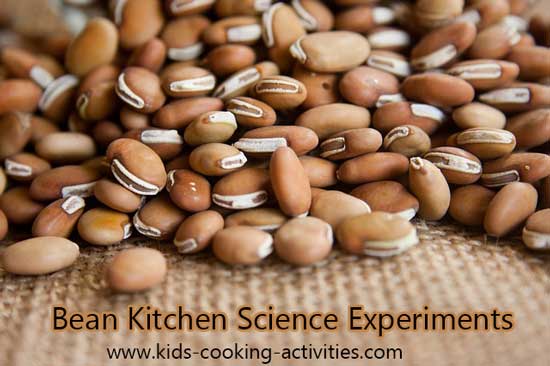 These bean experiments are a hands on activity that works best with preschool age groups- elementary age.
Planned Kids Cooking Curriculum
~This post may contain affiliate links and I'll earn a small commission if you shop through them. There is no extra cost to you. This is how we help support our family and continue to bring you amazing content. To learn more see the
affiliates disclosure here.
~
Soaking Beans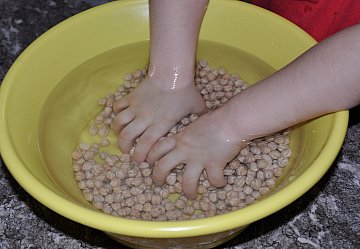 Younger kids like this because they can wash the beans and play in the water. However, it is also a learning experiment for all ages as they discover what happens to the beans overnight, then cook with them and eat them in a recipe.
Add 2 cups or a bag of beans to a large bowl. Cover with water several inches above the beans.
Mark the spot where the beans are on the outside of the bowl with a piece of masking tape.

Make a prediction. What will happen overnight?

Let sit overnight.
Check where your mark is.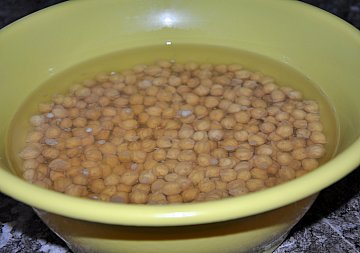 Why are the beans on a different mark?
Dry foods such as dried beans soaks up water.
Learn how to cook beans and use them in a recipe now.
Bean Sprouts
You can grow your own bean sprouts. This experiment is great to eat as well as fun for kids to watch. We have directions on our bean facts page on
growing your own bean sprouts.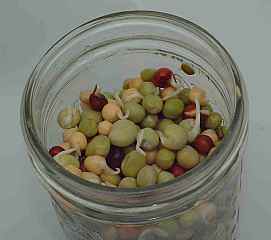 ---
---
Grow a Bean Plant
It is simple to grow your own bean plant. You can plant a seed in a cup of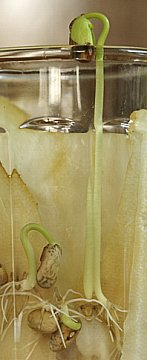 dirt and watch for it to come up. However if you'd like kids to see the root and the stem try this experiment. Fold a paper towel and place in a glass jar. Add a few tablespoons of water. Add several beans in the jar touching the paper towel. Watch for several days and add water if your paper towel gets dry.
In several days you will see the root and the stem growing.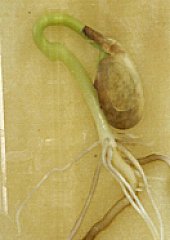 ---
Related Food Science Experiment Pages: ~ Apple experiments, ~ Bean experiments,
~ Homemade butter, ~Homemade volcano, ~ Jumping raisins , ~ Poached egg, ~ Shiny coins, ~ Egg into a bottle, ~ Homemade ice cream in a can or bag, ~ How is chocolate made?, ~ Make homemade yogurt, ~ Proofing yeast and baking homemade bread, ~ Sourdough bread starter recipe, ~Food Science
---
Follow Kids Cooking Activities