Sourdough Bread Starter Recipe
A sourdough bread starter recipe allows you to make bread by growing your own yeast! You can buy a ready made sourdough starter and keep it growing or you can make one by collecting natural yeast that is in the air.

It is a science lesson in itself to watch your starter bubble, create it into a loaf of bread and then continue to feed it and use it.

Planned Kids Cooking Curriculum
~This post may contain affiliate links and I'll earn a small commission if you shop through them. There is no extra cost to you. This is how we help support our family and continue to bring you amazing content. To learn more see the
affiliates disclosure here.
~
How to Make Sourdough Starter
In a glass bowl or pitcher combine 1 Cup warm water with 1 Cup flour. You can use wheat or white flour as you choose.
Cover your bowl with a paper towel, plastic wrap or light towel. Hold it in place with a rubber band if needed.





Keep it out on the counter. For 1 week add 1/2 Cup warm water and 1/2 Cup flour. Stir well and cover again.
You will see within days it will start to smell sour and start to bubble as yeast does.





After one week mix your sourdough bread dough together.
Or you can buy a sourdough starter such as this one:
---
---
Homemade Sourdough Bread Recipe
In a mixing bowl blend together:
2 Cups sourdough bread starter recipe *
save some of your starter for another batch
2 Cups warm milk
2 Tablespoons butter
1/4 Cup honey
1/4 Cup sugar
2 Tablespoons yeast
2 Cups flour
2 teaspoons salt
Blend together until all ingredients are wet. Set aside in a warm place for 30 minutes.
Continue to beat dough with 4 Cups whole wheat flour or white flour.
If your dough is too sticky add a little more flour or if it is too dry add a little warm water. Sourdough starter varies in how "wet' it is so your recipe may vary. You want your dough to be not too sticky and forms into a nice loaf.
When all blended together place on a floured counter and knead several minutes until the dough is elastic. Shape dough into 3 loaves or rolls. Let rise another 30 minutes. Bake at 350 degrees for 30-35 minutes.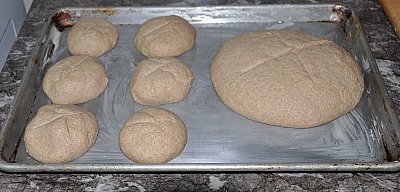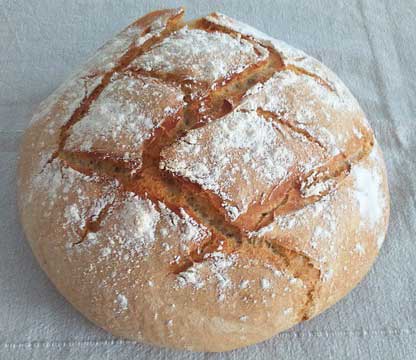 Save your remaining sourdough bread starter recipe for the next batch. Continue to feed it everyday if you leave it out on the counter.
You can store it in the fridge but bring it out to room temperature before you feed it and feed it once a week.
~The starter works better after you have taken some out and continued to feed it.
Learn more about making homemade bread.
---
Related Food Science Experiment Pages:
~
Apple experiments
, ~
Bean experiments
,
~
Homemade butter
, ~
Homemade volcano
, ~
Jumping raisins
, ~
Poached egg
, ~
Shiny coins
, ~
Egg into a bottle
, ~
Homemade ice cream in a can or bag
, ~
How is chocolate made?
, ~
Make homemade yogurt,
~
Proofing yeast and baking homemade bread
, ~
Sourdough bread starter recipe
, ~
Food Science
---
Follow Kids Cooking Activities