Make a Homemade Volcano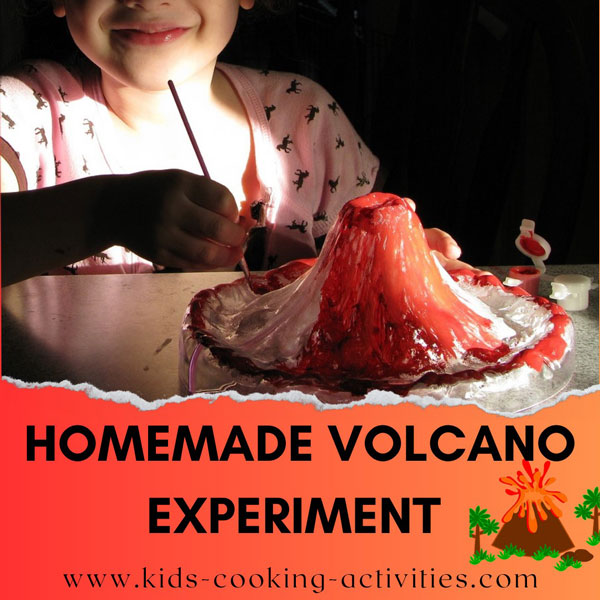 Kids love to make a homemade volcano and they'll want to do it over and over again.
Kids Cooking Activities Teaching Materials
Make teaching easier with our activities and recipes compiled in theme sets and books with an easy to read format
Perfect for teaching!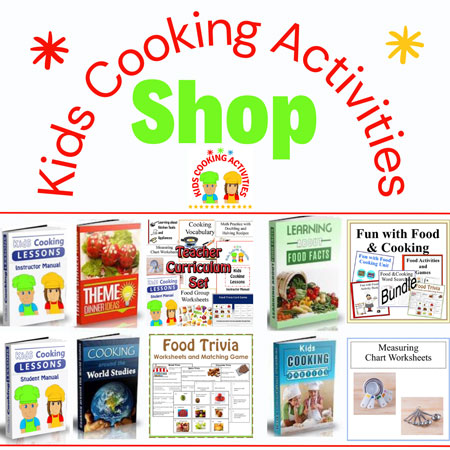 ~This post may contain affiliate links and I'll earn a small commission if you shop through them. There is no extra cost to you. This is how we help support our family and continue to bring you amazing content. To learn more see the
affiliates disclosure here.
~
Homemade Volcano Project
Make volcano out of clay dough and let dry overnight or bake according to the directions. You can find a recipe for playdough or clay dough.

Place 2 teaspoons of baking soda in the bottom.
Predict what you think will happen before you add vinegar.
Pour 2 teaspoons vinegar in the volcano.

Homemade Volcano Video
The mixture of the baking soda and vinegar forms a gas that raises up and out of the volcano.
We use baking soda in cooking, such as baking cakes and cookies. The baking soda makes baked goods rise because the bubbles burst in the heat.
Easy Science Project
You don't need to make a volcano to do this experiment, it just makes it more fun. You can just use a glass placed in a bowl.
---
---
Coca Cola Experiment
by Annika (Vanderhoof B,C)
What you will need:
2 L bottle of Coke
1 pack of Mentos
Warning: Please do this experiment outdoors because it may make a mess!

Open your 2L bottle of Coke without spilling. Add the whole pack of Mentos inside the Coke. Watch as it makes a Volcano of Coke!!! Loads of fun for the whole Family.
---
Related Food Science Experiment Pages:
~
Apple experiments
, ~
Bean experiments
, ~
Celery and Food Coloring
, ~
Homemade butter
, ~
Make Cottage Cheese
, ~
Red Cabbage PH
~
Homemade volcano
, ~
Coke Bottle Experiment
, ~
Jumping raisins
, ~
Cheese Souffle
, ~
Poached egg
, ~
Shiny coins
, ~
Egg into a bottle
, ~
Homemade ice cream in a can or bag
, ~
How is chocolate made?
, ~
Make homemade yogurt,
~
Proofing yeast and baking homemade bread
, ~
Sourdough bread starter recipe
, ~
Grow your own from food scraps
, ~
Food Science
---
Follow Kids Cooking Activities