Cheese Souffle Recipe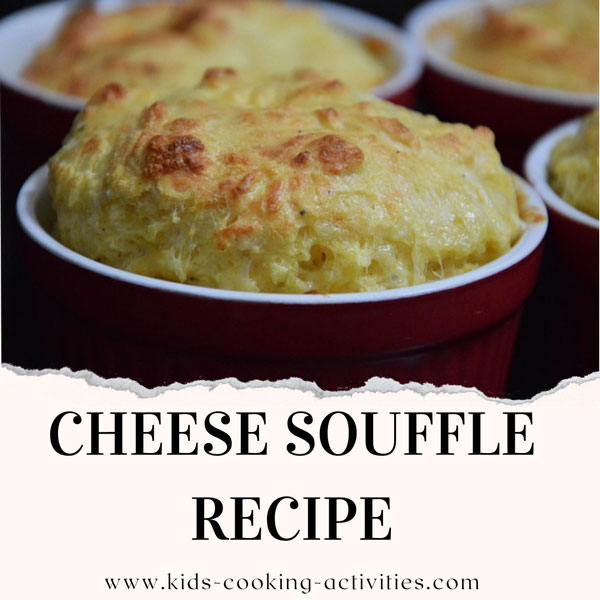 This cheese souffle recipe seems to be a little difficult but once you break it down into steps and taste it you'll see it isn't that hard to make and well worth the effort. If you have small ramekin dishes these work great for little individual sizes for each family member. Otherwise prepare one in a large round dish for the whole family.
Kids Cooking Activities Teaching Materials
Make teaching easier with our activities and recipes compiled in theme sets and books with an easy to read format
Perfect for teaching!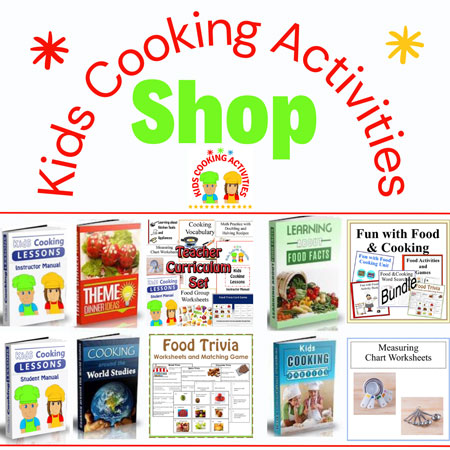 ~This post may contain affiliate links and I'll earn a small commission if you shop through them. There is no extra cost to you. This is how we help support our family and continue to bring you amazing content. To learn more see the
affiliates disclosure here.
~
Making a Souffle
1/4 cup butter
1/4 cup all-purpose flour
1/2 teaspoon salt
1/4 teaspoon mustard
Dash of cayenne pepper
1 cup milk
1 cup shredded cheddar cheese
3 eggs, separated
1/4 teaspoon cream of tartar
Step 1
: Grease a
round casserole dish.
Step 2
: In a saucepan melt butter. Whisk in flour, salt, mustard and cayenne pepper. Stir constantly on medium-low heat until well blended. Whisk in 1 cup milk until mixture is smooth and no longer has lumps. Bring to a boil and continue stirring. Add shredded cheese and cook until melted. Set aside.
Step 3:
In two separate bowls, add egg whites in one bowl and egg yolks in another. Beat egg whites and cream of tartar until stiff peaks form. This is called making a meringue.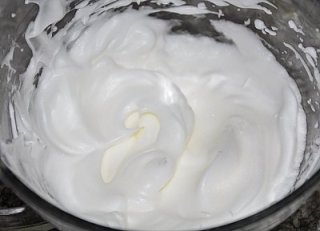 Step 4
: In separate bowl, beat 3 egg yolks for several minutes. Stir egg yolks into cheese mixture.
Step 5
: Add a small amount, about ¼ of the egg whites to the cheese mixture. Stir together. Pour cheese mixture slowly into remaining egg whites.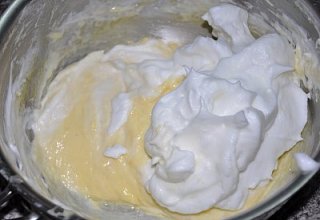 Step 6:
Pour into greased dish. Bake in a 350 degree oven for 45-55 minutes. Insert a knife in the center of the soufflé and it should come out clean. Serve immediately.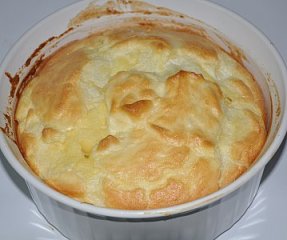 See more
food science recipes
See more
French cooking recipes.
---
---
---
Related Food Science Experiment Pages:
~
Apple experiments
, ~
Bean experiments
, ~
Celery and Food Coloring
, ~
Homemade butter
, ~
Make Cottage Cheese
, ~
Red Cabbage PH
~
Homemade volcano
, ~
Coke Bottle Experiment
, ~
Jumping raisins
, ~
Cheese Souffle
, ~
Poached egg
, ~
Shiny coins
, ~
Egg into a bottle
, ~
Homemade ice cream in a can or bag
, ~
How is chocolate made?
, ~
Make homemade yogurt,
~
Proofing yeast and baking homemade bread
, ~
Sourdough bread starter recipe
, ~
Grow your own from food scraps
, ~
Food Science
---
Follow Kids Cooking Activities