Artichoke Facts
Artichoke facts and general information about artichokes.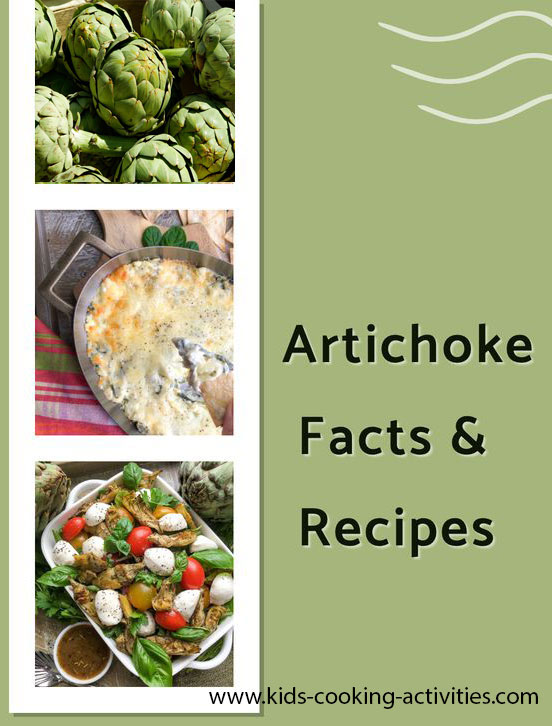 Kids Cooking Activities Teaching Materials
Make teaching easier with our activities and recipes compiled in theme sets and books with an easy to read format
Perfect for teaching!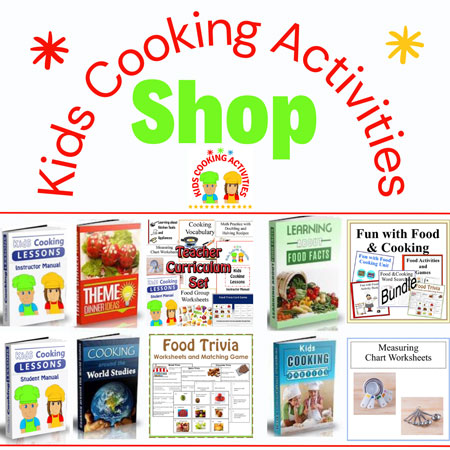 ~This post may contain affiliate links and I'll earn a small commission if you shop through them. There is no extra cost to you. This is how we help support our family and continue to bring you amazing content. To learn more see the
affiliates disclosure here.
~
Artichokes are Available in Season:
Fresh in springtime.
How do Artichokes Grow:
Artichokes are the flower bud of a thistle plant, see the picture below.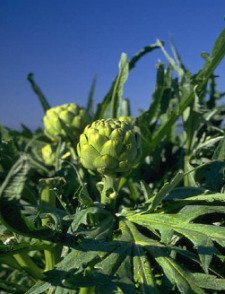 What to Look For When Buying Artichokes:
Choose tightly closed buds that are green or purplish-green in color.
Artichoke Storage Tips:
Store artichokes in the refrigerator.
How to Cook Artichokes:
Cut the sharp end tips off with a serrated knife. You can scoop out the middle fuzz before or after cooking. To cook, boil artichokes in large pot of water until a skewer pierces through the middle easily.
Time may vary according to size but could be 20-40 minutes. To eat, dip leaves in butter or oil dressing and bite off fleshy end. When you get to the center and all the leaves are off, scoop away fuzz, being careful not to take the heart out with it. Eat heart or prepare it in an artichoke recipe.
Artichoke Nutrition Facts:
Artichokes contain fiber, magnesium, vitamin C and potassium. They also have a high amount of antioxidants.
Artichoke Recipes:
Spinach Artichoke Dip
8 oz. pkg. cream cheese
1 can 14 oz. artichoke hearts, drained or 3 fresh artichoke hearts, cooked and prepared
½ Cup spinach, frozen, chopped then steamed
¼ Cup mayonnaise- Do not use miracle whip
¼ Cup Parmesan cheese
¼ Cup Romano cheese (you can use all Parmesan also)
1 clove garlic, finely minced
½ teaspoon basil or 1 Tablespoon basil fresh
Salt and pepper to taste
Allow cream cheese to come to room temperature. Cream together mayo, cheeses, garlic, and basil. Mix well. Add artichoke hearts and spinach. (Squeeze all excess water out of spinach before combining) Mix until well blended. Spray pie pan with Pam and pour in dip. Bake at 350 for 25 minutes. You can also top with ¼ Cup shredded mozzarella cheese.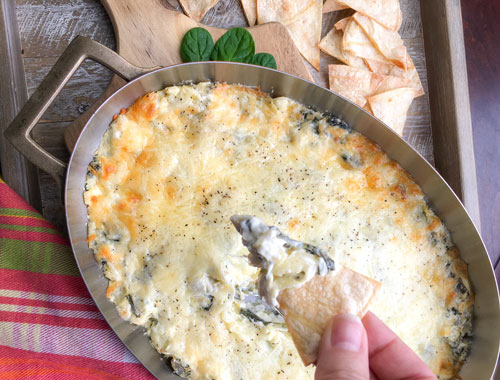 Artichoke Cooking Video: How To Cook an Artichoke
Artichoke Mozzarella Salad
Prep time: 10 minutes- Cook time: 15 minutes Serves: 4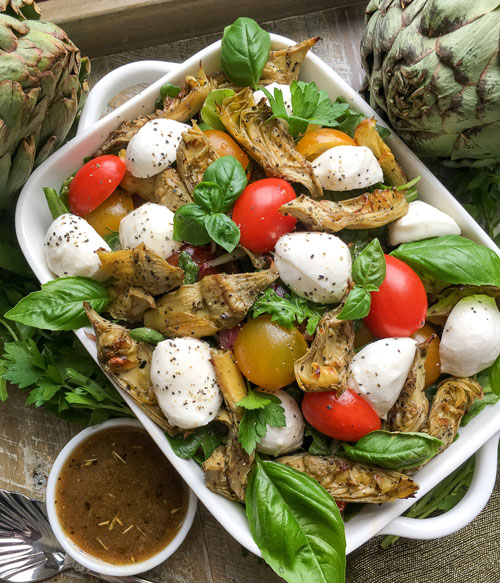 Ingredients:
¼ c. extra virgin olive oil, divided
14-oz. can or jar artichoke hearts, drained and rinsed
1 t. dried Italian seasoning, divided
2-3 garlic cloves, minced
Sea salt and black pepper, to taste
3 c. fresh lettuce or salad greens
1 pint cherry or grape tomatoes, cut in half
1 medium red onion, cut in half and sliced
3 T. fresh parsley, chopped
2 T. fresh basil, thinly sliced
2 T. balsamic vinegar
1 T. fresh lemon juice
1 t. Dijon mustard
8-oz. small fresh Mozzarella balls, cut in half
Sprigs of fresh herbs, for garnish
Directions
:
1. Preheat oven to 400°F and line a large, rimmed baking sheet with a piece of parchment paper or a Silpat® baking mat.
2. Pat the artichoke hearts dry and transfer to a large bowl. Add one tablespoon olive oil, ½ teaspoon Italian seasoning, and the minced garlic. Season with salt and black pepper, to taste. Toss to combine.
3. Arrange seasoned artichokes on the prepared baking sheet in a single, uniform layer and place in the pre-heated oven to roast until tender and slightly browned around the edges, approximately 20-25 minutes.
4. While the artichokes roast, combine the fresh arugula, tomatoes, red onion, capers, and fresh herbs in a large salad bowl. Set aside.
5. In a small bowl, combine the remaining olive oil with the balsamic vinegar, fresh lemon juice, Dijon mustard, and remaining Italian seasoning. Season with salt and black pepper, to taste, and whisk together until emulsified. Set aside. 6. Remove the artichokes from the oven and cool for several minutes before adding to the salad. Toss to combine and top with fresh Mozzarella. Garnish with fresh herbs, if using, and serve immediately with the balsamic dressing. Enjoy!
Share your food facts and recipes
Do you have a food facts or recipe to share?
---
Related Food Facts Pages:
~Apple, ~Apricot, ~Avocado, ~Banana, ~Berry, ~Cherry, ~Coconut, ~Cranberry, ~Dates, ~Figs, ~Grapefruit, ~Grapes, ~Kiwi, ~Lemon and Limes, ~Mango, ~Melon, ~Orange, ~Papaya, ~Peach, ~Pear, ~Pineapple, ~Plums, ~Tomato, ~Artichoke, ~Asparagus, ~Beets, ~Broccoli, ~ Brussels Sprouts, ~Cabbage, ~Carrot, ~Cauliflower, ~Celery, ~Corn, ~Cucumber, ~Eggplant, ~Garlic, ~Green Beans, ~Kale, ~Lettuce/Salad Greens, ~Mushrooms, ~Okra, ~Onion, ~Parsnip, ~Peas,green, ~Peppers, ~Potato, ~Radish, ~Rhubarb, ~Spinach, ~Summer Squash and Zucchini, ~Sweet Potato, ~ Turnip, ~ Winter Squash, including Pumpkins, ~Beans, ~Eggs, ~Nuts, ~Seeds, ~ Meat, ~ Dairy, ~ Grains
---
Follow Kids Cooking Activities