Cauliflower Facts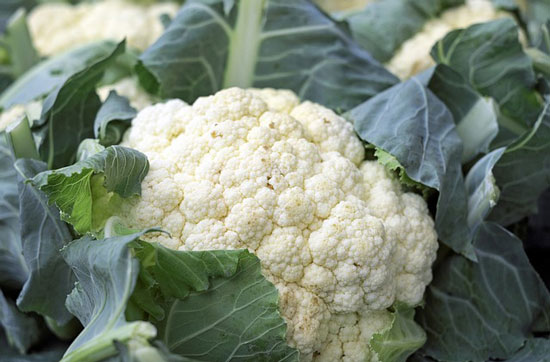 Cauliflower facts and general information about cauliflower.
Kids Cooking Activities Teaching Materials
Make teaching easier with our activities and recipes compiled in theme sets and books with an easy to read format
Perfect for teaching!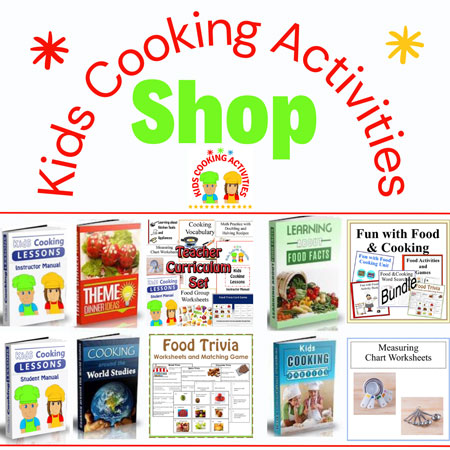 ~This post may contain affiliate links and I'll earn a small commission if you shop through them. There is no extra cost to you. This is how we help support our family and continue to bring you amazing content. To learn more see the
affiliates disclosure here.
~
Cauliflower is Available:
Available year round but cauliflowers' true season is fall-early spring.
How does it Grow:
Cauliflower grows from a tiny seed planted in your garden.
What to Look for When Buying:
Look for firm cauliflower, white with no black spots.
Storage Tips:
Store in your refrigerator
How to Cook:
Boil, steam, chopped in side dishes or salads. Eat as is.
Nutrition Facts:
Cauliflower helps prevent cancer, is high in fiber and is high in Vitamin C.
Recipes
Cauliflower with Cheese Sauce
1 head of cauliflower washed and cut into florets
Boil large saucepan of water. Add cauliflower and boil uncovered about 5 minutes. It is tender when you can pierce it with a fork. Don't cook too long or it will be too mushy!
Have an adult prepare cheese sauce with child's help if too young to use stove top.
2 Tablespoons butter
2 Tablespoons flour
1 Cup milk
1 Cup shredded cheddar cheese
Melt margarine in saucepan. Stir in flour. Mixture will be thick, this is called a roux. Stir in milk gently and stir together. Stir in cheese and keep stirring and cooking until melted. Serve either poured over cauliflower or on the side for dipping.
Cauliflower Salad
1 Cup shredded carrots
1 Cup sliced cauliflower
1/2 Cup chopped pecans
1 Cup spinach or other greens
Black pepper
Slice cauliflower in 1/4 to 1 inch slices. Tear greens into small pieces. Toss all ingredients together. Add pepper to taste. Chill and serve with your choice of dressing. (Serves 4)
Cauliflower Side
Cauliflower Gratin Side Dish Recipe.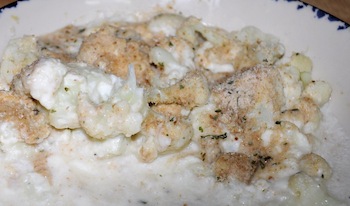 Cauliflower Soup
1 small onion, minced
4 Tablespoons butter
5 Tablespoons flour
1 teaspoon Salt
3 Cups light cream
1-2 Cups chicken broth
2 large heads of cauliflower, chopped
½ teaspoon nutmeg
Have adult sauté onion in butter then stir in flour and salt. Gradually add cream, stirring constantly. Add broth according to desired thickness of soup. Add broccoli and nutmeg. Cook over low heat 25 minutes. Stir occasionally.
*** You can also use broccoli in place of cauliflower.
Share your food facts and recipes
Do you have a food facts or recipe to share?
---
Related Food Facts Pages:
~Apple, ~Apricot, ~Avocado, ~Banana, ~Berry, ~Cherry, ~Coconut, ~Cranberry, ~Dates, ~Figs, ~Grapefruit, ~Grapes, ~Kiwi, ~Lemon and Limes, ~Mango, ~Melon, ~Orange, ~Papaya, ~Peach, ~Pear, ~Pineapple, ~Plums, ~Tomato, ~Artichoke, ~Asparagus, ~Beets, ~Broccoli, ~ Brussels Sprouts, ~Cabbage, ~Carrot, ~Cauliflower, ~Celery, ~Corn, ~Cucumber, ~Eggplant, ~Garlic, ~Green Beans, ~Kale, ~Lettuce/Salad Greens, ~Mushrooms, ~Okra, ~Onion, ~Parsnip, ~Peas,green, ~Peppers, ~Potato, ~Radish, ~Rhubarb, ~Spinach, ~Summer Squash and Zucchini, ~Sweet Potato, ~ Turnip, ~ Winter Squash, including Pumpkins, ~Beans, ~Eggs, ~Nuts, ~Seeds, ~ Meat, ~ Dairy, ~ Grains
---
Follow Kids Cooking Activities