Summer Squash Facts
including Zucchini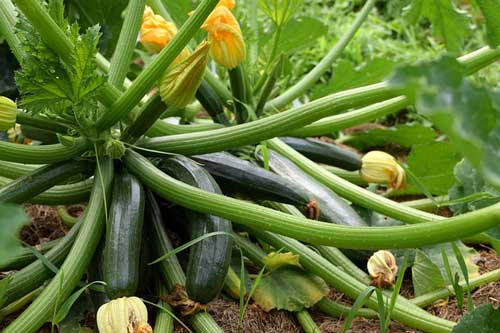 Summer squash facts and general information about summer squash and zucchini.
Kids Cooking Activities Teaching Materials
Make teaching easier with our activities and recipes compiled in theme sets and books with an easy to read format
Perfect for teaching!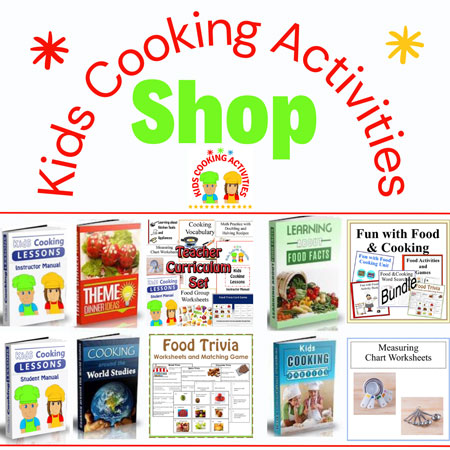 ~This post may contain affiliate links and I'll earn a small commission if you shop through them. There is no extra cost to you. This is how we help support our family and continue to bring you amazing content. To learn more see the
affiliates disclosure here.
~
Summer Squash is Available:
Summertime
How Does Summer Squash Grow:
They grow on a plant that can produce a lot through one season.
What to Look for When Buying Summer Squash:
Pick firm, heavy for their size and a good color according to the variety.
Summer Squash Storage Tips:
Store in fridge crisper.
How to Cook with Summer Squash:
Cook in side dishes, sautéed, stir fry, baked, shredded in quick breads.
Summer Squash Nutrition Facts:
Summer squash are high in manganese, Vitamin C, magnesium and Vitamin A. They also have dietary fiber.
Summer Squash Facts- Recipes:
Stuffed Zucchini
Ingredients:
3 zucchini
2 Tablespoons onions, diced
2 Tablespoons garlic, minced
3 Tablespoon butter
1 Cup seasoned bread crumbs
1/2 Cup tomatoes, cooked
salt and pepper
Parmesan cheese
Directions:
Cook zucchini in boiling, salted water for 10 minutes. Cut in half and scoop out centers. Set aside. Sauté onion, garlic and tomato for 2-3 minutes. Mix center of zucchini with remaining ingredients. Fill zucchini shells. Bake in 350 degree oven for 15 minutes. In the last 5 minutes, top zucchini with Parmesan cheese until slightly browned.
Zucchini Zoodles
Prep your zoodles by cutting zucchini or yellow squash into strips with a
spiral slicer
. Add to a skillet. Add 1 Tablespoon butter and saute zoodles until tender. Season with salt, pepper, garlic, Parmesan or other seasonings. (you can also add other vegetables like carrots)
Zucchini Pizza Bites
Try this Zucchini Pizza Pie
Yellow Squash
by Taylor (Ventura CA)
Ingredients:
3 yellow squash
2 TBSP extra virgin olive oil
1/2 tsp garlic powder
salt to taste
Directions:
Slice yellow squash 1/4 rounds, place in pan with olive oil, and saute' for 6 minutes turning often. Cook until golden brown, then add garlic and salt. Enjoy!
Zucchini Bread
Ingredients:
2 Cups shredded zucchini
3 eggs
2 Cups sugar
1 Cup oil
3 teaspoon Vanilla
3 Cups flour
1 teaspoon Baking soda
¼ teaspoon Baking powder
1 teaspoon Salt
3 teaspoon Cinnamon
1¼ c. pecans, roughly chopped and divided, optional
Directions:
In mixing bowl add eggs, sugar, oil and vanilla. Blend together. Add in baking soda, baking powder, salt and cinnamon to mixture. Blend together. Stir in zucchini and nuts if using. Save some nuts for topping if desired.
Stir batter until well blended. Pour into 2 greased bread 9 inch loaf pans or muffin liners. Bake at 350 degrees for 30-45 minutes or 20 minutes if making muffins. (Depending on how much moisture is in the zucchini, it may take an hour or slightly longer for the loaves to finish baking). They are done when a toothpick inserted comes out clean.
Simple Squash
Ingredients:
2 yellow squash, cut in half lengthwise
butter
1/8 teaspoon salt
1/2 teaspoon black pepper
1/2 cup shredded sharp cheddar cheese
Directions:
Have an adult cut yellow squash in half lengthwise. Place squash in casserole dish. Spread each half with butter then sprinkle with salt and pepper. Sprinkle with cheese. Have an adult bake at 400 degrees until cheese is melted about 15-20.
Zucchini Fries
Try these recipes for zucchini fries and fritters.

Cooking Video: Zucchini Pasta
Share your food facts and recipes
Do you have a food facts or recipe to share?
Reader's Submitted Recipes
Click below to see contributions from other visitors to this page...

Zucchini Pizza Pie

Ingredients 2 cups shredded zucchini 1 tsp salt 1 egg, beaten 1 cup shredded mozzarella, divided 1/4 lb ground meat (beef, pork, turkey, chicken, …
Zucchini Bread Not rated yet
1 cup grapeseed oil 2 cups sugar 1 Tbs. vanilla 3 cups flour 1 teaspoon baking soda 1 Tbs. cinnamon 1 teaspoon salt 1/2 teaspoon baking powder …
---
Related Food Facts Pages:
~
Apple
, ~
Apricot
, ~
Avocado
, ~
Banana
, ~
Berry
, ~
Cherry
, ~
Coconut
, ~
Cranberry
, ~
Dates
, ~
Figs
, ~
Grapefruit
, ~
Grapes
, ~
Kiwi
, ~
Lemon and Limes
, ~
Mango
, ~
Melon
, ~
Orange
, ~
Papaya
, ~
Peach
, ~
Pear
, ~
Pineapple
, ~
Plums
, ~
Tomato
, ~
Artichoke
, ~
Asparagus
, ~
Beets
, ~
Broccoli
, ~
Brussels Sprouts
, ~
Cabbage
, ~
Carrot
, ~
Cauliflower
, ~
Celery
, ~
Corn,
~
Cucumber
, ~
Eggplant
, ~
Garlic
, ~
Green Beans
, ~
Kale
, ~
Lettuce/Salad Greens,
~
Mushrooms,
~
Okra
, ~
Onion
, ~
Parsnip,
~
Peas,green
, ~
Peppers,
~
Potato
, ~
Radish
, ~
Rhubarb
, ~
Spinach
, ~
Summer Squash and Zucchini
, ~
Sweet Potato
, ~
Turnip
, ~
Winter Squash, including Pumpkins
, ~
Beans
, ~
Eggs
, ~
Nuts
, ~
Seeds
, ~
Meat
, ~
Dairy
, ~
Grains
---
Follow Kids Cooking Activities