Asparagus Facts
Asparagus facts and general information about asparagus.
Kids Cooking Activities Teaching Materials
Make teaching easier with our activities and recipes compiled in theme sets and books with an easy to read format
Perfect for teaching!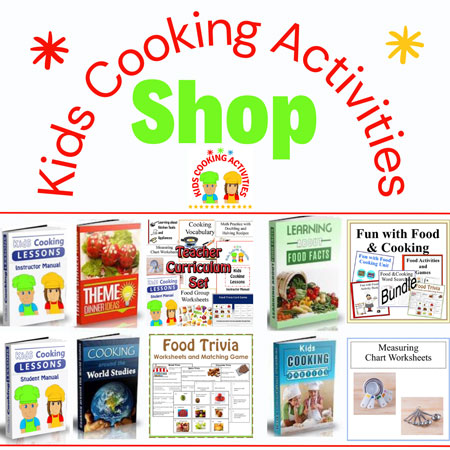 ~This post may contain affiliate links and I'll earn a small commission if you shop through them. There is no extra cost to you. This is how we help support our family and continue to bring you amazing content. To learn more see the
affiliates disclosure here.
~
Asparagus is Available in Season:
Fresh mid to late spring.
How Does it Grow:
Asparagus grows in long tall stalks. In spring, they grow wild, even on some roadsides and can keep producing for years to come.
What to Look For When Buying:
Pick asparagus that are thin and green-purplish in color. Select ones that are crisp with tightly bunched heads.
Storage Tips:
Use quickly and store in fridge with stalks in a cup of water if not using the same day.
How to Cook:
Wash. Break off ends by bending and snapping the end of the stalks. Use a wide skillet the stalks can lay down in. Boil in 5 cups of water with 1/2 Tablespoon salt. Boil 5-7 minutes until skewer pierces the middle easily. Don't overcook.
Nutrition Facts:
High in folacin and a good source of potassium and fiber. Asparagus are a good source of Vitamin B, calcium and magnesium.
Asparagus Recipes
Asparagus with Butter and Nuts
Prepare asparagus by boiling for 5-7 minutes as mentioned above. Meanwhile melt butter in microwave. Arrange asparagus on serving platter when done. Drizzle melted butter and top with chopped almonds if desired.
Asparagus Cheese Appetizers
12 asparagus spears
6 oz. cream cheese, softened
1/4 cup Parmesan cheese
1 teaspoon lemon juice
crackers
Cook asparagus until tender. Drain. Meanwhile, in a bowl blend cream cheese, Parmesan cheese and lemon juice. Spread on top of a cracker. Cut asparagus into 1 inch pieces. Place one asparagus piece on top of cream cheese mixture. Serve.
Asparagus Risotto
1 tablespoon butter
1 onion, finely chopped
3/4 lb asparagus, cut in 1 inch pieces
3 cloves garlic, crushed
1- 1/2 cups short grain rice
4 cups chicken broth
1/4 cup cream
1 cup grated Parmesan cheese
1/4 cup fresh basil, chopped
In saucepan melt butter and sauté onions and garlic several minutes until onions are transparent. Add rice and stir until coated. When rice starts to look shiny like glass add chicken broth. Bring to a boil and add asparagus. Cover and turn heat to medium-low. Allow to steam and cook for about 10 minutes or until rice is fluffy and done. Stir in cream, Parmesan cheese and basil until well combined. Serve immediately.
Asparagus Cooking Video: Parmesan Roasted Asparagus
Asparagus Cooking Ideas
Share your food facts and recipes
Do you have a food facts or recipe to share?
---
Related Food Facts Pages:
~
Apple
, ~
Apricot
, ~
Avocado
, ~
Banana
, ~
Berry
, ~
Cherry
, ~
Coconut
, ~
Cranberry
, ~
Dates
, ~
Figs
, ~
Grapefruit
, ~
Grapes
, ~
Kiwi
, ~
Lemon and Limes
, ~
Mango
, ~
Melon
, ~
Orange
, ~
Papaya
, ~
Peach
, ~
Pear
, ~
Pineapple
, ~
Plums
, ~
Tomato
, ~
Artichoke
, ~
Asparagus
, ~
Beets
, ~
Broccoli
, ~
Brussels Sprouts
, ~
Cabbage
, ~
Carrot
, ~
Cauliflower
, ~
Celery
, ~
Corn,
~
Cucumber
, ~
Eggplant
, ~
Garlic
, ~
Green Beans
, ~
Kale
, ~
Lettuce/Salad Greens,
~
Mushrooms,
~
Okra
, ~
Onion
, ~
Parsnip,
~
Peas,green
, ~
Peppers,
~
Potato
, ~
Radish
, ~
Rhubarb
, ~
Spinach
, ~
Summer Squash and Zucchini
, ~
Sweet Potato
, ~
Turnip
, ~
Winter Squash, including Pumpkins
, ~
Beans
, ~
Eggs
, ~
Nuts
, ~
Seeds
, ~
Meat
, ~
Dairy
, ~
Grains
---
Follow Kids Cooking Activities