Easy Kids Meals with 6 or Fewer Ingredients
These 6 or fewer easy kids meals were composed with the chef in training age group in mind. To help them continuously learn and practice after the chef in training cooking lessons.
However they are also great for quick easy meal ideas that your kids can help with. As stated before these kids cooking recipes were composed with 7-11 years old in mind so you may adjust the recipe directions as needed.
For example, older kids can do the cooking where as younger age groups will not be cooking and do not have the attention span for some recipes. They will do better when given small tasks and helping you create the recipe.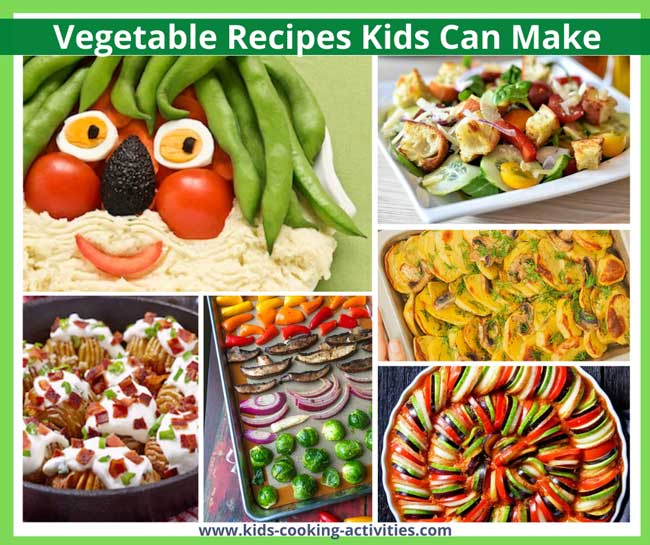 Kids Cooking Activities Teaching Materials
Make teaching easier with our activities and recipes compiled in theme sets and books with an easy to read format
Perfect for teaching!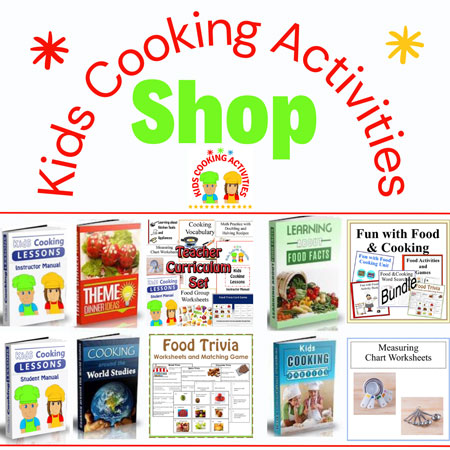 ~This post may contain affiliate links and I'll earn a small commission if you shop through them. There is no extra cost to you. This is how we help support our family and continue to bring you amazing content. To learn more see the
affiliates disclosure here.
~
Easy Kids Meals-Side Dishes
Grilled Zucchini
2 zucchini
butter
1/2 Cup cheddar cheese
1/4 Cup Parmesan cheese
1 Tablespoon Italian seasoning
salt and pepper
Have adult cut zucchini in half. Child can spread butter on one half of the zucchini. Sprinkle cheddar and Parmesan cheese and Italian seasoning on other half. Place buttered half on top of cheese half. Adult can slice in half or thirds. Wrap in aluminum foil and grill for about 10-15 minutes.
Twice Baked Potatoes
4 baking potatoes
4 tablespoons butter
1/2 cup milk
1/4 cup sour cream
salt and pepper
Bake potatoes in oven until tender. Allow to cool slightly. Cut top off and set aside. Scoop out potatoes and place in bowl. Place potato shell in a baking dish.
In your bowl with potatoes add butter, milk, sour cream and a pinch of salt and pepper. Blend together. Taste and season as needed. Spoon mixture back into potatoes. Sprinkle tops with cheese if needed. If desired at this point, you can place in the fridge until dinner time. Bake in a 350 degree oven for 15-20 minutes.

You can also add other ingredients if you'd like such as chopped chives,cheddar cheese, chopped green onions or sprinkle in chopped cooked bacon. I also add a sprinkle of dry ranch dressing mix for more flavor.
Easy Kids Meals-Oven Baked Potato Wedges
3-4 potatoes, peeled and cut in wedges
1 teaspoon seasoning salt *
1-2 Tablespoons oil
In a bowl, toss together potatoes, seasoning salt and oil. When potatoes are well covered, spread in a single layer on a cookie sheet. Bake in the oven at 425 degrees until browned about 20 minutes.
* You can cut back on the amount of oil and salt in the recipe if you desire.
*Try other seasonings in place of seasoning salt such as Italian seasoning, Parsley or basil. Or toss with Parmesan cheese.
Homemade French Fries
Fresh Salsa
1-2 tomatoes, diced
1 can corn, drained
1 can of olives, diced
1 can of black beans, drained
1 avocado diced
Combine all ingredients together and serve with tortilla chips.
Tuna Stuffed Tomatoes
1 large tomato
1 can tuna, drained and flaked
4 teaspoon mayonnaise
1 Tablespoon chopped celery
Mix tuna, mayonnaise and celery in a bowl. Cut stem out of tomato. Slice off top. Scoop out inside of tomato, leaving the shell intact. Fill each tomato shell with tuna mixture. Place on a baking sheet and broil 3-4 minutes. Substitute other salad mixtures like egg salad, crab, etc.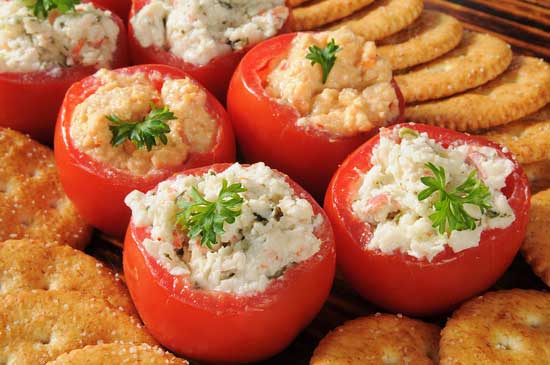 Roasted Tomatoes
Oven Roasted Vegetables
6 potatoes, peeled and cubed
1 turnip, peeled and cubed
1 large onions, thinly wedged
5 carrots, julienne
Allow the oven to preheat to 425 degrees and line a 15X10 baking pan with foil.
Scatter the potatoes and turnips over the bottom of the pan.
Layer in the onion wedges and evenly spread the carrots over the top.
Spray the vegetables well with a non stick cooking spray.
Bake for 30 minutes or until fork tender.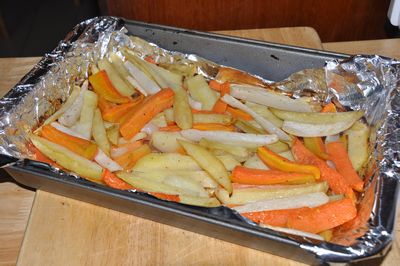 Pasta Salad
½ Cup small pasta shapes
1 Cup frozen mixed peas and carrots
1 Cup ham, cubed
Dressing:
½ Cup plain yogurt
one small cucumber finely chopped
¼ teaspoon Dill weed
Adult should boil water and cook pasta noodles. Add peas and carrots the last few minutes of cooking. Drain and rinse with cold water. Mix three ingredients, pasta, peas mixture and ham, together in serving bowl. In small bowl mix dressing. Pour over salad mix. Chill 4 hours.
Roasted Brussels Sprouts
1 lb. Brussels sprouts
1/4 cup Italian salad dressing or any oil based dressing
Wash Brussels sprouts and have an adult cut in half. Place in bowl and add salad dressing. Toss to coat. Place sprouts on cookie sheet and cook in a 475 degree oven 5-10 minutes until toasted.
Cauliflower Dish
1 medium cauliflower cut into spears
Adult should cook cauliflower several minutes in boiling water. It does not have to be cooked until tender however. Chef in Training can place cauliflower in bottom of 8 inch square or 11x9 casserole dish.
Adult sauté:
1/4 Cup butter
1 garlic clove
Chef in Training can then add to mixture:
1/4 Cup dry bread crumbs
dash pepper and a dash of nutmeg
Stir until thickens. Spoon mixture over cauliflower. Sprinkle with ½ Cup shredded cheddar cheese. Adult should bake 350 degrees 15-20 minutes until tender and cheese is melted.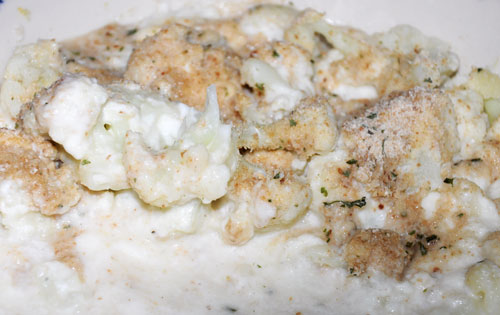 Here are a few
more side dish recipes
that make for easy kids meals from our
Junior Chef kids cooking lessons 13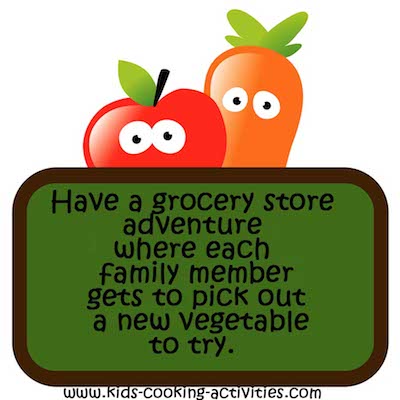 Creamed Potatoes and Peas
1 tablespoon butter
1 tablespoon flour
pinch of salt
1 cup milk
1 1/2 cups new potatoes, cooked
1 Cup green peas, fresh or frozen (thawed)
Scrub and have an adult cut potatoes in quarters. Cook in boiling water until tender. Add peas last few minutes of cooking potatoes.
In a saucepan, melt butter. Whisk in flour and salt. Continue to whisk milk into mixture until smooth. Stir and cook until bubbly and thick. Add potatoes and peas. Stir until all potatoes are coated. Serve.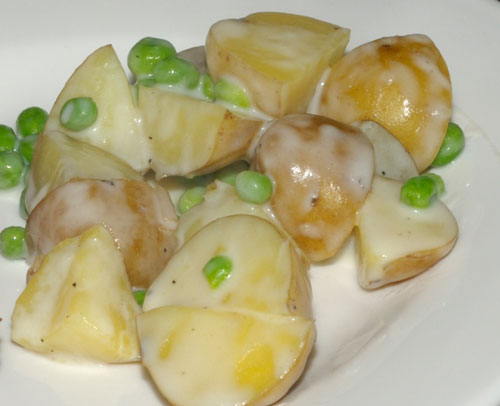 Perfect Asparagus
1 lb or more of asparagus
1/2 tablespoon salt
1-2 tablespoons butter
Break off ends of asparagus. In shallow skillet bring 5 cups of water and 1/2 Tablespoon salt to a boil. Place in asparagus and return to boil 5-7 minutes. Insert sharp end of knife in stem if tender they are done. Place in serving dish and pour melted butter over top.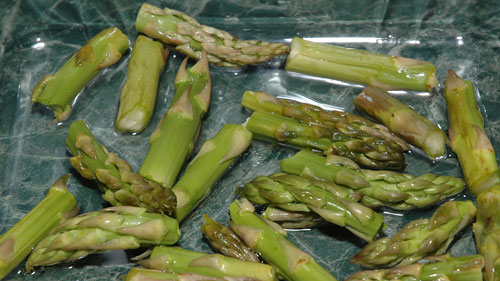 Salads
Try some easy salad recipes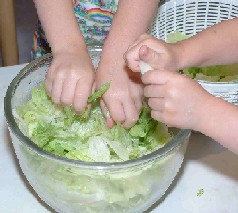 Fanned Potatoes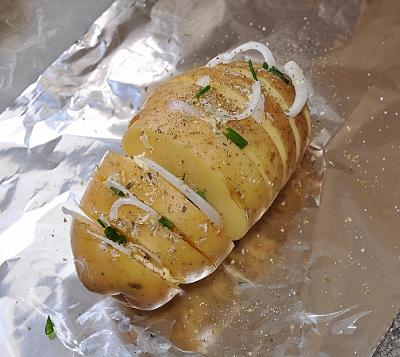 4 baking potatoes
2 onions, halved and sliced thin
4 tbsp of butter, cubed
season with salt and pepper
1 tsp dried oregano
1/4 tsp garlic powder
Heat the grill to medium high heat.
Make slices 1/2 inch apart in the potatoes, cutting three quarters of the way through the potatoes and leaving the bottoms intact.
Carefully fan the potato slices apart.
Place each potato on a piece of aluminum foil big enough to fold completely around the potato.
Fill each slice in the potato with onion slices and a cube of butter.
Sprinkle the potatoes evenly with the celery, salt, oregano, garlic powder and pepper.
Wrap the potatoes up in the foil and seal the foil tightly.
Place the potatoes on the grill and cover the grill.
Cook for 40 minutes or until tender.
Add toppings of your choice like sour cream, bacon pieces, chopped onions, etc.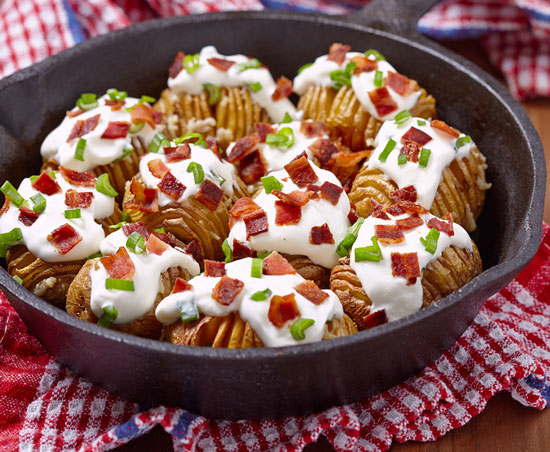 28 Easy Veggie Sides to Make with Dinner
Asparagus Risotto
Roasted Broccoli
Stuffed Zucchini
Portabello Mushroom Salad
Simple Cheesy Squash
Green Bean Salad
Asparagus with
seasoned herb butter
Layered Salad
3 Bean Salad
Creamed Corn
Creamed Potatoes and Peas
Fanned Potatoes
Twice Baked Potatoes
Tomato mozzarella salad or Caprese Salad
Acorn Squash
Chive Potatoes
Roasted Brussel Sprouts
Romaine Fruit Salad
Waldorf Salad

Sesame Snap Peas
Ranch Pasta
Zucchini Fries
Pesto Salad
Olive salad
Oven Roasted Vegetables

Cauliflower Dish
Carrot Salad
Veggie Layered Dish
3 Ingredient Vegetable Side Dishes
More Side Dish Recipe and Ideas for Easy Kids Meals

Check any of our
food fact pages
for vegetable and fruit easy kids meals and recipes.
Mashed potatoes
Making french fries
Easy Salad Recipes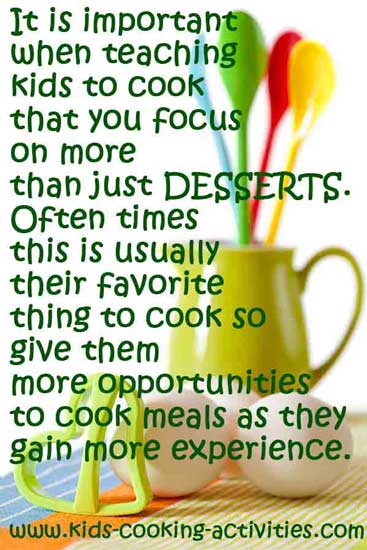 Jump down to our
reader's submitted recipes.
Create your own easy kids meal recipe webpage
Submit your favorite kids recipe
Do you have a favorite recipe your kids love to make? Or a recipe your kids ask you to make again and again? Share it with us!
Reader's Submitted Recipes
Click below to see contributions from other visitors to this page...

Easy Herb Garlic Bread
4 bread slices sliced into lengthwise 6 tablespoons unsalted butter 1 finely chopped garlic clove A pinch of oregano salt to taste Preheat oven …
Corn Muffins
Ingredients: 2 Scoops of melted butter 1 Teaspoon of vanilla extract 1 Scoop of mayonnaise 1/3 cup of milk 1/2 cup of sugar 2 Eggs A Sprinkle …
---
Related Easy Kids Meals and Ideas:
~
Easy Kids Meals
, ~
Easy Meal Ideas
, ~
Breakfast
, ~
Breakfast 6 or fewer,
~
Side Dishes
, ~
Snacks
, ~
Main Dishes
, ~
Desserts
, ~
No Bake Recipes
, ~
Kids Lunches
, ~
Portion Sizes
, ~
Microwave Meals
, ~
Hidden Vegetable Recipes
, ~
Healthy Kids Meals
, ~
Picky Eater Tips
, ~
Family Dinner
, ~
How to menu plan
, ~
Diabetic
, ~
Toddler Ideas
, ~
Low Calorie
, ~
Gluten Free
, ~
Vegetarian
, ~
Low Carb
---
Follow Kids Cooking Activities