25 Easy Dinner Ideas for Kids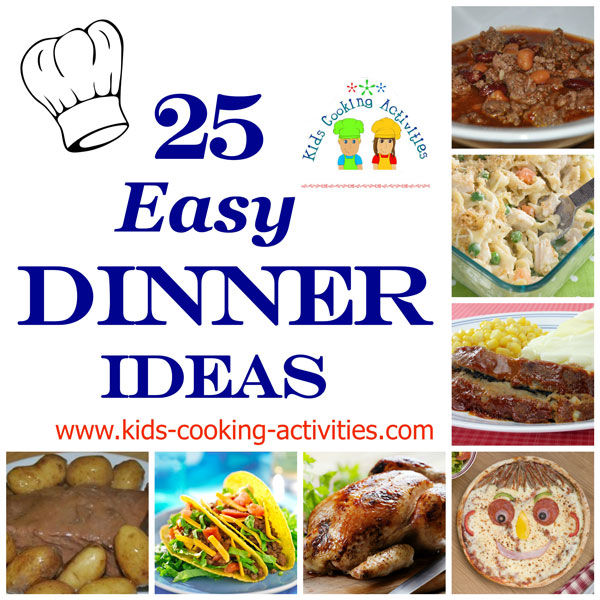 Kids Cooking Activities Teaching Materials
Make teaching easier with our activities and recipes compiled in theme sets and books with an easy to read format
Perfect for teaching!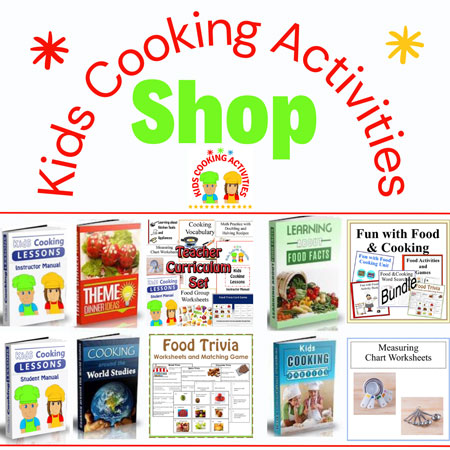 ~This post may contain affiliate links and I'll earn a small commission if you shop through them. There is no extra cost to you. This is how we help support our family and continue to bring you amazing content. To learn more see the
affiliates disclosure here.
~
Easy Dinner List
Has it been a busy day and you need a quick meal idea? Here is our list of 25 easy dinners.
Omelets or scrambled eggs. Most people always have eggs on hand. Try adding vegetables, ham, cheese or leftover chicken. You can make dinner into breakfast by adding pancakes or bacon to go with the omelets or just serve eggs with toast, a fruit salad or a smoothie.


Stir Fry. It is easy to keep a frozen bag of stir fry vegetables in the freezer or use leftover vegetables you have on hand and make a stir fry. Add some teriyaki sauce and a side of cooked rice and you have a quick meal.


Tuna melts. Have a can of tuna in your cupboard? Make a tuna salad, spread on rolls or a slice of bread. Add a slice of cheese and toast in the oven several minutes. Serve with a vegetable.


Quick chicken soup. Keep chicken broth or chicken bouillon on hand and you can create a soup in a hurry. To your chicken broth, add chicken breasts, 1-2 or however many you have. You can throw the whole breast in your pot and let it cook in the broth. Add a bay leaf if you have one and a quartered onion. Add noodles or rice to your broth and allow to cook while you cook the chicken. In last few minutes, add a bag of frozen vegetables. Before serving, cut chicken into smaller pieces with kitchen scissors.


Pasta salad. Cook your pasta and add whatever meat and vegetables you have on hand. Drizzle with a vinaigrette or bottled dressing. We like to use cubed ham, pasta, cheese cubes, carrot pieces and drizzle with a small amount of ranch dressing.


French bread or English Muffin pizzas. I love this one. You can use a loaf of French bread or English Muffin. If using French bread, cut down the middle lengthwise. Lay flat on cookie sheet. Spread tomato sauce, spaghetti sauce or pizza sauce, whatever you have on hand. If using plain tomato sauce, sprinkle with oregano or Italian seasoning. Sprinkle with shredded mozzarella cheese and add toppings. Bake at 350 degrees for 15-20 minutes or until cheese is melted and pizza is toasted.


Spaghetti. If you have a jar of spaghetti sauce in the cupboard or homemade sauce in the freezer, you've got dinner in a hurry. Cook any type of noodles you don't always have to use spaghetti noodles try penne, fun shapes or bow ties for something dinner.


Mediterranean Spaghetti - heat a can of drained tuna with some onion and garlic in a little olive oil. Add some tomato sauce from a jar and a few olives or leftover veggies and serve over cooked pasta.



Tuna or Chicken Salad Sandwiches - drain a can of tuna or chicken and mix with a little mayonnaise, salt and pepper and serve as sandwiches.



Crackers Deluxe - Get out some crackers plus any cold cuts, cheeses, fruits and raw veggies you have sitting around. Arrange everything on a platter and call it dinner.



Baked Potato Bar - Set out a variety of toppings to go on baked potatoes for this potato bar idea.



Rice and Beans - Cook a batch of rice, then add some canned beans. Season with salt and pepper and add tomato sauce if you like.



Pasta with Black Beans - Cook whatever type of pasta you have available. Heat your favorite pasta sauce or a can of chili while the noodles cook. Add some drained and rinsed black beans into the pasta sauce. Pour the sauce over the cooked pasta. Top with cheese.



Veggie Fried Rice




Taco Salad Bar.

You can change this taco dinner up several different ways. Try using either ground hamburger, turkey or chicken. Also include traditional taco salad toppings, such as shredded cheese, multi grain tortillas, chopped tomatoes and shredded lettuce. For more nutrition and variety include black beans, kidney or chili beans, olives and top with low fat sour cream or cottage cheese.



Chicken.

The ever used and loved meat for dinner is chicken. However it can be served and used so many different ways it is no wonder. Try a simple grilled chicken seasoned with seasoning salt and serve with vegetables. Or bread your chicken with breadcrumbs, Parmesan cheese and wheat germ and bake in the oven. Another easy chicken dinner could be roast chicken.



Pizza.

Make a homemade pizza and your kids will be happy to help in the kitchen. A family size pizza, calzone, stromboli or mini pizza bites all can be made with homemade pizza dough. Or if you don't want to make pizza dough buy a loaf of French bread or Italian bread and create a French Bread pizza.



Meatloaf.

Using ground chicken, hamburger or turkey or a combination of meat you can quickly create a meatloaf. Serve with vegetables.



Chicken Casserole.

Another idea for a quick dinner is to put together vegetables, meat and create a casserole.



Roast Beef or Pork Roast.

We love this meal because it is something that doesn't need a lot of preparation or work. We stick a roast in the crock pot in the morning and forget about it until dinner time. Just add a quartered onion and season with salt and pepper, the crockpot will do the rest. Add potatoes and carrots as well if you'd like.


Chili. You don't have to cook chili in the crockpot, it can easily be put together and cooked in less than 30 minutes.


Grilled cheese sandwiches- make simple or deluxe sandwich.


Zucchini Pizza Bites



Quesadilla recipes- use whatever ingredients you have on hand or try one of the recipes.


Spring Rolls-an easy recipe using vegetables or meat if you choose.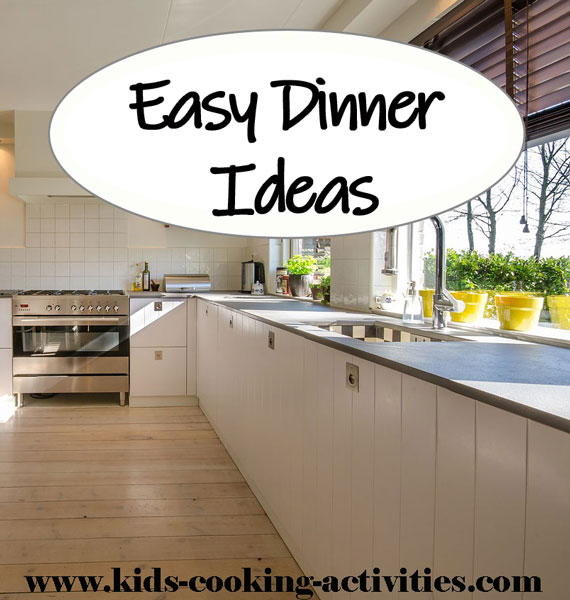 See more
easy meal ideas
Follow Kids Cooking Activities