Pizza Rolls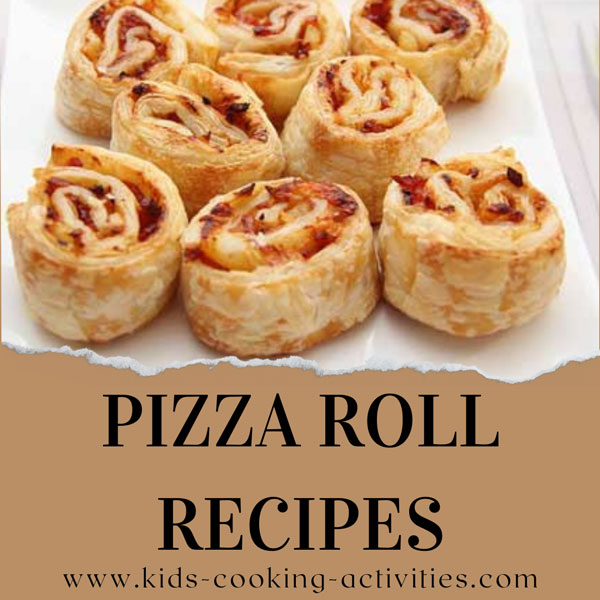 Pizza rolls or pizza bites are great homemade version of a popular frozen food. We love these at our house especially when you dip them in spaghetti sauce. You can add pepperoni or ham in your rolls, use shredded cheese or mozzarella cubes.
Kids Cooking Activities Teaching Materials
Make teaching easier with our activities and recipes compiled in theme sets and books with an easy to read format
Perfect for teaching!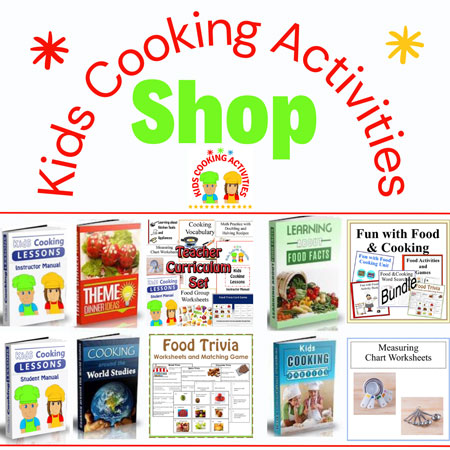 ~This post may contain affiliate links and I'll earn a small commission if you shop through them. There is no extra cost to you. This is how we help support our family and continue to bring you amazing content. To learn more see the
affiliates disclosure here.
~
Making Pizza Bites
Ingredients:
Pizza dough store homemade or store bought
8 ounces mozzarella cheese, cut in cubes
Slices of pepperoni or pepperoni chunks
Ham chunks or ham cut up in small pieces
1/4 cup olive oil
1 teaspoon dried Italian seasoning
3 tablespoons grated Parmesan cheese
2 cups pasta sauce
Roll pizza dough onto a floured surface into a large rectangle. For easier handling cut in two batches. Cut into approximately 4 inch squares. On top of each square place a pepperoni and ham slice or chunk and a cheese cube.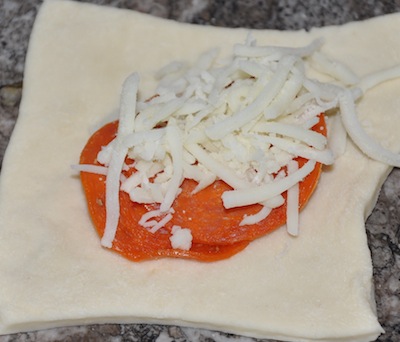 Wrap dough around meat, fold sides in and roll up. Press together. Fork edges.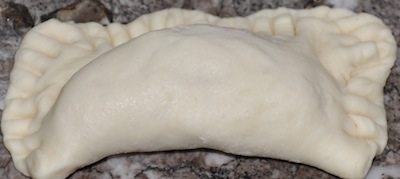 Place on cookie sheets. In small bowl, mix olive oil and seasoning together. With pastry brush brush oil over pizza bites.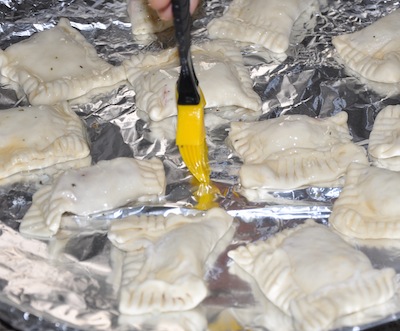 Sprinkle with Parmesan cheese. Use all dough and bake at 400 degrees for 15-18 minutes. Use pasta sauce for dipping.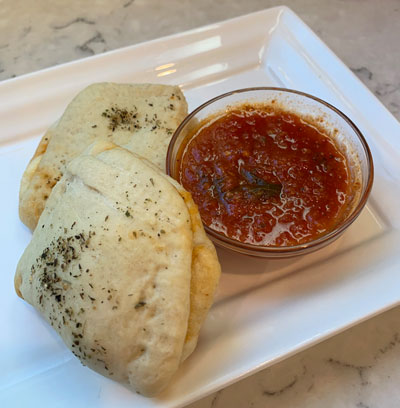 Try similar variations to this recipe
---
Make teaching easier with our activities and recipes compiled in one easy to read format.
---
Pepperoni and Cheese Bundles
A variation on pizza rolls using crescent dough.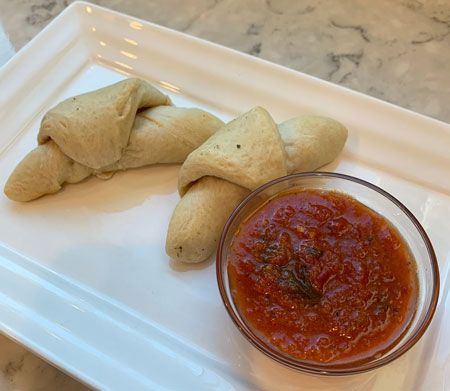 Ingredients:
2 (5 oz.) pkg. sliced pepperoni
1 (4 oz.) pkg. mozzarella cheese, shredded
2 (8 oz.) cans refrigerated crescent rolls
Directions:
Preheat the oven temperature to 375 degrees allowing the oven to preheat.
Count out 48 pieces of pepperoni and set aside.
Remove the crescent roll dough from the packages, unroll and separate each one into 8 pieces.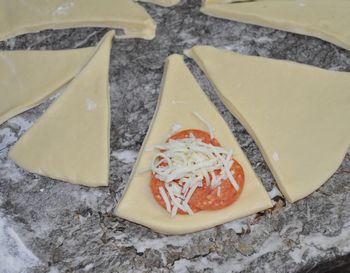 Place 3 slices of pepperoni onto each dough triangle.
Sprinkle the pepperoni with the cheese.
Starting with the short side of each dough triangle, roll the dough to the opposite point and press lightly to seal closed.
Place the rolls, point side down, onto an ungreased cookie sheet.
Bake 12 minutes or until the dough is a nice golden brown.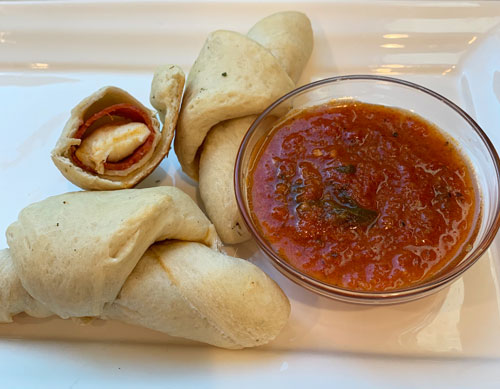 Pizza Scrolls
Roll pizza dough into a rectangle. Sprinkle with shredded cheese and chopped pepperoni. Roll up jelly roll style, like you would cinnamon rolls. Cut into slices and place on baking sheet. Bake at 400 degrees until golden brown. Serve with pizza sauce on the side for dipping.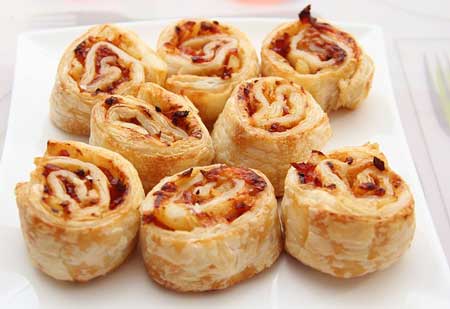 25+ More Pizza Inspired Recipes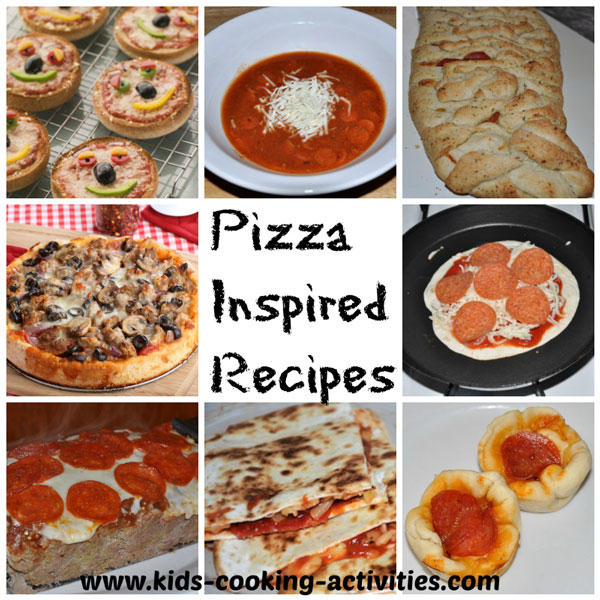 Pizza Casserole
Cheeseburger Pizza
Have a kids cooking pizza party
Pizza Burgers
Pizza Meatloaf
Pizza Soup
Pizza Cups
Pizza Toast
Pizza Rolls
Pizza Braid
Pizza Stromboli
Vegan Pizza
Calzone
Meatball pizza
Grow your own pizza
Barbecue chicken pizza
Margerhita Pizza
Pizza Quiche
Pizza Quesadillas
Zucchini Crust Pizza
English Muffin Pizzas
Fruit pizza
Grilled Pizza
Gluten Free Pizza
Pizza Panini
Waffle Pizza
Pizza Bowl
Bubble Pizza
Pizza Theme Worksheets and Activities
Follow Kids Cooking Activities