Pizza Toast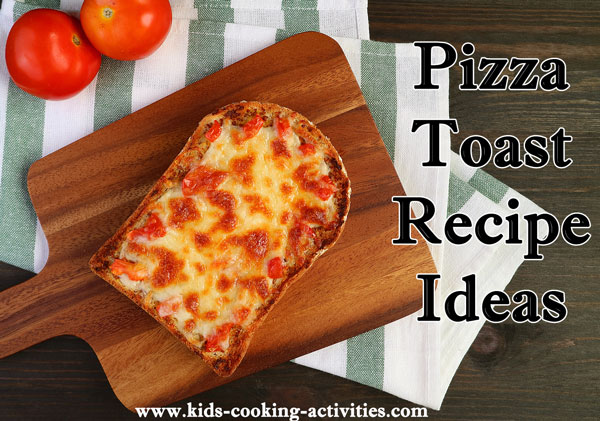 Try this simple Pizza Toast recipe for breakfast, snack or any meal time. We have several variations using different types of pizza crust.
Kids Cooking Activities Teaching Materials
Make teaching easier with our activities and recipes compiled in theme sets and books with an easy to read format
Perfect for teaching!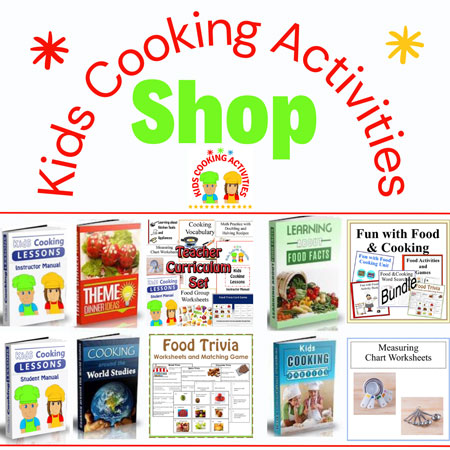 ~This post may contain affiliate links and I'll earn a small commission if you shop through them. There is no extra cost to you. This is how we help support our family and continue to bring you amazing content. To learn more see the
affiliates disclosure here.
~
Pizza Toast Recipe
You can prepare this in a
toaster oven
or oven. Top bread with pizza sauce, shredded mozzarella cheese or other cheese you like. Top with pepperoni, ham or other pizza toppings you like. Broil in oven about 5-10 minutes until cheese melts.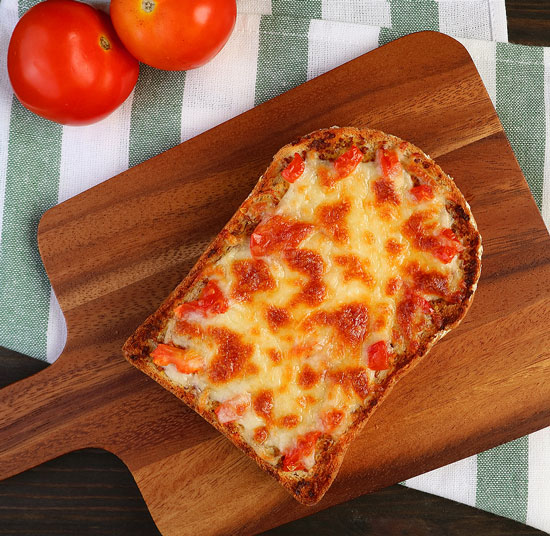 This makes a quick snack or dinner. You can use any type of bread you might have on hand. Try hard rolls cut in half, bagels, English muffins, tortillas, sandwich bread, etc.
Skillet Pizza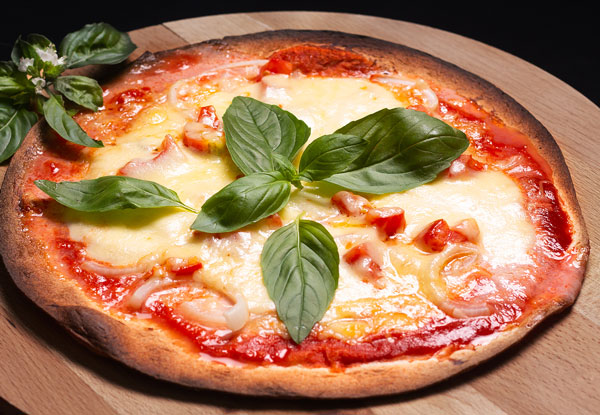 by Samantha Meyers (Spring Valley, NY)
Ingredients:
(1) *Flour or Multigrain tortilla (smaller than burrito size)
1/4 cup of tomato sauce or pizza sauce
1/4 tsp each, dried oregano and dried basil
1 tsp grated Parmesan
1/2 cup shredded low fat mozzarella
1/4 toppings of choice (optional) (ex. veg, turkey pepperoni, etc)
Non-stick cooking spray olive oil flavor
Directions:
Spray non-stick pan with cooking spray. Place the naked tortilla in cold pan.
Spread sauce on top of tortilla and sprinkle with dried seasonings and Parmesan cheese.
Spread the mozzarella and add toppings on top of cheese. Turn the heat on for skillet to medium and allow the tortilla to toast in skillet until toasted on the bottom to the desired color and the cheese is melted.
Carefully slide the "pizza" onto a plate and let sit for 1 minute to cool slightly and get crunchy. Slice into quarters and serve with a small salad.
Use Naan Bread for your crust like this recipe
Pizza Panini
Ingredients:
hoagie bread
pizza toppings
pizza sauce
shredded cheese
Directions:
Warm up a panini press, grill press or a skillet, whichever you have for making panini sandwich. In your hoagie bread spread sauce, top with cheese and add your pizza toppings. Close your hoagie sandwich. If using a skillet, you will need a heavy pan or something to press the bread down. Cook panini until golden brown on both sides.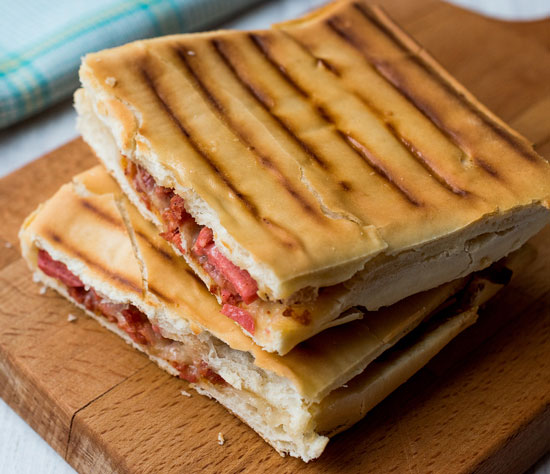 English Muffin Pizza Toast
by Suzanne (Canada)
Ingredients:
One English muffin, split
2 tbsp pizza sauce
6 pepperoni slices
2 tbsp diced green pepper, or red
1/3 cup shredded cheese
Split English muffin and toast under broiler, until light brown. Spread 1 tablespoon of pizza sauce on each half of English muffin. Then add pepperoni and green pepper.
Place half of the cheese on each English muffin. Place back under broiler until cheese is golden brown.
Enjoy! These make a great lunch for school or home! :)
Pizza Bagels
by Teresa (Ohio)
Ingredients: Bagels, pepperoni, provolone cheese.

Half bagels and top with one slice of provolone cheese. Add 3 or 4 slices of pepperoni. Place bagels in microwave on microwave-safe plate or paper towel. Watch for cheese to begin to melt. Serve!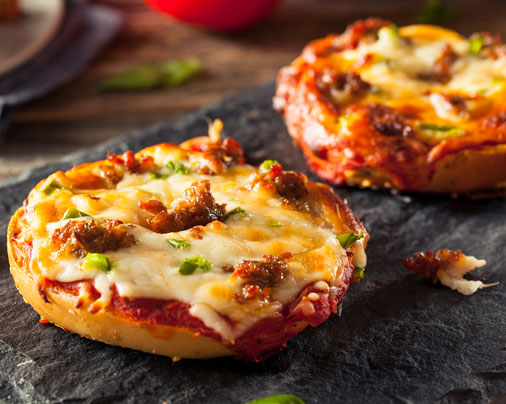 More Pizza Recipes to Try
25 More Pizza Inspired Recipes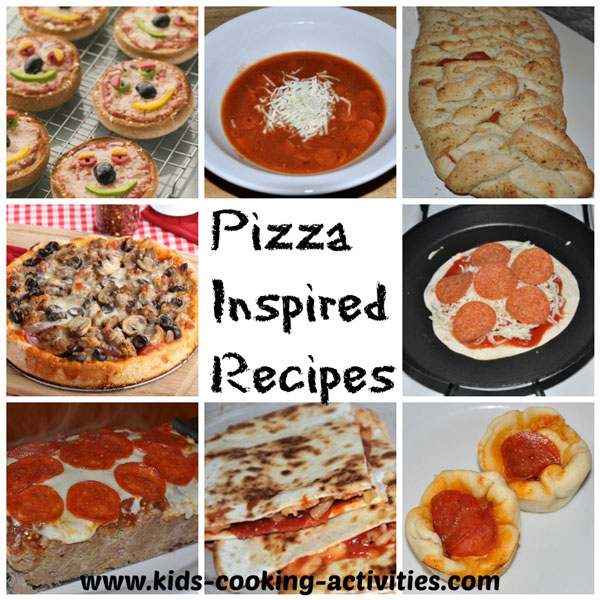 Pizza Casserole
Cheeseburger Pizza
Have a kids cooking pizza party
Pizza Burgers
Pizza Meatloaf
Pizza Soup
Pizza Cups
Pizza Toast
Pizza Rolls
Pizza Braid
Pizza Stromboli
Vegan Pizza
Calzone
Meatball pizza
Grow your own pizza
Barbecue chicken pizza
Margerhita Pizza
Pizza Quiche
Pizza Quesadillas
Zucchini Crust Pizza
English Muffin Pizzas
Fruit pizza
Grilled Pizza
Gluten Free Pizza
Pizza Panini
Waffle Pizza
Pizza Bowl
Bubble Pizza
Pizza Theme Worksheets and Activities
What is your favorite recipe?
Submit your favorite kids recipe
Do you have a favorite recipe your kids love to make? Or a recipe your kids ask you to make again and again? Share it with us!
Reader's Submitted Recipes
Click below to see contributions from other visitors to this page...

Honolulu Toast
Ingredients 1 Whole wheat English Muffin, Split 2 Tablespoons pizza sauce 2 Deli turkey breast slices or ham 5 oz diced pineapple, drained or pineapple …
Follow Kids Cooking Activities