Owl Party Food Ideas
These owl party food ideas are some of our favorite. The recipes we've included give kids a chance to design and use their creativity to make edible owls.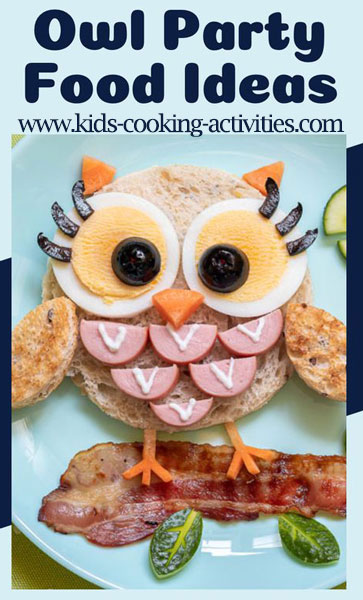 You can make a whole theme dinner with these menu ideas and let the kids draw out their own party menu and invitation.
Kids Cooking Activities Teaching Materials
Make teaching easier with our activities and recipes compiled in theme sets and books with an easy to read format
Perfect for teaching!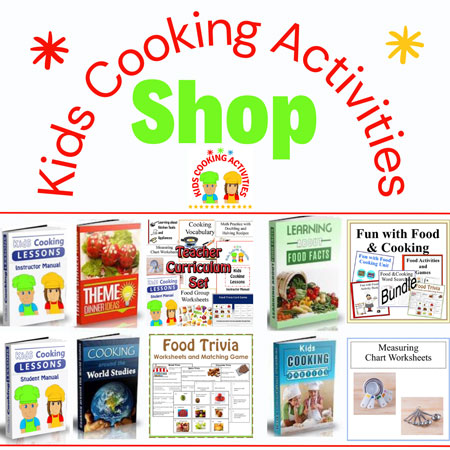 ~This post may contain affiliate links and I'll earn a small commission if you shop through them. There is no extra cost to you. This is how we help support our family and continue to bring you amazing content. To learn more see the
affiliates disclosure here.
~
Owl Party Food Ideas and Dinner Menu
Owl Open Face Tortilla
These sandwiches give kids a chance to use some creativity and imagination for creating unique owls! Lay the ingredients you choose out and let them create.
You will need:
Cheese slices
Salami, Pepperoni or Ham circles
olives
tortillas
mayonnaise or other spreadable condiment for your tortilla
Lay a tortilla on a serving platter or plate. Spread mayonnaise or ranch dressing down to help the layers stick. You can cut out circles from cheese and add them for feathers or eyes, cut pieces for wings and ears and add olives for eyes. A celery stick was added under their feet to resemble a tree branch.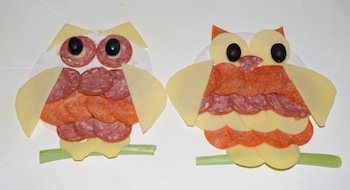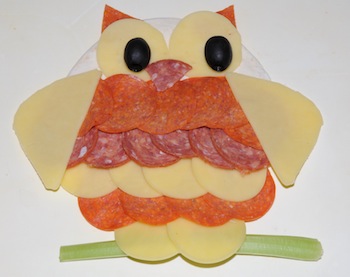 Owl Open Face Sandwiches
Create open face sandwiches with sliced ham, turkey or chicken deli meat or hot dogs.
Use hard boiled eggs slices for eyes with olive slices on top.
Design on bread and add any garnishes you'd like such as a bacon strip "tree branch."
*These are great for helping kids use their imaginations to design the finished product!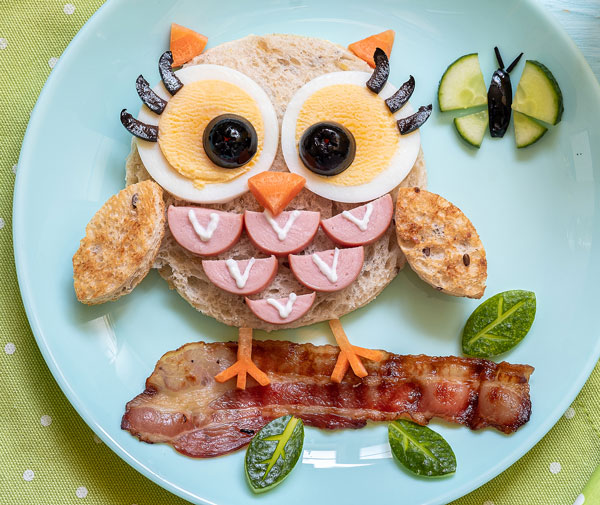 Rice Cake Owls
Ingredients:
rice cakes
peanut butter or other spread
cheerios or other round cereal
apple slices
blueberries
banana slices
melon
Directions:
Prepare an owl by spreading peanut butter over top of rice cake and decorate your owl with fruit slices and round cereal. Cut melon into beak and feet and add to owl.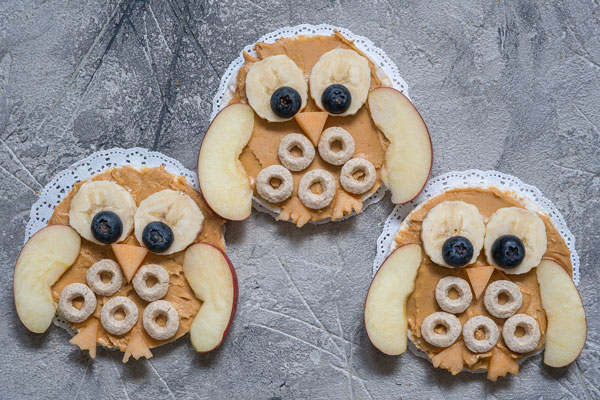 Owl Omelet
Create an omelet and add garnishes for your owl such as cucumber slices and olives for eyes. Peppers cut into ear, beak and feet shapes. Avocado for wings and bacon for a tree limb.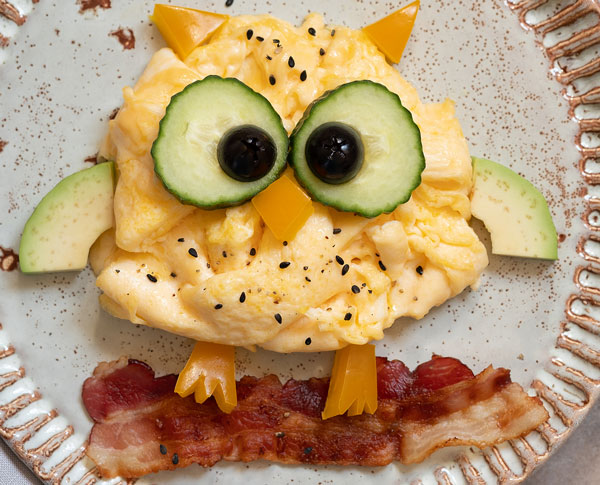 Deviled Egg Owls
Prepare boiled eggs and allow to cool. Cut eggs in half saving the yolk in a small bowl. Prepare
egg salad.
Fill each egg half with egg salad and set on a serving platter.
Using cheese slices, salami, pepperoni, ham or other items. Create owls with your deviled eggs. We used a combination of salami and cheese circles cut in half for wings and noses with olive slices for eyes.
---
Make teaching easier with our activities and recipes compiled in one easy to read format.
---
Owl Party Food Ideas -Desserts
Owl Cupcakes
Prepare chocolate cupcakes and allow to cool. Frost with chocolate frosting.
To create your owls you will need:
Oreos or other chocolate sandwich cookies with white cream filling
cashews
M&M's or other brown candies
Open up a cookie and place on top of the chocolate cupcake with white filling facing up. Place a brown candy on each cookie for eyes. Place a cashew nut between the two cookies for his nose.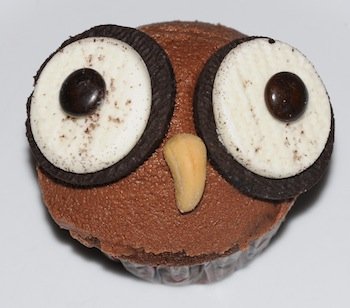 A simple and fun looking owl!
Create
mice cookies
for the owls to eat.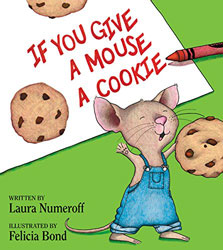 Owl Cake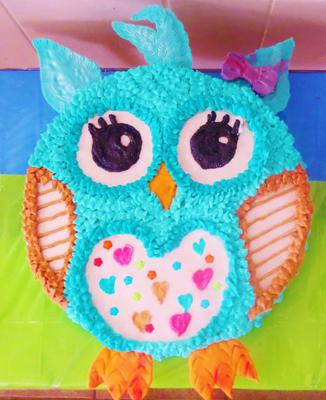 by Joanne Clifton (Kerrville Texas)
This is a 12 in round. It was based on the invitation. Started a piece of parchment to mark off what I wanted to do, with one small bowl for the eyes and took another that was slightly larger and marked the darker area around the eyes.
There was the pupil area which was about the size of a shot glass. Once I had the eyes figured, I had the triangular area between that was to be the beak. Marked in the eyelashes. Below the eyes was the breast area that reminded me of a smaller heart pan, so I used it for a pattern for that area, and to mark off the wings.
I drew in the horned ears, the tuft on top, the feet, and the bow on the one ear and had my pattern off the invitation of what she wanted, and proceeded to bake the cake.
The 12 inch took two pound cake recipes for lemon cakes. After it cooled. I iced the top white and smoothed it with a paper towel, iced the sides in teal, then marked off the areas on the top with the bowls that I used on the pattern piece.
After imprinting the eyes, I used the black to make the pupil, leaving the small white area, made the eye lashes, used the darker teal with a leaf tip for feathers where the invitation had the darker area around the outer eyes and a lighter teal around the rest of the body in the same tip.
The wings were done in tan. The chest area outlined in the darker teal with hearts an flowers in the center of white. Prior to doing the cake, I had used the pattern pieces of the feet, ears, bow and tuft to make fondant with tylose to dry around sticks to insert into the cake at the party.
---
Get all of our Theme Dinner Ideas in
one ebook
, free of ads and easier to use at parties and cooking activities with kids.
30 theme dinner ideas with recipe menu plans, decorating ideas and printable invitations all included in this 83 paged electronic book.
Theme Dinner Ideas
---
Owl Fruit Tray
Make your own Theme Dinner Party page.
Have you put together your own Theme Dinner Party? Do you have a theme menu or theme dinner idea to share? Tell us about it and we will create your own theme dinner party page.
---
Related Theme Dinner Ideas:
~Theme Dinner Ideas, ~ A-Z, ~ Animals, ~ Backwards, ~ Dinosaur, ~ Disney, ~ Farms, ~Fiesta, ~ Flowers,~Fondue, ~Frogs, ~ Hawaiian Luau, ~Homes, ~Insects,~Italian, ~Mother Nature, ~Movie Theme, ~Mystery Party, ~ Owls, ~Paris, ~ Penguins, ~~Princess and Prince Dinner, ~ Princess Tea Party, ~Rainbow, ~Reindeer, ~Sleepover Party, ~Snakes, ~Snowman, ~ Space, ~Sports, ~Sunflowers, ~Teddy Bear Tea Party, ~Transportation, ~Under the Sea, ~Western Cowboy
---
Follow Kids Cooking Activities