Celery Facts
Celery facts and general information about celery.
Kids Cooking Activities Teaching Materials
Make teaching easier with our activities and recipes compiled in theme sets and books with an easy to read format
Perfect for teaching!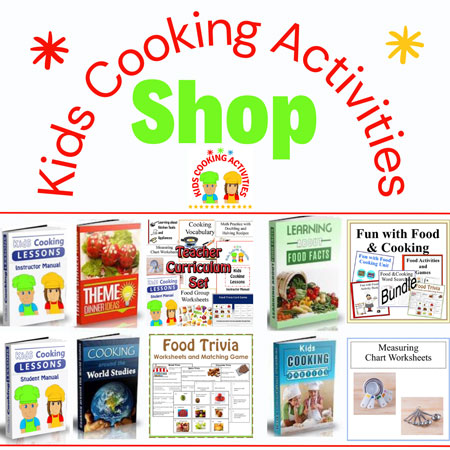 ~This post may contain affiliate links and I'll earn a small commission if you shop through them. There is no extra cost to you. This is how we help support our family and continue to bring you amazing content. To learn more see the
affiliates disclosure here.
~
Celery is Available:
Grown in the summer. Available in grocery stores throughout the year.
How Does Celery Grow:
Celery grows in the garden like lettuces and cabbages.
Grow your own celery!

Celery Science Experiment

Try this fun
celery and food coloring experiment.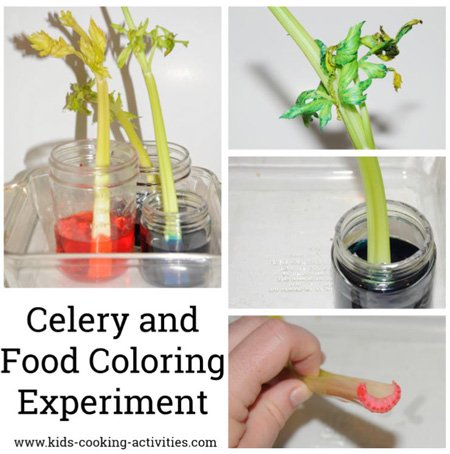 What to Look for When Buying:
Choose celery that is light green in color and has moist leaves. Avoid any with limp looking celery.
Storage Tips:
Store in the fridge. You can also cut up stalks and place in a bowl of water. Store in the fridge and they will last longer.
Nutrition Facts:
Celery has no calories but contains Vitamin A, Vitamin C, iron and calcium.
How to Cook:
Use leaves for flavor in soups. Cut stalks for salads, soups, add in chicken or tuna salad.
Celery Recipes
Ants on a Log
Cut celery into 3-4 inch pieces. Fill middle with cheese spread or peanut butter. Add raisins to top to get the ants crawling on the log.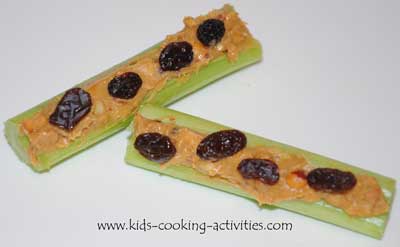 Three Bean Salad
Apple Cheese Soup
2 Tablespoons oil
3 medium Granny Smith apples, peeled, cored, and chopped
1 potato, peeled and chopped
1 stalk celery, chopped
1/4 C onion, chopped fine
1/8 tsp. ground thyme
5 C chicken broth
4 C Cheddar cheese, shredded
1/2 C heavy cream
1/8 tsp. nutmeg
1/8 tsp. pepper
Heat the oil to hot but not smoking in a large soup pot over medium heat.
Place the apples, potato, celery and onion into the hot oil.
Cook together for 5 minutes.
Stir in the thyme and continue cooking an additional 5 minutes.
Pour in the chicken broth and continue cooking 35 minutes.
Pour the entire mixture into the blender.
Puree until smooth.
Return the mixture to the soup pot.
Turn heat to lowest temperature.
Stir in the cheese and cream.
Sprinkle with the nutmeg and pepper.
Continue cooking on low until heated through about 15 minutes.
Be careful not to being the soup to a boil or the cheese and cream will curdle.
Serves 8
Munchy Crunchy Wraps
Spread smooth peanut butter over unflavored tortilla wraps and add celery sticks. Roll them up and cover in glad wrap. Enjoy.
Cooking Video: Stuffed Celery Sticks
Celery Cooking Ideas
Share your food facts and recipes
Do you have a food facts or recipe to share?
---
Related Food Facts Pages:
~
Apple
, ~
Apricot
, ~
Avocado
, ~
Banana
, ~
Berry
, ~
Cherry
, ~
Coconut
, ~
Cranberry
, ~
Dates
, ~
Figs
, ~
Grapefruit
, ~
Grapes
, ~
Kiwi
, ~
Lemon and Limes
, ~
Mango
, ~
Melon
, ~
Orange
, ~
Papaya
, ~
Peach
, ~
Pear
, ~
Pineapple
, ~
Plums
, ~
Tomato
, ~
Artichoke
, ~
Asparagus
, ~
Beets
, ~
Broccoli
, ~
Brussels Sprouts
, ~
Cabbage
, ~
Carrot
, ~
Cauliflower
, ~
Celery
, ~
Corn,
~
Cucumber
, ~
Eggplant
, ~
Garlic
, ~
Green Beans
, ~
Kale
, ~
Lettuce/Salad Greens,
~
Mushrooms,
~
Okra
, ~
Onion
, ~
Parsnip,
~
Peas,green
, ~
Peppers,
~
Potato
, ~
Radish
, ~
Rhubarb
, ~
Spinach
, ~
Summer Squash and Zucchini
, ~
Sweet Potato
, ~
Turnip
, ~
Winter Squash, including Pumpkins
, ~
Beans
, ~
Eggs
, ~
Nuts
, ~
Seeds
, ~
Meat
, ~
Dairy
, ~
Grains
---
Follow Kids Cooking Activities