Low Calorie Meal Plan
Following a low calorie meal plan is an ideal way to still enjoy your food but sensibly. Many of us these days lead very unhealthy lifestyles and what we eat is not always what is best for our bodies. As a matter of fact, the whole world is being faced with health issues.
There are a number of dishes which you can ensure are low calorie and by simply substituting ingredients in other recipes you will make them healthier. The simple way to look at your diet is that if you eat fewer calories and exercise then you will be on the road to good health. Once you make small changes in your life you will see and feel the benefits immediately.
Kids Cooking Activities Teaching Materials
Make teaching easier with our activities and recipes compiled in theme sets and books with an easy to read format
Perfect for teaching!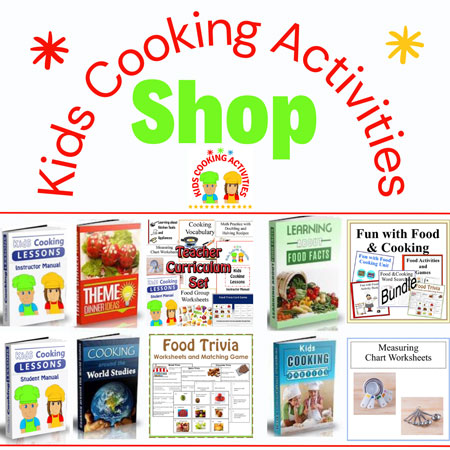 ~This post may contain affiliate links and I'll earn a small commission if you shop through them. There is no extra cost to you. This is how we help support our family and continue to bring you amazing content. To learn more see the
affiliates disclosure here.
~
How to Eat a Low Calorie Meal Plan
You need to fully understand how many calories you need to consume a day to live a healthy lifestyle; this will vary from person to person. Once you understand how many calories you need then you can plan your meals to ensure that you are receiving the right amount. See our
kids portion sizes
for ideas on how much calories kids need. Paying attention to portion sizes is a big key to your low calorie meal plan.
There is no gain in cutting out vital foods you simply need to cut back and ensure that you eat low calorie foods. If you try to cut out too many foods then you will simply over eat and this won't achieve your goal. You need to ensure that you cook low calorie foods which are satisfying so you are not hungry after you eat. If you learn to cook low calorie foods then you will be helping to educate yourself and your children.
High calorie foods such as French fries, sodas, candy and doughnuts are all fine in moderation although cutting them out of a low calorie meal plan completely would be advised. You can however get more nutrients out of apples, strawberries and bananas. These foods take longer to consume so your hunger will pass and ensure that you drink plenty of water.
It is possible to eat low calorie foods that will satisfy your hunger and not be plain and boring. You will not need to eat less just change the foods that you are eating for other alternatives. If you make some small changes to your diet then you will feel healthier in no time at all.
---
Make teaching easier with our activities and recipes compiled in one easy to read format.
---
Easy Low Calorie Ideas and Recipes
Best Low Calorie Snacks
A list of healthy snacks to include in your low calorie meals.
pepper strips
carrot
cucumber sticks

frozen grapes

berries

dill pickles

raw broccoli or cauliflower

orange or apple

sugar free jello

hard boiled eggs

smoothies

air popped popcorn

handful of almonds or peanuts

puffed wheat cereal

low fat/non fat yogurt

cottage cheese

Cheerios or other dried cereal with 5 or less grams of sugar, measured portion size

pineapple
salsa

guacamole

watermelon fruit salad
5 Low Calorie Meals
Do you have Low Calorie Meal Ideas for Lunches or Dinners
Submit your favorite kids recipe
Do you have a favorite recipe your kids love to make? Or a recipe your kids ask you to make again and again? Share it with us!
---
Related Easy Kids Meals and Ideas:
~
Easy Kids Meals
, ~
Easy Meal Ideas
, ~
Breakfast
, ~
Breakfast 6 or fewer,
~
Side Dishes
, ~
Snacks
, ~
Main Dishes
, ~
Desserts
, ~
No Bake Recipes
, ~
Kids Lunches
, ~
Portion Sizes
, ~
Microwave Meals
, ~
Hidden Vegetable Recipes
, ~
Healthy Kids Meals
, ~
Picky Eater Tips
, ~
Family Dinner
, ~
How to menu plan
, ~
Diabetic
, ~
Toddler Ideas
, ~
Low Calorie
, ~
Gluten Free
, ~
Vegetarian
, ~
Low Carb
---
Follow Kids Cooking Activities