Meal Planning Ideas
The meal planning ideas on this page will help you see the benefits of planning menus, discover how to plan and help you organize your family meal times.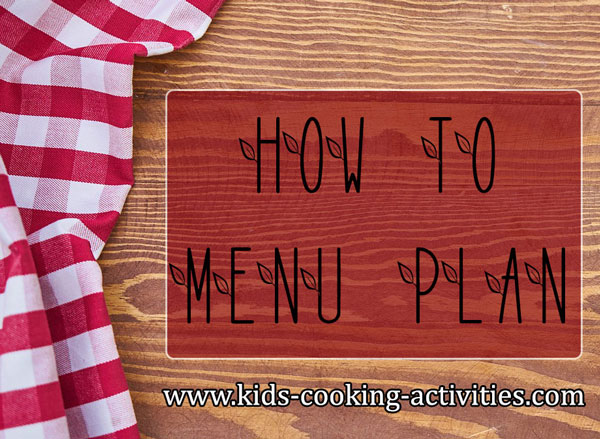 If you are trying to get into menu planning, I'm sure you've seen the number of recipe sites, menu planning services, menu planning software and free help online. There is so much, you can really get lost in all of it and become even more confused.
Kids Cooking Activities Teaching Materials
Make teaching easier with our activities and recipes compiled in theme sets and books with an easy to read format
Perfect for teaching!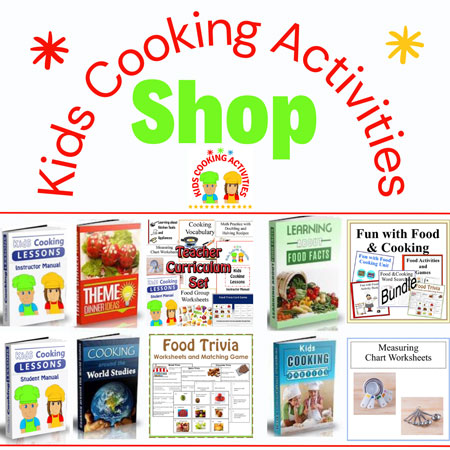 ~This post may contain affiliate links and I'll earn a small commission if you shop through them. There is no extra cost to you. This is how we help support our family and continue to bring you amazing content. To learn more see the
affiliates disclosure here.
~
Learning Meal Planning Ideas
If you learn one thing from these meal planning ideas, I hope it is a realization that meal planning doesn't have to be hard. Here are some facts:
It really will save you money to know what is for dinner each night and what food you have on hand.
It really will get you and your family eating healthier meals.
It really will bring your family close together if you take time to eat together each night.
With your list in hand for the next week's menu, it will also save you time grocery shopping.
Just because you have a menu plan doesn't mean you can't be flexible in what's for dinner. Many times what I have on the menu doesn't sound good right then so I skip to a different day and plan on having the other option another night. Feel free to rearrange.
Don't worry about what to cook for dinner at the last minute.
No last minute take out or ordering delivery.
Now, that answers the question of why you should meal plan now lets talk about how you can plan your menus.
Meal Planning Ideas
These menu plans can get you headed on the right track. Try one of these methods and see what works best at your house. I usually plan a month's menu at a time and grocery shop once a week for that weeks menu.
One of the best meal planning ideas I can give you is to just focus on the main dish first. Once you have the main dishes outlined for a month each week you will be able to create a shopping list easily. As you do your grocery list, look at the upcoming week or two and decide what side dishes, bread, vegetables or fruits you will have with each main dish. Write that down with your main dish for each day.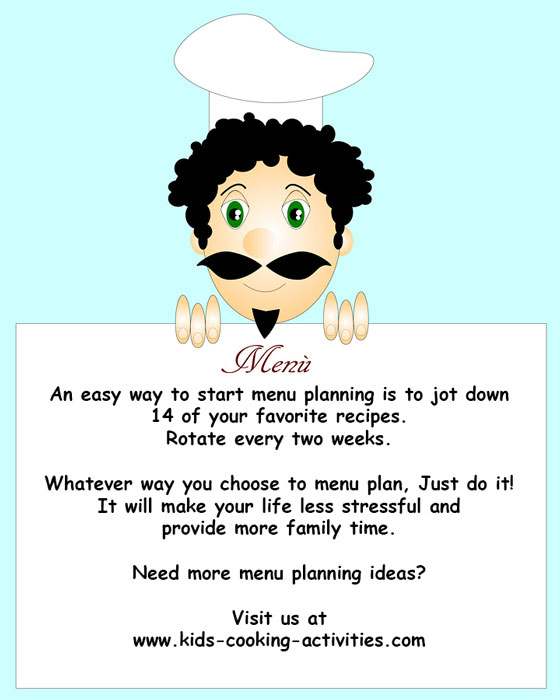 Methods of Menu Planning
Any way you plan your meals it will take a little time to sit down and plan. However the time it takes will save you time all week or month.
1. Quick Menu Plan
With your monthly calendar in hand assign each day of the week a food category. For example:
Sunday- casserole
Monday-chicken
Tuesday- vegetarian
Wednesday-Hamburger/beef
Thursday- pasta
Friday fun night- pizza, hot dogs, etc.
Saturday- soup
Whatever your family enjoys eating. If you don't eat beef or pork leave that out. Now go through the calendar and be specific on what you want for each night.
For example:
Sunday- Noodle Casserole
Monday-Chicken a la king
Tuesday-Vegetarian lasagna
Wednesday- Grilled hamburgers
Thursday- Broccoli Alfredo
Friday- Homemade Pizza
Saturday- Chicken noodle soup

Sometimes just narrowing your choices down makes planning your menus easier.
2. Random Recipe Meal Planning Idea
Browse through your recipes your family likes or new recipes you'd like to try. With your blank calendar randomly write down on each day the name of the recipe and where to find it. You also may want to leave one or two days open for filling in or rearranging later.
Need help menu planning? Try my menu planning guide and 4 week menu plan.
3. What's On Sale Menu Plan
With your sales flyer and your blank calendar, plan your menu with what is on sale that week. This menu plan works great for a weekly menu but you can also stock up and freeze things for the month. For example, if chicken breasts are on sale you can buy 4 packages (one per week) use one the first week and freeze the other 3 for upcoming meals. If canned tomatoes are on sale plan on making homemade spaghetti sauce or minestrone soup.
4. Favorite Recipes Menu Plan
This plan works well if you want familiar recipes you know your family will eat. Make a list or gather your recipe cards of 30 recipes your family enjoys. Get your family involved and have them think of 3-4 recipes each.
If you are making a list put the name of the recipe on a 3x5 card. Place recipes in a recipe file. Start with the first card as your first meal. Rotate it towards the back and use the next card the following day. It is best to shuffle the cards around making sure there is variety throughout. (not 3 beef meals all in a row).
When it is time to go shopping take 7-14 recipes out and make your list from that. This option of menu planning makes it harder to look at the month or week's menus in review.
5. Family Sharing the Load Plan
This method works great to get your kids involved and perhaps your spouse. Assign a night each week for each member of the family to be in charge. Let them each decide what they are cooking and plan the menu together. Not to many family members at your house? Also include a leftovers night, a pizza night or other simple idea to your plan.
6. Freezer Cooking
Learn about
stocking your freezer
once a month or several times a month for easy meals you can pull out throughout the week.
7. Menu Board
Check out this project using the favorite recipe method on a menu board.
Cutting board with hole in handle (for easier hanging)
clothespins
hot glue
laminate cards with 20-30 of your favorite recipes. You can use our menu cards that you can glue the name on one side and the actual recipe on the back side
envelope
Hot glue clothespins in place and envelope on the top. Arrange how you'd like them to sit and then glue. Store your cards in the envelope and switch and plan your menu via the menu board each week.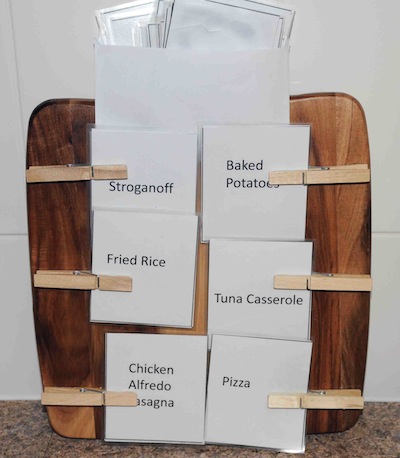 Meal Planning Worksheets
Printable Grocery Shopping List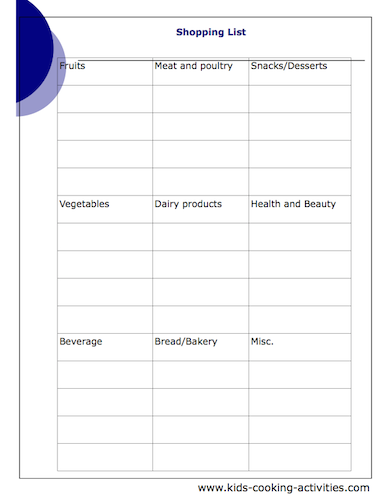 Free monthly meal planning calendar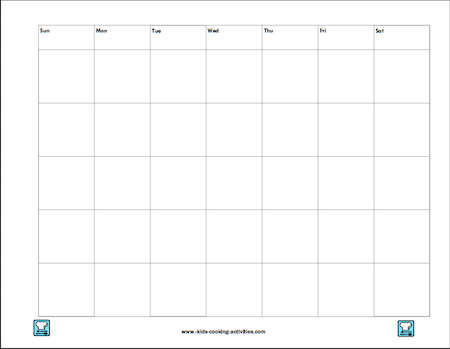 Weekly Meal plan for Breakfast, Lunch, Dinner and Snacks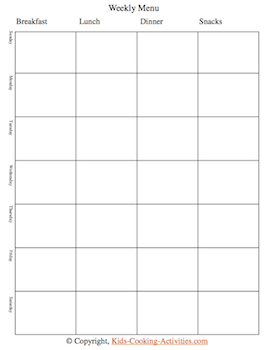 Recipe Cards for menu board
---
Related Easy Kids Meals and Ideas:
~
Easy Kids Meals
, ~
Easy Meal Ideas
, ~
Breakfast
, ~
Breakfast 6 or fewer,
~
Side Dishes
, ~
Snacks
, ~
Main Dishes
, ~
Desserts
, ~
No Bake Recipes
, ~
Kids Lunches
, ~
Portion Sizes
, ~
Microwave Meals
, ~
Hidden Vegetable Recipes
, ~
Healthy Kids Meals
, ~
Picky Eater Tips
, ~
Family Dinner
, ~
How to menu plan
, ~
Diabetic
, ~
Toddler Ideas
, ~
Low Calorie
, ~
Gluten Free
, ~
Vegetarian
, ~
Low Carb
---
Follow Kids Cooking Activities