Gluten Free Eating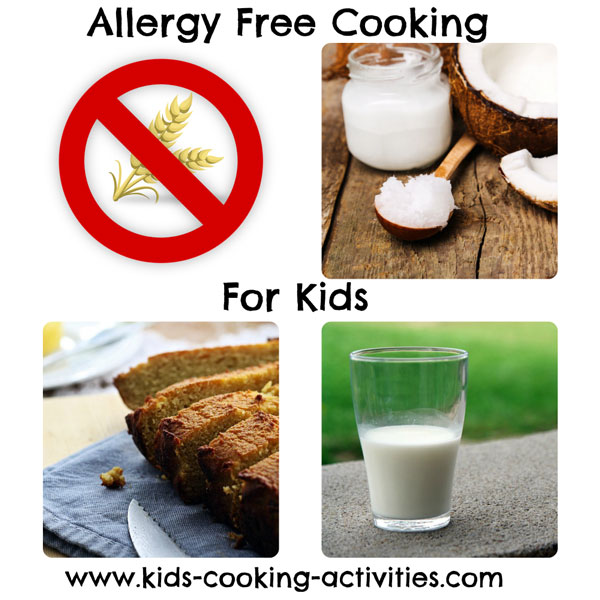 This page teaches you about gluten free eating, what to eat, what to avoid, gluten free meal ideas and gluten free recipes to get you started. Modern medical science has proven that many of the foods supposed to provide nourishment can actually cause adverse reactions. One of the substances present in foods that trigger ill health and worsen existing medical conditions is gluten. It is a composite of two proteins known as gliadin and glutenin.
Kids Cooking Activities Teaching Materials
Make teaching easier with our activities and recipes compiled in theme sets and books with an easy to read format
Perfect for teaching!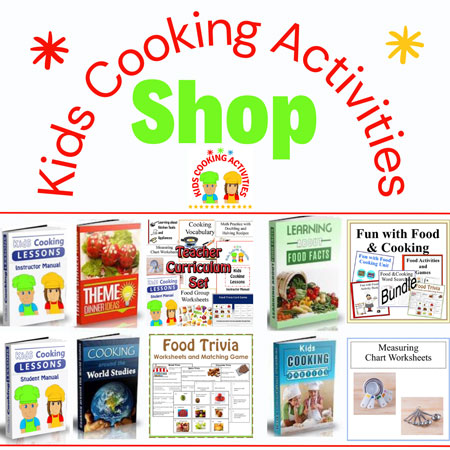 ~This post may contain affiliate links and I'll earn a small commission if you shop through them. There is no extra cost to you. This is how we help support our family and continue to bring you amazing content. To learn more see the
affiliates disclosure here.
~
What is Gluten Free Eating?
Simply put, gluten free eating is the adherence to a diet completely free of gluten. Gluten is a protein found in wheat, rye and barley. Since many of the flour used for baking is made from these three grains, until recently, it was extremely difficult to find commercially produced flour, cereal and any baked goods.
Gluten free eating can take two basic forms that must be adopted at the same time to ensure that very minimal to no gluten enters the body. First, it can be the avoidance of ingredients derived from grains and cereals containing gluten. These food items include wheat, kamut, spelt, rye, barley, triticale and, in many cases, even oats. Second, the diet also excludes gluten additives that are used as stabilizers as well as stabilizing and thickening agents.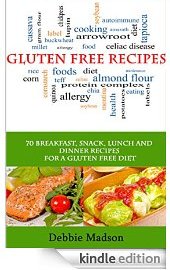 Gluten Free Recipe Book on Kindle or Paperback
List of Gluten Foods to Avoid
Many companies offer specialty gluten-free products for those wishing to adopt a gluten free eating plan. However, unless and until the manufacturer specifically states that said products are gluten-free, individuals are well advised to
avoid
the following food items most commonly found in supermarkets, groceries and bakeries:
Baked goods made from wheat flour like cookies, cupcakes, donuts, muffins, cakes, pie crusts and brownies

Bread, biscuits and breadcrumbs

Beer because of its malt content

Cereals from the box

Cornbread, crackers and croutons

Gravies, sauces, roux, marinades, soy sauce and stuffing

Pasta, pizza and pretzels
Communion wafers

Breaded or deep fried food

~Of course, other products not listed above that include barley, oats, triticale, rye and wheat should also be avoided.
List of Gluten Free Foods
Despite appearances, it is possible to eat a well-balanced diet consisting of healthy food items when on a gluten-free eating lifestyle. There are many alternative choices that can replace favorite gluten-rich food items in addition to the gluten-free grains, which include but are not limited to the following:
Grains and starch sources like corn, rice, potatoes, sweet potatoes, taro, yam and tapioca as well as amaranth, millet, arrowroot, lupin, montina, sorghum, quinoa, teff and chia seed.

Beans like soybeans and nut flours, which are used to add dietary fiber and protein to the gluten-free products.

Buckwheat as long as it is not commercially made.

Gram flour derived from chickpeas.

Unprocessed meats, fishes, chickens and even bacon and ham off the bone as well as frozen and canned meats without sauces

Dairy products like eggs and processed cheese as well as low-fat, full cream, evaporated and condensed milk. Fresh cream and a few types of soymilks and custards are also acceptable.

~Again, it is important to read the labels to determine the ingredients and, thus, the presence or absence of gluten.
Benefits of Gluten Free Eating
Although the gluten-free diet is best known as the best option for people with celiac disease and wheat allergy, even individuals without these medical conditions can benefit from it. For one thing, gas production in the stomach can be avoided. For another thing, wheat causes so many types of allergic reactions like worsening of inflammations at the cellular level or sore stomach aches.
So many people are unaware of their sensitivity to gluten, be it from celiac disease or from wheat allergy. Going on a gluten-free diet can finally free them from their symptoms of ill health with the consumption of non-specialty food products.
Tips on Gluten Free Eating
In most cases, it is often a simple matter of substituting the gluten-free ingredients for the conventional ingredients when cooking foods. You can purchase cookbooks for gluten-free recipes, ask the advice of experts on the diet and just experiment with the usual recipes. When gluten isn't present, you need to find other substances that can form a sticky shield to hold the gasses in.
The following are possible substitutions:
Cornstarch, arrowroot flour, potato starch flour, soy flour, brown rice flour and tapioca flour as well as gluten-free mixes will replace commercial flour, breading, and thickeners. Others just make their own gluten-free flour just to be on the safe side.

Homemade granola made from toasted nuts, seeds, gluten-free cereal, honey, vanilla, oil and seasonings is acceptable.

Corn grits instead of oats is also recommended.

Nori, lettuce, corn tortillas, rice wraps and gluten-free bread can be substituted for buns and flour tortillas.

Try replacing gluten with Xanthum gum or Guar Gum flour. Either can be found at a health food store

~The important thing about the adoption of gluten-free eating is to stick to it. Failures will be experienced during the first few tries but these are normal. In time, it is possible to live completely gluten-free and, thus, benefit from the diet.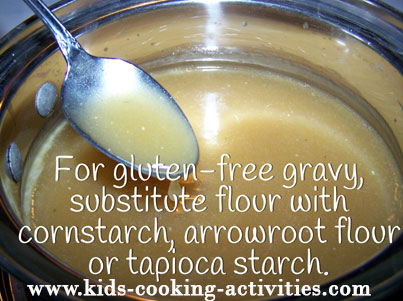 Gluten Free Meal Ideas
Cream soups
-check to make sure bouillon cubes are gluten free
Cream of Potato
Cream of Broccoli Soup
Roast Chicken
Omelets
Lentil soup
Sweet and Sour Chicken- make sure soy sauce is gluten free
Gluten Free pasta with homemade tomato sauce
Grilled chicken (no chicken patties) with Romaine Fruit Salad
Salads
are great gluten free meals!
fresh fish, lamb, beef, seafood, and chicken
Gluten Free Eating-Snacks
plain popcorn
gluten free tortilla chips
nuts
fruit
vegetables
sunflower seeds
pumpkin seeds
eggs
Larabars
plantain chips
nut butter on vegetables or fruit
applesauce
fruit dipped in a chocolate shell coating
berries and greens with balsamic dressing
make a dulce de leche crème brulee using condensed milk, vanilla, sugar, eggs and a pinch of salt
Gluten Free Recipes
Gluten Free Flour Recipe
Replace 1 cup of wheat flour with this gluten free flour mix
4 Cups white rice flour
1 1/3 Cup potato starch
1 Cup tapioca flour
2 teaspoons of xanthan gum
Blend together and store in a plastic container. Keep in the fridge.
Gluten Free Pizza Dough Recipe
1 Tablespoon yeast
1 1/3 cup milk
1 teaspoon sugar
2 1/3 cup gluten-free flour mix, recipe above
2 teaspoons xanthan gum
1 teaspoon salt
2 teaspoons olive oil
2 teaspoons cider vinegar
In a glass measuring cup, warm milk and add sugar. Add yeast and set aside. In a mixing bowl add flour mix, xanthan gum, salt, olive oil and cider vinegar. Blend together. Pour in yeast mixture and continue to blend until dough forms. Roll or pat pizza crust in pan and add sauce and toppings.
Gluten Free Brownies/ No Flour Recipe

1- 1/4 cups chocolate chips
1 can garbanzo beans, rinse and drain
3 eggs
2 Tablespoons oil
1- 1/2 teaspoons vanilla extract
1/2 Cup brown sugar
1/2 teaspoon baking powder
pinch salt
Preheat oven at 350 degrees. In a microwave safe bowl, melt chocolate chips. In a mixing bowl, blend together beans, eggs, oil, vanilla and brown sugar. Add melted chocolate chips. Add pinch of salt and baking powder. Blend until smooth. Pour into a greased square pan and bake for 30 minutes until toothpick comes out clean.
Garbanzo Bean Chocolate Cake
Four eggs
A cup and a half of semi-sweet chocolate chips
¾ cups of sugar
A 19 ounce can of rinsed, drained garbanzo beans
Half a teaspoon of baking powder
A tablespoon of powdered sugar for sprinkling
Get a 9 inch cake pan ready by spraying with cooking spray or using pan grease. In a microwave safe bowl, melt chocolate chips until smooth, stirring often. In a food processor, blend together eggs and beans until well blended. Add the baking powder and white sugar. Put the chocolate in after it melts, mix all the ingredients and pour into the cake pan. Cook it for 40 minutes or until done then cool for 15 minutes before removing from pan. If desired, top with confectioners sugar prior to serving.
If you do not want to use one of the gluten free cake recipes, gluten free cake mixes are available on most supermarket shelves from a variety of manufacturers, including Betty Crocker.
Corn Fritters
(dairy-free, egg-free, peanut-free, soy-free, gluten-free, wheat-free, tree nut-free)
The corn fritters are simply great because you can prepare them in almost no time and they are simple yet delicious breakfast option. Preparation time: 5 minutes Cooking time: 10 minutes Servings: 6 fritters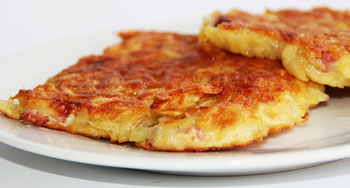 Ingredients:
1 ¼ cup coconut milk (or almond milk)
1 ½ cups corn
½ teaspoon ground cumin
4 tablespoons corn flour
2 tablespoons cornstarch (or potato starch)
2/3 cup sorghum flour
2 tablespoons sugar (or honey or maple syrup)
2 teaspoons aluminum-free baking powder
¼ teaspoon salt
Directions: In a bowl, combine the ground cumin, corn flour, cornstarch, sorghum flour, sugar, baking powder, and salt. Stir in the coconut milk and corns until you have a thoroughly mixed batter. Heat 2-inches oil in a skillet. Drop the batter by a rounded tablespoon and cook for3 minutes per side. Serve after.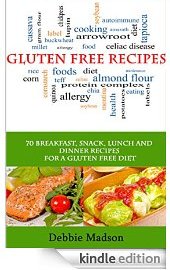 Gluten Free Recipe Book on Kindle or Paperback
Share your Gluten Free Eating Recipes or Tips
Submit your favorite kids recipe
Do you have a favorite recipe your kids love to make? Or a recipe your kids ask you to make again and again? Share it with us!
Reader's Submitted Recipes
Click below to see contributions from other visitors to this page...

---
Related Easy Kids Meals and Ideas:
~
Easy Kids Meals
, ~
Easy Meal Ideas
, ~
Breakfast
, ~
Breakfast 6 or fewer,
~
Side Dishes
, ~
Snacks
, ~
Main Dishes
, ~
Desserts
, ~
No Bake Recipes
, ~
Kids Lunches
, ~
Portion Sizes
, ~
Microwave Meals
, ~
Hidden Vegetable Recipes
, ~
Healthy Kids Meals
, ~
Picky Eater Tips
, ~
Family Dinner
, ~
How to menu plan
, ~
Diabetic
, ~
Toddler Ideas
, ~
Low Calorie
, ~
Gluten Free
, ~
Vegetarian
, ~
Low Carb
---
Follow Kids Cooking Activities