Diabetic Meal Plans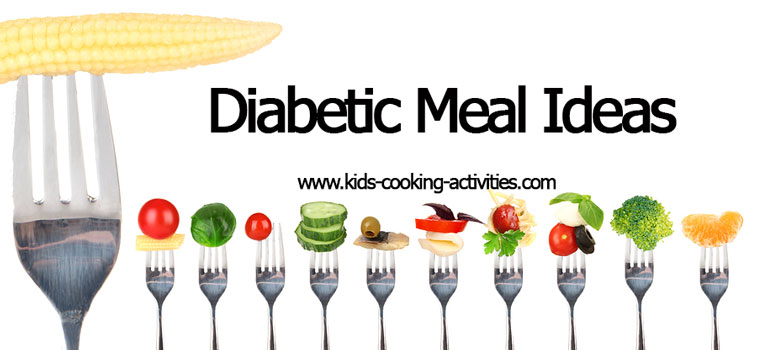 If you suffer from problems with blood sugar, it is vital to stick to diabetic meals upon which you and your healthcare professional decide. Proper diets can help to control not only your blood sugar levels but also your weight. A meal plan takes into consideration the type of diabetes you have, your nutritional needs, and medications or supplements that you are taking on a regular basis.
Kids Cooking Activities Teaching Materials
Make teaching easier with our activities and recipes compiled in theme sets and books with an easy to read format
Perfect for teaching!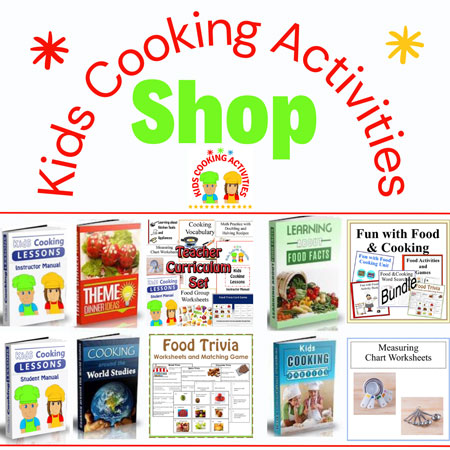 ~This post may contain affiliate links and I'll earn a small commission if you shop through them. There is no extra cost to you. This is how we help support our family and continue to bring you amazing content. To learn more see the
affiliates disclosure here.
~
Picky Eaters
Children are often the pickiest of eaters and prefer fried and processed foods instead of grilled items or fresh produce. Foods such as macaroni and cheese, chicken nuggets, and hot dogs are among the most popular kid's choices, including those with diabetes. By following diabetic meal plans, you can incorporate these items into your child's diet, as long as you make a few adjustments.
See more
picky eater tips.
Snacks
Kids love to eat snacks during lunch, at home, or after dinner and those with diabetes are no exception. Fruit and vegetables, while healthy, get boring and no child wants to eat them all the time so incorporating some fun but healthy snacks into the diabetic meal plans is a good idea. Some low carbohydrate and low fat items to incorporate into your child's diet might include:
Graham Crackers
Rice Cakes
Pretzels
Trail Mix
Vanilla Wafers
Air-Popped Popcorn
Trail Mix
If your child prefers
dairy products
to carbohydrates, you could try
fruit smoothies
low-fat yogurt
low-fat cheeses
low fat, no sugar, frozen yogurt or ice cream
Meals
Traditionally, macaroni and cheese is full of fat and carbohydrates, both of which are bad for a child with diabetes to consume. However, if you use fat free milk and cheese, you can create a healthier version of macaroni and cheese. You may also choose to sprinkle on some breadcrumbs and bake it in the oven for flavor.
To make healthy chicken nuggets that don't stray from the diabetic meal plans, use boneless and skinless cuts of chicken breasts since they have the least amount of fat. Substituting Shake 'N Bake for the eggs and breadcrumbs adds flavor, reduces calories, and lowers your carbohydrate intake. Finally, baking your chicken cutlets instead of frying them significantly increases the health benefits of the meal.
Other substitutions you might consider adding to your child's menu are turkey, chicken or vegetable burgers and hot dogs as they are healthier than processed beef and pork products.
Diabetic Meal Ideas
Beans - Beans are a staple in most diabetic diets. Of course, while salt and additives can be controlled better when you soak and cook your own beans, canned beans are a great substitute. Look for cans packed in water or natural juices, and avoid beans packed in preservative-dense liquid. You'll find many canned beans have already eliminated the preservatives, but many still include a good deal of salt. Just rinse them well before eating.
Fresh Vegetables - While fresh fruits are often a caution to diabetics, most fresh vegetables are good to go. Vegetables that are high in water content are a perfect food choice for diabetics. Vegetables high in starch can pose a problem, but those are usually easily identifiable; these include vegetables such as corn and potatoes. Stick with carrots, peppers, celery, spinach, and many other leafy greens to avoid any possible issues. For convenience sake, buy already cut up vegetables or cut them up as soon as you get them home and store in zip-lock bags so they're ready when you are.
Beverages
What you drink is just as important as what you eat since many beverages are loaded with sugar. Water is of course the best choice but it can get boring to a child, especially when all of their friends are drinking juice and soda. Some healthy beverages that a child with diabetes can enjoy include Honest Ade Lemonade, which has no carbohydrates, Dr. Zevia's Natural Diet Soda, and Cool Fuel, a nutritional supplement.
---
Make teaching easier with our activities and recipes compiled in one easy to read format.
---
Labels and Counting
If you are a child with diabetes, before you eat or drink anything, it is important to learn how to read nutritional labels. If an item has too many carbohydrates or is high in salt, you have to choose between not eating it and sacrificing another food item so that you can balance your meal.
At each meal, it is imperative that you keep track of what you eat, the size of the portion, and its nutritional value, along with your blood sugar readings. This is inconvenient but important in staying on track and in helping to avoid unnecessary health problems.
As a kid with diabetes, you need to develop good habits early on and stick with the diabetic meal plans as they can help you to maintain a healthy lifestyle, as you get older.
Diabetic Chocolate Cake
by Joanne Clifton
I have a friend that would like all the pretty decorations that usually go with the cakes and cookies but she is diabetic. I found a recipe for a cake on splenda that was chocolate that was supposed to be to die for and she loved it, and then another for an icing made with pudding that was sugar free, found some chocolates that were sugar free on a website to mold for decorations and came up with a cake. It didn't ice as well as I would have liked, but it turned out to her liking for a first attempt. I have enclosed the recipes
Chocolate Diabetic Cake
Ingredients:
1 3/4 cups all purpose flour
3/4 cup splenda granular
3/4 cup splenda brown sugar blend
3/4 cup cocoa powder
1 1/2 teaspoons baking powder
1 1/2 teaspoons baking soda
1/2 teaspoon salt
1 1/4 cups low-fat buttermilk
1/4 cup vegetable oil
1/2 cup egg beaters egg substitute
2 teaspoons vanilla extract
1 cup hot chocolate
Directions:
Preheat oven to 350.
Grease a deep cake pan or bundt pan with non stick cooking spray, set aside.
Blend flour, Splenda granulated sweetener, splenda brown sugar blend, baking powder, baking soda, cocoa powder and salt in large mixing bowl.
Combine buttermilk,oil,eggbeaters,vanilla extract, and coffee in a small bowl.
Add flour to mixture, using an electric mixer on medium speed, mix until smooth(about 2 minutes).
Pour batter into cake pan or bundt pan.
Bake for 35 minutes, until an inserted toothpick in center of cake comes out clean. Let cool in pan for 5 minutes.
Diabetic Frosting
Ingredients:
1 packet sugar free instant pudding mix
1 3/4 cups milk
1 (8 ounce) block cream cheese- reduced fat
1 (8 ounce) container lite frozen whipped topping, thawed
Directions:
In a medium bowl, combine pudding mix and milk. Mix well and let stand until thickened.
In a large bowl, beat cream cheese until smooth. Add pudding and mix well. Finally, fold in whipped topping.
Do you have a recipe?
Submit your favorite kids recipe
Do you have a favorite recipe your kids love to make? Or a recipe your kids ask you to make again and again? Share it with us!
---
Related Easy Kids Meals and Ideas:
~
Easy Kids Meals
, ~
Easy Meal Ideas
, ~
Breakfast
, ~
Breakfast 6 or fewer,
~
Side Dishes
, ~
Snacks
, ~
Main Dishes
, ~
Desserts
, ~
No Bake Recipes
, ~
Kids Lunches
, ~
Portion Sizes
, ~
Microwave Meals
, ~
Hidden Vegetable Recipes
, ~
Healthy Kids Meals
, ~
Picky Eater Tips
, ~
Family Dinner
, ~
How to menu plan
, ~
Diabetic
, ~
Toddler Ideas
, ~
Low Calorie
, ~
Gluten Free
, ~
Vegetarian
, ~
Low Carb
---
Follow Kids Cooking Activities