Easy Kids Meals with 6 or Fewer Ingredients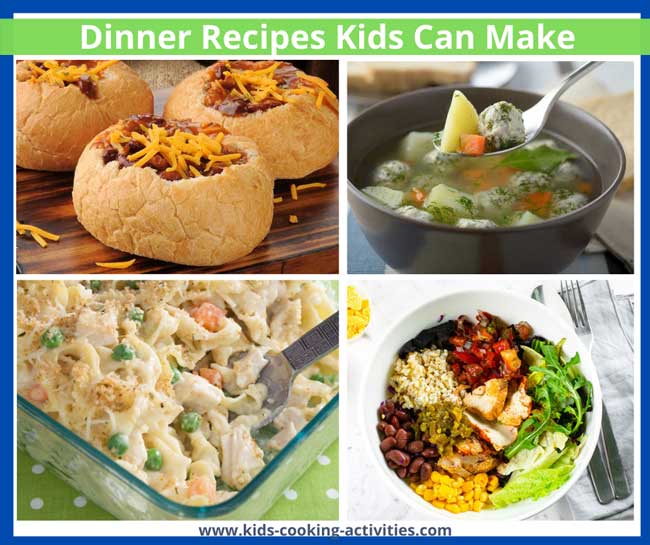 These 6 or fewer easy kids meals were composed with the chef in training age group in mind. To help them continuously learn and practice after the
chef in training cooking lessons.
However these kids cooking recipes are also great for quick easy meal ideas that your kids can help with. As stated before these recipes were composed with 7-11 years old in mind so you may need to adjust the recipe directions as needed.
For example, older kids can do the cooking where as younger age groups will not be cooking and do not have the attention span for some recipes. They will do better when given small tasks and helping you create the recipe.
Kids Cooking Activities Teaching Materials
Make teaching easier with our activities and recipes compiled in theme sets and books with an easy to read format
Perfect for teaching!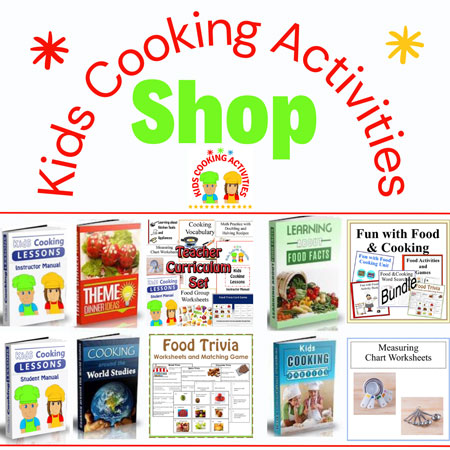 ~This post may contain affiliate links and I'll earn a small commission if you shop through them. There is no extra cost to you. This is how we help support our family and continue to bring you amazing content. To learn more see the
affiliates disclosure here.
~
Easy Kids Meals-Main Dishes
Pizza Soup
8 oz.(2 small cans) sliced mushrooms
1 Can black olives sliced
4 Cups water
15 oz. pizza sauce or spaghetti sauce
2 Tablespoons Italian seasoning
Chopped pepperoni, chopped Canadian bacon chopped green peppers or other favorite pizza toppings
Mix all ingredients together and simmer 15-20 minutes. This soup is great served with breadsticks or French bread.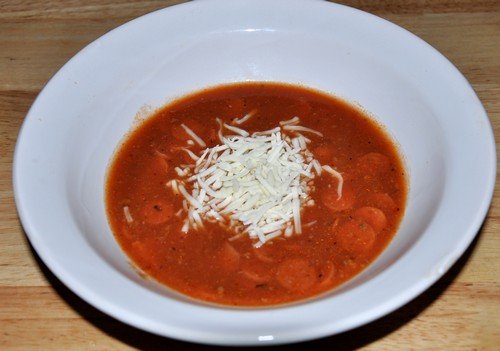 Spaghetti Cupcakes
8 ounces Cooked spaghetti
4 eggs
1/2 Cup Parmesan cheese
Jar of Spaghetti sauce
2 cups mozzarella cheese
Have adult cook spaghetti and set aside. In bowl beat eggs, then add Parmesan cheese, and spaghetti noodles. Stir to combine. Grease muffin tins and press noodles into muffin cups. Top each with sauce and mozzarella cheese. Have adult bake 15 minutes at 375 degrees. This is a great easy kids meal as they can even decorate the tops of their "cupcakes" with sliced olives, mushrooms or green peppers.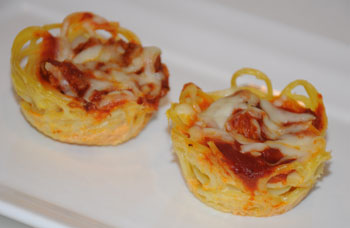 Taco Soup
2-16 ounce cans kidney beans
28 ounce can tomatoes
2 pounds ground beef
1 cup water
2-3 Tablespoons taco seasoning
Have adult cook and brown hamburger. Child can toss all ingredients together in crock pot. Stir. Cook on low 6-8 hours or simmer on stove in saucepan for 15 minutes. You can serve this soup with tortilla chips, sour cream and shredded cheese if desired.
More Soup Recipes.
Seasoned Hamburgers
1 pound ground beef
1 Tablespoon Worcestershire sauce
1 Tablespoon onion soup mix or desired amount -can also used different varieties of Lipton soup mix like Mushroom beef, Onion beef, etc.
Mix altogether and form into patties. Have adult grill.
More Hamburger Recipes.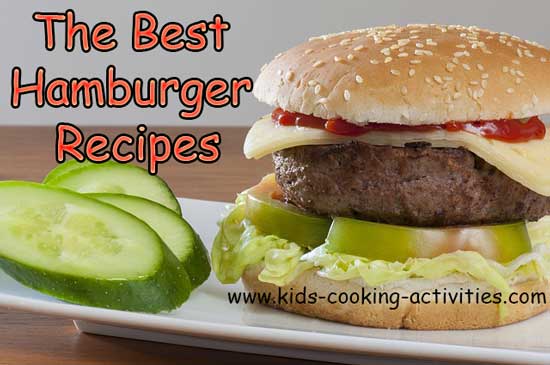 Shredded Beef Tacos
Ingredients:
Beef roast
Taco fixings: lettuce, tomatoes, onions, peppers, etc.
taco shells
Directions:
Place beef roast in crock pot and cook for 4-6 hours on high or have adult bake in oven for 30 minutes-1 hour until done. Allow to cool. Shred meat with two forks or use your fingers. Make sure meat is cool enough to handle. Use shredded beef in place of hamburger in tacos.
More Taco Recipes
Kids Cooking Dinner
Teriyaki Chicken
Ingredients:
1/4 cup soy sauce
1/4 cup orange juice
1 tablespoon sugar
1 tablespoon vegetable oil
1/4 teaspoon ground ginger
1 clove garlic, minced
4 boneless skinless chicken breasts or chicken thighs
Directions:
In a bowl, add soy sauce, juice, sugar, vegetable oil, ginger and garlic. Stir together and pour into Ziploc plastic bag. Add chicken breasts to bag and zip tight. Place bag on plate and chill in refrigerator several hours. Have adult bake or grill. Serve with rice.
Spring Rolls
Make an easy meal with
spring rolls.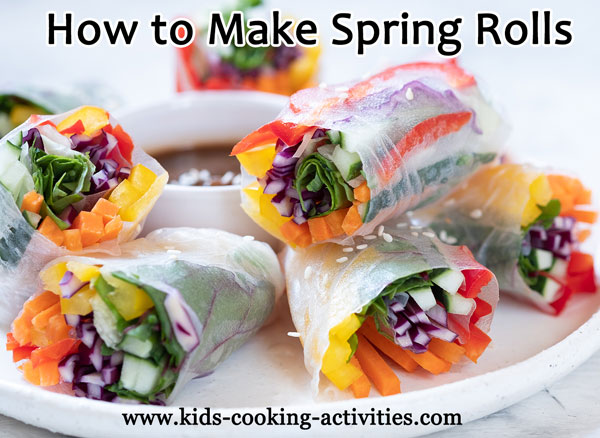 Chicken Taquitos
Beef Gyro Pita Sandwich
1 lb. ground beef or substitute ground turkey or a mixture of both
sprinkle of garlic salt
sprinkle of pepper
1 teaspoon ground oregano
2 teaspoons dried onion or onion soup mix
1 teaspoon Worcestershire sauce
Blend meat and seasonings together in bowl. Mix together until well combined. Form into long oval shaped patties. Grill or bake. Add to a pita or tortilla. Top with lettuce, tomato, onion slices or/and the yogurt dressing above.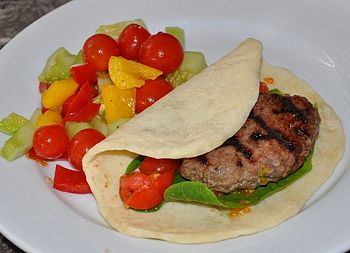 Simple Chicken Casserole
4 chicken breasts
can cream mushroom soup
½ bag of frozen peas or 1 can of peas (can substitute chopped broccoli)
1 Cup cheddar cheese
Salt, pepper, and paprika
Place chicken breasts in casserole dish. Pour cream of mushroom soup over the top of chicken spreading around to coat. Sprinkle with peas or broccoli. Adult should bake for 35-40 minutes at 375 degrees. Sprinkle with cheddar cheese and bake until cheese is melted. Serve with rice or noodles.
Find more easy kids meals
chicken casserole recipes.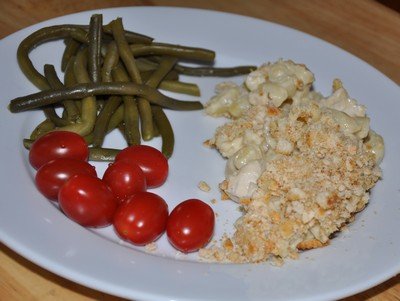 Chinese Hamburger
If you are looking for a quick meal use instant rice and canned cream of mushroom soup.
Step 1: Make rice.
Step 2: While rice is cooking, brown hamburger. Drain and set aside.
Step 3: Mix cooked rice with browned hamburger.
Step 4: Stir in cream of mushroom soup and soy sauce.
Step 5: Taste test and add more soy sauce if desired.
Chicken Cordon Bleu Casserole
2-3 cups chicken chopped
2 cups cubed ham
1 cup cubed cheddar cheese
Cream of chicken soup
1/2-1 cup sour cream
1/2-1 cup milk
Combine cooked chicken, ham, and cheese together in casserole dish. In separate bowl combine soup and sour cream. Add milk to make a sauce. If you'd like a thinner sauce add more sour cream and milk if you desire thicker add less milk and sour cream. Pour over mixture and bake 350 degrees for 30 minutes. Can also serve with noodles in the casserole on the side.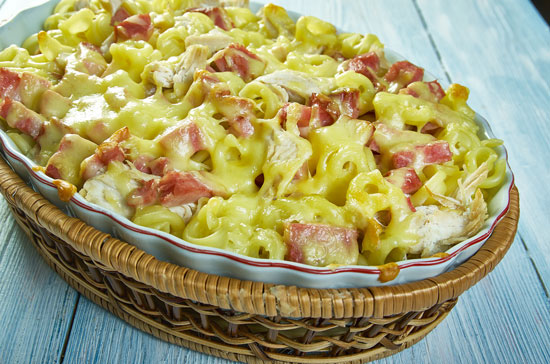 More
Chicken Casserole Recipes
Alfredo Noodles
1/2 cup butter or stick margarine
1/2 cup whipping cream (heavy)
3/4 cup grated Parmesan cheese
1/2 teaspoon salt
Dash of pepper
Noodles of choice (make this into a really fun easy kids meal by buying fun shaped noodles)
Adult can be boiling noodles while the Chef in Training prepares the sauce. In microwave bowl melt butter. Whip or stir in whipping cream. Cook 3-4 minutes or until mixture thickens and bubbles. Take out of microwave -don't forget to use pot holders! Stir in Parmesan cheese and toss with cooked noodles.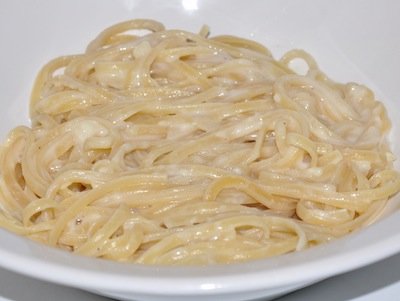 More Alfredo Recipes
BBQ Stuffed Potatoes
by Byron's BBQ
2 cups Byron's BBQ, heated according to package directions
4 baking potatoes
1/2 cup sour cream
4 green onions, finely chopped and divided
1/2 cup shredded extra-sharp cheddar cheese
Directions:
Preheat oven to 425 degrees F. Poke holes in potatoes and wrap in foil. Bake in oven for 45 to 60 minutes until tender. Or, poke holes in potatoes and microwave on high for 10 minutes, turning potatoes after 5 minutes. While potatoes cook, combine sour cream and 2 tablespoons green onions; set aside. Slice potatoes lengthwise, fluff potato with fork. Top each potato evenly with BBQ, sour cream mixture, cheese, and remaining onions. Serves 4.
See more ideas on having a
potato bar for dinner.
Coconut Chicken Balls
Try this
Coconut Chicken Balls
for an easy and fun recipe for dinner or lunches.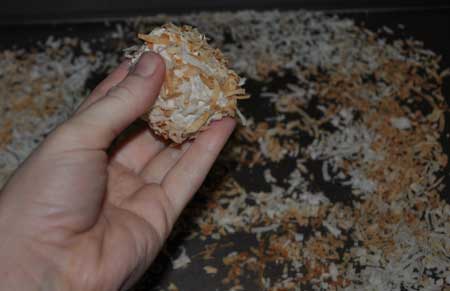 Deluxe Nachos
An easy method for feeding the family deluxe
nachos.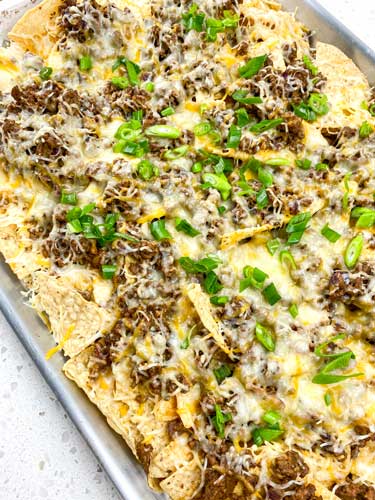 More Main Dish Recipes:
Casserole Recipes
Easy Chicken Casseroles
Soup Recipes

Tuna Casserole

Easy Pasta Recipes

Hamburger Noodle Casseroles
Pizza Recipes
Meatloaf Recipes
Ham Casseroles

Making Hamburger Patties
Meat Pies

Hawaiian Haystacks
Pizza Inspired Recipes
Chicken Recipes
Jump down to our
reader's submitted recipes.
Easy Kids Meal: Vegetable Chow Mein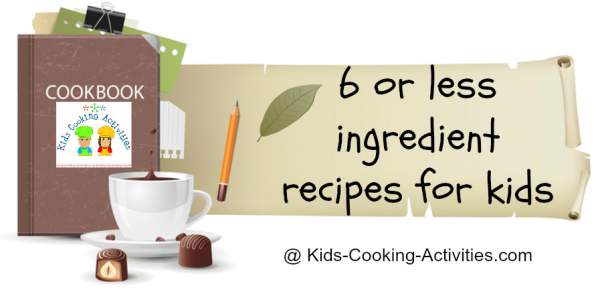 Submit your favorite kids recipe
Do you have a favorite recipe your kids love to make? Or a recipe your kids ask you to make again and again? Share it with us!
Reader's Submitted Recipes
Click below to see contributions from other visitors to this page...

---
Related Easy Kids Meals and Ideas:
~
Easy Kids Meals
, ~
Easy Meal Ideas
, ~
Breakfast
, ~
Breakfast 6 or fewer,
~
Side Dishes
, ~
Snacks
, ~
Main Dishes
, ~
Desserts
, ~
No Bake Recipes
, ~
Kids Lunches
, ~
Portion Sizes
, ~
Microwave Meals
, ~
Hidden Vegetable Recipes
, ~
Healthy Kids Meals
, ~
Picky Eater Tips
, ~
Family Dinner
, ~
How to menu plan
, ~
Diabetic
, ~
Toddler Ideas
, ~
Low Calorie
, ~
Gluten Free
, ~
Vegetarian
, ~
Low Carb
---
Follow Kids Cooking Activities