Home

›
Fun Food Activities
Fun with Food Activities
This fun with food section includes kids cooking games, food jokes, food trivia questions, ideas on how to make eating and food more fun and food related coloring pages among other fun activities. Go ahead and take a break from cooking in the kitchen and take a quiz, send in a joke, play a game or try one of these kids cooking activity pages.
Planned Kids Cooking Curriculum
~This post may contain affiliate links and I'll earn a small commission if you shop through them. There is no extra cost to you. This is how we help support our family and continue to bring you amazing content. To learn more see the
affiliates disclosure here.
~
Kids Cooking Activity Pages
Included on this page:
Food Trivia
Mystery Photos
Kids Cooking Games
Cooking Contest
Coloring pages and worksheets
Making food fun ideas

Food Trivia Questions and Fun Fact Quizzes

Test your knowledge with food trivia with these kids trivia questions. We've included the answers so you can see how well you've done. Once you've filled out the quiz and submitted your answers, you'll be taken to the answer page.
Food trivia
Food nutrition and manners quiz
All about food trivia questions
Mystery Food Photos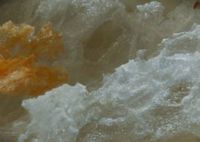 We have 12 up close photos of food. Do you think you can guess what our
mystery food photos are?
Kids Cooking Games
~ Check out our
online free cooking games
list and tips on using online games as well as offline suggestions for kids cooking games and fun.
~ Try some fun
kids cooking party games
. These game ideas are designed to play in a group, with your friends or family or at a party.
Cooking Contest for Kids
Come see our
monthly theme recipe contest
and enter for a chance to win. Each contest has a different focus, for example past contests have been pasta recipes, snack recipes, holiday related recipes or salad recipes, among other themes. Prizes and themes change monthly.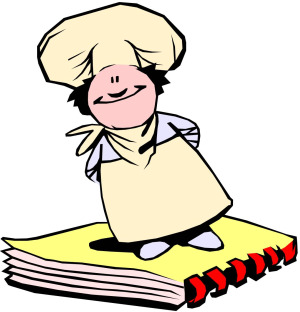 Kids Cooking Printables and Worksheets

Check our
free kids cooking printables
section for worksheets and printables.
We have many worksheets and smaller ebooks located in our store
Making Kids Food Fun
How do you create fun with food activities during meal time? If you want kids to be interested in healthy eating you need to make food fun and creative. There are several ways to make food appealing to kids and encourage kids to eat their fruits and vegetables.
Having Fun with Food Ideas

Make
mini versions of dinner
. If you are making meatloaf, for example, make mini loaves or shape your meatloaf into fun creations. I have several mini pans shaped like stars, hearts and trees. These work great for meatloaf but you don't have to have mini pans to create. Meatloaf will shape well and then can be placed on a tin foil lined cookie sheet for the easiest cleanup. Meatloaf is also a great recipe to include pureed or finely chopped vegetables. Other mini versions could be mini meatballs, small taco shells or mini pies.
Unleash the creativity in your kids
by letting them create their dinner into a Picasso design or animal.
Use vegetables, shredded cheese, chopped nuts, cornflakes or whatever you have that goes with your dinner.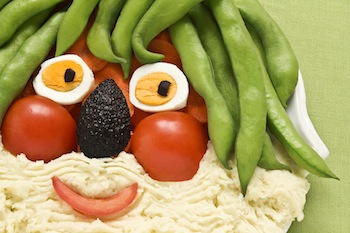 Many times I arrange the food into a
funny face
depending on what we're having. For example, create mashed potato hair or beard, meatball or hard boiled eggs for eyes and green beans for hair. Kids love the surprise and they enjoy being able to eat the face a little at a time.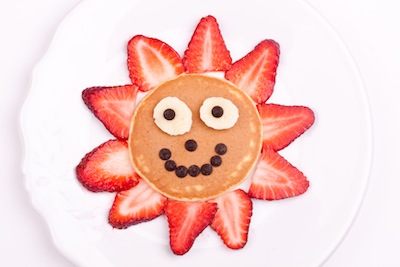 Here are some more
ideas for creating fun with food.
Create baked potatoes to look like animals by using vegetables and shredded cheese.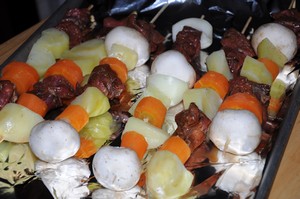 Make homemade pizzas and let kids decorate faces with the toppings or making artful creations. Or cut cheese slices out with mini cookie cutters and place on the pizza.


---
Make teaching easier with our activities and recipes compiled in one easy to read format.
***Also available in paperback.
---
Stock up on
fun cookie cutters
. Cut whatever you can into fun shapes. Kids love this and it is so simple it is worth implementing in your meals.
Do
theme dinners
or
international dinner nights
. Create a menu and make a "big" deal out of dinner.
Kids love to eat with their hands so try some ideas for fun finger foods.
Create
homemade taco salad bowls
or scoop out the inside of a roll for a
bread bowls for soup.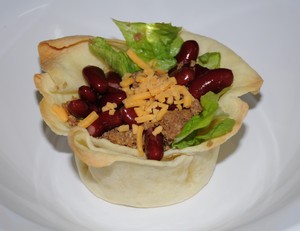 See more
cooking in a cup
ideas and recipes.
Add an
easy dip recipe
to your meals. Serve the dip in a fancy or small serving dish.
Try making some
simple smoothie recipes
. They can easily be made fun by pouring in a decorative glass and top with a
umbrella toothpick or fun straw.
Try some
fun picnic ideas and recipes.
Picnics are a great way for kids to get involved packing and preparing.
Let kids create
vegetable platters or fruit platters
to serve with dinner. Let them decide on how to arrange them. You'll might be surprised what they come up with. I was!

Using fruit kids already love and changing it a little to suit a theme or holiday is a simple way to make food fun.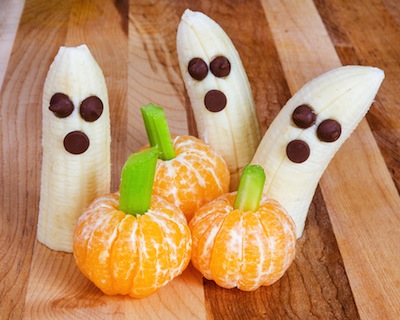 Making Fun with Food by Color
A variety of colors gets kids attention so make sure you have a
colorful food plate.
Choosing foods that look good together is a big part of making food appealing. It may be something many people don't think about but if you make the plate of food look appetizing kids will be more interested in eating it.
Find out what color has to do with making food appealing?
This goes for yummy food on the plate as well as colorful and exciting food. Serve a balance of different colored foods to your family. Seeing one color on the plate isn't going to get anyone to eat their dinner.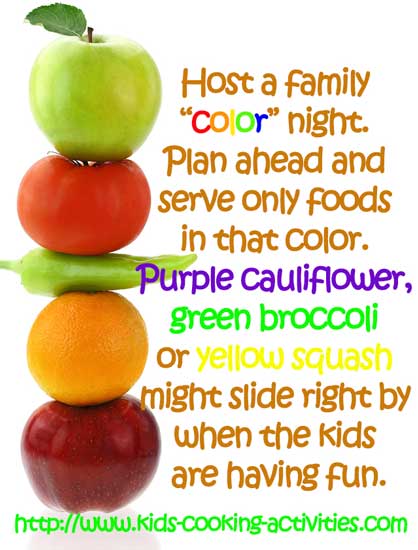 More Fun with Food Ideas
Fun Recipes Ideas for Kids

6 ways playing with your food can lead to healthier eating
20 animal theme ideas
A-Z cooking ideas
5 ways to make cooking fun with kids