Picnic Ideas and Recipes
Picnic ideas and recipes. Whether it is a simple sandwich picnic or a fancy picnic, picnics in the summer time go hand in hand. Read our helpful picnic ideas, pack up your picnic baskets and make some picnic recipes the whole family will enjoy. Kids can get involved in preparing these recipes and packing the picnic basket.
Kids Cooking Activities Teaching Materials
Make teaching easier with our activities and recipes compiled in theme sets and books with an easy to read format
Perfect for teaching!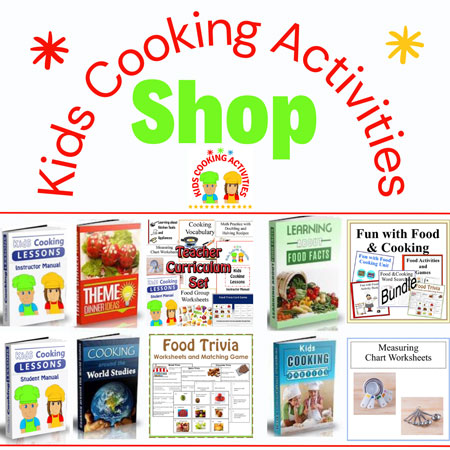 ~This post may contain affiliate links and I'll earn a small commission if you shop through them. There is no extra cost to you. This is how we help support our family and continue to bring you amazing content. To learn more see the
affiliates disclosure here.
~
Ideas and Recipes on this page

Picnic Tips
Pack your picnic basket with what you need 1st on top such as a tablecloth or silverware on top.
Keep cold food cold and warm food warm to prevent spoiling. Don't place warm food in your cooler. Wrap the dish in towels.
Store any uncooked food (if you are grilling) separately from cooked, prepared food.
Packing cupcakes for lunch? Slice them in half and place the bottom of the cupcake on the frosted piece. That way, icing won't stick to your plastic bag.
Freeze a few juice boxes to help keep things cold and for a cool drink later in the day.
Place your food in zippered baggies and then on top of the ice in your cooler. This keeps food from getting wet once your ice starts melting.
Take along some fun games to play whether it is a ball for catch or some printable picnic fun games.

Appetizer Picnic Ideas and Recipes
Some easy picnic ideas and recipes for picnic appetizer recipes could be:
Cheese cubes and ham cubes
Cheese platter include grapes or strawberries to complement the cheese
French bread with spreadable cheese (see recipe below)or cheese slices
Grapes, watermelon cubes and strawberries on a skewer.
Spreadable Cheese
Ingredients:
8 oz. Cream cheese, softened
1 teaspoon lemon juice
½ teaspoon seasoning salt
1 cucumber, finely chopped
2 chives, finely chopped
1 teaspoon paprika
1 teaspoon dried parsley
Mix ingredients together and store in a plastic container for a picnic. You can omit onions or cucumbers or add differently vegetables such as chopped peppers or chopped radishes if desired. Chill several hours before the picnic and keep cool at the picnic. Serve with crackers, bread or vegetables cut into sticks.
Salad on a Skewer
Bring a container full of different vegetables and let each person assemble their own salad on a skewer. Some great fresh vegetables for picnic ideas and recipes are:
Cherry tomatoes
Olives
Cucumbers cut in chunks
Cherry tomatoes
cubes of cheese, optional
other vegetables you'd like such as broccoli or cauliflower florets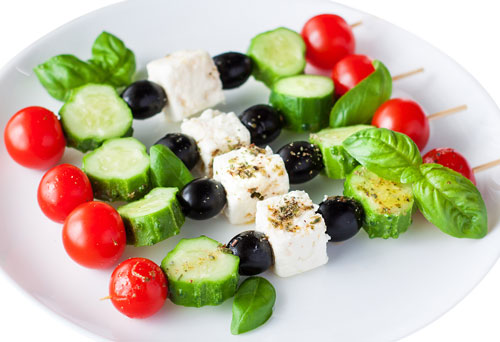 Fresh Salsa and Chips
Prepare this fresh salsa before the picnic and bring along a bag of tortilla chips. This is one of the easiest picnic ideas and recipes when you are grilling at the picnic. This will give everyone something to snack on while they are waiting for the food to cook.
2 tomatoes chopped
1/2 cup onions chopped
1 clove garlic minced
1/4 cup green peppers chopped fine
2 tablespoons cilantro
1 can small green chilies, optional
1/2 lime juiced
Salt to taste
Chop ingredients finely, chop in the blender or food processor. Pour into a plastic container for the picnic.
Mango Salsa
For a different salsa flavor try this fruity salsa. For younger chefs have an adult help with the chopping.
3 ripe mangoes, diced
½ red onion, diced
¼ Cup cilantro chopped finely
¼ cup lemon juice
2 tomatoes chopped
Chop tomatoes, mangoes, cilantro and onion finely. Stir in lemon juice and serve with tortilla chips.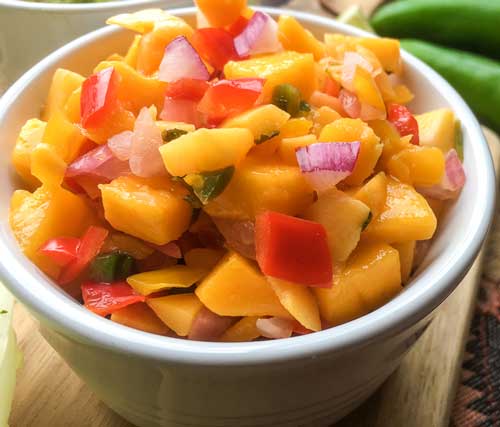 Mini Appetizer Kabobs
Use small wooden skewers and thread grapes, small cubes of cheese, cherry tomatoes. If desired, add leftover cubes of ham or chicken. Healthy, tasty and fun.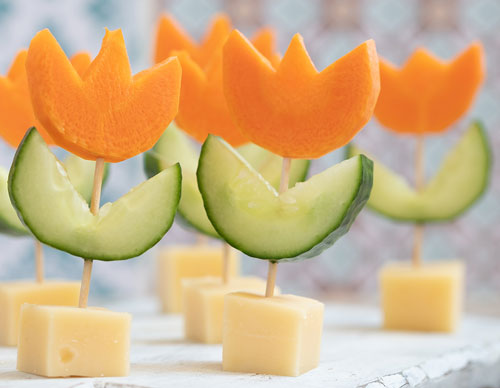 Peanut Butter and Jelly Sandwich Desserts
Try these mini
peanut butter and jelly desserts.

More Picnic Snack Ideas
Stuffed Strawberries
Homemade Fruit Leather
Snack Balls
Avocado Boats
Taco Snack Mix
Trail Mix
Cold Picnic Ideas and Recipes
Tuna Noodle Salad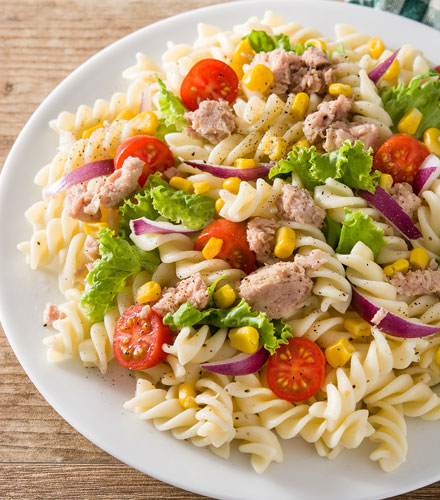 Ingredients:
6 oz pasta any shape you would like
1 can corn, drained
¾ Cup cherry tomatoes, cut up
¼ Cup mayonnaise
1 can drained tuna
¼ Cup chopped celery
1 Tablespoon pickle relish or pickles cut up
red onions, if desired
lettuce leaves, for adding before serving.
Directions:
In a saucepan cook pasta noodles until done. Chop tomatoes in half. Add to a plastic container you will be using for the picnic. Add corn and cooked pasta noodles. Chop celery and onions and add to bowl. Stir in tuna. Add mayonnaise, using more or less if desired, and stir until well combined. Chill in fridge and keep salad cool in cooler during picnic. Add in a few lettuce leaves before serving at the picnic.
Chicken Salad
3-4 cups chicken cooked and shredded or cubed
2 cups chopped celery
1 cup slivered almonds
4 hard boiled eggs
1 cup chopped pickles
1 teaspoon lemon juice
1/4 teaspoon salt
¼ Cup Mayonnaise or as much as desired
Shredded cheddar cheese
Do any prep work needed for this recipe such as cook chicken and eggs and chopping vegetables. In mixing bowl add cooked chicken, celery, cheese, almonds, chopped eggs, and pickles. Stir ingredients together. In separate bowl add mayonnaise, salt, and lemon juice together. Mix well to combine. Chill in fridge and keep salad cool in cooler during picnic.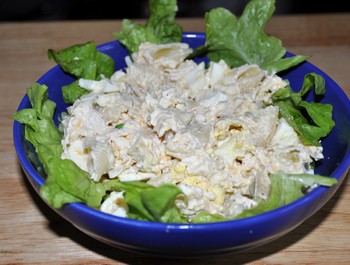 Bean Salad
Try this
Quick Bean salad recipe.
Fiesta Salad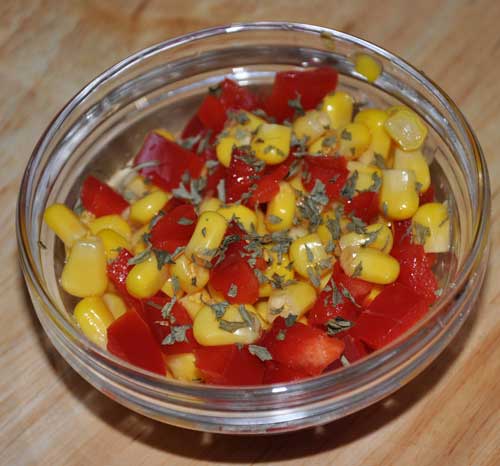 2 cans corn, drained
2 cans black beans, drained and rinsed
red bell pepper, chopped
2 tomatoes, chopped
1/2 red onion, chopped finely
Toss into plastic bowl with a lid. Prepare dressing in a jar with a lid. Shake and pour over salad at the picnic.
Fiesta Salad Dressing:
3 Tablespoons olive oil
1 teaspoon vinegar
1/4 teaspoon cumin
1/2 teaspoon chili powder
pinch of salt and pepper
1 garlic clove, minced
More Salad Recipes
Ranch Pasta Salad
Ham Salad
Ambrosia Salad
Find
more easy salad recipes
Picnic Ideas and Recipes
DON'T FORGET:
Small ice packs for keeping food cold
Napkins, silverware, plates, cups
Garbage bag for clean-up
Blanket or old sheet to sit on
Baby wipes or moist towels
Insect repellent
Condiments
A sprig of mint will help with bees.
---
Make teaching easier with our activities and recipes compiled in one easy to read format.
---
Main Dish Picnic Ideas and Recipes
Rotisserie Chicken
A rotisserie chicken is an easy picnic recipe idea. Make a salad at home and stop at the store for a rotisserie chicken on your way to the picnic.
Sandwiches with a Twist
Often picnic ideas and recipes include sandwiches but this time make it unique by bringing all the condiments, deli meat and sliced cheese with you to the picnic. Bring hoagie bread, tortillas to make wraps or pita bread. Let each person assemble their own. Bring one of the cold salad recipes below or rotisserie chicken and your picnic can be easily put together in a snap.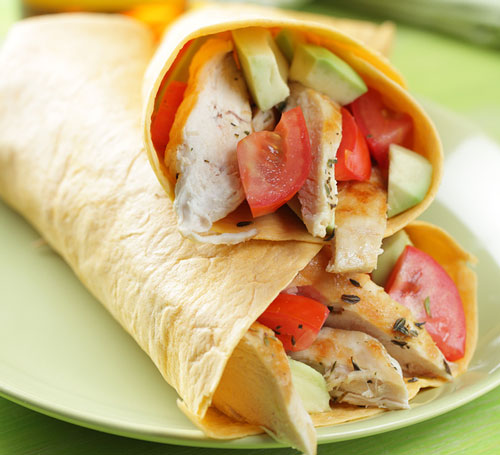 Barbecue Pork Picnic Recipe
The day before your picnic or the night before your picnic place this in the crock pot and let it cook 8 hours on low. Shred and place in a plastic container. Bring along rolls and you have a pork sandwich ready to go.
1 pork roast
2 onions, chopped
¾ Cup beef broth
1-2 cups ketchup
2 teaspoon mustard
2 Tablespoons vinegar
3 Tablespoons brown sugar
3 Tablespoons Worcestershire sauce
½ teaspoon liquid smoke, optional
Salt and pepper to taste
Place pork roast into baking dish or crock pot. Place onions on top. Combine remaining ingredients together to make barbecue sauce. Pour over meat. Cook in the oven for 1-2 hours at 350 degrees or in the crock pot on low 8 hours or on high 6-8 hours. Allow to cool slightly and shred meat. Serve on rolls.
Non Fried Chicken
2 - 2/3 cups crushed crackers, crushed cornflakes, or crushed rice cereal
1/2 teaspoon Italian seasonings
1/2 teaspoon paprika
1/8 teaspoon pepper
1 egg
1 cup milk
1 1/2 pounds chicken cut into strips
In a shallow dish or pie plate mix cracker crumbs, seasoning, paprika and pepper. In separate bowl mix together egg and milk. Prepare a baking dish by spraying the bottom. Dip chicken in milk mixture and then in crumb mixture to coat evenly. Place in baking dish and cook in a 350 degree oven for about 20 minutes or until chicken is no longer pink. If you would like to bring chicken warm, bake right before leaving for the picnic and wrap dish in a thick towel to insulate the heat. Otherwise allow to cool and store in plastic container for your picnic.
Are you having a
Barbecue or grilling
? See our
Barbecue recipes
here that you can find more picnic ideas and recipes.
More Lunch or Dinner Picnic Ideas
Hamburger Rolls
Taco Salad in a Baggie
Coconut Chicken Balls
Teriyaki Chicken Wraps
Shrimp Kabobs
Breakfast Picnic Ideas Recipes
Cinnamon Rolls
Prepare cinnamon rolls the night before and bake in the morning before you go on a picnic. Let rest in the fridge overnight. Bake before you leave for the picnic and take the rolls warm. Find the recipe here with other
breakfast recipes.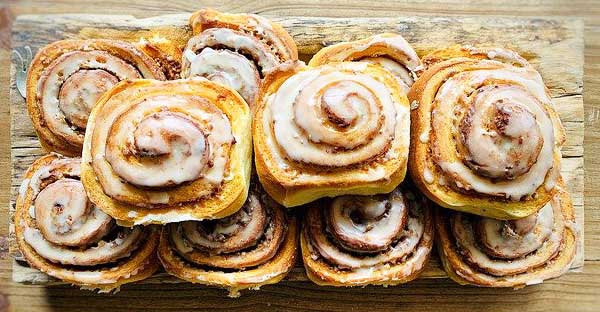 Waffle Sandwiches
8 eggs
¼ teaspoon salt
pepper
1 Tablespoon butter
8 waffles
8 bacon strips, cooked and drained
Beat eggs and season with salt and pepper. Cook eggs in skillet in butter. As the eggs set, lift edges, letting uncooked portion flow underneath. When eggs are completely set, cut into four wedges. Prepare waffles. Make sandwiches out of 2 waffles with egg and bacon inside. Wrap each sandwich up in plastic wrap and take them along on your picnic. A fruit salad would be a great addition to any picnic breakfast recipe.
Breakfast Kabobs
Make little
kabobs perfect for breakfast.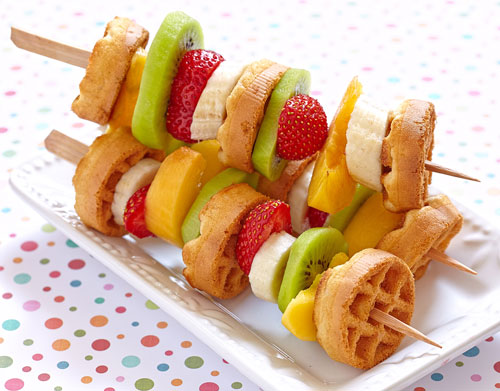 Breakfast Picnic Ideas and Recipes
Cook hard boiled eggs and bring them along for breakfast. They are quick and easy to take.
Pack individual Ziploc baggies filled with 1-2 cups of cereal. Bring milk in a thermos or cooler and eat with fruit or yogurt
Make homemade granola.
Where to Go on a Picnic
Finding easy picnic recipes is a small part of planning a successful day out, as you need to find a good location, get your child's friends together and plan some fun activities. Good places to have a picnic include:
A local waterway.

Do a quick search of your local area to find rivers, ponds or lakes where you can paddle and swim safely and go on a reconnaissance mission to find somewhere with trees for shade and some grass for games. Get your child to help you pack up a picnic with plenty of drinks and aim to get there before lunch. Give the children an hour or so to splash in the water and then organize the picnic. After lunch, play some games in the grass or return for more water adventures.



A ball game

. If you live in or near a town where they play Major League, AAA or AA baseball, book some tickets for an afternoon game. Get your child to pack up some cold finger food and find somewhere that you can eat outside before the game. Some ballparks allow you to take food in and a few have dedicated picnic areas where you can sit under cover, eat and watch the game.



A big city.

For slightly older children, the thrill of a trip to your local big city is a special treat. Do some research about good places prior to your picnic, which might be a central park or a child-friendly museum. If you feel comfortable with your child's independence, set them off with some money and a cell phone and arrange to meet for a picnic lunch. You could also accompany the children to set locations.
To prepare for your picnic, discuss some easy picnic ideas and recipes with your child beforehand so you make items they enjoy. You can use this opportunity to teach them how to make their favorite dishes and inspire them to discover and try new foods.
Create your own Picnic Recipes for Kids Page.
Submit your favorite kids recipe
Do you have a favorite recipe your kids love to make? Or a recipe your kids ask you to make again and again? Share it with us!
---
Related Seasonal Recipe Pages:
~
School Lunches
, ~
Apples
, ~
Autumn Activities
, ~
Pumpkins
, ~
Kids Halloween Recipes
, ~
Halloween Recipe Ideas
, ~
Thanksgiving
, ~
Hanukkah Recipes
, ~
Kids Christmas cooking
, ~
Christmas Candy Recipes
, ~
Reindeer
, ~
Make Homemade Chocolates
, ~
Jar Mixes
, ~
Gift Basket Ideas
, ~
Homemade Fudge Recipes
, ~
Homemade Suckers
, ~
Christmas Cookie Recipes
, ~
Gingerbread House Recipes
, ~
Food Gift Ideas
, ~
Dough Ornament Recipes
, ~
Hot Cocoa
, ~
Happy New Year
, ~
Snowman Theme Recipes
, ~
Valentine's Day
, ~
Valentine Dessert Recipes
, ~
St. Patrick's Day
, ~
April Fool's Day Recipes
, ~
Passover Recipes
, ~
Kids Easter Recipes
, ~
Sugar Eggs Recipe
, ~
Resurrection Cookies Recipe
, ~
Italian Easter Bread
, ~
Russian Easter Bread Recipe
, ~
Earth Day
, ~
Cinco de Mayo, May 5
, ~
Mother's Day Recipes
, ~
Father's Day Recipes
, ~
Summer Cooking
, ~
Kid's Campfire Cooking Recipes
, ~
Dutch Oven Cooking for Kids
, ~
4th of July Recipes
, ~
Ice Cream Recipes
, ~
Popsicle Recipes
, ~
Simple Smoothie Recipes
, ~
Picnic Ideas and Recipes
, ~
Easy Grilling Recipes
, ~
Grow your own Garden
---
Follow Kids Cooking Activities