Kids Cooking Videos
Kids cooking videos are for kids who love to cook. We have scattered videos throughout our website to help in your kitchen adventures.
There are so many wonderful cooking videos for kids available online. You just need to search cooking or recipes on Youtube or Google video.
However
you have to filter through a lot of bad and inappropriate videos to find them!
I've cut to the chase and compiled this video list with lesson videos, fun in the kitchen, and just fun learning about cooking and food videos. You can
share your kids cooking video below.
Kids Cooking Activities Teaching Materials
Make teaching easier with our activities and recipes compiled in theme sets and books with an easy to read format
Perfect for teaching!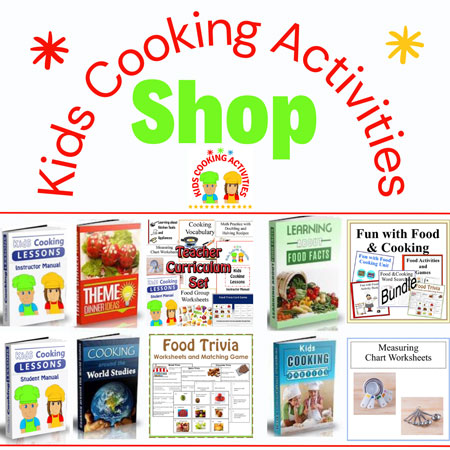 ~This post may contain affiliate links and I'll earn a small commission if you shop through them. There is no extra cost to you. This is how we help support our family and continue to bring you amazing content. To learn more see the
affiliates disclosure here.
~
Quick Reference of the Cooking Videos for Kids on our Site
For a little added help in teaching your kids to cook and for more ideas we've added these kids cooking videos for your child chefs to watch, enjoy and learn from.
Food Facts Recipes- Kids Cooking Videos
Applesauce
Apple Bites
Apricot Slice
Avocado Toast
Banana Bread with Dates and Walnuts Video
Banana Bites
Banana Smoothie
The How to Cook Beans Video
Berry Smoothie
Blueberry Ice Cream
Green Smoothie
Stuffed Beets Recipe
Breakfast Sandwich
Cherry Cobbler Recipe Video
Date Balls
Chocolate Avocado Mousse
Coconut Laddo Sweets
3 Ways to Cook with Figs
3 Grapefruit Recipes: Broiled Brown Sugar Grapefruit, Salad Dressing, and Salmon Drizzle
How to Cook an Artichoke
Parmesan Roasted Asparagus Recipe
How to Roast Beets
Microwave Broccoli and Cheese
Garlic Brussel Sprouts Roasted
Papaya Smoothie
Stuffed Celery Sticks
Twists on Lemonade Recipes
Carrot Fries Recipe
Blender Guacamole
Roasted Cauliflower Recipe Video
Creamed Corn Recipes
Tabbouleh Recipe
Green Pea Salad
Orange Creamsicle Smoothie
Cranberry Bread
Fruit Salad with Yogurt Dressing Video
Kiwi Popsicles
Cook with Eggs Video
Eggplant Frittata Recipe
Mini Frittata- Mini Quiches
Carrot Oatmeal
Cottage Cheese Breakfast
How to Roast Garlic
Creamy Grape Salad
Green Beans Dish Video
Lettuce Wraps
Mango Salsa
Tex Mex Ground Beef Skillet
How to Make a Watermelon Jack-O-lantern Video
How to Make Stuffed Mushrooms
Okra Pan Fried Recipe

Pineapple Bowls
How to Dice an Onion Video
Peach Bread Pudding Recipe
Pear Tart Recipe
Shrimp and Peppers Stir Fry
Plum Jam
Video of Garlic Mashed Potatoes
How to Make a Radish Rose
Toasted Pumpkin Seeds
Zucchini Pasta
Sweet Potato Pie
Tomato Bruschetta
Strawberry Kiwi Smoothie
Apple and Parsnip Soup
Rhubarb 101- Learn everything you need to know
Spinach Omelet
How to Cook Turnips
Pumpkin Pancakes

Egg in Bread Breakfast Recipe- Toad in a Hole
Spiced Nuts Recipes
6 Different Rice Recipes
Two Videos One on Cooking Eggs and One on Separating Eggs
Pasta with Spinach and Chickpeas
Vegetarian Carbonara
Grape Ball Bites

Corn Broccoli Stir Fry
Seasonal and Holiday Baking -Kids Cooking Videos
Apple Pie
3 Pumpkin Recipes for the Season
Halloween Party Snack Ideas

Easy Halloween Party Food Recipes
Candy Corn Cookies
No Bake Thanksgiving Treats
Making Peanut Brittle Video
Decorating Cookies Video
Ideas for Food Gift Giving

3 Jar Baking Mixes
No Bake Chocolate Fudge Recipes
2 Ingredient Homemade Lollipop
New Year's Bite Size Food Ideas
Snowman Pretzel Cookies
Chocolate Covered Strawberries
Valentines Day Breakfast Ideas

Making Homemade Chocolates Tutorial

Irish Potato Cakes
Fourth of July Snacks and Treats

---
Make teaching easier with our activities and recipes compiled in one easy to read format.
---
Kids Cooking Help
Oven Safety Tips
Knife Skills
How to Make Bread
Kitchen Safety for Kids Video
Food Sanitation and Kitchen Safety
Healthy Eating Nutrition
15 healthy grocery shopping tips
Meal Planning 101
Getting your Toddler involved in the Kitchen
5 Tips to get your kids in the kitchen
Bechamel Sauce Recipe-White Sauce Video
Homemade Alfredo Sauce Video
Homemade Tomato Sauce Video

Homemade Barbecue Sauce Video
How is Chocolate Made
Easy Kids Meals, Ideas and Kids Cooking Recipe Videos
Smoothie Bowls
Breakfast Egg Avocado
3 Dip Recipes
Apple Salad
Avocado Crackers
Vegetable Chow Mein
Brownie in the Microwave
Monte Cristo Sandwiches Video Recipe
Homemade French Fries
Calzone Recipes Video
Cooking Healthy Meal Ideas
Preparing Freezer Meals
Meal Planning Help
Healthy Portion Sizes- Healthy Plates
No Carb Cloud Bread
3 Easy Vegetarian Dinners
Gluten Free Healthy Snacks
Chickpea Pancake-Gluten Free
5 Low Calorie Meals
Brownie Overnight Oats
Avocado Egg Toast
7 Microwave Meal Ideas

5 Tips for Picky Eaters
Healthy Breakfast Ideas for Kids off to School
3 Ingredient Vegetable Side Dishes

Microwave Brownie in a Mug
Manicotti Recipe
Snacks for Kids Ideas
Healthy Snacks for Kids Video
Tater Tot Casserole Recipe Video
Salads in a Jar
Hidden Veggies Macaroni and Cheese
Toddler Meal Ideas
Cooking Healthy Food Ideas

5 Veggie Packed Recipes For Kids
Overnight Oatmeal
No Bake Snack Balls
Apple Pie Balls
Black Bean Soup Recipe Video
How to Make Smoothies
Easy Taco Salad Recipe Video
Quesadillas 4 Ways
Cucumber Roll Ups
Shredded Chicken Enchiladas Recipe
Tex Mex Beef Enchiladas with Red Sauce
Taco Recipes

Homemade Nacho Cheese Sauce
3 Tuna Salad Lunches
Easy Egg Salad Recipe
Pasta Salad 4 Ways
Southern Potato Salad

Chicken Salad Recipe

Carrot Salad Recipe Video
Cobb Salad
Chinese Chicken Salad with Crispy Wontons
Fruit Salad 4 Ways
Grape Salad
No Bake Cookies
Birthday Cake Truffles
Easy Chocolate Bark Video
Fudgy Brownies
11 Easy Cookie Recipes
Apple Pie Oatmeal Cookies
Easy Baked Apples Topped with Granola
Broccoli Casserole
Chicken Casserole
Cordon Bleu Casserole Recipe Video
One Skillet Chicken Pot Pie
Breakfast Overnight Casserole
Ham Casserole
Sour Cream Noodle Casserole Video
Paula Deen Macaroni and Cheese

Tuna Noodle Casserole from Scratch
Turkey Casserole
Rachael Ray's Shepherd's Pie
How to Make Beef Stroganoff Video
Popcorn Recipes
Easy Baked Potato Chips
5 Egg Omelet Recipes
Caprese Bites- Finger Food
Tomato Soup Video
Homemade Chicken Noodle Soup
Ham and Potato Soup Recipe Video

Beef and Bean Chili Recipe
Classic Tortilla Soup
13 Bean Soup Video
Classic Minestrone Soup
Olive Garden's Pasta Fagioli Recipe
Loaded Potato Soup Recipes
Poor Man's Soup
Homemade Corn Dogs
Stuffed Peppers Recipe
Lemon Garlic and Rosemary Roast Chicken
Easy Meatloaf Recipe
Homemade Onion Soup mix
Homemade Seasoning Blends
Waffles 4 Ways Video
Making Homemade Granola
Crepes 4 Ways

How to Make Sloppy Joes
Fresh Spring Rolls Video

Baked Garlic Parmesan Potato Wedges
Best Burger Recipe
Roast Beef in the Crockpot
How to Make an Omelet in a Bag video
Homemade Mashed Potatoes
Stromboli Recipe

Cornish Pasty meat pie
Zucchini Pizza Bites
Coconut Cheesy Almond Balls
Chia Seed Pudding
Basil and Tomato Omelet
Caprese Sandwich
Chickpea Salad
Mushroom Cheese Sandwich
Easy Greens Salad
Cottage Cheese and Grape Toast
Pita Burger Wrap
Three Bean Salad
Veggie Schwarma
Eggplant Melts
Red Beans and Rice
Caramelized Onion Pasta
Chicken Taquitos
Vegetable Chow Mein
Fruity Pizza Flatbread
Mexican Mashed Potatoes
Pizza Toast
Mushroom and Potatoes Saute
Mushroom Cream Soup
Roasted Tomatoes
Food Science Experiments
Jumping raisins
Homemade volcano
Egg into a bottle
Floating Egg
Homemade Yogurt without a Yogurt Maker

Shiny Coins Experiment

Sour Dough Bread Starter
World Studies International Recipes- Kids Cooking Videos
Homemade Egg McMuffin American Recipe
Japanese Skewers
Homemade Sushi Recipe
Bubble and Squeak British Recipe
Valeniki -Eastern European Recipes
Creme Brulee Recipe
Greek Spanakopitas
Chapati Indian Bread
Indian Style Rice

Mexican Tamales Recipe Video
Simple Chilaquiles
Easy Huevos Rancheros
Sambusa- Saudi Arabia Recipe
Mala Mala Fire Salad- South African Video
Broiled Catfish Southern Recipe
Southern Spoon Bread
Jamaican Cornmeal Porridge
Panzella Salad
Pico De Gallo
Cake Decorating Videos
Pull Apart Football Cupcake Cake
Cookie Monster Cupcake Cake
How to Frost Cupcakes
Giant Cupcake Cake
Cupcake Bouquet Video
Rainbow Cupcakes in a Jar
Push UP Cake Pops
Cake Decorating Techniques- videos on how to decorate with frosting
Cake Pops Tutorial
Cookie Cake Decorating
Frozen Buttercream Transfer Video Tutorial
Chocolate Transfers for your Cake
Spider Cupcakes
Fondant Bow and Gift Cake Tutorial
Homemade Marshmallow Fondant Video
Kids Craft Recipes Videos
DIY Kids Crafts
- Unicorn Poop, Bouncy Ball, Glow in the Dark Bubbles
How to Make Finger Paint
Homemade Paint Recipes
Slime Recipe
Edible School Supplies Crafts
Dough Ornaments
Homemade Playdough Recipe
Bubble Recipes
How to make slime without Borax
Jelly Bean Bracelets
Dog Treat Recipes
Homemade Spa Recipe Videos
How to Make Homemade Soap
Bath Bomb Cupcakes
Make Homemade Shampoo
Honey and Lemon Facial
Homemade Body Scrub
Bath Salts Homemade
Theme Food Ideas
Dinosaur Bento Box
Farm Animal Cupcakes and Barn

Lotus Flower Cookies
Butter Mochi Hawaiian Local Dessert
Cheese Fondue Recipe and Tips
Edible Teepee
Italian Bread Recipe
Ladybug Crackers
Galaxy Cake
Owl Fruit Tray
French Macarons Video
Penguins Cookies
Princess Treat Jars
Princess Tea Cup Cookie
Rainbow Treats DIY
Sleepover Party Snacks
Strawberry Shortcake Snake
Galaxy Cake Pops
Sports Sundae Chocolate Bowl
Sunflower Salad
Teddy Bear Towel Craft
Mermaid Tail Pinata Cookies
More Kids Cooking Activities
You could start with
20 ways to cook with your children
.
70 simple kids cooking activities list.
Or here are some different ideas to help you get started cooking!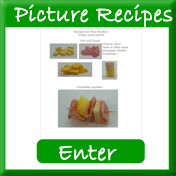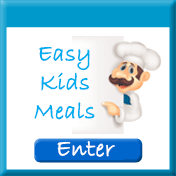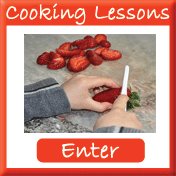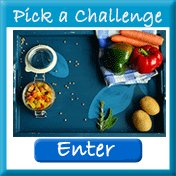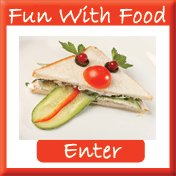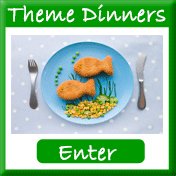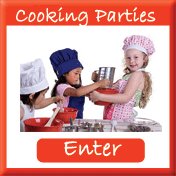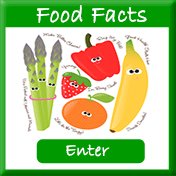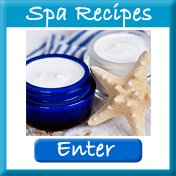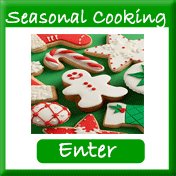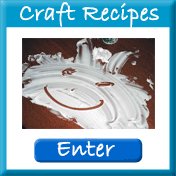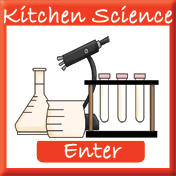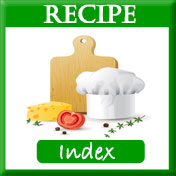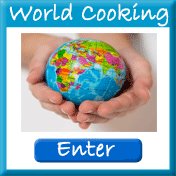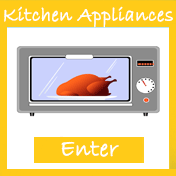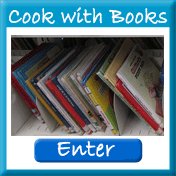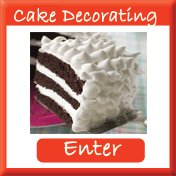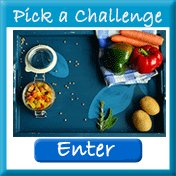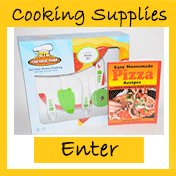 Share Your Kids Cooking Video
Share your cooking video below.

1. You must also include some written information about the video. Include the title of the recipe, give an introduction of what is happening in the video or tell us something about the video.

2. Then copy and paste your Youtube embed code here. Go to YouTube and click on the share button. Click on embed. Copy the embed code. Paste code here.

**The video will not be visible until you submit the form. Don't worry if all you see is the code.
What Other Visitors Have Said
Click below to see contributions from other visitors to this page...

Follow Kids Cooking Activities