Cucumber Facts
Cucumber facts and general information about Cucumbers.
Kids Cooking Activities Teaching Materials
Make teaching easier with our activities and recipes compiled in theme sets and books with an easy to read format
Perfect for teaching!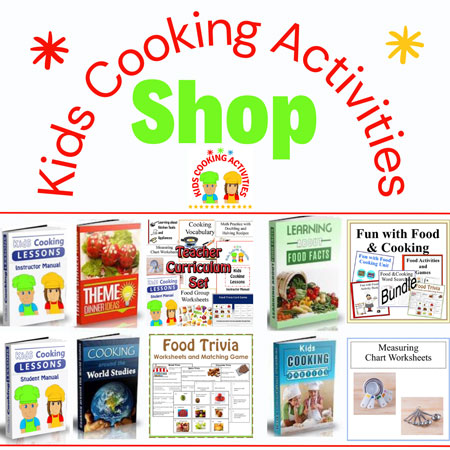 ~This post may contain affiliate links and I'll earn a small commission if you shop through them. There is no extra cost to you. This is how we help support our family and continue to bring you amazing content. To learn more see the
affiliates disclosure here.
~
Cucumbers are Available:
Fresh in Summertime.
How do Cucumbers Grow:
Cucumbers are grown on a plant in the garden. They are planted from a seed and grow like a vine along the ground.
What to Look for When Buying Cucumbers:
Pick cucumbers that are firm and green in color. Avoid cucumbers that are soft or have nicks or cracks. Some varieties are long and slender and some are short and round.
Cucumber Facts- Storage Tips:
Store in fridge
How to Cook with Cucumbers:
Eat in salads, make pickles with them, use as garnishes, or side dishes
Cucumber Nutrition Facts:
A great source of Vitamin A, Vitamin C, calcium and potassium. Cucumbers are low in calories and great for digestion.
Cucumber Recipes:

Greek Gyros with Cucumber Sauce
Veggie Schwarma
Cucumber Cups
Peel and cut a cucumber in quarters or half. With a knife cut out the insides of the cucumber leaving a shell and the bottom intact. Fill your "cup" with dip, cheese, a scoop of chicken salad or whatever you can imagine.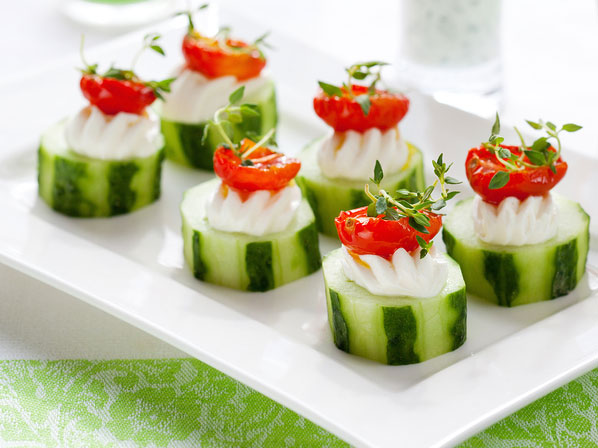 Here is another recipe for
Cucumber Feta Cups
Kidney beans and cucumber surprise
by Amanda (UK)
Heat up your kidney beans in a pan of vegetable stock.
Add a little curry powder if you like.
Chop cucumber into small squares
Serve kidney beans on top of cucumber squares...enjoy!!
Refreshing Cucumber Salad Bowls
3 large cucumbers
1 (6 oz) can tuna in water, drained well
2 hard boiled eggs, chopped
1/2 Cup celery, chopped fine
1 tbsp sweet onion, chopped fine
1/4 Cup mayonnaise
2 tbsp relish
1 tsp. lemon juice
1/4 tsp. pepper
1/2 Cup cheddar cheese, shredded
Cut the cucumber in half lengthwise.
Remove the seeds and cut the bottom so the cucumbers set flat.
Place the tuna, eggs, celery and onion into a large mixing bowl.
Stir slightly to help breakup the tuna.
Add the mayonnaise and relish.
Stir together until the mayonnaise is slightly smooth.
Pour in the lemon juice.
Sprinkle in the pepper.
Stir to mix well.
Sprinkle in the cheese and continue stirring until all the ingredients are incorporated together.
Fill each cucumber half with the tuna mixture.
Cucumber boats can be filled with any type of salad. Egg salad, chicken salad or even ham salad make a great addition to any picnic.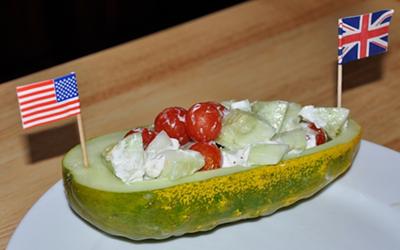 Cucumber Boat with Greek salad -create this recipe into a
transportation theme dinner
Cooking Video: Tabbouleh Cucumber Salad
Share your food facts and recipes
Do you have a food facts or recipe to share?
---
Related Food Facts Pages:
~
Apple
, ~
Apricot
, ~
Avocado
, ~
Banana
, ~
Berry
, ~
Cherry
, ~
Coconut
, ~
Cranberry
, ~
Dates
, ~
Figs
, ~
Grapefruit
, ~
Grapes
, ~
Kiwi
, ~
Lemon and Limes
, ~
Mango
, ~
Melon
, ~
Orange
, ~
Papaya
, ~
Peach
, ~
Pear
, ~
Pineapple
, ~
Plums
, ~
Tomato
, ~
Artichoke
, ~
Asparagus
, ~
Beets
, ~
Broccoli
, ~
Brussels Sprouts
, ~
Cabbage
, ~
Carrot
, ~
Cauliflower
, ~
Celery
, ~
Corn,
~
Cucumber
, ~
Eggplant
, ~
Garlic
, ~
Green Beans
, ~
Kale
, ~
Lettuce/Salad Greens,
~
Mushrooms,
~
Okra
, ~
Onion
, ~
Parsnip,
~
Peas,green
, ~
Peppers,
~
Potato
, ~
Radish
, ~
Rhubarb
, ~
Spinach
, ~
Summer Squash and Zucchini
, ~
Sweet Potato
, ~
Turnip
, ~
Winter Squash, including Pumpkins
, ~
Beans
, ~
Eggs
, ~
Nuts
, ~
Seeds
, ~
Meat
, ~
Dairy
, ~
Grains
---
Follow Kids Cooking Activities