Movie Party Theme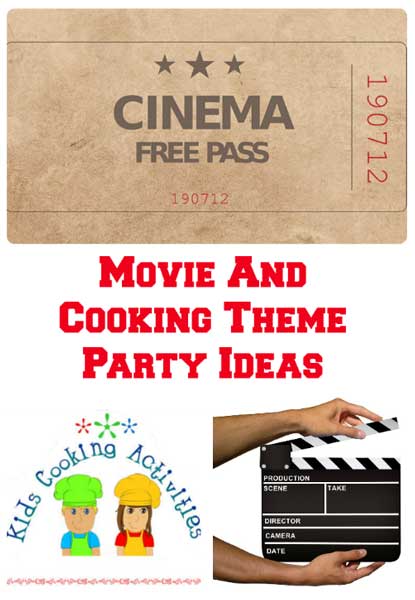 You can create a kids movie into a whole cooking experience with these movie theme ideas and recipes.
See some of our ideas for movies and recipes to go with them. Then share your favorites below!
Planned Kids Cooking Curriculum
~This post may contain affiliate links and I'll earn a small commission if you shop through them. There is no extra cost to you. This is how we help support our family and continue to bring you amazing content. To learn more see the
affiliates disclosure here.
~
Movie Party Theme Ideas

Movie Copycat Menu

Pick your favorite movie and make a list of all the things they eat in the show. Look closely at anything that has to do with food in the movie and plan your menu accordingly.
Make a special movie invitation that goes with your movie.
Movie with a Theme Recipe
Choose a movie and create a special recipe that goes with the movie. See ideas below.
More Kids Movie Party theme food ideas
Pocahontas - Corn
Little Mermaid - Crab
Little Mermaid 2 - Shish-ka-bobs
Rescuers Down Under - Pea Soup
Hoodwinked -
Cookies
Space Jam - Carrots (for bugs bunny)
Oliver & Company - Hot Dogs
Sponge Bob (the movie) -
Hamburgers
or Crab cakes (They're called Krabby Patties)
Shrek - Green Pudding
Honey I Shrunk the Kids - Cereal
Lilo & Stitch - Pineapple
Nanny McPhee -
Stew or Soup
Mulan - Rice
Ice Age - Watermelon or Nuts
Pete's Dragon - Apples
Tarzan - Bananas & Fruit
Finding Nemo - Fish
Curious George - Bananas
Toy Story -
Pizza
Pink Panther the movie-
Hamburgers
Country Bears - Honey
Winnie the Pooh - Honey
Aladdin -
Bread
Snow White -
Apple Pie
Beauty & the Beast -
Baguette
Chitty Chitty Bang Bang–
"Toot Sweets" Lollipops
Movie Party Food Ideas

No movie can be complete without popcorn right!? Try one of our
flavored popcorn or caramel popcorn recipes.
---
Get all of our Theme Dinner Ideas in
one ebook
, free of ads and easier to use at parties and cooking activities with kids.
30 theme dinner ideas with recipe menu plans, decorating ideas and printable invitations all included in this 83 paged electronic book.
Theme Dinner Ideas
---
Share your Movie Theme Idea and Recipes
Make your own Theme Dinner Party page.
Have you put together your own Theme Dinner Party? Do you have a theme menu or theme dinner idea to share? Tell us about it and we will create your own theme dinner party page.
---
Related Theme Dinner Ideas:
~Theme Dinner Ideas, ~ A-Z, ~ Animals, ~ Backwards, ~ Dinosaur, ~ Disney, ~ Farms, ~Fiesta, ~ Flowers,~Fondue, ~ Hawaiian Luau, ~Homes, ~Insects,~Italian, ~Mother Nature, ~Movie Theme, ~Mystery Party, ~ Owls, ~Paris, ~ Penguins, ~~Princess and Prince Dinner, ~ Princess Tea Party, ~Rainbow, ~Reindeer, ~Sleepover Party, ~Snakes, ~Snowman, ~ Space, ~Sports, ~Sunflowers, ~Teddy Bear Tea Party, ~Transportation, ~Under the Sea, ~Western Cowboy
---
Follow Kids Cooking Activities