Baking with Kids Recipes
There is no doubt about it kids love to bake more than anything else. Chances are you might have started yourself cooking in the kitchen by making cookies or cake, right?! Here are some baking ideas for kids.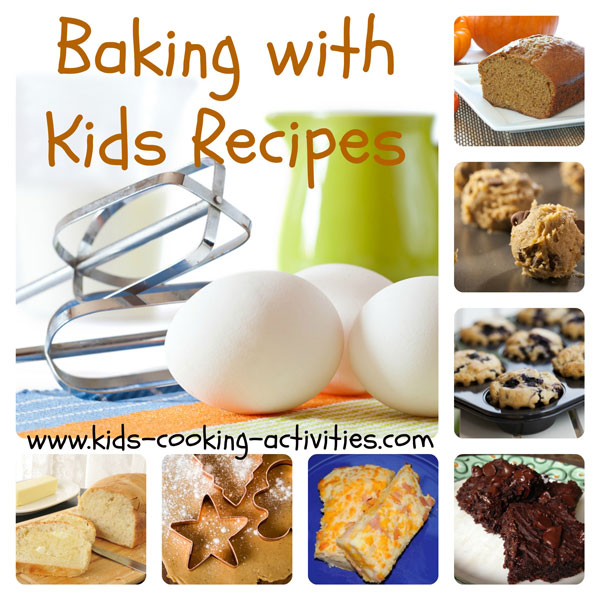 Kids Cooking Activities Teaching Materials
Make teaching easier with our activities and recipes compiled in theme sets and books with an easy to read format
Perfect for teaching!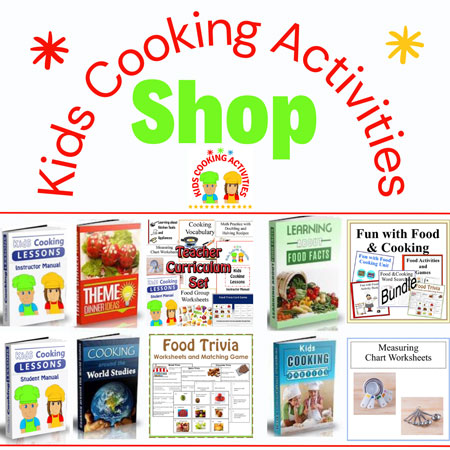 ~This post may contain affiliate links and I'll earn a small commission if you shop through them. There is no extra cost to you. This is how we help support our family and continue to bring you amazing content. To learn more see the
affiliates disclosure here.
~
Baking Recipes
Cookie Recipes
Zucchini bread
Banana Bread
Basic Bread Dough
Carrot Pineapple Bread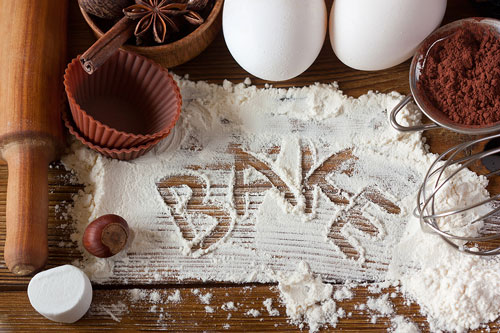 French Baguettes
Herb Garlic Bread
Lemon Bread
Lemon Raspberry Bread
Marbled Bread
Monkey Bread
Muffin Recipes
Brownies
Peach Cobbler
Peach Crisp
Pumpkin Bread
Pumpkin Bars
Pineapple Cherry Dessert
Pineapple Upside Down Cake
Homemade Pizza
Bubble Pizza
Calzones
Homemade Corn Dogs
Granola Bars
Apple Crisp
Chocolate cake
Cookie Pizza
Cream filled cupcakes
Angel Food Cake
Homemade Granola
Pie Recipes
Strawberry Shortcake
Cream Puffs
Strawberry Cake
Cheesecake
Rainbow Pancakes
Scones or biscuits
Shortbread
Irish Soda Bread
Chocolate Chip Scones
Doughnuts
Biscuit Sticks
Cinnamon Roll Biscuit Sticks
Similar to the recipe above in the video but a sweet version.
Ingredients
: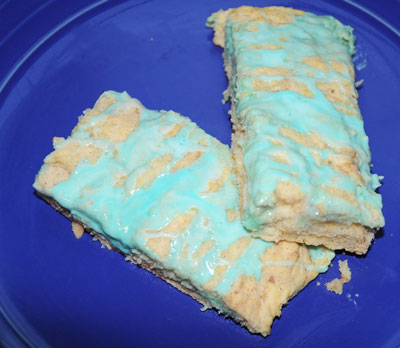 2 Cups flour
1 T. sugar
1/4 tsp. salt
2/3 Cup milk
3 tsp. baking powder
1/2 tsp. cream of tartar
1/2 Cup shortening
1 tsp. cinnamon
1/2 or less ready made icing
Directions
:
Blend together your dry ingredients, flour, sugar, salt, baking powder and cream or tartar. Stir in shortening and mix until crumbly. Pour milk slowly into your mixture and stir until forms a ball.
Place dough on a greased or
Silpat
lined cookie sheet. Pat dough down into a rectangle. Cut into sticks and bake at 450 degrees for 10-15 minutes until golden brown. Drizzle icing over the top while they are hot and let cool.
Try these Food Trivia Worksheets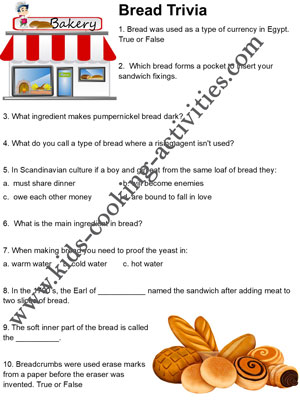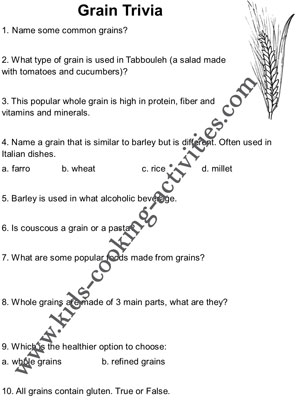 Lemon Raspberry Bread
Ingredients:
½ c. unsalted butter, room temperature
1 c. granulated sugar + 2 T. for sprinkling
2 t. vanilla extract
1/3 c. unsweetened applesauce
3 T. fresh lemon juice
1 T. fresh lemon zest
3 large eggs, room temperature
2 c. all-purpose flour
½ t. baking soda
1/8 t. salt
1 pint fresh raspberries, rinsed and patted dry
Optional Lemon Glaze:
¼ c. powdered sugar
2-3 T. fresh lemon juice
½ T. fresh lemon zest
Directions:
1. Place top oven rack in the center position and pre-heat oven to 350°F. Line a standard 8½" loaf pan with parchment paper cut to size with the longer edges hanging over the sides. Set aside.
2. Cream the butter and one cup sugar together with a hand or stand mixer in a large mixing bowl. Add the vanilla extract, applesauce, lemon juice, and lemon zest and mix until thoroughly combined.
3. Add the eggs, one at a time, and beat until incorporated into the mixture.
4. Combine the flour, baking soda, and salt in a large bowl and stir to combine. Gradually add the flour mixture to the wet ingredients a little at a time until incorporated into the batter. Use a plastic spatula to scrape the sides of the bowl while mixing.
5. Once the wet and dry ingredients are just blended, carefully fold the raspberries into the batter with a plastic spatula. Pour the batter into the prepared loaf pan and spread evenly. Sprinkle the remaining granulated sugar evenly across the top.
6. Place the loaf pan into the pre-heated oven and bake for 40-50 minutes, or until a toothpick inserted into the center of the loaf comes out clean. (Check after 40 minutes and adjust final cook time accordingly).
7. Remove from oven and carefully lift the parchment paper to transfer the loaf to a wire rack to cool completely.
8. If using, prepare the lemon glaze by combining the powdered sugar, two tablespoons lemon juice, and the lemon zest together in a small bowl. Add additional lemon juice, if desired, to adjust the consistency. Set aside.
9. Once cooled, drizzle the lemon glaze, if using, on top right before serving. Enjoy!
More Baking Activities
Easy Bread Recipes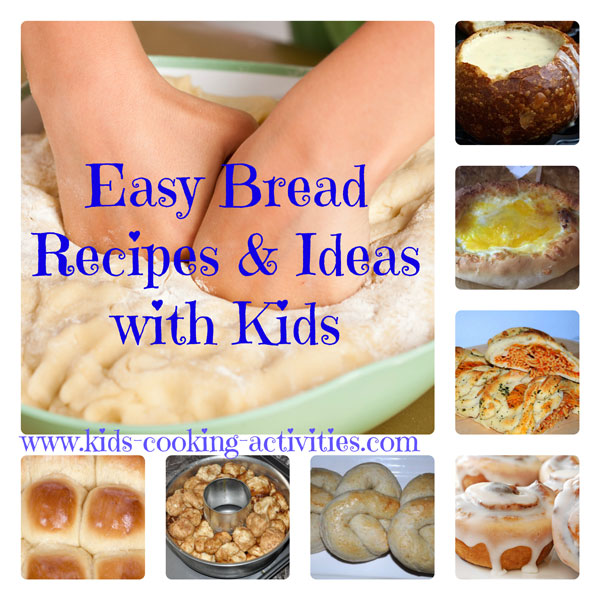 10 things to make in a bread machine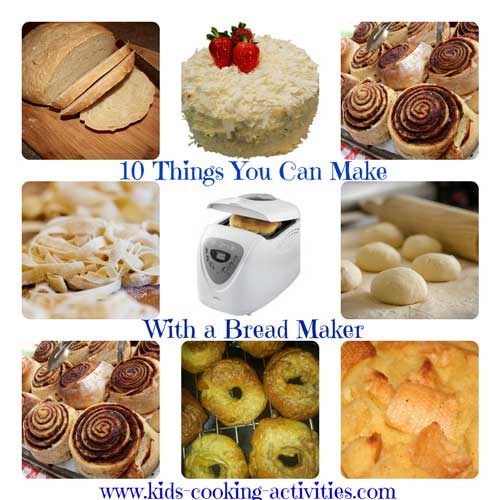 Working with Dough Theme Kids Cooking Camp
Follow Kids Cooking Activities